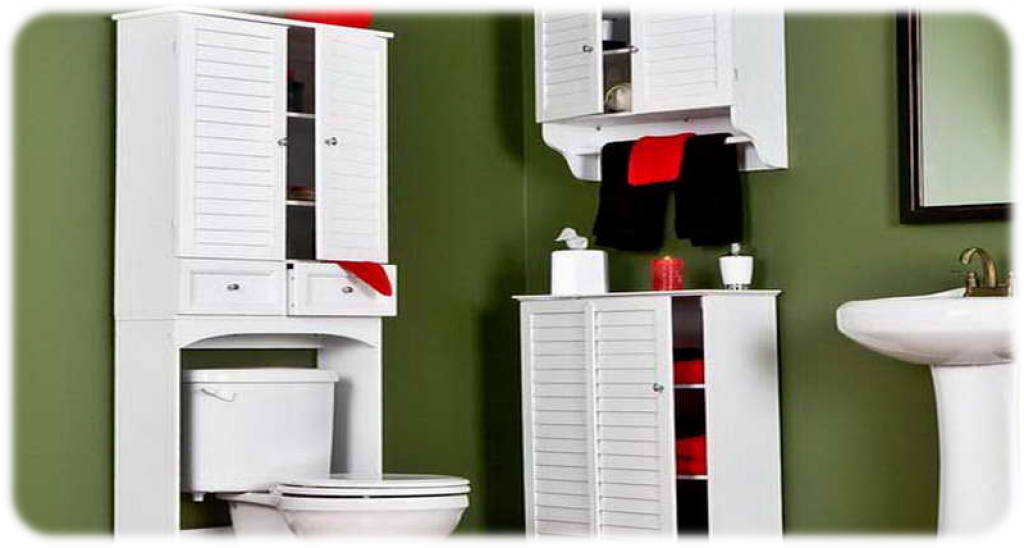 We all know how hard it may be to find additional storage space in the bathroom, especially if it is of rather a modest size. Storing all the bathroom accessories, body washes, sponges, towels, and bathroom cleaners requires a lot of space. There are many options for those who need some extra space for all the bathroom essentials. Bathroom vanities are an excellent choice for bathrooms with a lot of free space. If you face the issue of limited space, you might consider purchasing one of the best medicine cabinets or shower caddies. Medicine cabinets are wall-mounted and do not take up much space, and shower caddies are installed directly in the shower enclosure so that all your sponges and body products are close at hand when you are taking a shower.
However, all those types of storages take up some space, which becomes especially valuable for the owners of small bathrooms. If your bathroom is tiny and you have barely squeezed a toilet and a tub/shower combo into it, then an over-the-toilet storage is just the thing for you. They are installed directly behind the toilet and come with high feet so that all the shelves and cabinets tower above the tank. The area above the toilet is usually unoccupied, so why not use it as a place to store your bathroom necessities?
Look through our detailed reviews if you want to find the best over toilet storage for your bathroom.
Top Five Best Over the Toilet Storages
This model will bring a special charm to any bathroom by adding a natural element. Made from natural bamboo, it is an excellent choice for those who care about the environment and want to make their bathroom a greener place. It will look especially great in an ensemble with a toilet seat made of wood.
This bathroom space saver is compact; its dimensions are 64 x 10 x 28 inches. It has three shelves – one of them open, and two shelves in a cabinet behind a pocket door. The shelf is perfect for candles, decorative soap, and other decorative elements. The cabinet is great for storing towels and bath body products.
Check out this link to order the over toilet storage on Amazon
---
This classic bath cabinet will be a nice addition to a bathroom in a traditional or antique design. Its soft white finish will accentuate the freshness and elegance of your bathroom if it is decorated in light colors. The storage is rather compact; its dimensions are 23.3 x 7.4 x 68.1 inches.
The Caraway bathroom etagere will add a lot of storage space to your bathroom. It has one wide shelf, two narrow shelves, and a built-in medicine cabinet with a glass door. The wide shelf is perfect for storing heavy bottles and other bulky objects. The narrow shelves can store toothbrush holders neatly, and the medicine cabinet is a great place for medications, razors, and makeup products.
Check out this link to order the over toilet storage on Amazon
---
This stylish space saver will look especially great in a bathroom deсorated in dark hues. Its deep cinnamon cherry finish will create a warm atmosphere. This unit has a unique look that will turn your bathroom into a much cozier place. With this model, you will get luxury for a relatively low price.
The Peppercorn bath cabinet fits right over the toilet tank. It has one shelf and a cubbyhole storage. The shelf comes with a faux granite finish with the patented EverSheen coating. The finish is durable thanks to its heat, stain, and scratch-resistant features. The cubbyhole storage has two adjustable shelves.
Check out this link to order the over toilet storage on Amazon
---
This organizer set will be a nice addition to any bathroom. It includes an over-the-toilet storage, a toilet paper holder, and an over-the-door hook. The set is available in three finish colors – bronze, satin, and white – so that every customer can choose one that will match their bathroom decor.
This stylish set from LDR industries will enhance the design of any bathroom. The three-shelf storage will fit perfectly over your porcelain throne, giving you the opportunity to place your bathroom accessories on the shelves. The hook is great for hanging towels, and the toilet paper holder can store three loo rolls.
Check out this link to order the over toilet storage on Amazon
---
This simplistic storage is a nice option for those who prefer a minimalistic design with strict lines and dark colors. Its oil-rubbed bronze finish looks simple and stylish at the same time. The construction of this model is very basic. It contains three simple horizontal shelves on high feet.
Each of the shelves of this bathroom space saver from Mainstays can hold up to 20 pounds, so you can put your large shampoo and body wash bottles on them. Made of durable metal, it comes with a rustproof finish to make sure that it resists the impact of humid bathroom air.
Check out this link to order the over toilet storage on Amazon