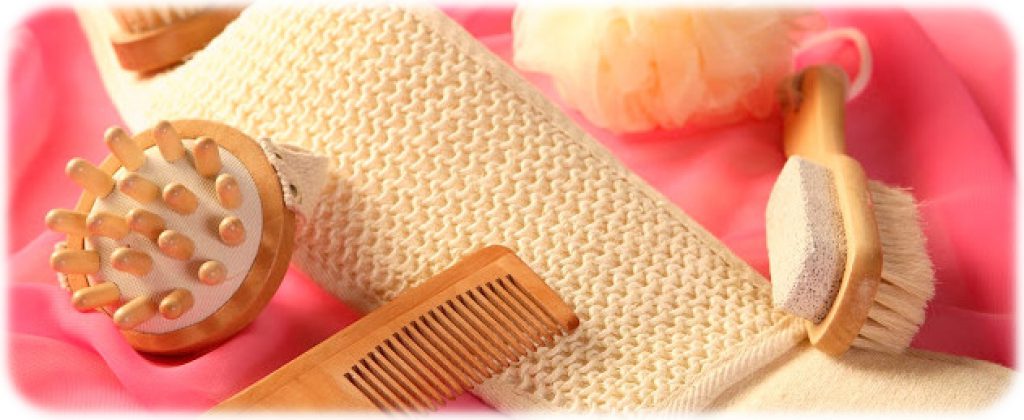 Bath sponges and brushes are an essential part of the bathing routine for most people. Whether you use a shower gel or a body wash, sponges and brushes will help to create enough lather to clean yourself from head to toe. They will come in handy after a hard day at work, as they will refresh you by gently massaging your body. They can also offer multiple benefits of skin exfoliation, whether you use them wet or dry.
Our tips will help you to find out the differences between brushes and sponges and discover the advantages they can offer to you. Our reviews will help you to get the best bath sponge and best bath brush for your body.
Bath Sponge Vs Bath Brush
The purpose of bath sponges and bath brushes is the same—to serve as a tool for body washing and skin exfoliation. What is the difference between these two hygiene accessories?
Bath sponges can be of two types—natural and synthetic.
Natural sponges have been used throughout all the history of humanity, starting with ancient Egyptians. These sponges can offer multiple benefits for the skin. They are great exfoliators, thanks to their rough surface. However, sponges are animals that live on the seabed and are becoming scarce. Using a living being as a tool for bathing is not the most ethical choice, especially if you care about animals and the Earth.
Synthetic sponges are usually made of nylon, polyester, or other kinds of mesh fabric. If you are looking for an eco-friendly option, you can choose a sponge made of wood pulp. The material of most synthetic sponges contains an antimicrobial agent to prevent the development of germs and bacteria. They come in bright colors and look stylish. Synthetic sponges are much softer than natural ones, which makes them a great choice for sensitive skin.

Bath brushes, or body brushes, are much rougher than sponges. The design of most brushes comprises a handle, long or short, and a head with bristles. However, there are models that do not have a handle and get attached to the hand with the help of a strap. The body of most brushes is made of wood. Bristles can be either natural, made of animal hair or plant-based materials, or artificial, made of synthetic materials. Bath brushes with long handles can come in handy for scrubbing your back and feet without having to bend at unnatural angles. A bath brush will be a great choice for those who like to give their bodies a thorough and invigorating rub when in the shower. It can also be used for dry skin brushing, which can prove very beneficial for the skin and general well-being.
Top Three Best Bath Sponges
These sponges combine practicality and a minimalist design. The pack includes eight pieces. Made of high-quality mesh polyester, they are sturdy and durable. Each pouf is about 5 inches in diameter, enough to give a good rub to your whole body. They come with a loop for easy hanging on a hook.
This set from Aquasentials contains sponges of different colors, including white, yellow, red, green, purple, and blue. They are perfect for use with any shower gel or body wash, as they can prove very helpful in creating a lot of lather. The exfoliating texture of the sponges will remove the dead cells without being too harsh to the skin.
Follow this link to order this sponge on Amazon
---
These sponges will be a perfect choice if you are looking for a chic and stylish design. The set includes six sponges, each of a different hue, including pink, purple, blue, and three mélange colors. Each piece comes with a convenient long loop. These sponges are not too large, about 4 inches in diameter.
This set from A La Parix has multiple advantages. The sponges are guaranteed not to fall apart too soon, as they are made of a durable mesh fabric. The choice of material also allows creating a lot of luxurious lather for a spa-like experience. Apart from that, these sponges are not too rough and can offer gentle exfoliation.
Follow this link to order this sponge on Amazon
---
Made of an eco-friendly mesh fabric, these sponges will be a great choice for those who care about their health and the environment. The set includes three large sponges made from recycled materials. They are plush and soft, which makes them a great choice for people with sensitive skin prone to irritation.
You can choose one out of three color options—his, hers, or sophicato. His includes such colors as blue, green, and cream. Hers comes with one pink, one purple, and one turquoise sponge. Sophicato includes dark deep hues: maroon, dark blue, and gray. The sponges come with a sturdy cord so that you can hang them to dry after each use.
Follow this link to order this sponge on Amazon
---
Top Three Best Bath Brushes
This luxury brush will be a great choice if you are looking for a tool either for wet of soft brushing. Made of natural materials, it is a nice option if you are looking for an eco-friendly product. The design of this brush comprises a bamboo body with a long handle and a head with natural bristles for exfoliation on the one side and rubber nubs for massage on the other.
The handle of this brush from Bath Blossom is 16 inches, long enough to scrub such hard-to-reach places as the back and the soles of the feet. It comes with a rope on the handle for easy drying and storage. The bristles are neither too soft not too rough, perfect for gentle exfoliation that will not damage the skin but can offer the advantages of improved blood circulation.
Follow this link to order this brush on Amazon
---
This brush has a medium-length handle with an ergonomic design. It has a unique angled shape that is very comfortable for use. The length of the brush is 10 inches in total, with a 5-inch head and a 5-inch handle. This premium-quality product will be a great choice for those who want to care about their body in a natural way.
This body brush from Kingsley comes with 100% natural palm bristles. Unlike most brushes that come with bristles made of animal hair, this one contains no animal by-products, which makes it a perfect choice for vegans. Apart from all those advantages, this brush looks quite stylish thanks to the light wood finish.
Follow this link to order this brush on Amazon
---
This body brush is compact and lightweight, which makes it a great choice for people who travel a lot. It comes without a handle, yet has a strap to be attached to the hand instead.  Apart from the brush itself, the set includes a hook and a travel bag, quite nice extras.
This brush from Wholesome Beauty is made of natural materials. The body is polished wood, and the bristles are grass tree. This brush is quite rough, great for fighting cellulite and removing hard skin from the knees, elbows, and feet. The size of the product is perfect to fit into a palm.
Follow this link to order this brush on Amazon
---
Benefits of Skin Exfoliation
Let's face it—our skin is covered with dead cells that close the pores and decrease the ability of the skin to absorb nutrients, making it pale and sickly. Human body sheds millions of dead cells each day, which then deposit on the skin and create a protective layer called keratin. Exfoliation removes dead cells from the skin surface, unclogs the pores, and offers multiple benefits for the skin:

It helps the skin to absorb nutrients, which is why it is highly recommended to exfoliate the body before applying any skin care products.
It detoxifies the skin, eliminates breakouts on the neck, chest, and back, helps to cure acne, and makes your skin much healthier.
It helps to improve the condition of even the driest skin, removing flakiness and roughness. It can make your knees and elbows soft and smooth.
It makes epilation easier. Exfoliating your skin before epilating will make the process of hair removal considerably less painful and prevent ingrown hairs.
It eliminates some signs of skin aging. Exfoliation improves blood and lymph circulation, making the nutrients travel through the vessels faster, improving elasticity, removing age spots, and making the skin look younger.
It helps to eliminate cellulite and lose some weight. Regular exfoliation improves cellular metabolism, helps do decrease body fat, drains toxins and boosts the production of new cells.
It energizes the body and improves general well-being, thanks to the increased blood circulation. Fast blood flow helps to deliver more oxygen and nutrients to all the tissues and organs of the body.
Dry Skin Brushing—How to Do it Right?
Dry brushing is one of the easiest and most effective ways of skin exfoliation. It does not require scrubs or any other body care products. All you need is a good body brush with natural bristles. However, there are some rules you should follow to ensure that your body gets the most out of it.
It is best to do it in the morning and on an empty stomach, right before taking a shower. This will wake you up and keep you invigorated all throughout the rest of the day.
Take off your clothes and get into the bathtub or shower. It is better not to brush your body standing on the floor, as there will be a lot of skin cells flaking off from your body.
All massaging movements should go towards the heart. Start by massaging your limbs and eventually move to your center. It is best to use long strokes on the limbs and circular movements on the joints, back, chest, and stomach.
The duration of such self-massage sessions should be somewhere between five and ten minutes.
Don't overdo it, especially if it is your first time. If you go too rough, you might stress your body, causing unpleasant reactions. Gentle massaging movements are better than hard strokes.
After you have finished brushing your body, take a warm shower to rinse any dead cells that have not fallen down. You might take a contrast shower, if you like.
Dry your body off by vigorously rubbing it with a towel.
Apply your usual body care products. To get even more benefits for the skin, consider using essential oils.
Do not forget to clean the brush thoroughly and let it dry.
Please remember that brushing too often will do your skin more harm than good. The best option is to do it once, maximum twice a week.