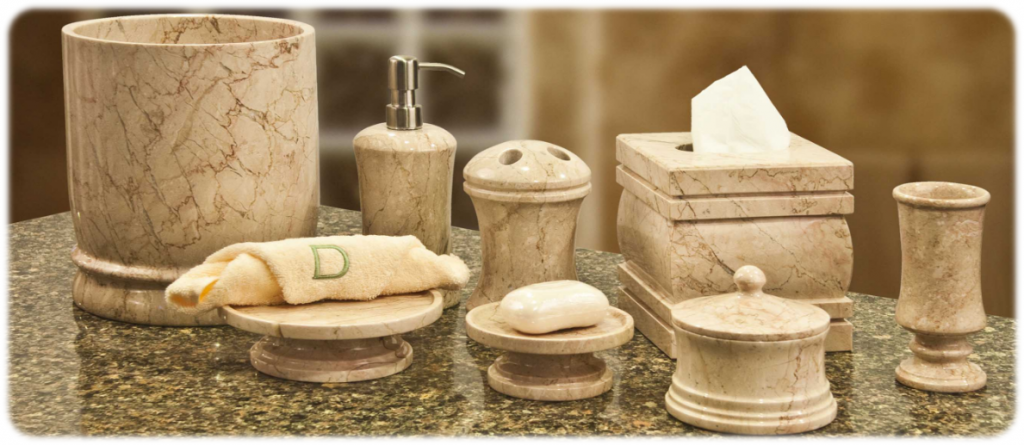 When you decide to remodel your bathroom, it is very important to choose a high-quality bathtub, sink, shower, and toilet. It is also crucial to install a good sink and bathtub faucet, and showerhead that will offer a good water pressure as well as some extra features. With all these important fixtures, we often forget about small luxuries that can make our bathroom a more comfortable place. Best bathrobes and bath towels can help you feel yourself as if you are in a spa each time you take a bath or shower.
Another product that can add comfort and practicality to your bathroom is a bathroom accessory set. They are also called bath ensembles. There are many such sets on the market. The best bathroom accessories sets come with a different number of pieces. The most standard ones include four pieces – a soap dispenser, a soap dish, a toothbrush holder, and a tumbler. Sets containing more pieces may come with a toilet brush, a trash basket, a towel tray, and a cotton box.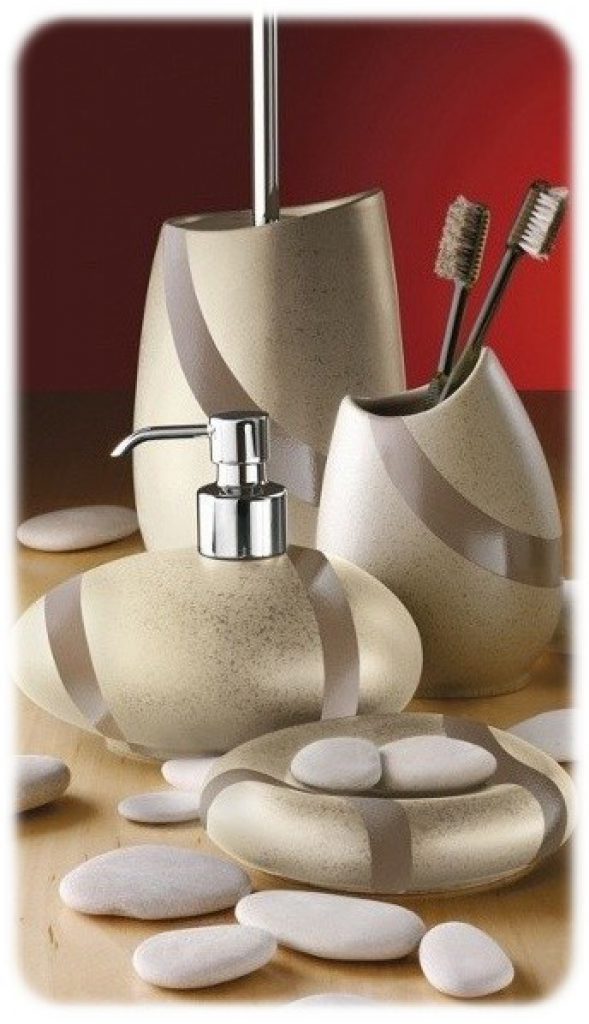 Bathroom ensembles are very convenient. With such a set, you will not have to look for a soap dish that will match your toothbrush holder or for a toilet brush that will match your trash basket. Buying a set, you will get a full ensemble, the design and color of each piece matching those of the others.
Bathroom accessories sets can help you to keep your bathroom clean and safe for health. A toilet brush will help you to clean the toilet more efficiently and a trash basket will keep the mess from spreading all over the bathroom. A toothbrush holder will keep your toothbrush dry and clean, preventing the development of harmful bacteria. The CDC website has more information on how to use and handle toothbrushes, if you are interested.
Look through our reviews to find a bathroom accessories set that will match your bathroom perfectly. Bath ensembles come in a wide array of designs and finish colors. They are made of different durable materials. Hopefully, our reviews will help you to make the right choice.
Top Five Best Bathroom Accessories Sets
This luxury four-piece set will be a great choice for any bathroom. It includes all accessories you need to make your bathroom a more comfortable place for performing your everyday routine. The set comprises a dispenser for liquid soap or lotion, a toothbrush holder, a tumbler, and a soap dish. The toothbrush is large enough to accommodate several users. This set will be a nice addition to any bathroom, as it will make it much more comfortable and add a special charm to its décor.
This bath ensemble from Creative Scents comes in a number of stylish finishes, each with a unique shape and ornaments. Chic and glamorous Silver with mosaic glass inserts will be a perfect match for a girl's bathroom or a chic powder room. Strict and formal Brown looks masculine and will look best in a man's bathroom. Classic White looks antique, which makes it a nice option for a bathroom decorated in a traditional design. Neutral-looking Beige and Mother Of Pearl will work great with a bathroom of any design.
Check the price for this accessories set on Amazon
---
This beautiful set will be a great choice for those who want to bring a natural element into their bathroom. It will be a perfect choice for those who care about the environment and are aware of the current ecological situation. Made of bamboo, it is one of the most eco-friendly options. Bamboo is one of the most sustainable natural materials, as it is renewable and grows again after being cut. It is also durable and easy to clean and maintain, which makes it great for use in the bathroom.
This bamboo bath and vanity set from Seville Classics is handcrafted to offer a unique look that will enliven any bathroom. Its natural look is accentuated by stainless steel elements for an even more sophisticated design. This five-piece set includes a hand towel tray, a toothbrush holder, a cotton box, a soap/lotion dispenser, and a wastebasket. All the components of the set are quite spacious.
Check the price for this accessories set on Amazon
---
This set has a strict and formal design. It will look especially great in a bathroom of modern design. Its finish combines two colors – light brown and chrome – for a unique and stylish look. Made of high-quality materials – carbon steel, stainless steel, and plastic – the set is sturdy and durable. It will enhance both the style and the convenience of your bathroom.
The Malmo set includes four pieces – a soap or lotion dispenser with a high-quality pressure head, a cup for storing toothbrushes, a toilet brush made of durable fibers efficient in cleaning with a drip cup, and a trash can with a fingerprint-proof lid. This modern set will help you make your bathroom clean and tidy so that you will not need to worry about all the mess and trash.
Check the price for this accessories set on Amazon
---
This simple yet elegant set will look great in any bathroom, regardless of style and color scheme. Made of thick and durable acrylic, it comes with a high-end look of clear glass that has a timeless beauty to it. Such minimalistic design makes this set a good option for any bathroom décor. The set comes with chrome finish elements. It is also available in another finish color, ocean blue.
The Eva bath set from InterDesign includes all the necessary bathroom accessories. This standard set comes with four pieces: a soap dispenser, a toothbrush holder, a tumbler, and a soap dish. The toothbrush holder, or toothbrush stand, is designed to hold three toothbrushes. The tumbler can be used for drinking and rinsing, as well as for storing razors, tweezers, and other personal care accessories.
Check the price for this accessories set on Amazon
---
This stylish set looks cute thanks to the floral print. It is available in three finish colors, black, red, and purple, each with white ornaments. Made of thick and sturdy plastic, this set is strong and durable. Affordability is its another advantage – you get a complete set of bathroom accessories for a comparatively low price.
This set from Blue Donuts contains seven pieces – a soap dish, a lotion/soap dispenser, a tumbler, a toothbrush holder, a cotton box, a toilet brush, and a trash basket. Choosing this set, you will get high quality for a low cost. It will definitely bring a fresh accent into the décor of your bathroom.