Whether it is for a fresh start of the day, or after a long day of tedious work, a shower can be a rejuvenating experience to heal the body as well as the mind. Every time you stand in the shower, you can just feel the stress ooze out of your body and drain with the water. But this relaxing experience can become a nightmare if the water pressure is not high enough to give you a proper showering experience.
What Is Water Pressure?
Water pressure is the force that pushes water through the plumbing pipes. It is created by gravity and varies based on the height of the water source – a reservoir or a natural water body. In areas where the water source is on the low level, it can be created with the help of a pump. It is also installed in regions with insufficient water flow.
The general water pressure in the house defines the water flow in all the plumbing fixtures. The standard water pressure in American homes is about 40 to 45 psi (pounds per square inch). These are the average numbers. Although, in some areas, it can be as high as 80 psi or as low as 25 psi.
It might seem that the higher water pressure the better. However, that is not the case. Both high and low water pressure have their disadvantages. Low water pressure can be irritating to users. It is no doubt very disappointing to open the control valve in the shower and get a small dribble instead of the deluge you have been expecting.
If low water pressure is just irritating to the users, high water pressure might cause plumbing problems. It is one of the major causes of leaks and pipe damage. Moreover, it increases the amounts of wasted water. As you can see, high water pressure is even more problematic. However, this issue can be solved with the help of a water pressure reducing valve.

There are several reasons that might cause low water pressure in the shower:
The problem with your plumbing system (like cartridge), the debris clogging it or leakage could reduce the pressure of the water.
Sometimes the blame also falls upon the shower head for low water pressure, as with time rust and hard water deposits in the nozzles can reduce the water pressure.
Slow water supply line that reaches your home.
By changing the old and leaky pipes in your plumbing system, the problem of low water pressure in the shower can be solved. The shower head manufacturers are abided by law to keep the flow of water no more than 2.5 gallons per minute to be economically and environmentally friendly. This restriction of water flow can be removed to increase the water pressure. However, most of the times the low water pressure is a permanent condition, especially in places where water is scarce. The only solution in this case is the usage of shower heads for low water pressure.
How to Improve Low Water Pressure?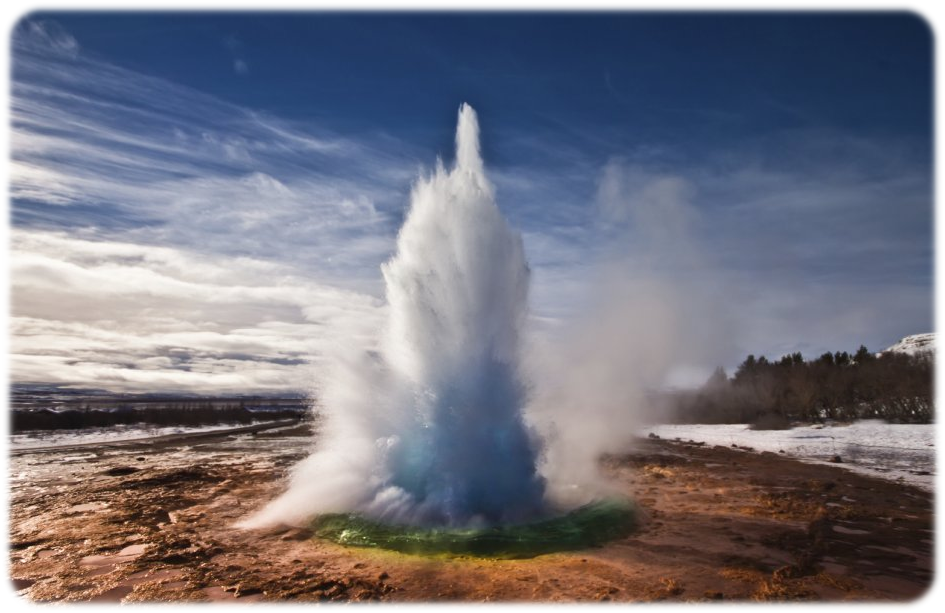 Showering in a home with low water pressure can be a real torture. Trying to give a thorough wash to your whole body under a tiny dribble is more exhausting than trying to eat broth with the help of sushi sticks. However, you do not have to suffer this anymore. There are a few effective tips that will help you improve water pressure in your house.
Make sure that the water meter is on all the time. If it is not operating, the water pressure might decrease dramatically.
Take a look at the shut off valve on the street, on the pipe that sends water into your household. Make sure that it is fully open. Sometimes, when some work is being done, the valve is left slightly on the turn off side, to make sure that the water gets into the popes slowly and gradually to prevent damage.
See that the pressure regulator on your pipes is working efficiently. Normally, it reduces the water pressure to somewhere between 80 and 50 PSI. That is very important, as the incoming water pressure might be too high, causing damage to the plumbing.
Check your faucets and showerheads. With time, they might get clogged, as the water in our pipes is rather hard. Unclogging them might solve the problem of low water pressure in some cases.
If nothing helps your problem, yet you want to take an invigorating shower nonetheless, consider installing a high-pressure showerhead. It will solve your problem even if nothing else has helped.
About High Pressure Shower Heads
High pressure shower heads are constructed and designed to work as the ideal shower heads for low water pressure by providing an increased amount of water flow. This high pressure water flow, even with a weak water supply can be achieved with the special mechanism of high pressure shower heads. Comprising such parts as a pressure chamber and an adjustable water spray, they can prove very helpful for increasing the flow of water. The pressure chamber forces the water to come out with added force by adding air to the water, hence functioning as the ideal shower head for low water pressure conditions.
The Best High Pressure Shower Head Benefits
Thorough Washing And Cleansing: The reason we use high pressure hoses to wash cars and windows is to get out the stains and spots from all the corners in a single wash. Similarly, high water pressure shower heads are able to provide a more thorough cleaning and rinsing experience. Moreover, you save a significant amount of time spent on washing away the shampoo and soap when you have a high pressure shower head.
You End Up Saving Water: Having a shower with low water pressure is not only frustrating but also time-consuming. At the end of the long shower, you end up with a less satisfactory experience. You also wasted a considerably larger amount of water. With a high water pressure shower, taking a shower becomes quick and refreshing.
Reviewing The Most Efficient Shower Head
If you are tired of the old showerhead that does not keep up with your low water pressure supply, this showerhead from Speakman will provide you a jet stream in the shower, with the same water supply as before. Crafted from high-quality brass, this model is available in seven enticing finish colors .The 360-degree spray technology makes this one of the best high-pressure showerhead on the market. The customer reviews show that this product is impressive by any standard.
---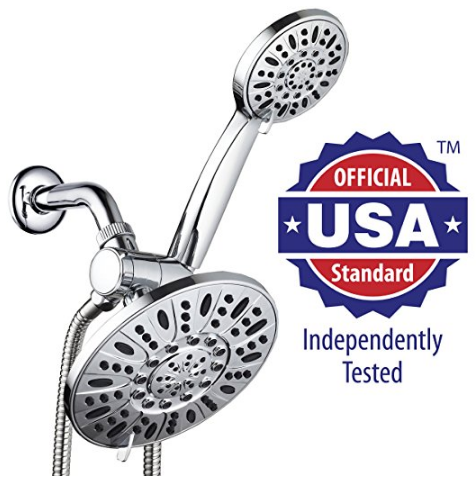 This excellent rainfall showerhead and handheld shower combo will bring style into water conservation. Made of premium grade ABS and high-quality stainless steel, it has a shiny chrome finish that looks rather chic. Apart from the high-pressure feature, this model can boast 30 spray settings; six of them are full: Power Rain, Pulsating Massage, Power Mist, Rain/Massage, Rain/Mist, and Water Saving Pause Mode. It comes with the patented three-way diverter for the highest comfort of use. You can use one showerhead at a time or both together. This model is complemented with an angle-adjustable overhead bracket and a flexible hose.
---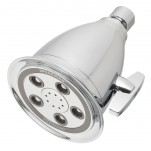 This is yet another product from Speakman that stands among the best showerheads for low water pressure, mainly due to its ergonomic design and five adjustable jets that produce 50 refreshing streams high-pressure water. Constructed from engineered plastic and coated with non-corroding brass available in five different colors, the S-2005-HB is ideal for a rejuvenating shower experience. Its self-cleaning nozzles and eight pulsating massage sprays ensure than your showering experience is always relaxing. This product is one of the best high pressure showerhead models available today.
---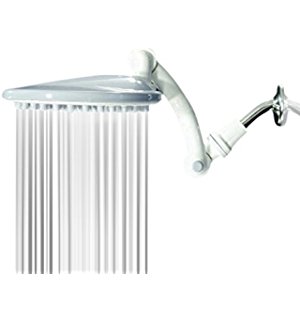 More than just a shower head for low water pressure situations, the Thunderhead TH2.5 is a shower head that offers the refreshing experience of a rainfall shower in low water pressure. With 90 small nozzles to shoot out the water, the Thunderhead TH2.5 has been designed to never clog. The pressure chamber of the TH2.5 shoots out 2.5 gallons of water every minute with even dispersion and the movable design provides extra cleaning angles. With more than 70% five star rating, this shower head is quite popular among the consumers. This showerhead with most pressure is a perfect choice.
---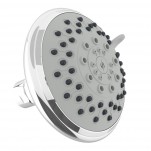 If you have always wanted to  experience a relaxing hotel-like showering experience in your own bathroom, the Spashower high pressure shower head from Vida Alegria is just the thing for you. This grand showerhead comes with five sprays for high pressure shower setting, as well as a classic rainfall drizzle setting which will take you away to another world. With high quality fittings made from brass, you won't have to worry about cracks or water leakage at all. With an easily removable 2.5 GPM restriction, you can enjoy an enhanced water flow. It is quite apparent that customers have loved this product, as the five star rating from the happy customers suggests.
---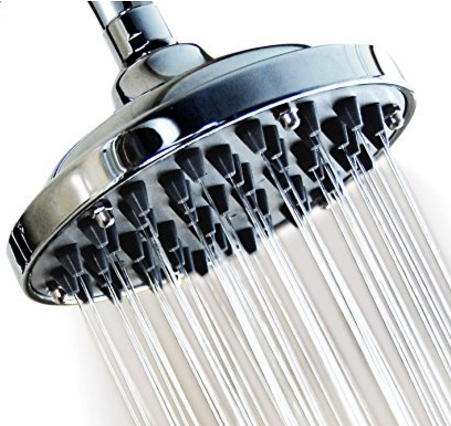 With a six-inch faceplate and 57 nozzles, this rainfall showerhead can offer a truly amazing full-body showering experience. Even if your house has low water pressure, this model can offer a consistent and vigorous spray. The showerhead can be disassembled for easy cleaning and unclogging the nozzles. This feature is especially useful if you have to face the hard water issue. The angle of the showerhead can be adjusted thanks to the metal swivel ball. The construction of this model includes a flow restrictor to keep the water flow at 2.5 gallons per minute. The showerhead can be easily installed in just a few minutes.
---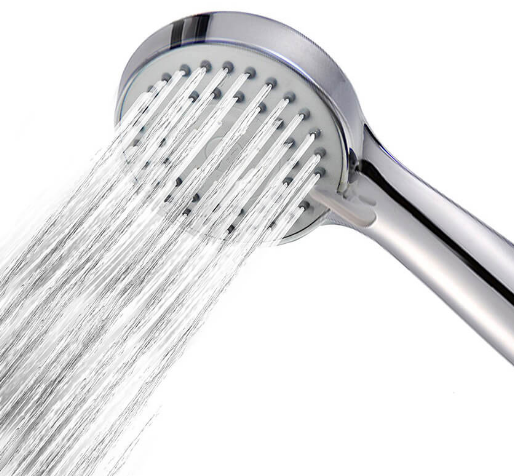 This stylish handheld showerhead can be a real lifesaver for those who suffer from low water pressure in the shower. Apart from solving the low water pressure issue, this model can help you conserve water thanks to the upgraded 2XP Turbo charging technology. The showerhead can offer a diverse showering experience thanks to its three spray settings – Powerful Shooting, Pulse Massage, and Mixed. It comes with everything necessary for installation – a shower bracket, a stainless steel hose, Teflon tape, and manual instructions. The polished chrome finish will bring gloss and luxury into your shower.
---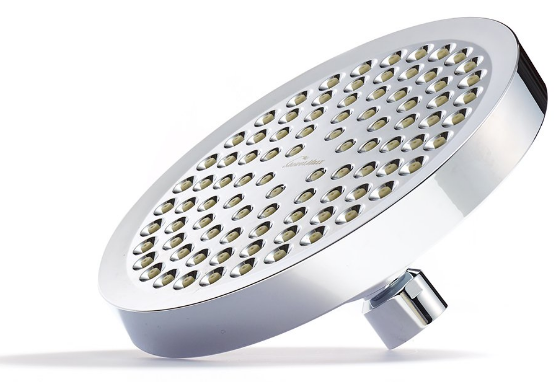 Available in four stylish finishes, this showerhead will become an amazing addition to any bathroom. You can choose out of brass, brushed nickel, chrome, and oil-rubbed bronze finish colors. The design of the showerhead includes 90 precision-engineered high-pressure jets for a truly refreshing showering experience each time you enter the shower enclosure, no matter the water pressure in your pipes. Its 6-inch faceplate offers a full-body coverage. If you have long hair and suffer each time trying to rinse it, this showerhead is just the thing for you. Its powerful stream will help you rinse your hair in moments.
---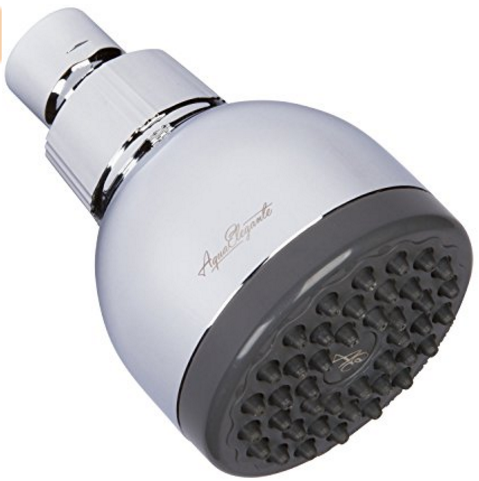 The sturdy construction of this high-pressure shower head will ensure many years of flawless performance. Made of top-grade ABS plastic with high-quality brass fittings, it has a durable and reliable design. This showerhead is just the thing for those who want to minimize time and efforts spent on cleaning. It comes with self-cleaning silicone jet nozzles that fight hard water buildup. Thanks to this feature, the showerhead will never become clogged. Its faceplate contains 36 nozzles to offer a refreshing shower. This model comes with a removable flow restrictor so that you can regulate the water flow to a necessary level.
---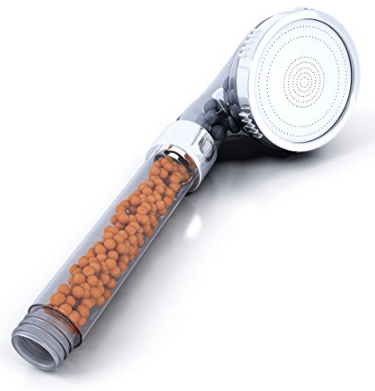 The best showerhead not only provides a high pressure water shower, but also incorporates the style factor and rejuvenation into the showering experience. ZenFresh is among those showerheads, as it not only adds water pressure, but also provides a unique water filtration system that makes even hard water soft and gentle to your skin, which is a necessity for people with dry or sensitive skin. With bioactive stones in this handheld showerhead for low water pressure, you enjoy a spa treatment right in your bathroom. With positive 5-star feedbacks from the users of ZenFresh, you can be rest assured that this is among the best showerheads for low water pressure.