The world evolves and brings changes into our everyday life. With the current ecological situation, it is critical to save as much water as humanly possible. As the largest part of water we use daily is consumed in the bathroom, it is very important to install water-saving plumbing fixtures. There are water saving shower heads and bathroom faucets for those who care about the environment and want to save some money on the water bills. Toilet is another fixture that uses considerable amounts of water.
Installing one of the best flushing toilets will make your household more water-efficient, as toilet flushes are responsible for wasting large amounts of water. If you are interested, you can check out the Grace Communications Foundation for water-saving tips that will allow you to cut your water usage in the bathroom.
Look through our guide and reviews to find a toilet with best flushing power!With an efficient toilet, you will forget about clogs, as well as save some money by cutting your water usage. You can find the reviews of the best flushing toilets 2018 below.
Toilet Flushing Systems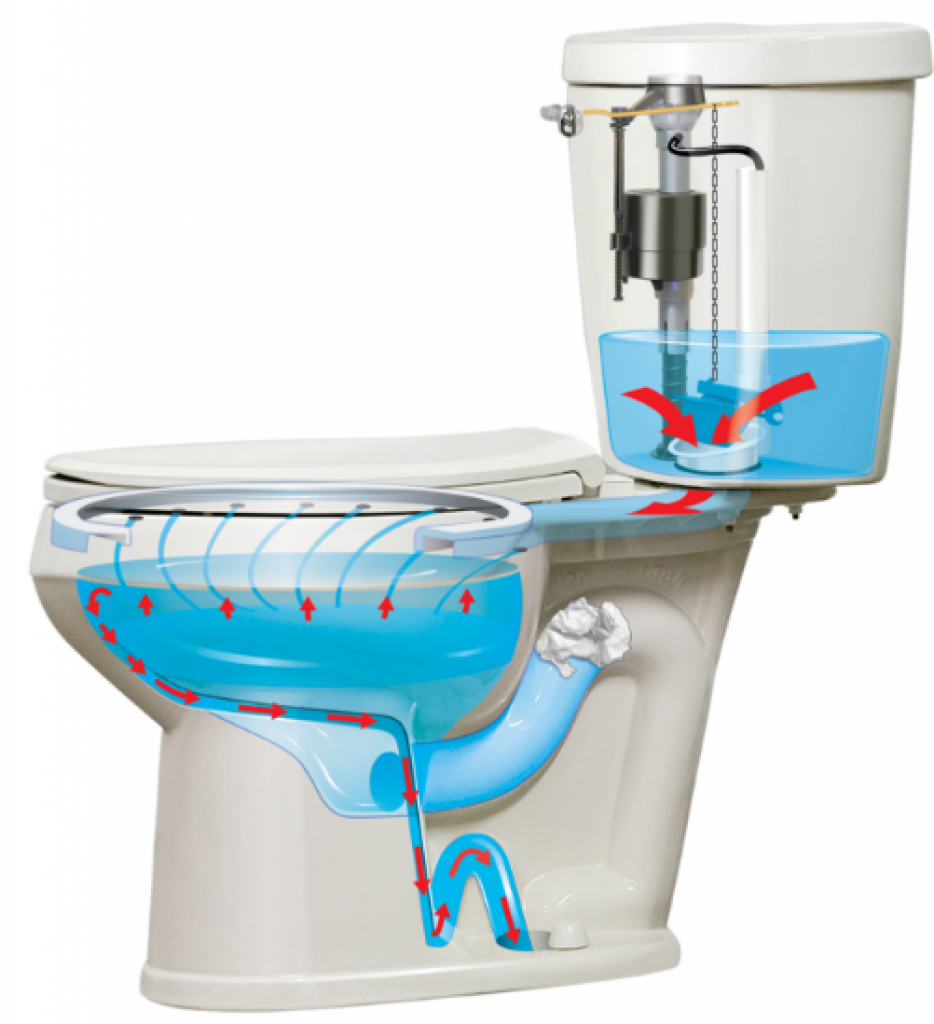 When it comes to toilets, there are a lot of flushing systems. Some of them are more efficient than the others. The main aim of a flushing system is to get all the waste down in one flush. If the toilet is not very efficient in flushing, you will have to do a double flush, and that is not the most economical option. Among all the existing systems, these four are considered the best:
Gravity flush.This is the most common flushing system. Most toilets available on the market dispose of waste with the help of gravity flush. Although this system is very old and not as technologically advanced as the newer ones, it is still preferred by many users.This is one of the quietest systems, as it involves not too much mechanics. The gravity flush system makes a siphoning action and uses the force of water to send everything from the bowl down the drain.
Pressure assisted.Instead of the force of water, this flushing system uses pressurized air to send the water from the tank into the bowl. This ensures fewer clogs than in toilets with the gravity flush system. The pressure assisted system has a more powerful flushing force and is more efficient in disposing of solids. With this system, there will be no need for double flushes. The only disadvantage of toilets with the pressure assisted flushing system is that they are rather noisy.
Double cyclone.This unique technology has been invented by the engineers of Toto. It uses only 1.28 gallons per flush; however, its flushing power is no less than that of the 1.6-GPF toilets. Instead of rim holes that are common for most toilets, models with the double cyclone system come with two nozzles that direct the water to the siphon with the help of the propulsion system. This flushing system uses the combined power of gravity and centrifugal force to flush the waste efficiently and eco-friendly.
Dual flush. This flushing system has been invented as a more eco-friendly option compared to standard toilets. The tank of dual flush toilets is divided into two parts and come with two buttons – one for a short flush and one for a full flush. The short flush uses less than one gallon of water and is designed to remove liquids. The full flush uses no more than 1.6 gallons – enough to send solid waste down the drain. You can learn about the advantages of dual flush toilets and read the reviews on the best models here.
How to Choose the Best Toilet for Your Bathroom
Choosing a toilet for your bathroom, you should consider many factors. The main features you should pay attention to are: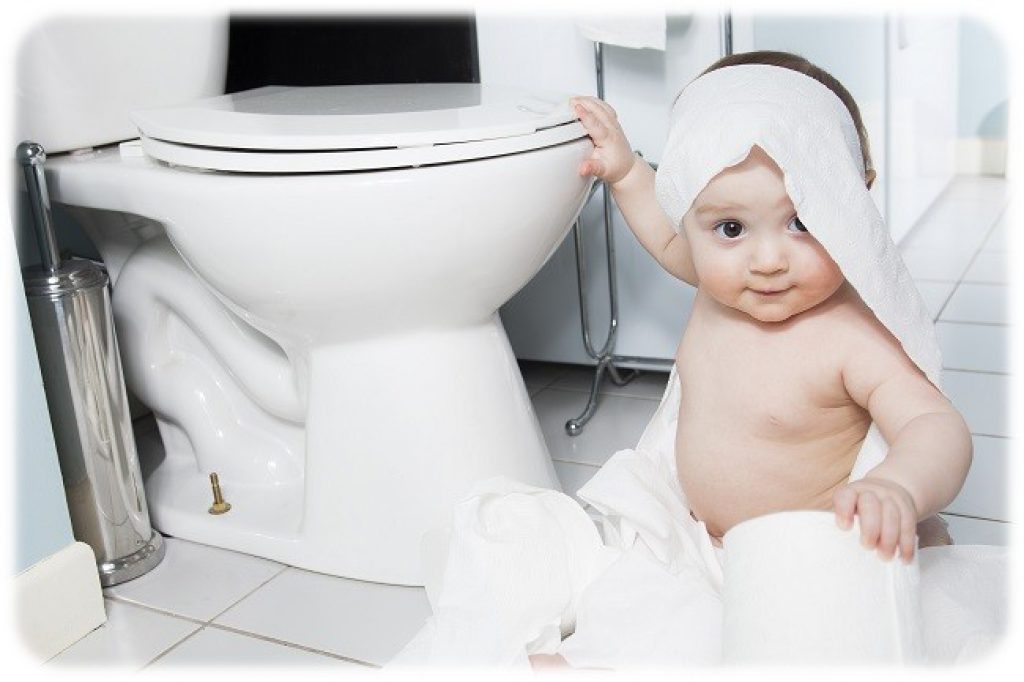 Bowl shape. Toilets come with two standard bowl shapes – round and elongated. Elongated bowls are larger and provide greater comfort, as there is more room for getting yourself as cozily as possible. Round bowls are not so great for your backside. However, they have an advantage of their own. They take up considerably less space, which makes toilets with a round bowl a great choice for tiny bathrooms. Make sure to purchase a toilet seat that will complement the shape of the bowl.
Construction. When it comes to the peculiarities of construction, toilets can be of two types – one-piece and two-piece. In one-piece models, the tank and the bowl are fused into one unit. Thanks to such seamless design, they have a sleek look and no hard-to-clean gaps. They are usually compact and do not require much room. Two-piece toilets are the most common. They are installed in the majority of American households. They are comparatively cheap, and the replacement parts for such models can be found easily.
Water usage. Make sure that the toilet you choose does not consume too much water. Old models used as much as 3.5 or even 7 gallons in one flush.The current federal standard allows using 1.6 gallons per flush. However, the recent technological advancements have allowed the invention of high-efficiency toilets that use 1.28 gallons of water per flush, and even less than that. To choose an eco-friendly and economical option, see if it has a WaterSense label. Such models use at least 20% less water than standard toilets.
Best Flushing Toilets 2018
Top Three Best Gravity Flush Toilets
This practical and stylish toilet will be a great addition to any bathroom. Working on the most traditional flushing system, it uses only 1.28 gallons of water per one flush. This model comes with a three-inch flush valve, which is 125% larger than valves of most conventional models with two-inch flush valves. Thanks to this feature, this toilet can boast a faster flush.
The Eco Ultramax toilet from Toto is a one-piece toilet that has an elongated bowl. Made of high-quality ceramics, it comes in an immaculate Cotton White finish that has a timeless beauty to it. This model has been WaterSense certified thanks to its low water consumption.
Check the price for this flushing toilet on Amazon
---
This two-piece unit will look great in any bathroom, despite its size and design. It comes in six finish colors so that every customer can find the perfect match for the design of their bathroom. You can choose the finish color out of the following options: almond, biscuit, black, ice gray, sandbar, and white.
The Memoirs toilet from Kohler has an elongated bowl for the utmost safety and comfort. The unit consists of a tank and a bowl, the seat is not included. This model comes with the unique Comfort Height feature that makes sitting down ad getting up comfortable for any user, no matter the height and build.
Check the price for this flushing toilet on Amazon
---
This classic toilet is a great option for those who are looking for a high-quality durable unit for their bathroom. Thanks to its compact design, it will fit even into a tiny bathroom. It is available in three finish colors – white, linen, and bone, each equally neutral and elegant to work well with any bathroom décor.
The Cadet-3 toilet from American Standard comes with the patented Flo-Wise technology that makes it very efficient at flushing solids. This is a high-efficiency model with low water consumption. Another handy feature of this model is the EverClean surface that prevents the growth of pathogenic bacteria, mold, and mildew. This toilet is complemented by a soft-close seat.
Check the price for this flushing toilet on Amazon
---
Top Three Best Pressure Assisted Toilets
This toilet with the pressure assisted flushing technology offers durability and reliable performance. This two-piece unit is available in four finish colors – almond, biscuit, black, and white. The dimensions of the unit are 38.2 x 25 x 23.7 inches.
The Highline Classic toilet from Kohler comes with a trip lever. Seat and supply line are not included and must be purchased separately. The elongated bowl and the Comfort Height feature will make sure that you sit on the loo with as much comfort as possible.
Check the price for this flushing toilet on Amazon
---
Made of durable ceramics, this floor-mounted two-piece toilet with an elongated bowl can offer many years of fault-free performance. Its pressure-assisted siphon jet action sends wastes down the toilet with a high efficiency. Its classic design and ever-beautiful white finish will complement any bathroom décor.
The Yorkville toilet from American Standard comes with metal trip lever with a shiny chrome finish. The bowl has a trapway that is 2-1/8 wide – enough to flush efficiently and eliminate clogs and blockages caused by solid wastes that get stuck in the drain. The elongated bowl of this model offers extra space for positioning yourself on the toilet comfortably.
Check the price for this flushing toilet on Amazon
---
This toilet is another great pressure assisted model with a high-efficiency flushing system. This is a cheaper counterpart to the previous model, which makes it a great choice if you are looking for a toilet with a good price/quality ratio. It is a two-piece unit with a 1.6-gallon tank and an elongated bowl.
The Cadet toilet from American Standard comes without a seat. The package includes a tank and a bowl, both made of durable and exquisite-looking vitreous china. The tank has a flush lever with a chrome finish that accentuates the traditional white finish of the unit.
Check the price for this flushing toilet on Amazon
---
Best Double Cyclone Toilet
This WaterSense-approved water-conserving toilet is a great option for those who want to cut their water consumption. Using just 1.28 gallons per flush, it is one of the most economical options available on the market. Its efficient Double Cyclone flushing technology ensures a powerful and quiet flush each time you turn the lever.
The Ultramax II from Toto comes with the patented SanaGloss technology. Each time you flush, its ion barrier glazing cleans the bowl automatically. This model has a simplistic yet elegant design. It is available in several finish colors including Bone, Colonial White, Cotton, Cotton White, and Sedona Beige.