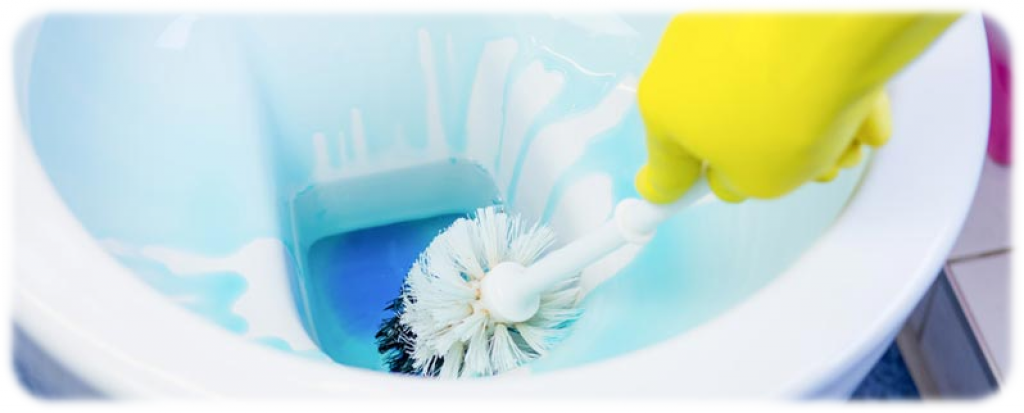 Let's face it – nobody likes cleaning the toilet, even the most house-proud of us. All that rubbing and scrubbing requires a lot of time, effort, and patience. Thankfully, there are many products on the market today that can make this unpleasant chore much more bearable. To make cleaning the toilet much easier, you can use one of the best toilet cleaners. And if there is a blockage in the drainpipe, you might consider using one of the best toilet plungers.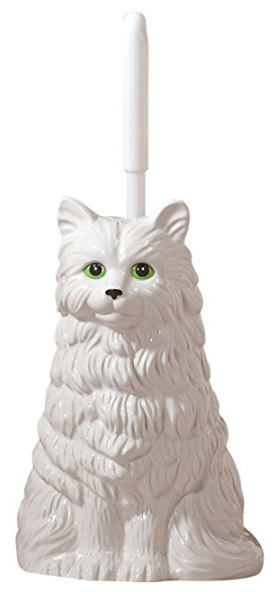 Toilet brush is another useful thing when it comes to cleaning the toilet. It is used to scrub the inside of the toilet bowl. There are models for any pocket. Toilet brushes come in a wide variety of finish colors and styles to match any bathroom. There are standard plastic models as well as elegant units made of high-quality metals. Toilet brushes and brush holders can be simple or decorative, designed in shapes of different animals – cats, bears, parrots, and more. Some brushes come with an inserted toilet cleaner or air deodorizer.
Toilet brushes consist of two parts – a long head and a brush head with rough bristles. Brush heads can be of several shapes; the most popular are crescent and rounded. Most models come complemented with a toilet brush holder, canister, or caddy that hold the brush in a vertical position and keep it in easy access.
With so many toilet brushes from different brands available today, choosing the one that will be perfect for you is a bit of a challenge. Hopefully, our reviews will help you find the best toilet brush that will meet all your needs.
Top Five Best Toilet Brushes
This brush will be a great addition to any bathroom. Thanks to its crescent head, it reaches all the hard-to-access areas of the toilet and removes any dirt inside the bow and around the rim. Apart from practicality and high efficiency in cleaning, this model has rather an attractive design.
This toilet brush from Simplehuman comes in two finish colors – white and black. The brush is complemented with a convenient caddy with a magnetic collar that secures the cover to the stainless steel rod of the brush. This feature allows carrying the brush and the caddy together to avoid drips.
Follow this link to shop for this toilet brush on Amazon
---
This brush is a great toilet cleaning essential. It comes with two kinds of bristles – white for cleaning inside the bowl and blue for scrubbing around the rim. Its handle has a knop at the top for easy and comfortable grip. The brush has a flexible neck for a wider range of movement. This model is available in three finish colors – white, biscuit, and black.
This Good Grips toilet brush from OXO comes with a hideaway canister that stores the brush when it is not in use. The canister has a convenient door that opens automatically when you pull the handle of the brush to take it out. The canister drip tray has ventilation holes that create a good airflow and allow the brush to stay dry.
Follow this link to shop for this toilet brush on Amazon
---
The strict simplistic design of this brush will look great in a bathroom of any design, from classic to modern. Its compact design will fit even in the smallest of bathrooms. Made of durable plastic, it is guaranteed to serve you for a long time. You can be sure that the handle will not bend or break, no matter how hard you scrub the toilet.
The mDesign toilet brush from MetroDecor comes with a high storage holder. The brush comes with a detachable head for easy replacement. The bristles on the head are bristle to offer a perfect cleaning performance. This model is available in several varieties – Classic, Compact, Discreet, Modern, and Slim.
Follow this link to shop for this toilet brush on Amazon
---
This brush has a unique design that allows it to clean the toilet with increased effectiveness. Unlike the other models, it has unique extensions for under-the-rim areas. The bristles are made of long-lasting fibers for extra durability. They contain an anti-microbial agent that resists bacteria and odors and prevents the growth of mold and mildew.
The Lysol bowl brush has a comfortable easy-grip handle that will not slip out of your hand in the middle of cleaning. This model comes with a caddy that fixates the handle to keep the brush from falling. The length of the handle is 12 inches, and the diameter of the head is 7 inches.
Follow this link to shop for this toilet brush on Amazon
---
This standard toilet brush is a nice option for people with a limited budget. Despite its affordable price, all the elements of this model are made of high-quality materials – not plastic, but a durable metal. It is available in three finish colors – bronze, matte steel, and stainless steel.
This bowl brush from Home Basics has a compact design. Its diameter is 4.5 inches, and its length is 15 inches. It comes with a convenient holder, also rather compact. The handle of the brush has a lid that closes the holder when you put the brush into it.
Follow this link to shop for this toilet brush on Amazon
---
Electric Toilet Brush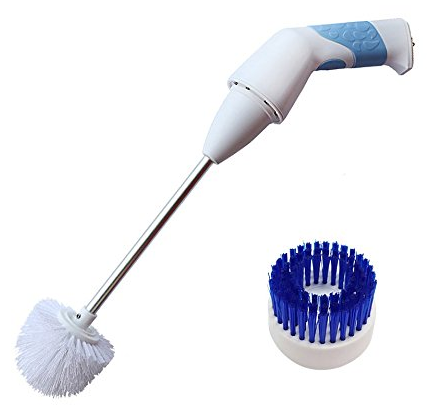 Tired of all the rubbing and scrubbing needed to clean the toilet with a brush? Then, there is an option for you. An electric brush is just what you need. It will save you a lot of elbow grease and let you put your efforts into something else. This electric toilet brush from Fine Dragon will bring high technology into your cleaning routine. It comes with two interchangeable brushes for different cleaning modes. This model has an ergonomic handle with an anti-slip surface for the utmost comfort of use. This unit is cordless and works on a rechargeable battery. The charger adapter kit is included into the package.
Follow this link to shop for this toilet brush on Amazon
---
Tips on Toilet Brush Maintenance
With use, your toilet brush will accumulate a lot of germs and harmful bacteria. That is why it is very important to clean the brush and its holder regularly, best of all once a week. You should use bleach or another disinfectant of your choice to make sure that all the pathogenic microorganisms are killed. Apart from that, you will need a bucket and rubber gloves to protect your hands.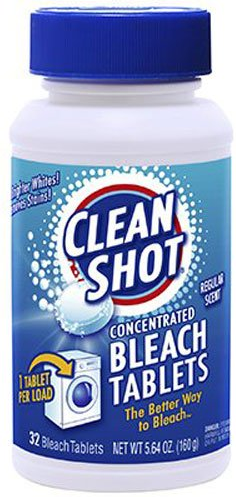 Fill the bucket with hot water – the hotter, the better – and add a few bleach tablets. Now, put the brush and holder into the bucket and let them soak for about an hour. After that, rinse the brush and holder with hot water and leave them to dry.
For those who care about the environment, there is an eco-friendly way of cleaning toilet brushes. Instead of toxic bleach, you can use baking soda. 2-3 cups of soda crystals per a bucketful of water should do the job just fine. However, this method requires more time for the brush to become clean – you will have to leave it in the soda solution for several hours. You can also add some vinegar for more effective cleaning.
Remember to replace the brush regularly as well. A new one should be purchased as soon as the brittles become bent or flattened. If you do not replace the brush when it starts showing such signs of wear, it can start scraping the inside surface of the toilet bowl creating scratches where germs will flourish.