Do you have a doorless shower or a tub shower combo? If so, you have probably noticed puddles on the floor when you stepped out of the shower.
A shower curtain can solve that problem for you.
Advantages of Using a Shower Curtain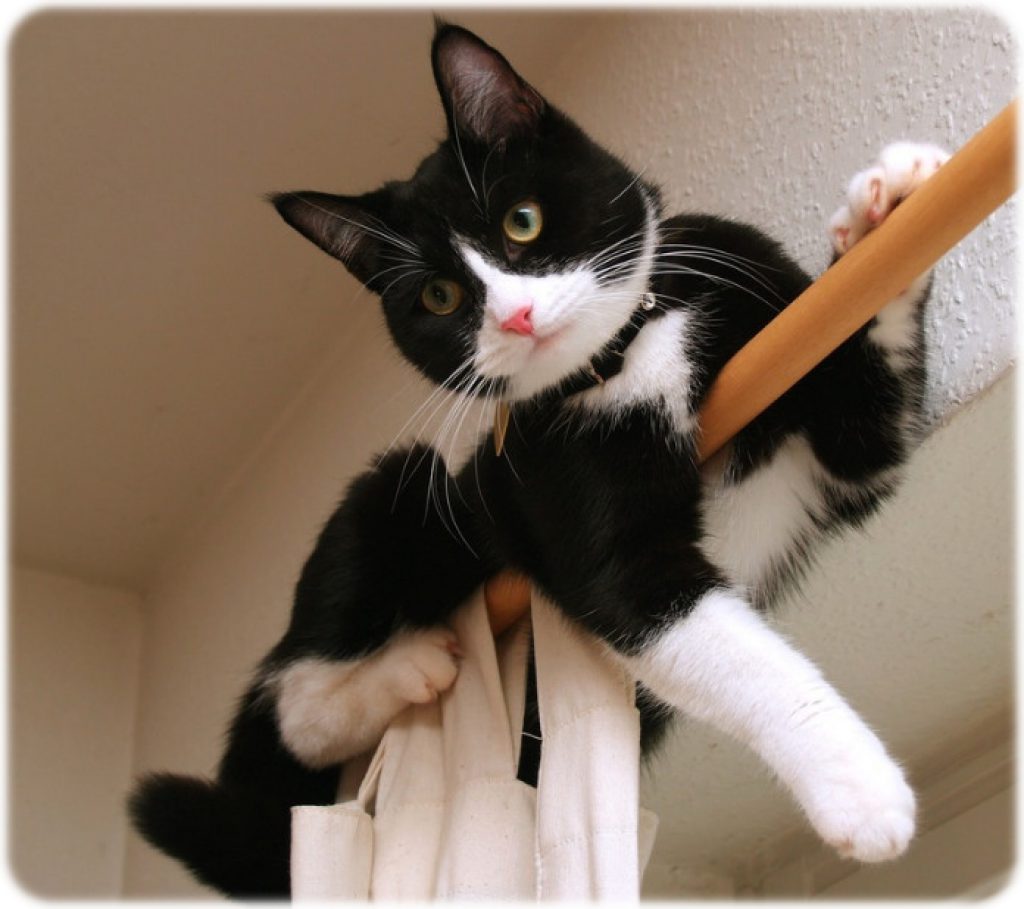 It is practical, especially compared to shower doors and screens. Most shower curtains are machine washable, so you will not have to spend a lifetime cleaning them. Besides, you do not need any special cleaners with them. You can easily wash them with your usual laundry detergent. At the same time, they prevent the water from spraying all over your bathroom just as good as shower doors and shower screens.
If your shower has a glass door, make sure to check out this review of our Best Cleaners for The Bathroom and Shower, where you can find the advice on how to remove hard water stains and soap scum from glass shower doors.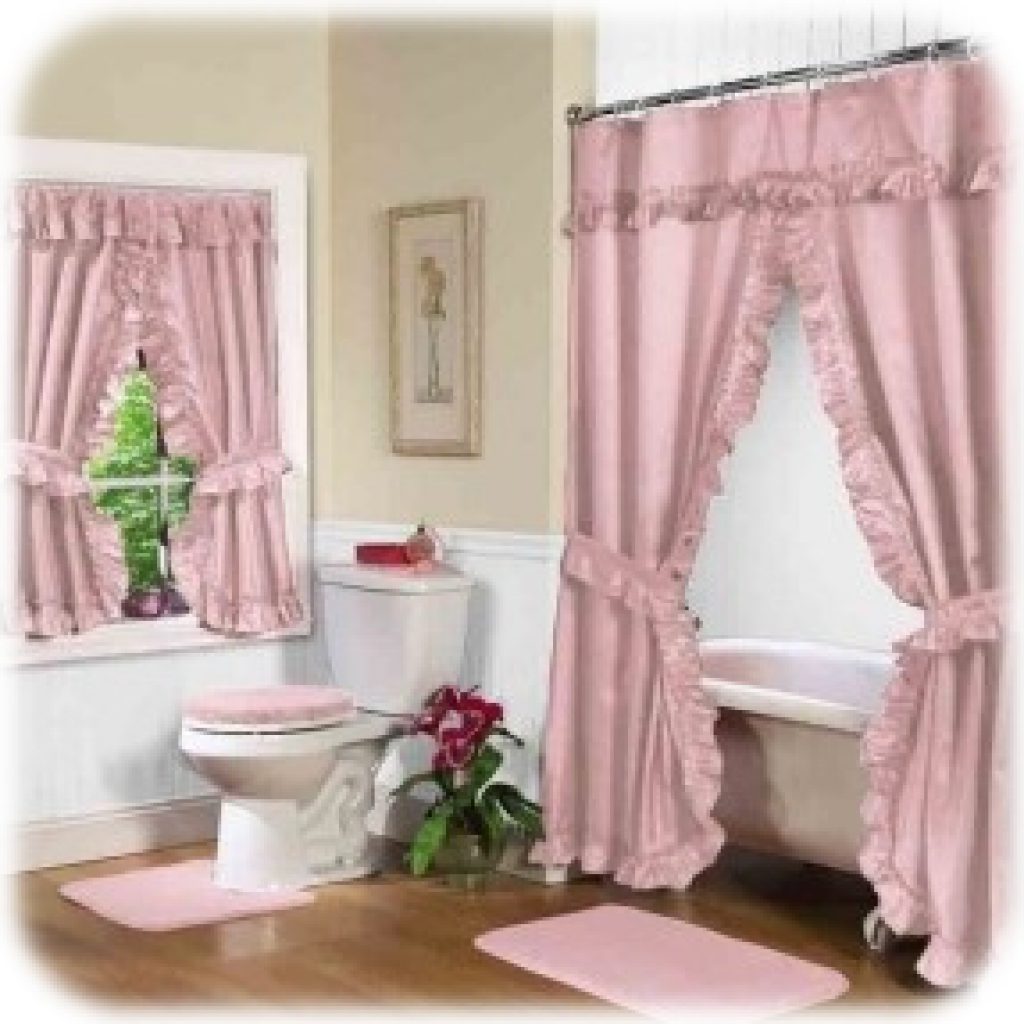 It would add a special feel to the design of your bathroom. Shower curtains come in a great variety of designs. Among the classic ones are floral and geometric, as well as monochrome. However, you can choose ones with modern prints that range from animalistic to urban. There are also shower curtains with superheroes, newspaper pages, and even maps printed on them. You can even find some with periodic table prints!
How to Choose a Shower Curtain
Make sure you know what kind of shower curtain you want before going shopping. You should know the answers to the following questions to choose the one best for you. What material would you prefer? How often do you use your shower? How much time are you ready to dedicate to cleaning the curtain?
Hopefully, our pointers will help you to make the right choice.
Material. Shower curtains are mostly made of fabric. The assortment of textile materials on the market is impressive.
For starters, there are such simple fabrics as burlap, linen, cotton, hemp, percale, denim, and toile. If you want to add a luxury vibe to your bathroom, you may pick a deluxe fabric, in which case, options like satin, brocade, silk, and nylon are available to you.
However, the best fabric for shower curtains is polyester as far as the optimum is considered. This material has many advantages. It is waterproof and dries quickly. Besides, it is mildew-resistant, which makes polyester perfect for the bathroom. At the same time, polyester curtains are not too expensive.
Vinyl curtains are also rather popular. However, PVC has been proven harmful to health and environment. You can find out more about that in this article.
---
Design. Have a look at your bathroom before choosing the shower curtain. If it has a classic design, make sure to choose a curtain with soft colors and traditional design. If your bathroom has the modern style, there are many print options for you.


---

Cleaning. If you want a curtain that is easy to clean, try a polyester one. Hemp, cotton, and linen are also easy to maintain. Other fabrics, however, require delicate cleaning and cannot be machine-washed.


---

Usage. If you use your shower several times a day, consider purchasing a waterproof curtain. Most fabrics absorb water and may not be able to dry quickly enough. The only waterproof material other than vinyl, harmful to your health, is polyester. However, if you would like to have more glamor in the bathroom, you can choose one of the luxurious fabrics and spray it with this Water Repellent.
Top Five Best Shower Curtains
This curtain has elegant leaf prints and comes in ten color variations. It is made of mildew-resistant polyester and comes with twelve ring holes. Besides, you can choose the size out of several available options in most online stores.
The Leaves Soft Fabric will perfectly match a bathroom with classic design. You can use it without any liner, although it would look much better if you get one to match it.
Click this link to read the customers' reviews on Amazon
---
This monochrome curtain would also be a great choice for a classic bathroom, designed in soft colors. There are three color options: cream, white, and sand, each looking equally chic.
The Gypsy Ruffled is made of 100% polyester. It doesn't look cheap, though. Its multiple layers look very stylish and give a unique charm to the bathroom.
Click this link to read the customers' reviews on Amazon
---
This curtain would be a wonderful option for those who like unusual and fun prints. It comes in eight design variations, each with the potential to make your bathroom look unique and personalized.
The Kikkerland does not come in many sizes. It is made of polyester, which makes it very easy to clean and maintain.
Click this link to read the customers' reviews on Amazon
---
The floral design of this curtain may seem traditional. Although the intense colors would make it a perfect match for the bathroom that has a modern design.
The Thistle comes in three different sizes. It can be used without a liner, although we highly recommend using one. This shower curtain also has rustproof metal ring holes. Apart from that, it has all the advantages of polyester, which makes it a great choice.
Click this link to read the customers' reviews on Amazon
---
This 100% cotton curtain would be a great choice if you want to have a natural material for the shower curtain. The cotton is thick and durable, and machine-washable. Besides, this curtain would match any bathroom as it comes with more than ten design options.
You can easily hang and remove the Cotton curtain, produced by Danica Studio, thanks to the sturdy grommets. Make sure that your rod is strong enough, though, as this curtain is rather heavy.
Click this link to read the customers' reviews on Amazon
---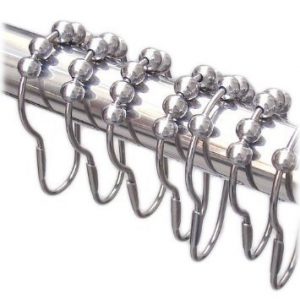 You should also choose the rings or hooks able to hold this heavy curtain. You may try these Wrenwane Shower Curtain Hooks. Those hooks are closed, meaning the curtain will not slide off them. Besides, they are rather sturdy, which makes them a perfect match for this curtain.
Shower Curtain Liners
Most shower curtains come without liners. Now, you can just hang the curtain on the rod without it, especially if it is made of polyester or other waterproof material. Although, a liner makes the curtain look much neater. If you use other kinds of fabric, you can use a liner to protect the curtain from moisture.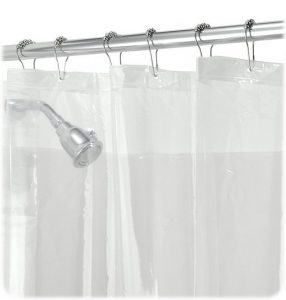 Shower curtain liners used to be made mostly of polyvinylchloride. However, today, they are made of safer vinyl products, such as EVA and PEVA, as PVC has been proven dangerous. Liners made of polyester are also common.
If you are looking for a good liner for your curtain, check out this one. It is made of PEVA 3, which makes it safe to use. It will protect the curtain from mildew. It comes in seven colors and three sizes, which makes it easy to match any shower curtain. In addition, it has magnets at the bottom, which help to keep the liner in place.
Shower Curtain Liner vs Shower Curtain
Some people think a shower curtain liner is a great and cheap alternative to shower curtains. And, from a certain point of view, that is true. Let's find out why it is so.
Shower curtain liners are usually used as a complement product to shower curtains. However, not all curtains need a liner.
Fabric curtains that are made of absorbent materials are recommended to be used with a liner to protect them from excessive moisture. If you use fabric curtains without a liner, you will have to dry them in a warm place with good air flow after each use, which is not the most practical decision. So if you want to enjoy a luxurious feel of a curtain made of a rich fabric, you'll have to have both a curtain and a liner.
Curtains made of water-resistant materials, such as polyester, will work fine without a liner. Basically, they have the same properties as liners. However, liners do not look just as good. Most of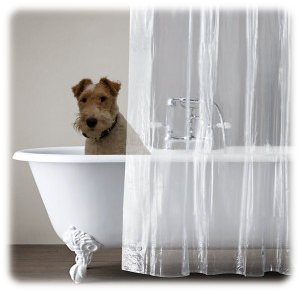 them are made of simple, transparent PVC. If privacy while showering is not your main concern, they may become a nice budget-friendly option for you. Of course, you will have to sacrifice style, as shower curtains come with multiple patterns, unlike shower curtains.
So, the choice is up to you. If showering behind a transparent liner is not embarrassing for you, go for it. If you want to save a few dollars, this is also an option for you. However, if you have to choose shower curtain liner vs shower curtain, we advise you to give your preference to the latter. A shower curtain without a liner looks much better than a liner without a curtain.
DIY Shower Curtain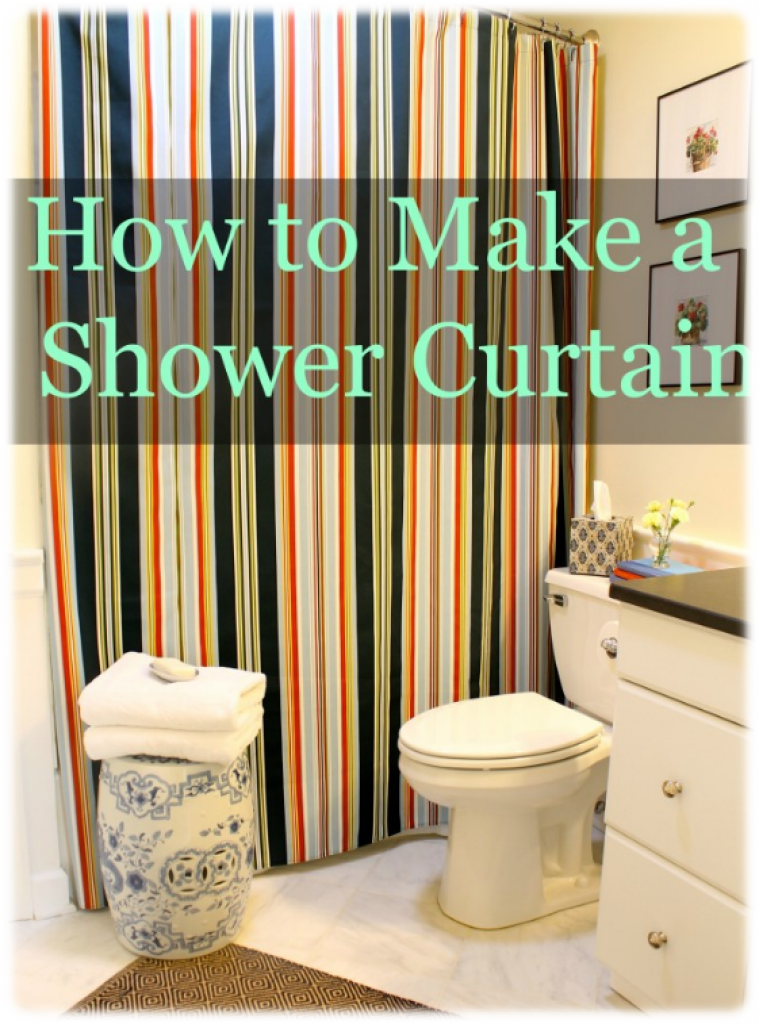 If you are a handy person, making your own shower curtains won't be that serious a task. Just follow these simple steps:
Choose the fabric. For a shower curtain, it is best to choose a water-resistant material. Vinyl, polyester, and polyester-vinyl blend are the best choice.
Decide on the size. Shower curtains used in bathtub/shower combos have a standard size of 72 x 72 inches. Curtains that are hung in shower stalls are usually 50×78 inches large.
Get the right size. No matter which size of the shower curtain is your choice, add 16 inches in width and 8 inches in width for the hem. If you want your curtain to be 72 x 72 inches, you'll need a piece of fabric 88 x 80 inches large. Most fabrics do not come in 88-inch width, so you'll need to take two pieces half that width.
Join two into one. Fold the fabric 4 inches up and down and two inches on the sides and iron flat. Sew the fabric so the folds remain. Sew the two pieces together.
Make holes. To finish the curtain, you need to make holes for the hooks. You can make simple buttonholes or grommets. The latter is more difficult and time-consuming; however, this option is much better from the points of view of both style and practicality.