Decorating the bathroom is quite a serious matter that requires a lot of planning and precision. It is very important to choose the right design and color scheme, as they define the general look and mood of the whole room. Choosing the high-quality materials is crucial, too.


When it comes to the bathroom, one of the most popular floor and wall finishing materials is tile. It is practical, durable, and comes in a variety of shapes, textures, and colors to suit anyone. Tiles are quite affordable and easy to clean and maintain.

However, to tile the shower like a pro, you'll need some complement products, including grout and caulk. They are used to make the tiled surfaces look neat and tidy.

There are many brands producing grout and caulk for tiling. Hopefully, our pointers and reviews will help you understand the difference between the use of these two products, find out what type will match your bathroom, and choose the best grout and caulk for shower.
What is the Difference between Grout and Caulk?
Grout is used to fill the free space between the neighboring tiles. It comprises a mixture of water, cement, and sometimes sand. Some sorts of grout come with different additives, including anti-mold and fungicide agents, colors, adhesives, and water-resistant components. Grout has a hard, sand-like consistency. When it is dry, its texture resembles mortar. Grout for shower tile is a porous material that needs to be sealed to prevent it from absorbing moisture. If you do not use a sealer, the grout will crack and crumble, or develop mold. After it is applied, grout should be left for about three days to cure before you can seal it.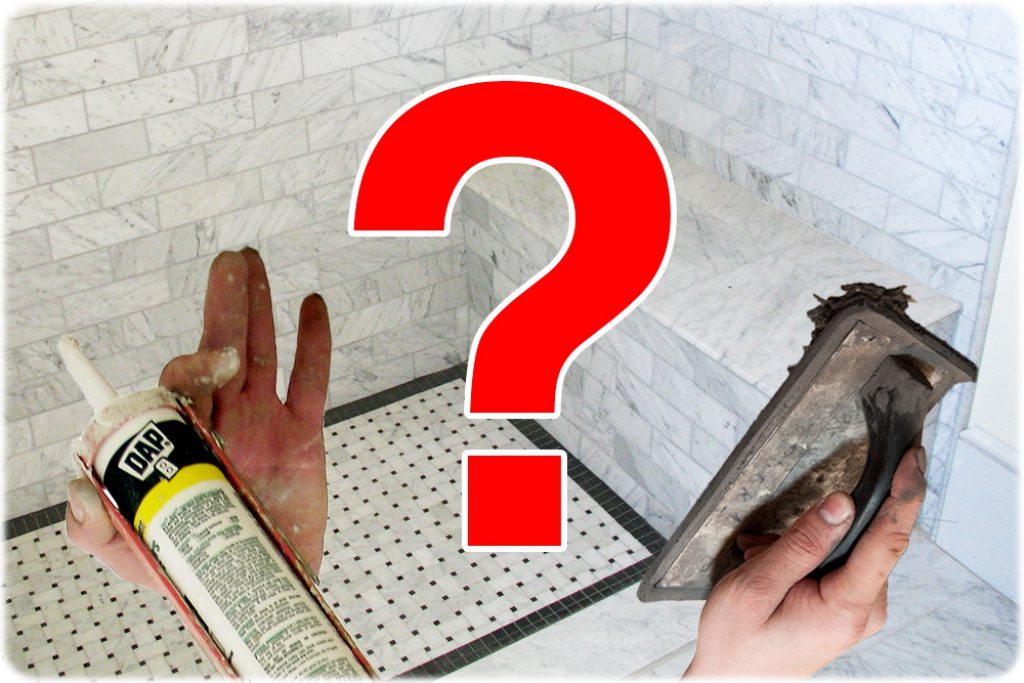 Caulk is used to fill in the gaps between tiles and other surfaces, such as the bathtub or the shower floor. It can be made from a variety of materials, including silicone, latex, and acrylic. It is very flexible thanks to its soft texture. Shower caulk is used as a moisture repellant for waterproofing the floor of the enclosure. It comes in a vast variety of colors, yet white is the most popular and versatile choice. Caulk dries pretty quickly—usually no longer than four hours.
Grout Types for Bathroom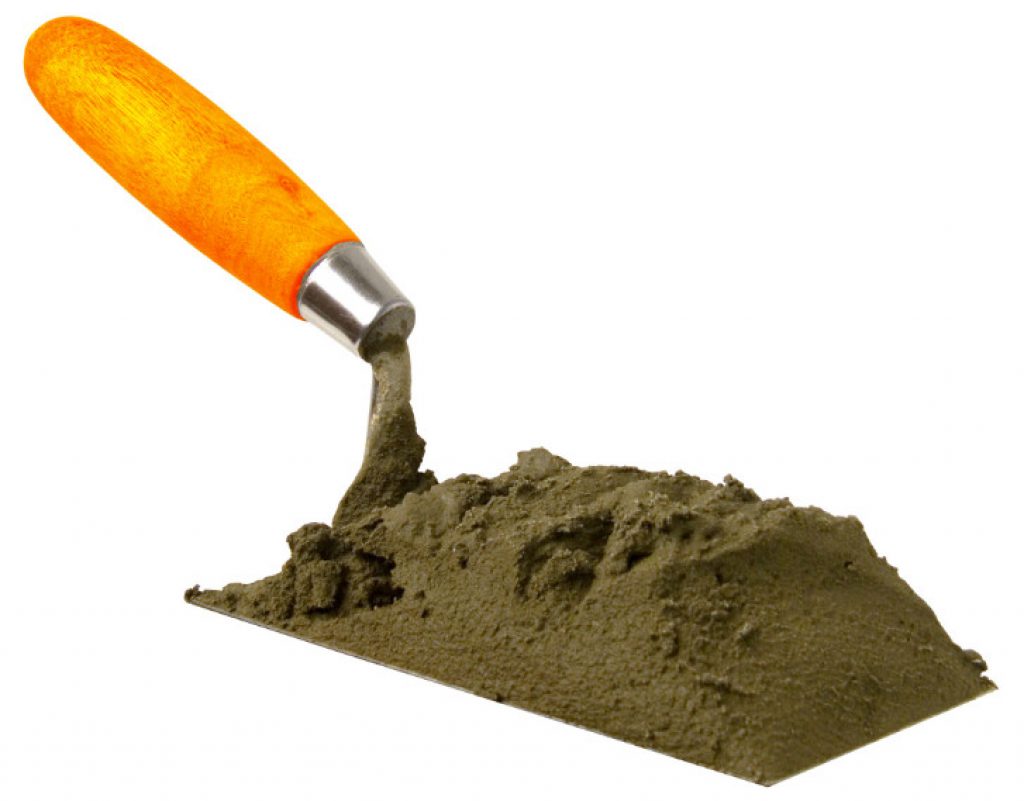 Cement grout is a traditional type that has been used for decades. It is simple in preparation and use, and affordable. However, it has some disadvantages, including a porous surface that chips, stains, and molds easily. That is why it is highly recommended to seal all cement-based grouts after they have cured and dried completely.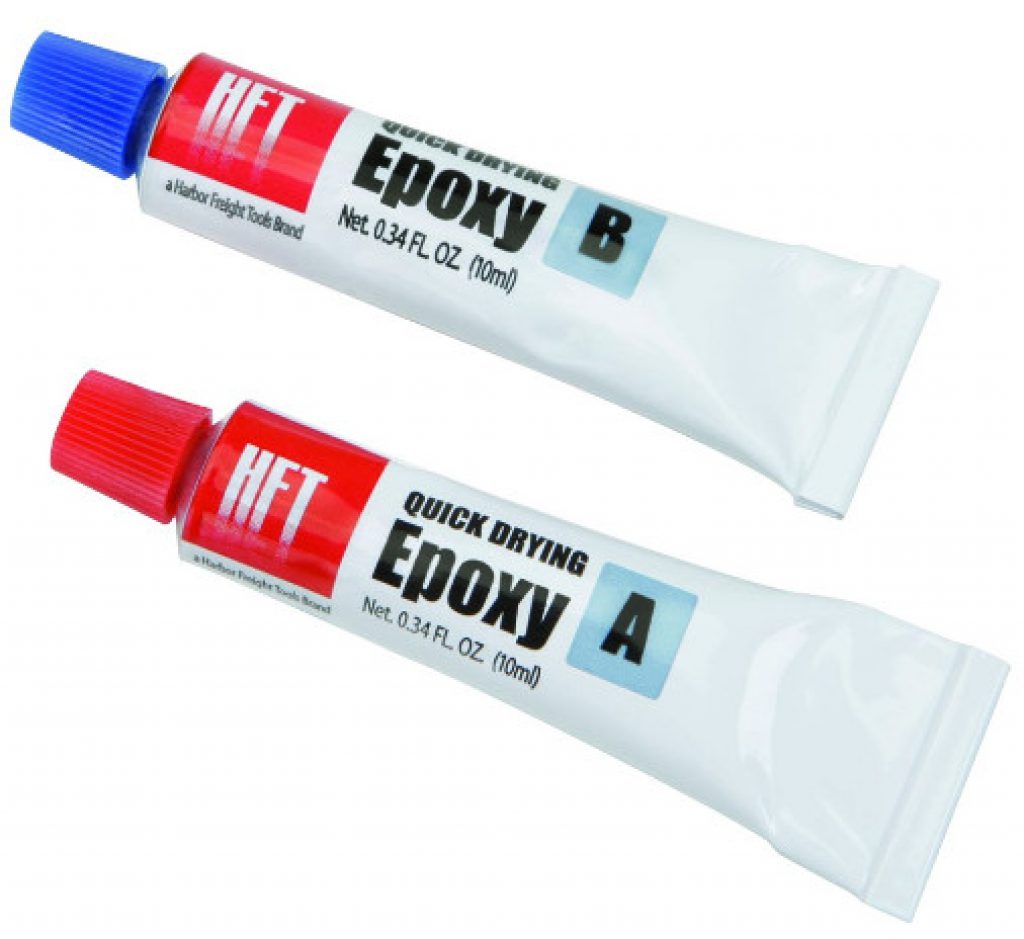 Epoxy grout is composed of epoxy resins and a filler powder. It has become very popular recently thanks to its unique properties. It is very hard and durable as it can resist acidic chemicals and most greases. It does not require any sealers, as the grout itself is waterproof and mold-resistant. It dries much quicker than cement-based grout. It is quite pricey, too.
Both cement-based and epoxy grout can be sanded or unsanded.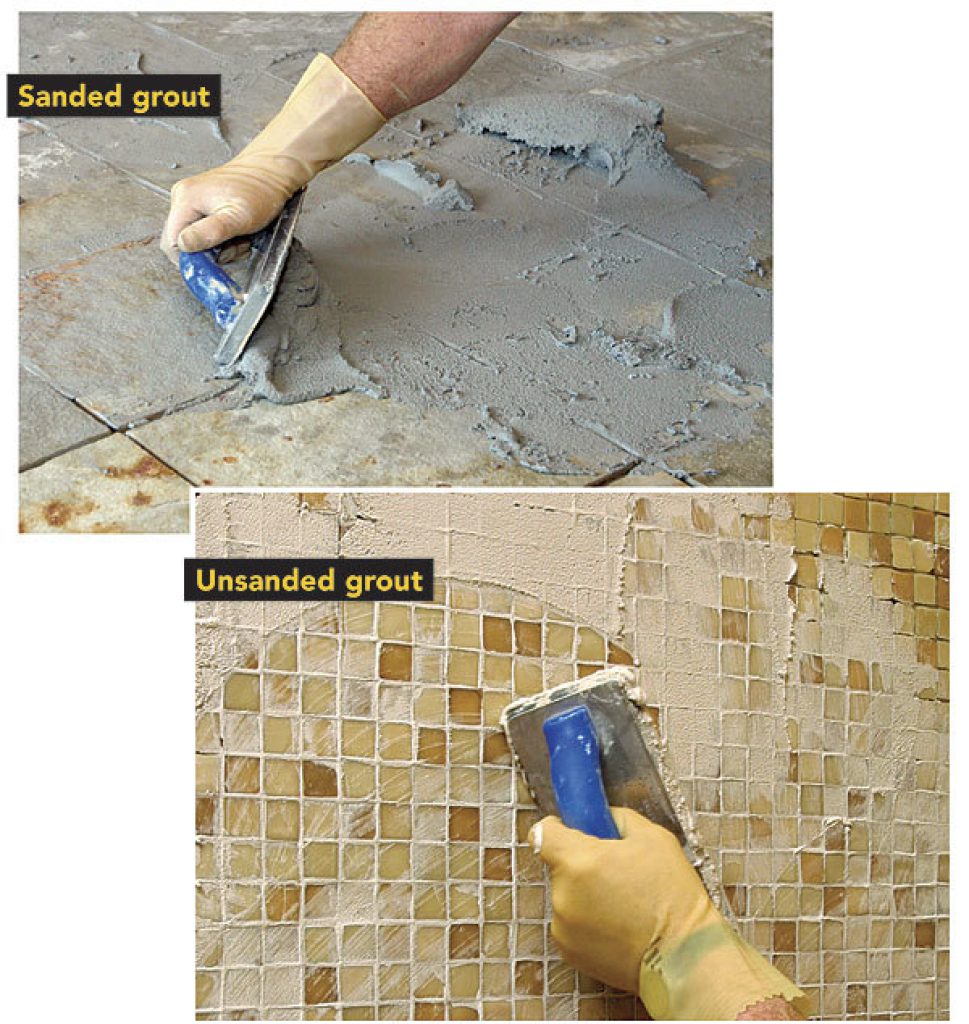 Sanded grout will be the perfect choice for tiles with grout lines that are 1/8 inches or wider. As the name suggests, it contains sand in its formula to make its texture more substantial and prevent the grout from shrinking too much as it dries. Please note that this type of grout is not the best match for tiles made of polished stone, as the sand might scratch it.
Unsanded grout is used for tiles with slim joints, 1/16 to 1/8 inches. It does not work well with wide joints, as it will shrink or possibly even crack. This type is great for such easily scratched materials as ceramic, glass, polished marble, and some others, as it contains no abrasive particles whatsoever. It works best with vertical surfaces, as it is much stickier than sanded grout.
Caulk Types for Bathroom
Silicone caulk is the most popular type, and not without reason. It is very solid and durable and holds great. It is a nice option for use in the bathroom, as it maintains its properties even in humid environments and can resist mildew. It is a great choice for waterproofing the bathtub or showering area.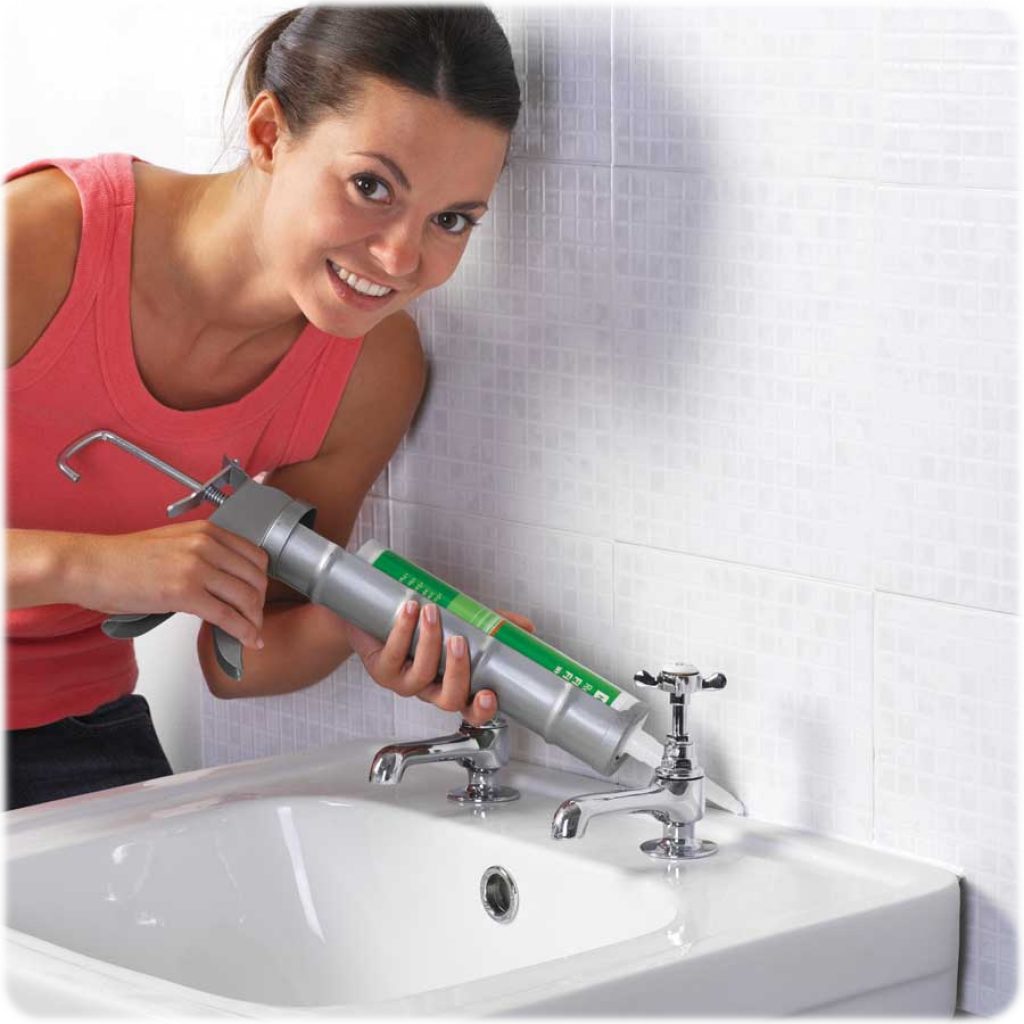 Latex caulk is very easy to apply. It can be painted to match the bathroom décor. Latex is an extremely durable and long-lasting material that can serve you for up to twenty years if you care for it properly. However, it is not the best option for caulking the bathroom, as repeated exposure to water makes latex weak.
Acrylic latex silicone caulk comprises a blend of these three materials. It combines their advantages, such as the durability of silicone and the easy application of latex. This type has improved moisture resistance, which makes it a nice pick for waterproofing the shower.
Best Grout for Shower—Top Three Best-Rated Products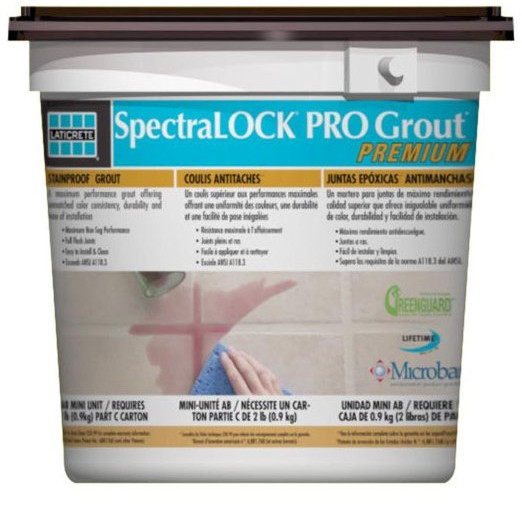 This mini-unit contains 2Ib of premium-quality epoxy grout. This high-rated product can offer high durability, as well as other advantages. It comes with the unique Microban technology, resisting stains and suppressing the growth of mold and mildew.
This versatile grout from Laticrete will be a great choice both for indoors and outdoors application. It is perfect for moist environments like bathrooms, swimming pools, fountains, and others. It will work best with such materials as ceramic, glass, and stone.
Follow this link to shop on Amazon
---
This grout comes in a tube containing 6 Oz of the product. You can order a pack containing one, two, six, twenty-four, or thirty-six tubes. This grout can offer comfort and safety of use, as it is non-flammable and non-toxic, with just a slight odor.
This grout from Elmer's is a durable adhesive solution perfect for grouting the shower. It is very efficient at resisting moisture and preventing mildew between the tiles. Made of acrylic latex, it resists shrinking and cracking well enough to maintain its properties for many years.
Follow this link to shop on Amazon
---
This grout comes in a patented EZ Squeeze tube, ergonomic and convenient to use. Each tube contains five ounces of white grout. Such choice of color will look great in most showers, as white is considered classic when it comes to the bathroom.
This tile grout from Red Devil is a perfect choice for a bathroom remodel. With it, tiled floor and walls will look neat and clean. Like all grout for shower, it is water- and mold-resistant to offer durability and low maintenance. It can be cleaned with any tile and grout cleaner.
Follow this link to shop on Amazon
---
Best Caulk for Shower—Top Three Best-Rated Products
This caulk is available in a number of colors so that everyone can find a matching hue for their bathroom décor. The colors include almond, antique white, black, brown, cedar tan, clear, crystal clear, dark bronze, slate gray, and white. Each tube contains 11 Oz of premium-quality latex silicone caulk.
This product from DAP is a great option for caulking around glass, ceramic, wood, metal, brick, stone, and other common finish materials. It will offer excellent long-lasting and waterproof adhesion thanks to its flexibility, durability, and mold-resistance.
Follow this link to shop on Amazon
---

This silicone caulk is a great option for caulking the shower or bathtub. It will work great in the kitchen, too. It sticks to most bathroom and kitchen surfaces, such as ceramic tile, laminate, porcelain, glass, metal, plastic, granite, and wood. It takes only three hours for this product to dry completely, after which time it can be exposed to water.
This caulk from Momentive Performance Materials comes with a five-year mold-free guarantee. Unlike most caulking solutions, this contains 100% pure silicone with no additives like latex or acrylic. Such choice of material makes this caulk a premium-quality product, as silicone is much more flexible and durable than acrylic, and better at waterproofing.
Follow this link to shop on Amazon
---
This acrylic latex caulk is a unique product. Apart from all the common building materials, it adheres to some of the most difficult ones, including vinyl. It comes with a smooth texture for a quick and effortless application. This product is available in twelve colors, as well as in a clear no-color option.
This caulk from Sashco can endure extreme temperatures as high as 250° F and as low as -30° F. It is paintable so that if the initial color of the caulk is not to your taste, you can achieve any desired hue. Each pack includes twelve 10.5-ounce cartridges. The size of the cartridges is standard to fit most caulking guns.
Follow this link to shop on Amazon
---
Necessary Tools for Grouting and Caulking
Choosing a high-quality material for caulking and grouting the shower is an essential thing, if you want to achieve the best results. However, to caulk and grout like a pro, you will need some extra tools. Here is the list: