Just imagine. It's winter and it's freezing outside. You come home after a long day's work and want to treat yourself to a hot bath. When you have taken your share of warmth and comfort, you get out of the bathtub… only to step on an icy floor and find out that your towel is cold. Sounds familiar?
Fortunately, there is something that can help you to stay comfortable after you step out of the bathtub. A towel warmer.
What is a Towel Warmer?
As the name implies, its main function is to warm towels. It feels much better to dry yourself with a freshly warmed towel rather than shiver during wiping yourself with a cold one, when all you can think of is to be done as quickly as possible.
Additionally, you can use a towel warmer to dry towels and even your clothes. It would also come in handy if you want to reduce the moisture level in your bathroom. A towel warmer would be a perfect choice for that.
Types of Towel Warmers
There are different types of towel warmers, each based on its general structure and the place where you can install it. There are such towel warmers as wall mounted, floor mounted, and freestanding, as well as towel warmer cabinets. The first three types are quite similar in design and don't take up too much space so they would make a good choice if you have a small bathroom. As the names suggest, you can install them on the floor or hang them on the wall, or even move them around freely. Towel warmer cabinets, however, have a different structure, but the functions they perform are the same.


Towel warmers can also be subcategorized based on the kind of energy they use. According to this, there are electric and hydronic towel warmers. Electric towel warmers use electricity, while hydronic ones are supplied with hot water by pipes and by using it reduce the impact on electric bills.
Top Ten Best Towel Warmers 2018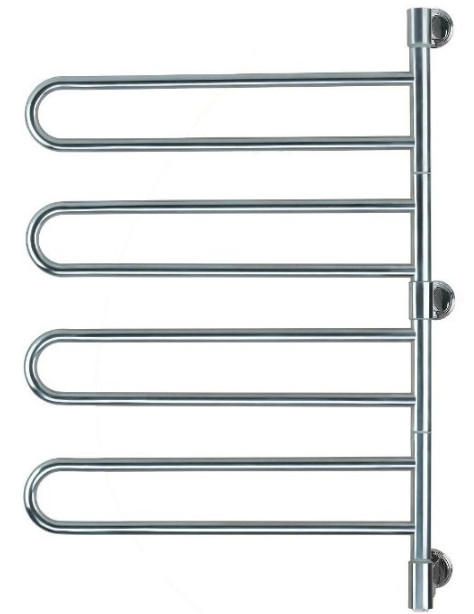 This wall mounted towel warmer is ideal for a bathroom of any size, and its simplistic but at the same time unusual design will revitalize the entire room. Besides, it's very practical as you can move each arm all the way around, creating more space so that your towels could be warmed up evenly.
Made entirely of stainless steel, the Amba J-B004 is corrosion-resistant, so that your towels won't have any unpleasant stains on them. This electric towel warmer heats up to 136 degrees in approximately 5 to 10 minutes and uses the same amount of energy as a standard incandescent light bulb.
The only weak point of this towel warmer is the cord. It is rather short (about 2 feet) and black, which is not the best color decision for a standard bathroom.
Check latest pricing and shipping details here!
---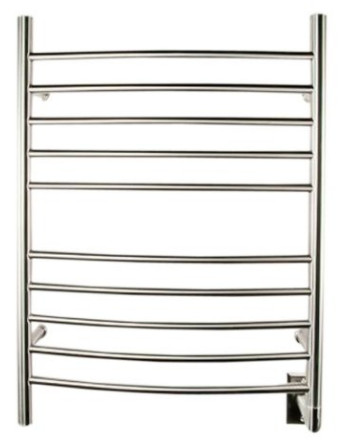 As well as other products of the brand, this towel warmer is made of high-quality stainless steel. Its design is classical and its structure is standard for a wall mounted towel warmer. The Amba RWH-CB consists of two vertical and ten horizontal bars, heated throughout their entire length. The bars reach their maximum temperature in about five minutes.
You can control this towel warmer by the built-in on/off switch, but we would recommend installing an external timer for your convenience. The towel warmer will switch off automatically if you forget to do it yourself, thus helping you to avoid excessive electricity use. Overall, this electric wall mounted towel warmer will be a nice supplement to any bathroom.
Check latest pricing and shipping details here!
---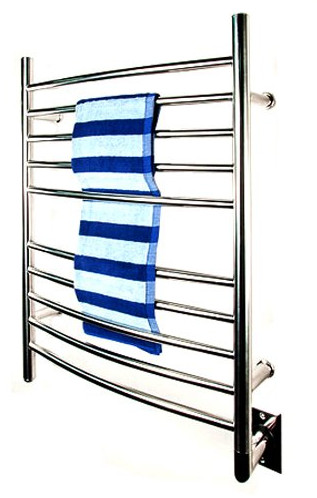 Another towel warmer from Amba's Radiant line. All the technical specifications of the Amba RWH-CP are similar to that of the two previous models. It's well-built and its ten curved horizontal bars provide extra space so that you can hang two full-sized bathroom towels on it.
Besides, this towel warmer looks more subtle thanks to its soft lines, which is good if you care about the aesthetics as well as functionality. In addition, its polished stainless steel finish adds a bit of glamor to any bathroom. And, thanks to its low energy consumption, you won't find any significant changes in your electric bills.
The only serious drawback of this model is the position of the on/off switch, which is placed in a hardly accessible spot. All in all, it is an excellent towel warmer for the price.
Check latest pricing and shipping details here!
---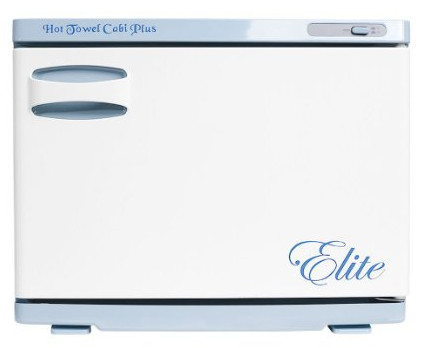 This towel warmer cabinet is a wonderful pick for a spa or beauty salon, although it would be great for home use as well. Its ergonomic and, at the same time, stylish design makes using it very convenient and pleasing to the eye. This towel warmer cabinet is equipped with a water-drip pan and interior rack where you can place the towels. Regardless of its size, a modest one at that, the Elite Hot Towel Cabi-Warmer can hold up to 24 rolled hand towels or two folded bath towels if you take the upper rack out.
You can use this model to get your towels moist and warm for shaving, facial massage and other kinds of grooming, or to just dry-warm your bath towels.
Yet, this product has some weak sides. The first unpleasant thing is a chemical smell; however, it disappears if you air the towel warmer out. The other thing that affects the overall impression is that the towel warmer is not deep enough so that you have to compress the towels tightly to fit them in. Lastly, the Elite Hot Towel Cabi-Warmer takes quite long a time to warm the towels just right, from 20 to 30 minutes.
Check latest pricing and shipping details here!
---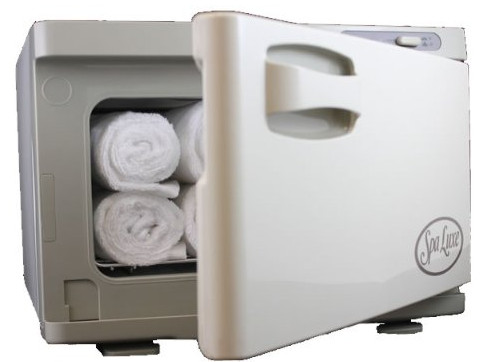 If you are looking for a lightweight and compact towel warmer, the Spa Luxe Mini will be a perfect option. As the name suggests, this model is meant to be used for spa, but it can be bought for personal use as well. Its classic design and neutral colors would look nice in any décor. This mini towel warmer cabinet is rather spacious for a towel warmer its size; it can hold up to 12 standard manicure size towels. As most of the towel warmer cabinets, this model comes with one towel rack and a tray that collects condensation.
The Spa Luxe Mini warms towels to a comfortable temperature within 10 to 15 minutes. The upper temperature limit is 160 degrees. You can put the towels inside the towel warming cabinet either wet or dry, depending on your preferences.
Despite all of the strong points, there is one thing that would surely become an annoyance, and that is a strong smell that takes a long time to disappear.
Check latest pricing and shipping details here!
---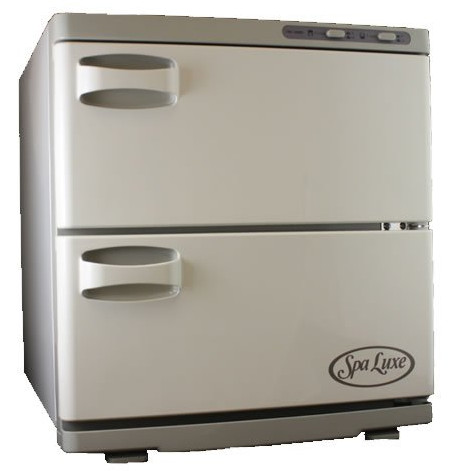 This bulky towel warmer cabinet belongs to the Spa Luxe line. This model would be a good choice if you want a larger alternative to the Spa Luxe Mini. The Double Towel Warmer SL32 can hold up to 48 manicure towels of the usual size, and that is four times more than the mini-version is capable of. The design of the two models is much the same, as well as the rustproof aluminum interior.
This towel warmer cabinet contains two shelves, each with an individual lid, and a collector for water condensation. Probably due to its size, the Double Towel Warmer SL32 takes much longer to warm the towels to the temperature of 160 degrees, 30 to 60 minutes.
The only problem with this model is the strong plastic smell, which is typical for most towel warming cabinets.
Check latest pricing and shipping details here!
---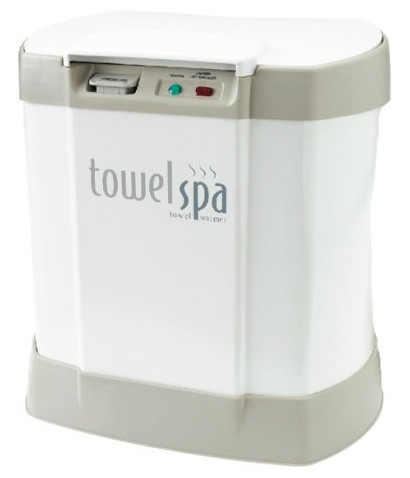 This is another compact towel warmer cabinet that would be perfect for a limited space. The ability to warm towels relatively quickly, compared to other products of this type, is among its undeniable advantages. The Spa Towel Warmer can do the job in less than 10 minutes. The ability to turn off automatically after reaching the maximum temperature is another convenient function of this model. On the other hand, you cannot switch it off yourself, which may become a minor annoyance.
The Spa Towel Warmer would be a good solution if you want to warm small towels to middle-sized ones. With larger towels, however, this model might fail to be useful for you. Although a regular bath towel would fit into the towel warming cabinet nicely, it would not get warmed evenly, the parts of the towel in contact with the inner walls becoming hot and the rest of the towel staying cool. Another drawback is that you will have to wait for at least 20 minutes for the towel warmer cabinet to cool down before using it again. So the Spa Towel Warmer may be good for one person, but not for a big family.
Check latest pricing and shipping details here!
---
Designed to be a nice purchase for any household, the Therma Luxe PTW1 looks very modern. It is quite big so you can put two full-size bathroom towels in it. If you want to warm some of your clothes or a blanket, this towel warmer will do the job just fine. At the same time, it is very light and portable, and it comes with a long cord so it would be easy to move around. Another positive thing worth mentioning is that the unpleasant plastic smell is almost non-existent, which is nice.
If you choose this towel warmer, it would be better to turn it on beforehand as it takes the towels about twenty minutes to get warmed-up. And if you forget to switch off your unit after that, it will shut off automatically in half an hour or so.
Check latest pricing and shipping details here!
---
This wall mounted towel warmer can be used not only for warming towels but also to dry delicates and hand washables. The Warmrails HW/SW Kensington is equipped with eight bars, slightly curved in the middle. When installing this towel warmer, you can choose to either hardwire it or plug it in, as both options are available. Similar to other wall mounted towel warmers, this model will provide comfort without using too much energy.
Unlike the already mentioned wall mounted towel warmers, not all the parts of the Warmrails HW/SW Kensington are made of steel. There are plastic caps on the ends of each bar, painted to look like steel. However, the paint might scratch and peel off with time, which is not very nice.
Check latest pricing and shipping details here!
---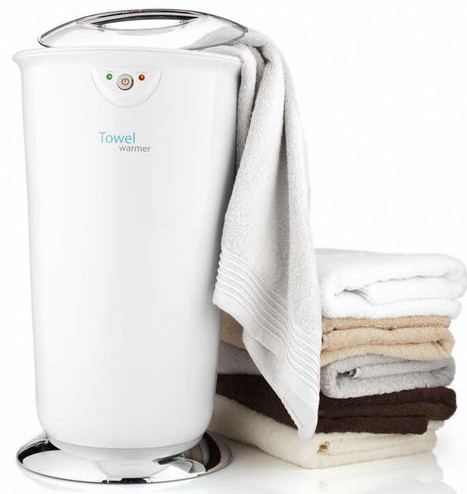 Shaped like a simple trash bin, the Brookstone Towel Warmer can warm two oversize towels in about fifteen minutes. At the same time, it's not that large and can easily fit in a corner. In addition, it switches off automatically and wouldn't let your towels cool down while you are taking a shower so that they would be nice and toasty.
Compared to towel warmers of a similar built, the Brookstone Towel Warmer doesn't need much time to cool down. You'll only have to wait about a minute before you can load another towel. Besides, the time necessary to warm the second loading will be less, only eight to ten minutes.
Despite all these advantages, the Brookstone Towel Warmer cannot heat the towels evenly enough, and the smell is still there. Moreover, its wiring does not seem to be everlasting, so if you're looking for a towel warmer that will serve you for many years, you should choose a more expensive model. All in all, a nice towel warmer for its price.
Check latest pricing and shipping details here!
---
Conclusion
Make sure that you choose a towel warmer with regard to your requirements and budget. If your bathroom is not that big, it would be best to choose one of the wall mounted towel warmers. They don't take up much space as they are put on the wall, besides, they are easy to use. If you want to have moist heated towels, you should pick a towel warmer cabinet. We hope that our reviews of the best towel warmers of 2018 will help you find a perfect solution so that quality meets price.