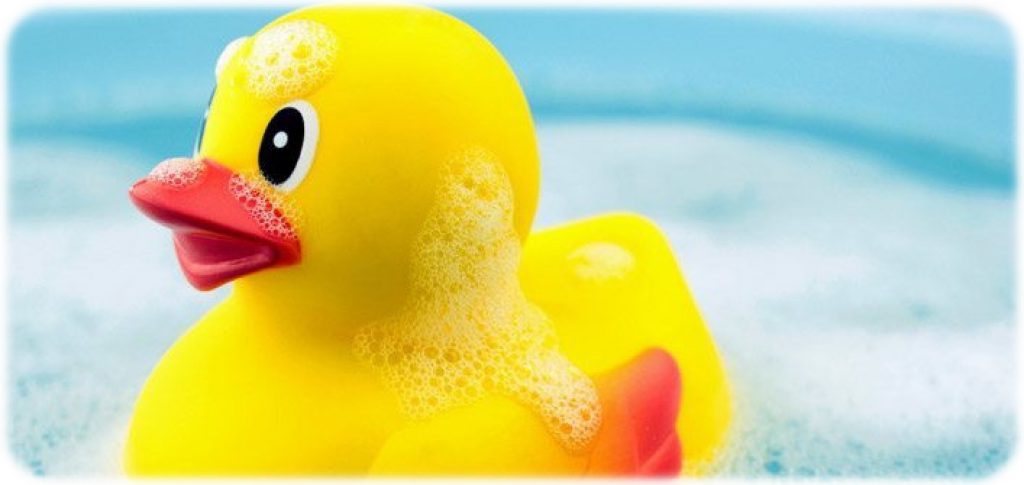 Bathing may sound like fun to you. However, that is only true if your child likes taking a bath, and it is not always the case. Bathing your child can become a challenge more often than not.
Now, if you can handle infants and babies more or less easily, that is not true with toddlers. Kids are extremely active at this stage of development, which makes it very hard to make them sit still even for a few moments. To make a toddler sit in the bathtub for 10 to 15 minutes might seem an impossible task.
Bath toys can distract and entertain your child, making the bath time much more enjoyable both for kids and for parents. See the best baby bath toys 2018 in our reviews below.
Advantages of Bath Toys
They distract the child. Bath toys will make bathing much easier. You can trim your child's nails and wash their hair. Chances are your kid will be too busy playing with the toy to care.
They are fun. Playing with toys will make the bath time much more entertaining. A good toy will make your child laugh while bathing, not cry, meaning, you will not have to calm them afterward. Your kid will be warm, relaxed, and ready for the bedtime. A win-win situation.
They help kids to develop. Bath toys have the potential to improve the child's development. They can help your child to develop physically, emotionally, and socially.  Some of the bath toys aim at creative development, while others improve the child's language skills.
Guide to Choosing Best Bath Toys

There are some points you should keep in mind when choosing bath toys for your child.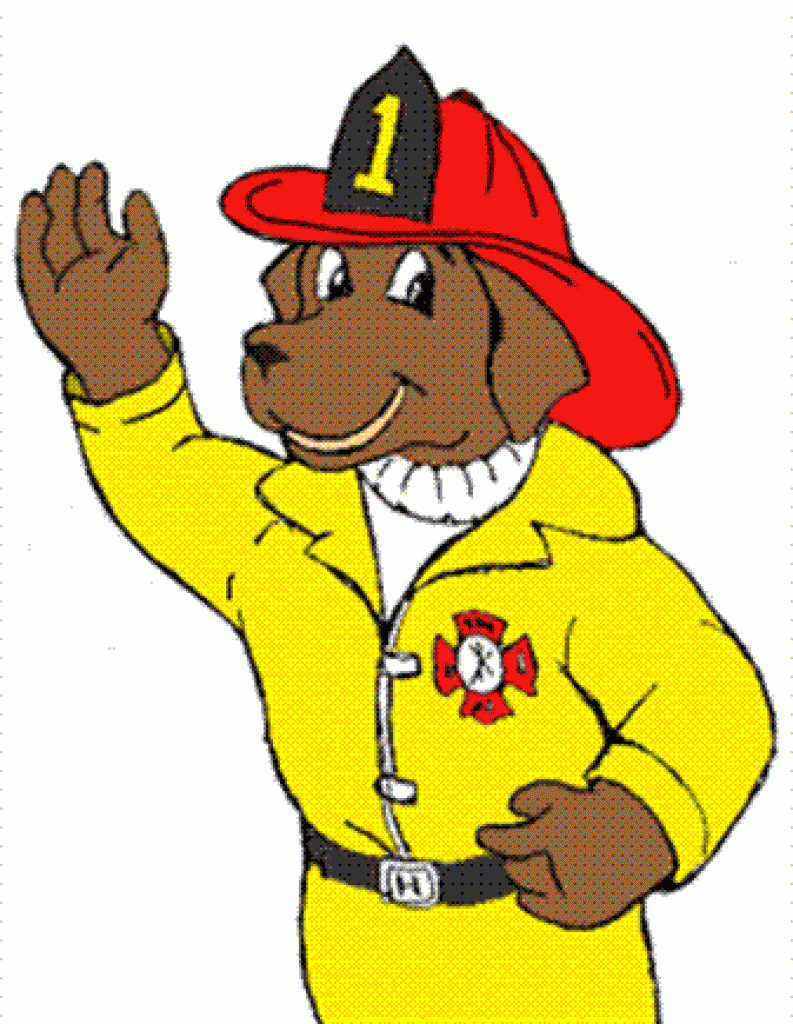 Safety. Make sure you choose toys that are made of non-toxic components. PVC, phthalate, and BPA are considered the most harmful materials for toys. Toys made of natural rubber will be the best choice. If you choose plastic ones, make sure they are PVC-free at least.
Please check if the toy has any small details that can be swallowed to avoid any unpleasant consequences. Otherwise, your child might indeed swallow one of them. They can also get into the child's windpipe and cause asphyxia.
Don't forget to make sure that the toy meets all the safety standards and requirements. Check if it has been tested and certified. You can learn more about Toy Safety here.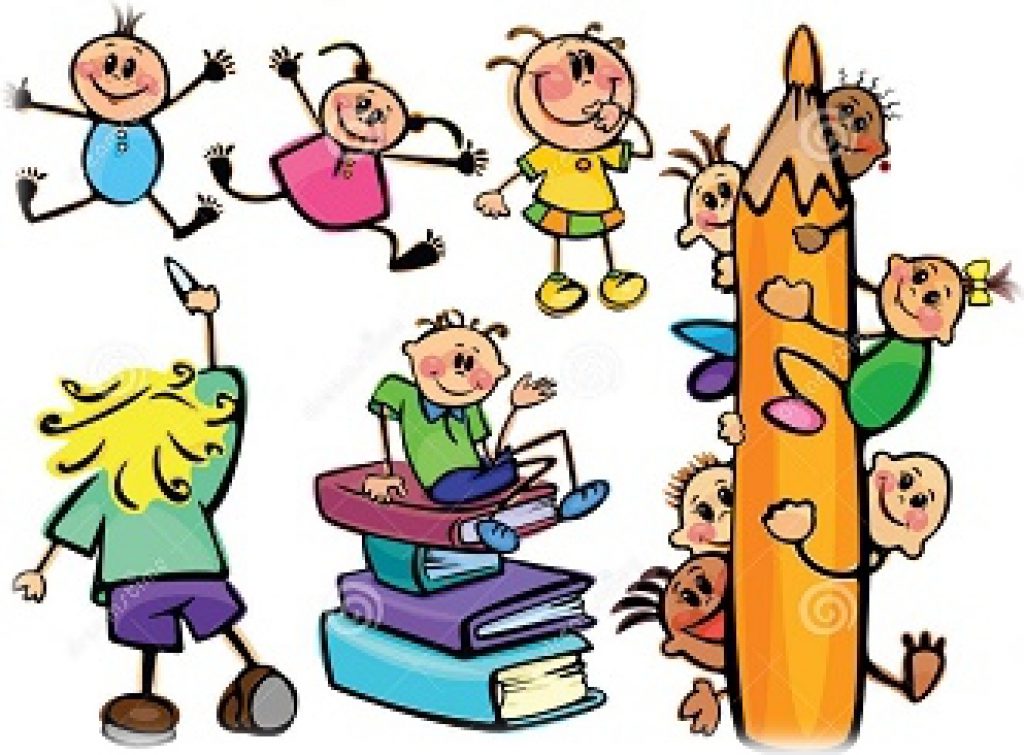 Design. Pick toys that will look appealing to a child. Kids usually like bright high-contrast colors and unusual shapes. Make sure that the shape of the toy is ergonomic as well so that it will be comfortable for your child to handle.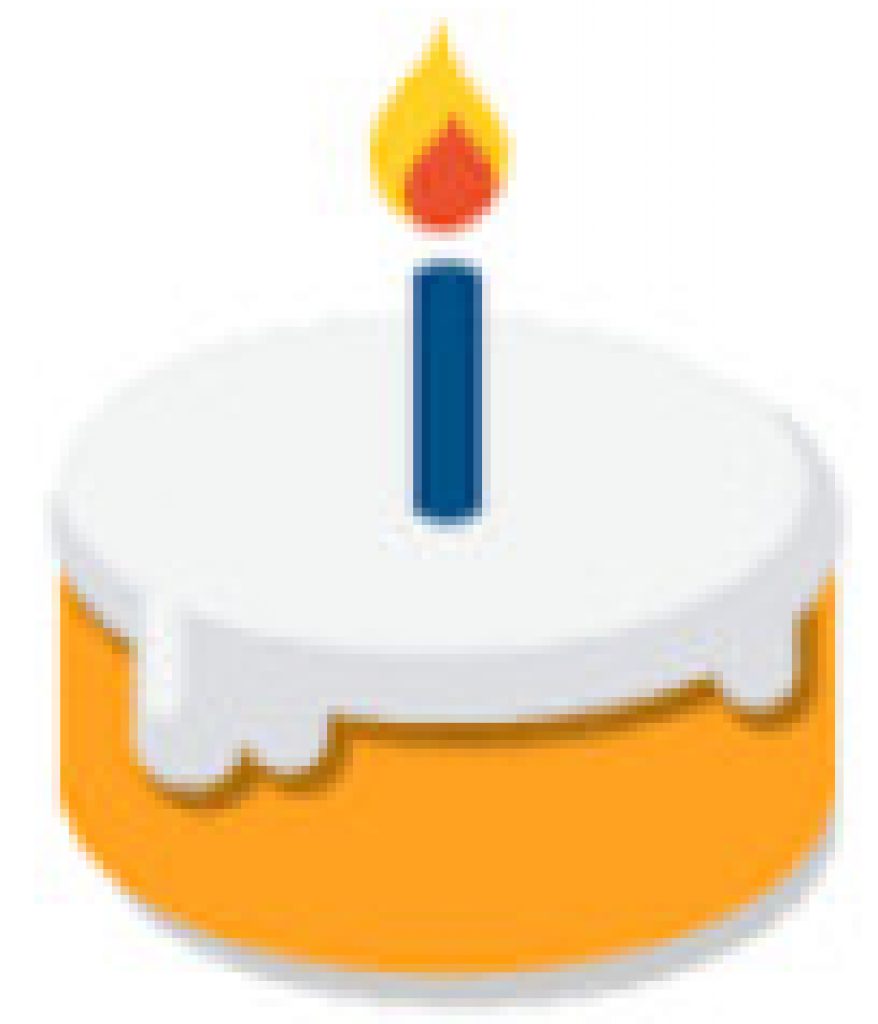 Age. The choice of bath toys should depend on your child's age. The toys that are good for an infant will be boring and useless to a toddler.
Infants have poor hand-eye coordination. Initially, they have troubles trying to hold objects in their hands. They explore the world mostly through a different sort of sensory input, mostly visual and auditory. This makes bath toys capable of making noises a great choice for infants. Bath toys with high-contrast colors would also be appropriate during this stage of development. Once the infant can grab toys, you can offer them toys that are textured and pleasing to the touch.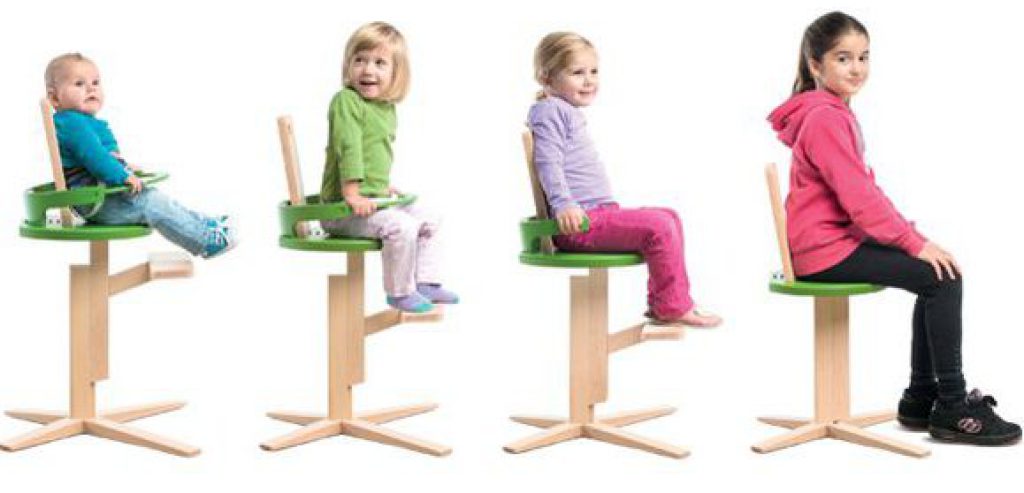 At the age of about six months, most children start to sit up, and then crawl, which allows them to explore the world in new ways. Children's motor skills start to develop rapidly, as well as their imagination. Babies mostly like toys they can manipulate and actively play with.
Kids greatly develop their cognitive, social and emotional skills during the toddler years. Bath toys will help your kid to improve the skills that they already have and acquire new ones.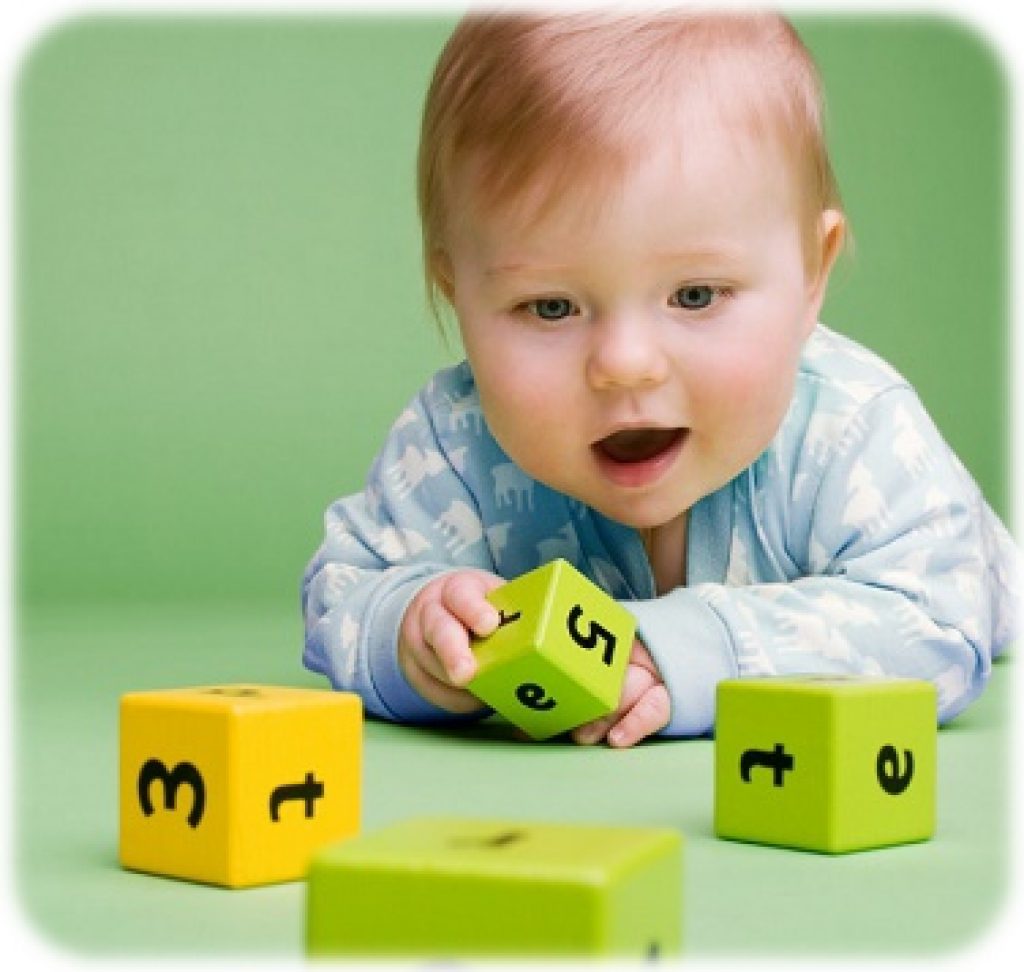 Development potential. Kids learn a lot from games and toys. While water play itself has been proven to develop physical and mental skills, toys can be used to increase that effect. When you choose bath toys, make sure that they are not only entertaining to your child but developmental as well.
Click here to find out other benefits of water play for children.
Quality. Choose the brands that have a good reputation and make high-quality goods for children. This will allow you to avoid disappointments of cheaply made products.
Top Three Best Bath Toys for Infants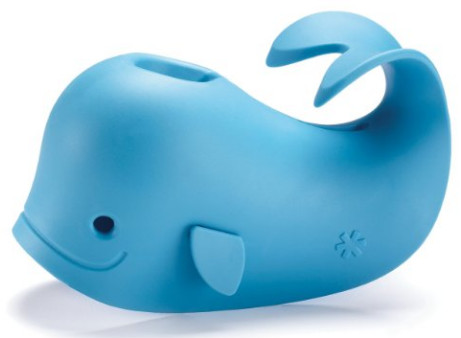 This bath spout cover is very practical. It can be used both as a toy and as a faucet cover. Just put it onto the spigot, and it will protect your child's head from hitting the faucet.
The Bath Spout Cover is safe for children, as it is made of natural rubber. Besides, it is very soft and pleasing to the touch, which makes it great for older infants.
It comes in several design varieties. In addition, its bright colors will attract the infant's attention. This spout cover will provide distraction and entertainment to the infant, making bath time more enjoyable than ever.
---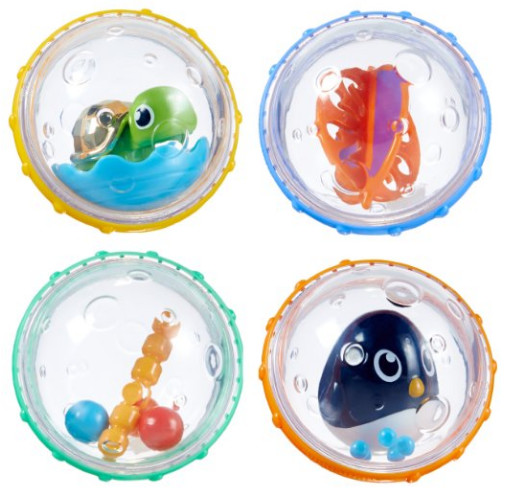 This set of bath toys will be a great choice both for younger and older infants. Each bubble is designed to develop the child's senses.
The floating bubbles rattle, attracting the child's attention. That helps the infant to develop hearing and distinguish sounds. Shiny plastic and bright colors are appealing to the eye. The textured surface of the toys is nice to the touch. Besides, there are rings the child can move around the bubbles, developing motor senses.
The Float and Play Bubbles are leak proof, so no water will get inside them. That makes these bath toys an excellent choice for parents tired of finding mold inside the bath toys.
---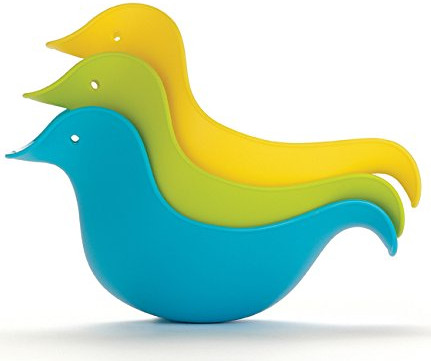 This set of three bath toys gives children many opportunities to play and learn. Infants can float the toys around the bath, stack them one onto another, fill them with water and pour it out of them.
These toys can also be used as rinse cups to pour water over the child's head and body. Besides, every piece has a different color, which will come in handy in teaching infants to distinguish colors.
The Stacking Bath Toy is made of PVC-free plastic, which makes it safe for health and environment.
---
Top Three Best Bath Toys for Babies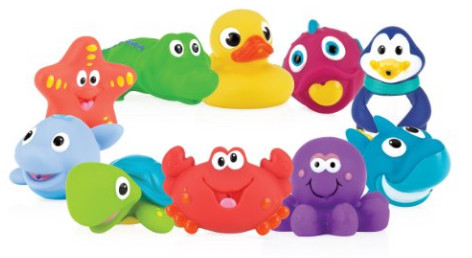 This set of adorable water-squirting bath toys will become your baby's favorite. These colorful floating toys are great for bath time games. They are made of soft rubber and are BPA-free.
The Little Squirts Fun Bath Toys provide the opportunity for education while entertaining the baby. This set will help your child to learn the names of animals and identify the sounds they produce.
Each piece is designed to fit into a baby's hand. In addition, squeezing the toys and squirting them will help develop motor skills.
---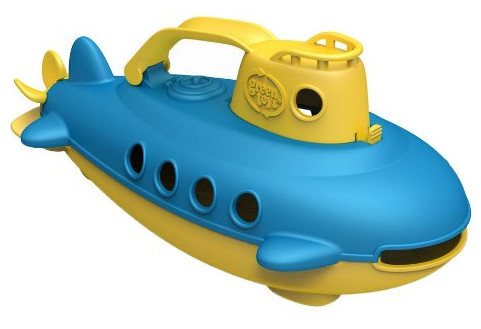 This wind-up toy would be great for babies. However, it would be interesting for toddlers and older kids as well. It is made from recycled plastic milk jugs and has no harmful vinyl compounds. Besides, it will be a great choice for those parents, who care about the environment.
The Green Toys Submarine will be great for bath time games. Its bright colors will help the baby to develop sight, and its wind-up mechanism will be entertaining for the child.
Besides, you can open the submarine, which makes cleaning the toy very easy.
---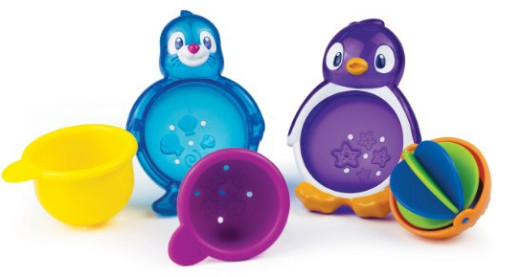 This set of bath toys will make bathing much more enjoyable, making different kinds of water play possible. The set includes two cute floating animals, two scoops, and a ball, which will be a great entertainment for the child.
The Lazy Buoys Bathtub Toys are BPA-free. Besides, they are nice to the touch and pleasing to the eye. The baby will like the bright colors and shiny surface of the toys.
On the other hand, their simple leak-free structure prevents mold from appearing and makes cleaning easy.
---
Top Tree Best Bath Toys for Toddlers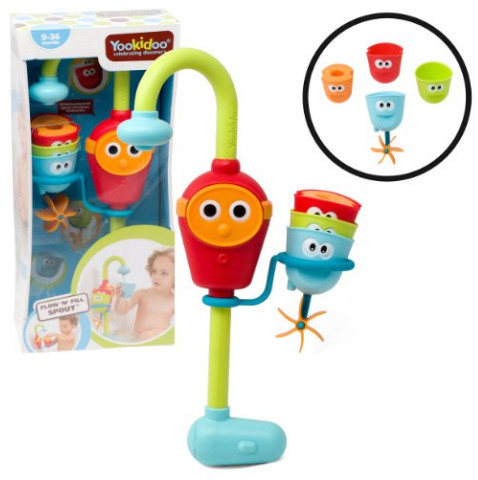 This bath toy will be a lot of fun for toddlers. Just attach it to the bathtub with the help of the suction cups, turn it on, and the automatic spout will create a non-stop stream of water, giving the child many water play options.
The Flow N Fill Spout comes with the set of interchangeable tumblers, each with a unique water-sprouting mode. You can use the tumblers one at a time or you can stack them into one and use all three at once. The child can also play with the tumblers without attaching them to the spout.
This bath toy is highly educational. It is designed to develop children's logic skills as it helps them to understand the laws of cause and effect. At the same time, the spout is easy to use. Kids can turn it on and off themselves by pressing the face of the spout.
Besides, it will be safe for the child as it has no BPA, phthalate, latex of lead.
---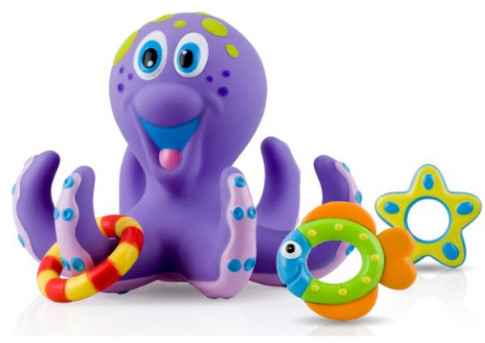 This bath toy will make bathing much more entertaining. The set includes an octopus and three hoops, designed to be thrown over the tentacles. This is not just fun but helps to develop the toddler's eye-hand coordination.
These bath toys come in bright colors and have a textured surface, which makes them pleasant both to look at and to handle. Besides, they will help to develop the child's senses.
You can place the Hoopla Bathtime Fun Toys on the edge of the bathtub. However, you can also put the octopus into the water. The toy will float around, making throwing the hoops over the tentacles more challenging for the child.
The toys are made of the BPA-free plastic, which makes them safe for health and friendly to the environment.
---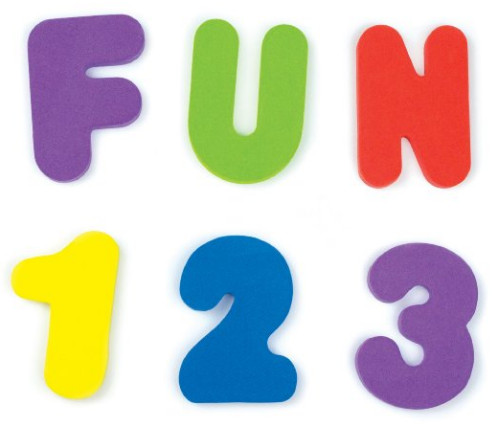 You think it is time to teach your toddler how to read and count? You can do it even in the bathtub with this set of 36 floating letters and numbers.
These bath toys are made of soft, non-toxic foam that is pleasant to the touch. This material does not absorb water, so you need not worry about mold. Besides, the toys are painted in bright colors to attract the child's attention. You can use them to teach the child the primary colors as well.
You can let the letters and numbers float freely in the water, or you can stick them onto the bathtub to make words.
Your child can play and learn at the same time with the Letters and Numbers Bath Toys.
---
How to Clean Bath Toys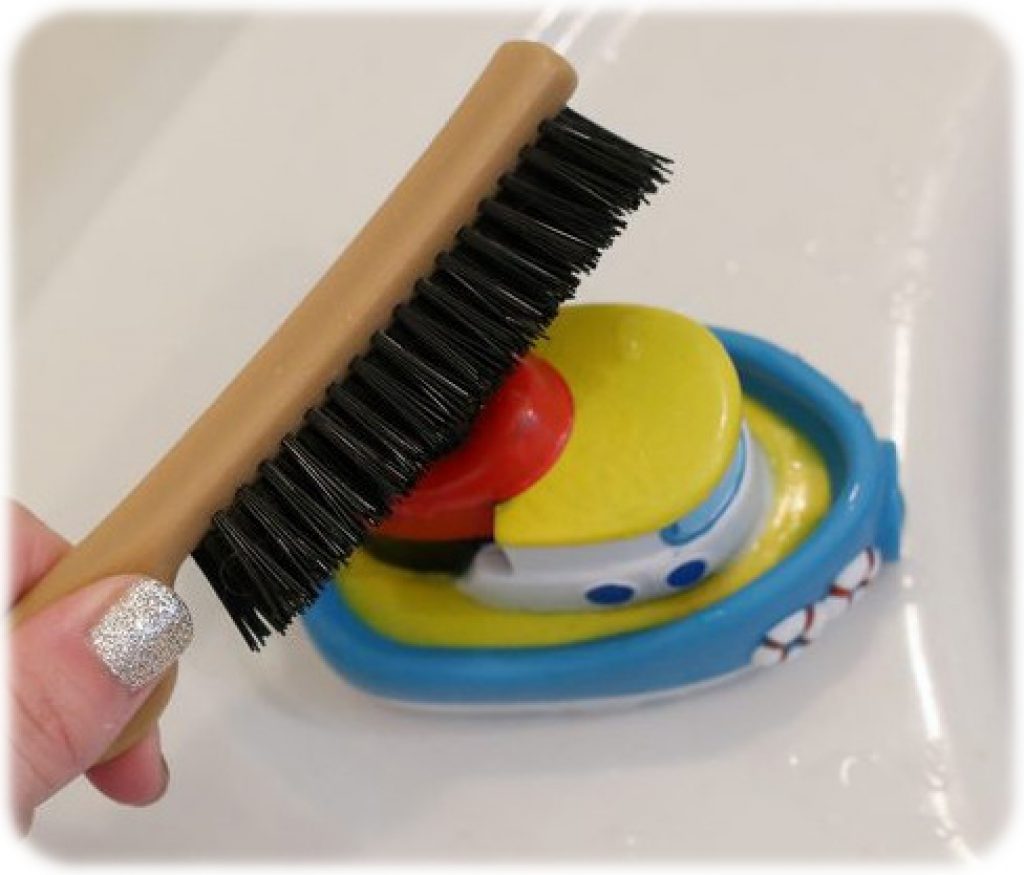 Make sure to clean your child's bath toys every now and then. Regular contact with water may cause mold. This is a common problem with rubber ducks, as well as other squirting toys.
To prevent mold from appearing, make sure to squeeze all the water from the toys after the bath time is over. Then, dry them with a fan, or place them on the radiator.
If mold has already grown inside the toys, white vinegar will help you to remove it. Just mix the equal amounts of water and white vinegar, and let the toys soak for about an hour. That should be enough to clean the toys from the mold.
You can also use bleach to wash bath toys. White vinegar is much safer, though.
Why You Should Use a Bath Toy Storage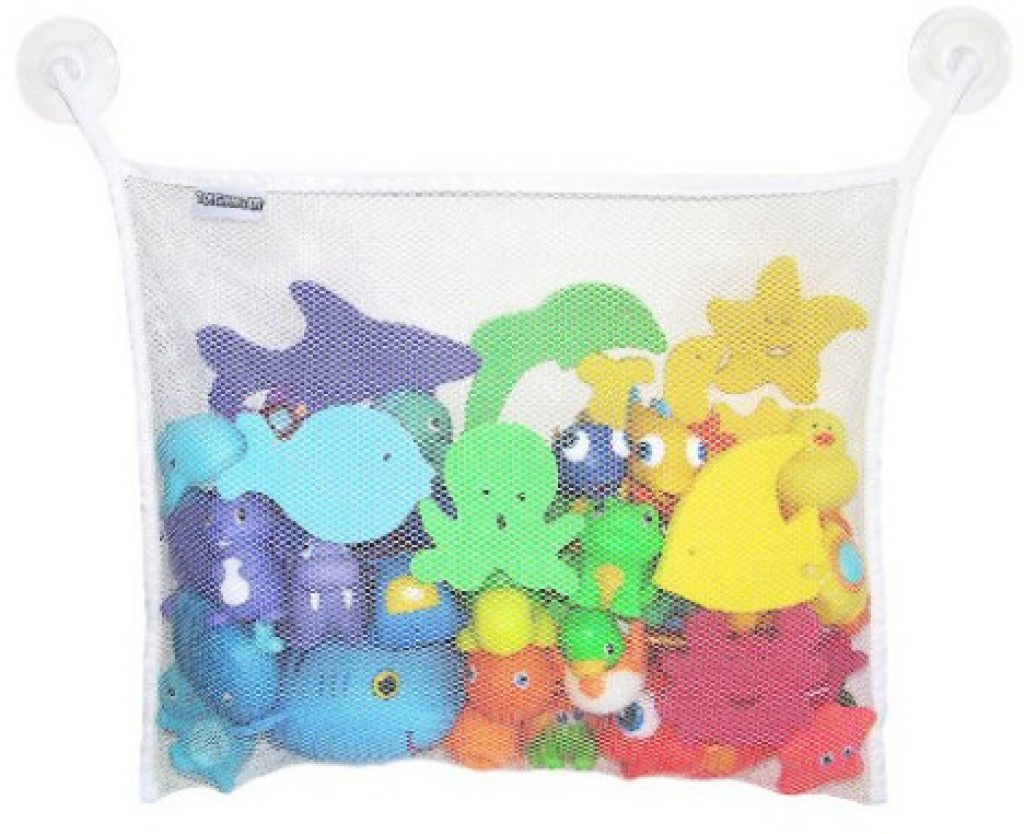 The best way to keep the bath toys organized is by putting them in a bath toy storage. The toys will be easy to access each time you bathe your child. Besides, the bath toy storage will keep your bathroom neat and tidy, as the toys will not be thrown all over the place.
You could use a regular box, of course. However, that might result in the growth of mildew. Now, bath toy storages are designed to provide drainage and airflow, preventing the growth of mold and mildew.
You can choose from a wide range of bath toy storages. They come in different shapes and designs so that you can find one that will meet all your needs. We recommend this Bath Toy organizer from Toyganzier. It is made of waterproof polyester, and its design allows the water to drain completely. Besides, its mesh netting provides constant airflow, ensuring that the toys remain dry.