All of us like to create the utmost comfort in the shower. We choose the best shower heads for ourselves and our kids. It will only be fair to get the best shower head for your pet as well.
Dog-owners know that washing pets can be a real torture. Getting them into the bathroom, making them wet, shampooing their fur, and washing off the lather takes up much time and effort. It is quite likely that you will have a shower while washing your dog, too. A dog shower head will make the process much easier.
Dog shower heads come with long and flexible hoses. With them, bathing your dog can become pleasant both for pets and for their owners. Some models come with different nozzles to offer several spray patterns for the best result.
Look through our tips to find out how to bathe your dog. Our detailed reviews will help you find the best dog shower head.
How to Bathe Your Dog
These handy tips will help you answer the main questions about how to give your dog a wash. How often should you do it? How to do it right? What products to use?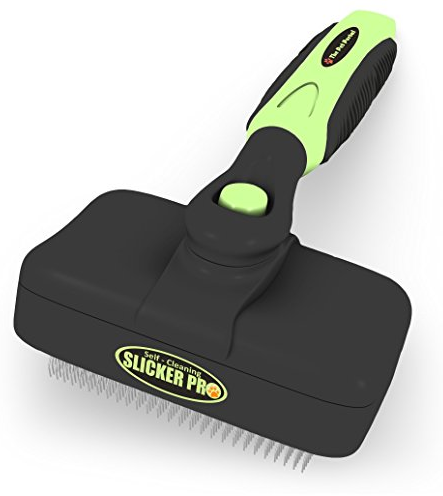 The most optimal decision is to bathe your dog once a month. If you wash your pets too often, their skin can become dry as shampoos remove natural oils from the skin and fur.
If your dog spends a lot of time outdoors, he may get dirty pretty quickly. To remove dirt from the fur between washes, consider brushing your pet. Regular and vigorous brushing will improve the condition of the skin and hair, as well as keep your pet clean. Have a look at this brush from The Pet Portal. It is a great choice both for dogs with short and long hair.
It is also a good idea to brush your dog before giving him a bath. That will help you untangle any mats that will get much worse when you make them wet.
Please, be mindful of the water getting into the dog's ears, as it can cause health issues. Protect your dog's ears before starting bathing. You can use a dog shower cap or cotton balls for that purpose.
Use a shampoo designed specifically for dogs. You should try to find a product with natural ingredients that will not harm your pet. Check out this natural shampoo for dogs from Duke & Daisy. It will soothe and moisturize your pet's skin and relieve any itchiness. That, in its turn, will result in healthier fur and a healthier look.
Do not direct the spray of the shower head into the face of your pet. That will allow you to protect the dog's eyes from water. It will be best to try washing from the neck down. A damp cloth is the best option when it comes to cleaning the head and face.
When you have finished washing, it is important to dry the fur right. If it is warm, you can let your pet air-dry. Some people prefer to use dog hair dryers. However, some pets are scared of the loud noise and hot air. A towel is always an option. Please note that not all towels are suitable for this task. Some of them can damage the fur. You should consider using a dog towel. Most of them are made of microfiber that does not trap fur, yet has a good water absorbing capacity.
The American Society for the Prevention of Cruelty to Animals can offer more dog grooming tips, if you are interested.
How to Choose the Best Shower Head for Your Dog
There are a few features you should pay attention to when choosing a showerhead for your dog. Here are the main of them: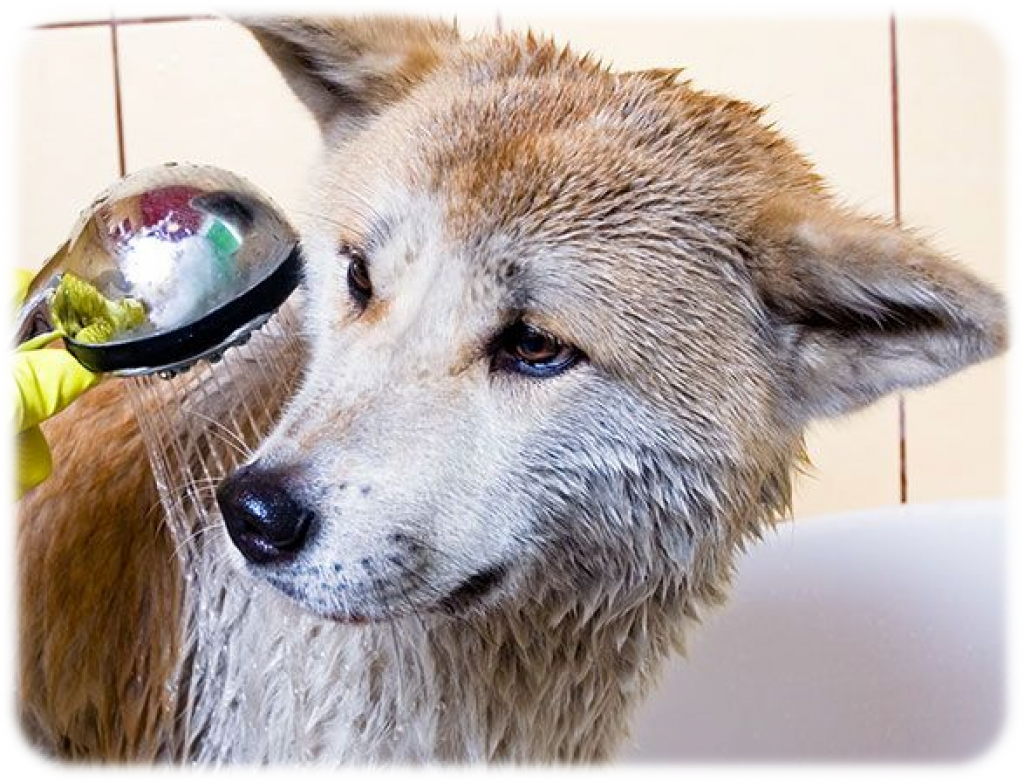 Material. Make sure that the showerhead is made of a durable and rustproof material. It will often get exposed to water, so it will be great if it does not rust. Models made of stainless steel and plastic are the most common.
Nozzles. The best showerheads come with rubber nozzles. They are easy to clean as they do not store mineral deposits. They are also clog-free, preventing leaks and other damages.
Spray settings. Most showerheads for dogs come with just one water setting. However, some models can offer several spray patterns. They come with replacement nozzles to switch between the patterns.
Hose. Make sure that the hose is long enough to make washing your dog comfortable. It should be no shorter than the length of the tub. Eight feet is the most optimal length.
Top Three Best Dog Shower Heads
This deluxe shower system will make your pet feel like royalty. It includes a hooded showerhead, a shower arm diverter, a hose, and a plumber's tape for the installation. Apart from these elements of the shower system, the kit includes a drain hair catcher and an absorbent microfiber towel, which are nice extras.
This showerhead from Homescape World is made of medical grade silicone, which makes it safe for the health of your pet. The hood has small teeth for dogs with short hairs, which clean the dirt efficiently and gently massages the skin. If your dog has long fur, you can fold the hood back – there are long tooth underneath it that are perfect for washing long-haired dogs.
The showerhead comes with an on/off switch, which is rather convenient. It allows you to control the water flow when giving your pet a wash. Thanks to the hood, you can press the showerhead to the body of your pet for a more vigorous shower. The hood also helps protect the eyes and ears of the dog when you wash the head.
Get this dog shower head on Amazon
---
This dog shower head will make dog bathing easier than ever. You can forget about all those cups and buckets you have used previously. This three-way sprayer will make wonders for washing your pet. It comes with extra-long eight-foot hose for the utmost comfort. It is easy to install and just as easy to detach for storing when not in use.
This pet shower sprayer from Rinse Ace can offer three spray settings for the perfect showering experience for your pet. The settings include gentle, pulsating and concentrated. You can also adjust the water flow, switching between full, light, and pause, which allows you to save some money on your water bills.
Each of the spray settings can be used for a different purpose. Pulsating, or drenching spray is great if you want to make your dog wet quickly or give him an invigorating massage. Concentrated spray is great for cleaning paws. Gentle spray is great for a full-body wash. This pet shower head comes with a shower connector and a Teflon tape for easy installation.
Get this dog shower head on Amazon
---
This pet sprayer is a simpler and cheaper counterpart of the previous model. It is a great option for those who want a simple, high-quality dog showerhead without any extra features. With this model, you will reduce the amount of trips to the groomer. Your pet will be washed quickly and easily.
This deluxe pet shower sprayer from Rinse Ace will create an almost spa-like experience for your dog. It will help you rinse your pets muddy paws when he comes inside after a walk, as well as wash your pet from head to toe. It can also be used to apply flea and tick shampoo.
This model comes complemented with a shower connector. To install the shower sprayer, remove your existing showerhead and twist the shower connector on. After that, reattach the showerhead and connect the hose of the pet sprayer to the connector. Once the hose is attached, the water will flow through the pet sprayer. To use your usual showerhead again, simply disconnect the hose.