Waterproofing your shower or tub/shower combo is essential both for your safety and for cleaning purposes. Puddles all over the bathroom floor can pose a risk of falling and injuring, apart from being a real nuisance when it comes to wiping them. Glass tub and shower doors do the job of keeping the water inside your showering area just fine. Best shower curtains are another practical decision. They are cheaper than glass doors and require less maintenance. Besides, they can enhance the design of your bathroom, bringing a fresh accent into the overall atmosphere.
If you decide on purchasing shower curtains for your bathroom, you should also consider choosing a matching shower curtain rod. It is a very basic bathroom accessory, yet it is impossible to hang shower curtains without one. The design of most rods comprises a horizontal bar and two end cups to hide the mounting hardware. The best shower curtain rods are sturdy enough to hold even heavy shower curtains. Some of them come with a double-bar design so that you can hang a curtain and a liner on them. The length of most models can be adjusted to meet the needs of any customer. Look through our tips and reviews to find the best shower rod for your bathroom.
A Guide to Choosing the Best Shower Curtain Rod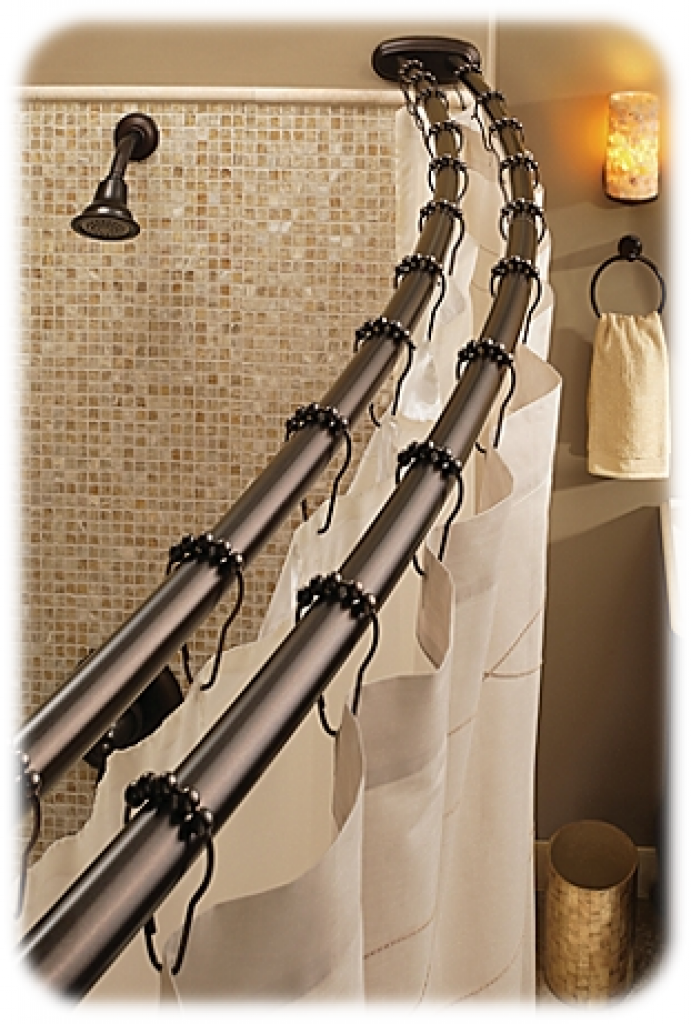 Shape. Until recently, shower rods used to come in one standard shape, straight. Today, they come in a variety of shapes to meet the needs of any customer. Curved rods are the most practical among all the types. They match most bath and shower setups and create some extra space in your showering area. Apart from straight and curved, shower rods can be L-shaped, U-shaped, circular, oval, square, and rectangular.
Mounting place. Based on the place of installation, rods for shower curtains can be wall-mounted and ceiling-mounted. If wall-mounted units can fit both tubs and showers, ceiling-mounted rods work best with freestanding bathtubs. It will be best to choose the rod according to your needs.
Mounting type. Based on the type of installation, shower curtain rods can be either fixed or tension. Fixed rods are traditional. They are secured to the wall with the help of mounting hardware. Tension rods are easier to install, as they do not require any hardware. Such units come with built-in springs that hold tension to keep the rod in place. However, fixed models are considered a safer option as they offer a more secure attachment to the wall.
Size. Check the dimensions of your shower before choosing a rod for your bathroom. There are models to match any shower or bathtub. The length of shower rods ranges from 41 to 76 inches. Apart from that, there are expandable telescoping rods that come with adjustable length.
Finish. Make sure that the finish of the rod matches the finish of the other fixtures in your bathroom. Shower rods are available in a wide array of finish colors. The most popular among them are chrome, nickel, bronze, brass, stainless steel, black, and white. You can also find models with such sophisticated colors as bone, linen, sage, tea rose, and more.
Curved VS Straight Shower Rod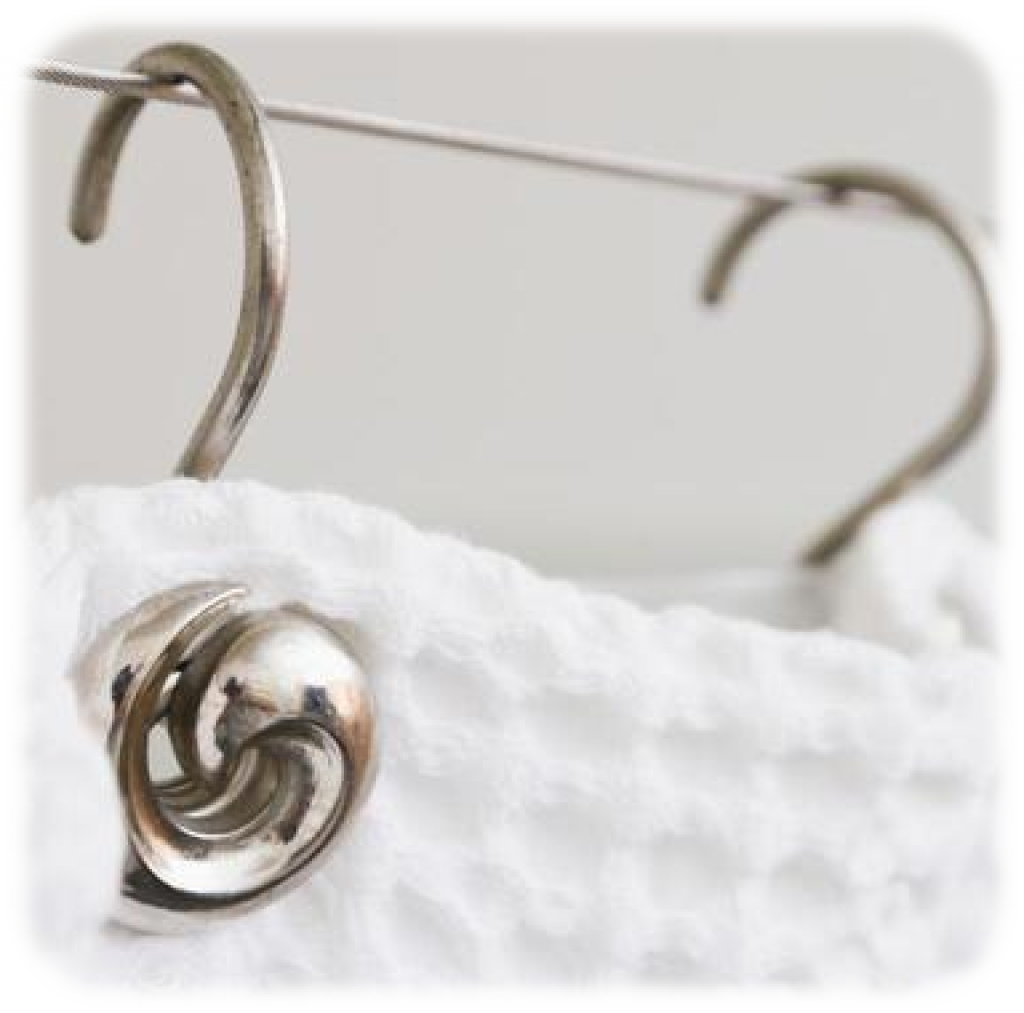 Space. Curved rods create more elbow space in the showering area. On the other hand, they curve outward and take up some space outside the shower, leaving less free space in the bathroom. Straight rods do not increase or decrease space neither inside nor outside the shower.
Design. Thanks to the unusual shape, curved rods look especially elegant. They can add a special vibe to your bathroom. Straight rods are a perfect choice for those who like a minimalist design with strict lines and regular shapes.
Safety. Curved shower rods are a safer option. Creating more space and keeping the shower curtain further from you, they make getting caught in the curtain almost impossible. With a straight rod, you can accidentally get wrapped in the curtain when having a shower. This may cause a fall and a consequent injury.
Top Five Best Shower Curtain Rods
This rod will provide reliable support for your shower curtain. Made of aluminum, it is strong enough to hold even heavy fabric curtains. Apart from the sturdy construction, this model has other advantages. The choice of material makes it lightweight and, most importantly, rustproof. Thanks to its expandable design, this model fits most showers and tub/shower combos as small as 44 inches and as large as 72 inches.
The NeverRust shower curtain rod from ZPC comes with a lifetime guarantee against rust. You can also purchase NeverRust shower hooks and rings to complement the rod. This model is available in three finish colors – shiny chrome, neutral nickel, and sophisticated bronze – so that everyone can choose a perfect match for their bathroom décor.
Get this shower curtain rod on Amazon
---
This rod will be a nice option for those who want to protect their shower curtain from moisture with the help of a curtain liner. With this rod, you won't have to put the curtain and the liner on the same hooks. The design of this model includes not one but two separate rods, which is very convenient. It fits standard 72 x 72-inch showers perfectly.
Thanks to its curved design, the Double shower curtain rod from Moen creates extra space in your shower area. The rod comes with a rustproof finish for increased durability. There are three finish colors to choose from – Chrome, Brushed Nickel, and Old World Bronze. Thanks to its sturdy design and high weight load capacity, this model is an excellent choice for heavy shower curtains.
Get this shower curtain rod on Amazon
---
Thanks to the variety of finish colors, this rod will be a nice match for a bathroom of any design – from antique to modern. You can choose bronze, brushed stainless steel, matte black, or white. The model is made of stainless steel and plastic. Being rustproof and corrosion-resistant, these two materials are a perfect combination for the bathroom.
The Curved shower curtain rod from InterDesign has an adjustable design. Its length can be expanded from 41 to 72 inches. It can be installed quickly and easily as it comes with all the necessary mounting hardware. The package also includes a decorative cover that covers the bracket and creates a perfect alignment with the wall.
Get this shower curtain rod on Amazon
---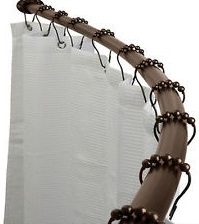 This stylish shower curtain rod will become a nice addition to any bathroom. It comes in three finish colors – chrome, satin nickel, and bronze – each equally beautiful. Apart from the elegant design, this model comes with the advantages of a sturdy construction and a rustproof material. Designed for drywall installation, it comes with all mounting hardware included.
Just like most modern shower curtain rods, this model from Bath Bliss can be expanded to fit most bathtub and shower enclosures. Its length can be adjusted from 42 up to 72 inches. This rod can also prove very helpful for increasing space in the shower. It can add up to 10.5 inches of elbow space when at full length.
Get this shower curtain rod on Amazon
---
This model is available in a wide range of finish colors including antique, black, bone, brass, bronze, chrome, linen, nickel, sage, slate, tea rose, and white. Such an array of available colors will satisfy even the most demanding customers. The finish is neither matte nor too glossy. The rod can be expanded from 41 to 76 inches.
This shower curtain tension rod from Carnation Home Fashions is made of durable steel to offer a perfect performance for many years. Its construction includes rubberized end caps to protect tile bathroom walls from scratching and chipping. The diameter of the rod is one inch. The design of the rod includes internal springs to hold the tension and keep the rod mounted.