As we age, bathing and showering can become quite difficult a task. Stiff joints and muscles limit our mobility considerably, making even such simple tasks as bathing and showering highly uncomfortable and even dangerous. Even young and healthy people can be injured badly if they fall in the bathroom. In the old age, it can have even graver health consequences as aging changes in the bones make them very fragile and decrease their regeneration ability.
Many products on the market can aid the elderly, handicapped, and disabled in showering and bathing. There are walk-in bathtubs, non-slip bath and shower mats, and bath and shower grab bars can make bathroom routine much safer. Another useful thing that serves the same purpose is a bath and shower seat.
Safety seats for bath and shower are available in a wide variety of models. They vary in type, weight capacity, legs height, seat width, and other features. Look through our reviews to find the best bath and shower chair and bench.
Types of Shower Seats for People with Mobility Issues
There are several types of shower seats to make bathing and showering more comfortable for elderly, handicapped, and disabled. They are categorized based on their design and functions.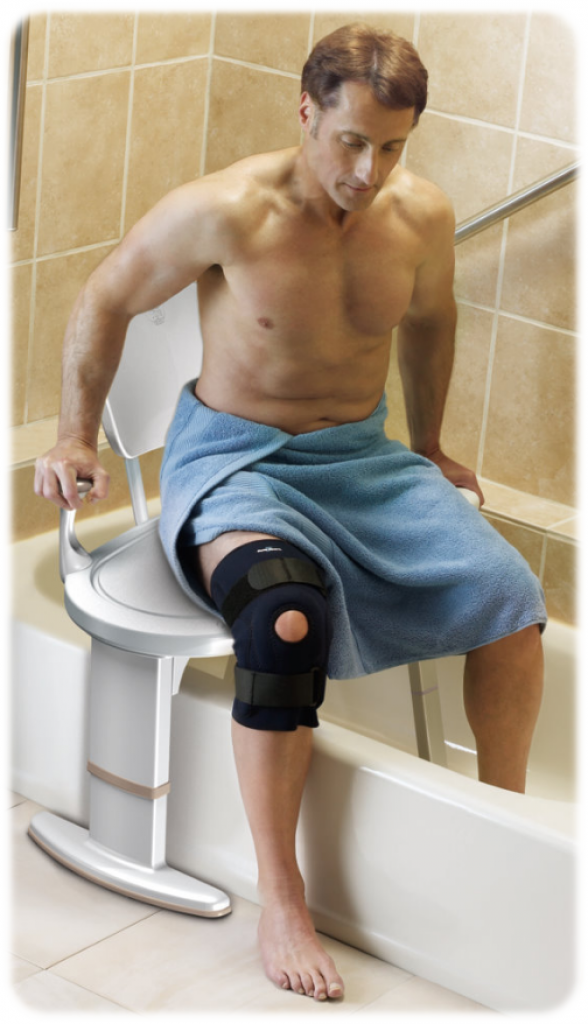 Bath and shower chairs are used to offer stability and support when in the shower. They are also used to make bathing easier for people unable to sit on the bottom of the bathtub due to the stiffness of joints or other health conditions. Bath chairs also make getting out of the bathtub much easier and less traumatic.
Bathing benches serve the same purpose as bath and shower chairs. Their construction is the only difference. Unlike bath and shower chairs, bathing benches come without back supports or armrests. Their design is much simpler as it comprises as it comprises a seat and four legs.
Shower transfer benches are used to help people with mobility issues to transfer in and out of the bathtub. They come with four legs, a wide seat, a backrest, and an armrest on one side. Two legs that are placed inside the bathtub come with suction cups. The other two legs stay outside.  This creates a stable base and allows moving along the wide seat in order to get into the tub.
Top Three Bath and Shower Chairs
This is one of the best shower chairs available today. Thanks to its simplistic yet ergonomic design, it looks harmoniously in any bathroom and serves its purpose well. This chair is lightweight and portable. It can easily be stored virtually anywhere thanks to removable legs, arms, and back.
The seat of this shower chair from Drive Medical is designed to fit people of different shapes and sizes. This can offer the highest level of comfort. Another great feature of this model is its adjustability. You can easily adjust the height to a comfortable level without any tools.
Follow this link to order this chair on Amazon
---
This shower chair can offer comfort and stability. With the weight of just seven pounds, it is very lightweight. At the same time, the chair is sturdy and durable. Its frame is made of aluminum. Apart from being light, this material is known for its strength and rust resistance.
This shower chair from NOVA Medical can be assembled and disassembled in just a few minutes. It can offer extra comfort thanks to padded arms and legs with slip-resistant rubber tips. Apart from being practical and comfortable, this model comes with an attractive design. It comes with a neutral gray finish.
Follow this link to order this chair on Amazon
---
This simple chair is a great choice for those who are looking for a high-quality product. Its frame is made of aluminum, durable and rustproof. The frame is adjustable and offers you to choose from five seat height levels – from 16.5 to 21.5 inches.
Despite being lightweight – just nine pounds – this shower chair from MedMobile can support up to 300 pounds. It comes with angled legs to distribute the weight over a larger area. The seat of this model is made of polyurethane to offer extra comfort and support.
Follow this link to order this chair on Amazon
Top Three Bathing Benches
This shower bench is lightweight yet sturdy and stable. It weighs only four pounds. However, this does not affect its weight capacity. This model can support up to 250 pounds. The height of the seat can be adjusted from 12.5 to 18.5 inches.
This bathing bench from Dr Kay's is compact enough to fit even in small showers and bathtubs. Its design comprises an anti-slip platform and rubber feet to offer maximum safety. Its feet are slightly angled to create a wider base for added stability.
Follow this link to order this bench on Amazon
---
This bench is somewhat lower than the other models. Its height can be adjusted from 12.5 to 16.5 inches. Its ergonomic design offers utmost comfort of use. Its seat has an anti-slip surface and drainage holes to ensure that it is safe for use in bath and shower.
This shower bench from Ez2care comes with sturdy legs made of heady duty anodized aluminum. Such choice of material makes them rustproof and durable. This model is a perfect choice for small-sized bathtubs. It can hold up to 250 pounds.
Follow this link to order this bench on Amazon
---
This bench offers a wider choice of style options compared to the other models. It is available in several finish colors including gray, blue, and teal. The construction of the bench allows assembling and disassembling it quickly and easily. The seat comes with drainage holes to make sure that the water comes through, preventing slipping.
This bench from Drive Medical is blow molded to ensure comfort and strength. Like with the other models, the frame is made of aluminum, lightweight, durable, and rustproof. Its angled legs are equipped with suction cups for added stability.
Follow this link to order this bench on Amazon
Top Three Shower Transfer Benches
This transfer bench is very comfortable and ergonomic. It has a high weight limit – 400 pounds – to offer support to people of different weight categories. The bench and the backrest are blow-molded from durable plastic. The seat is 26 inches wide and 18.5-19.5 inches deep.
The height of this transfer bench from Drive Medical can be adjusted from 17.5 to 21.5 inches thanks to legs with the unique Dual Extension extension technology. The frame of the bench has an "A" construction for maximum stability.
Follow this link to order this bench on Amazon
---
This transfer bench comes with a wide – 24 x 15 inches – seat to offer an easy transfer from wheelchair to the bathtub. It can offer five levels of seat height, from 16.5 to 20.5 inches, each level an inch higher than the previous. The backrest can be adjusted for right or left hand use.
With this transfer bench from MedMobile, you can be sure of the safety of your loved ones who need special care. The bench has rounded edge to make transfers more comfortable. It comes with sure-grip legs to prevent slipping in the bathtub.
Follow this link to order this bench on Amazon
---
This bench comes with a unique design and is unlike all the other similar models. It is a perfect choice for use both in the shower and in the bathtub. This model is sturdy enough to support up to 400 pounds. It comes with a non-slip seat and stable legs for extra support.
Unlike most other models, this transfer bench from Moen comes with three legs, not four, – two on the side that is placed in the bathtub and one on the side that is placed outside the tub. Made of high-quality plastic and metal, this transfer bench is a great product that will offer reliability and perfect performance for many years.