Have you ever tried shaving in the shower? If so, you're probably familiar with the fogged mirror issue. Mirrors fog due to high temperatures and humidity.
Now, if you were using a regular mirror, you would hardly see anything, which would make a clean shaving hardly possible. The introduction of fogless mirrors made shaving in the shower more comfortable. The invention was possible thanks to a special technology.
These handy bathroom accessories are mostly designed with a reservoir for hot water installed directly behind the glass. Some of them, however, come without it. This type, in its turn, has a fog-free coating on the surface that should be exposed to water in order to work. That would make the glass the same temperature as the rest of the bathroom, preventing the water vapors from condensing on the surface of the mirror.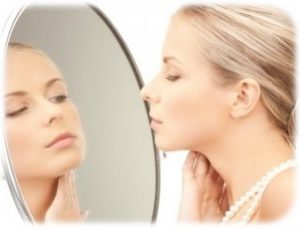 One of the best fogless mirrors is an essential thing to have if you prefer shaving with your pores opened but the fog prevents you from getting a clear look and, as a result, a clean shave. Our reviews will certainly help you to choose a product that meets your needs and budget.
Besides, if you enjoy hot shaving but do not want to get into the shower every time you need a shave, you can use hot towels instead. The most convenient way to make them hot and damp would be to use a towel warmer. Check out our Top Ten Best Towel Warmers to choose one suitable for you.
Top 5 Best Fogless Mirrors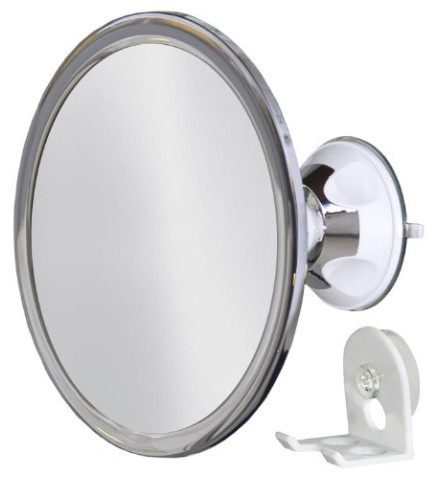 This excellent mirror is designed for you to enjoy shaving in the shower without being bothered by the fog. This model is very easy to use as it comes without a water reservoir. To make it fog-free, simply splash it with hot soapy water.
The mirror comes with a flexible swivel arm that can stick to the wall solidly. Besides, it rotates all the way around, giving you the opportunity to easily position it.
Apart from that, the 3x Magnification No Fog mirror, as the name suggests, provides trifold magnification that would let you get the cleanest shave possible. In addition, its surface doesn't get any water spots. However, if some of those do appear, all you need to do is to clean the mirror with toothpaste.
Another advantage of this fogless mirror is that it's shatterproof. So if your mirror falls off the wall (which is rather unlikely thanks to the firm suction), it won't break into pieces that could cause injuries. Besides, this model comes with a razor holder that can be put on the wall right below the mirror.
All in all, the excellent quality of this mirror justifies the price fully.
Check latest pricing and shipping details here!
---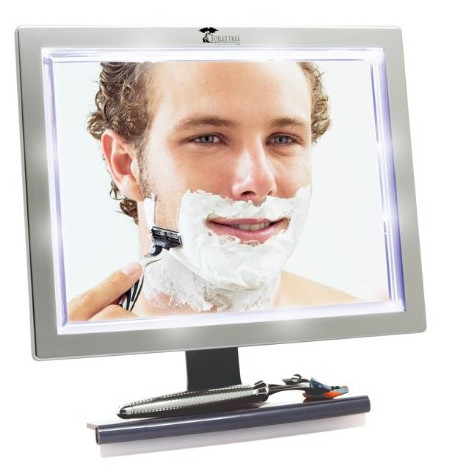 Tired of finding unshaven spots because of the poor lighting in your shower? Then this mirror is just the thing for you! It comes with LED lights built into the frame, which will help you to never miss a single hair. Just push the on/off button, and you'll have enough light to get a good shave. Moreover, this fogless mirror is 20 % larger than other models, which is also rather convenient. The adjustable hand will offer an even higher level of comfort.
Unlike most mirrors for the shower, the LED Fogless mirror is held in place with the help of silicone adhesive, not a suction cup. This provides an easier and, at the same time, more reliable attachment. In addition, the silicone will prevent rusting in the spot where the mirror and the wall adjoin.
This fogless mirror has a standard water chamber that should be filled with hot water before shaving. After that, wait for just a few seconds for the mirror to become fog-free. After you have shaven, just empty the water chamber.
Check latest pricing and shipping details here!
---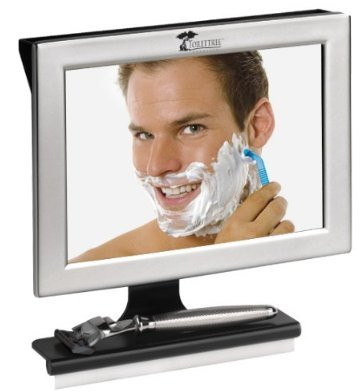 Don't need any extra lighting but still want a good fogless mirror? Then, we recommend this model from ToiletTree. It has all the advantages of its more expensive counterpart, with the exception of LED lights, which makes the product more affordable. Just like the LED Fogless mirror, this model has a shelf for a razor, and a squeegee to wipe the water drops that may get onto the mirror. It also comes with a water reservoir, which is the best way to keep a mirror fogless.
The two models have a design reminding of a computer screen, which looks rather modern. The frame of this mirror, though plastic, seems rather solid. You should remember that it is not a glass mirror, just a plastic base with a mirror coating. Nevertheless, this fact doesn't change the perfect quality of reflection this fogless mirror provides. Besides, if such a mirror happens to fall off the wall, it won't shatter.
All of that makes this product worth the money.
Check latest pricing and shipping details here!
---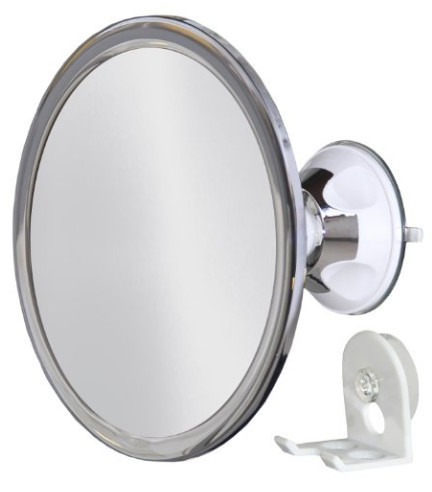 This mirror from Upper West Collection is almost a complete copy of the 3x Magnification No Fog mirror. The only distinctive feature of the latter is the magnification. Nevertheless, this model possesses all the other features of its counterpart. Therefore, it will be a great choice if your eyesight is good enough to shave without any magnifying effect, or if you just don't like it.
The other features, such as a rotating arm, a razor holder, a shatterproof glass, a fog-free coating, and water-repellant quality are all included into thу design of this model.
Check latest pricing and shipping details here!
---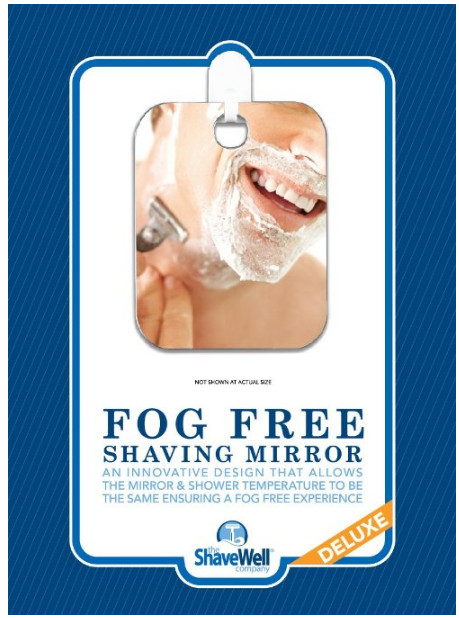 This mirror is a great option for a limited budget. It has a simple design and, unlike with the other mirrors for shaving in the shower, you don't need to use suction or fasten it to the wall. Just hang it on an adhesive hook and it's ready for use. Besides, such a way of placing a mirror makes it very easy to remove it from the wall.
The Shave Well Fog-free mirror has a fog-free layer covering its surface. There is no water reservoir so you just need to put it under the stream of hot water for a few seconds, enough to make the mirror fogless.
This model is not made of an actual glass mirror, it's a plastic coated with a reflective. Still, the reflection you get is no worse than what you would get from a mirror. Moreover, it won't break if it falls.
However, you should keep in mind that this mirror would probably not last as long as some more expensive fogless mirrors. Its surface is likely to become tarnished with time. Cleaning the mirror with toothpaste solves that problem, though only for a time.
If you are ready to spend some money on replacing your mirror every now and then, this model will be a good choice. Although it might be wiser to choose a better product that will serve you for a longer time. In the end, your money will be spent better.
Check latest pricing and shipping details here!
---
In addition
There is also an option for those who want to make their current mirror fogless without replacing it. You should try this Anti Fog Spray. Just apply it to your mirror, let it dry, and the mirror will become fog-free.
If you wish to make shaving more comfortable, check out this RSVP shave cream. It is perfect for any skin type, even the sensitive one. This excellent shave cream would make the shaving more enjoyable than ever. In addition, you wouldn't suffer from any skin irritations or ingrown hairs.