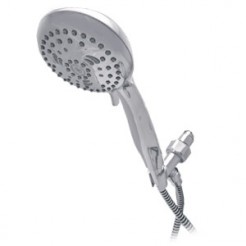 Handheld showers are shower heads that can be disconnected from the main shower frame. This makes them very flexible since the water can be easily directed to the desired body part. They are a great option for people of all ages since they have the capability of functioning as mounted shower heads and also as flexible and detached shower heads.
If you want to know more about this type of shower heads and to find the best handheld shower head of 2018, our tips and reviews are just what you need.
Advantages of Using a Handheld Shower
With a handheld shower, you will not need to strain and bend at unnatural angles in order to get the stream of the water to certain parts of the body. Just direct the showerhead there using your hand.
Handheld showers make washing the kids in the bathtub much easier and more efficient as you can direct the spray easily onto the kids. You can also rinse the soap more effectively.
It is very flexible and can be used both as a fixed shower head and as a hand-held shower. This is because the shower head can be easily attached to the fixed wall shower system and at the same time can be detached to serve as a handheld shower head.
It can help you to solve the low water pressure issue by enabling you to use the shower head in close proximity to your body. This guarantees a better shower than when the shower head is mounted and the water pressure is low.
Some people have sensitive skins and may feel a piercing sensation when strong water jets land on the skin. A handheld shower helps in solving this problem because when using handheld showers, you do not need strong water-jets since you can hold the shower as close to the body as you desire.
When people get old, their body becomes rigid and it becomes difficult to bend, turn, and twist in order to get clean. This means that old people find it hard to reach certain body parts when using a fixed wall mounted showerhead. Not to mention there is a risk of bathroom falls and slips which can be dangerous for older people. These risks are reduced when a handheld shower head is used.
When you want to wash your pet, a handheld shower is preferable compared to a dog washer. When you wash your dog at home, you ease the anxiety of being washed by a stranger away from home. At times outside wash may be impossible due to bad weather. In this case, a handheld shower will give you and indoors option.
This shower is very easy to clean by simply using your bathroom glass and tile cleaner. This is very easy compared to a fixed shower head which can become a real nightmare when it comes to cleaning.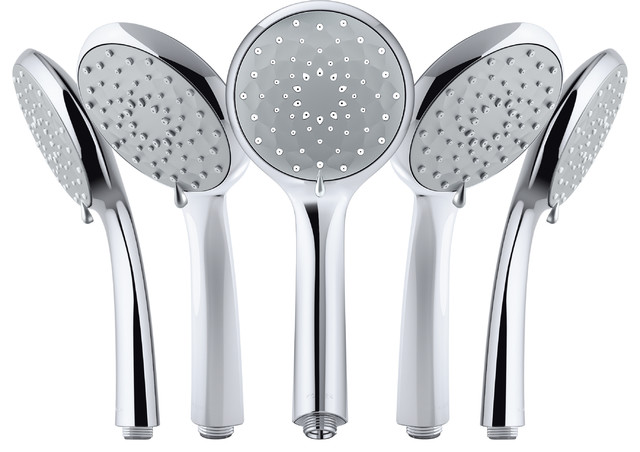 Points to consider when looking for an appropriate shower head:
Make sure to pay attention to the length of the hose and the size of the shower head. The hose should be of a considerable length that will allow you to reach all the body parts. On the other hand, you should ensure that the head is not too large to the extent that it is difficult to handle.
We recommend that you make a thorough check on the quality of the shower head. Check out for consumer reviews about the product so that you can determine the most appropriate brand. This will also help you in getting value for your money.
You should also ensure that the shower head fits your shower enclosure perfectly. You can determine this by looking at the pictures and product information. If you are in doubt, you can seek professional help.
The style of the shower head should be attractive to you and should complement your bathroom features and fittings.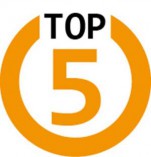 Top Five Most Powerful Handheld Shower Heads 2018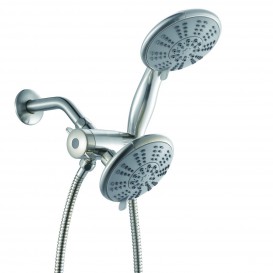 This is a combination unit designed by Ana Bath. It has two shower heads, a handheld shower head that hangs on the side and a fixed shower head located at the end of the shower arm. It also comes with a three-way diverter which allows you to choose between handheld or fixed shower heads, and you can also activate them both at the same time.
The two heads have 5 function sprayers which enable you to select any of these spray functions; massage spray, saturating spray, saturating with massage spray, bubbling spray or saturating with bubbling spray. This ensures that the shower meets your personal taste and preferences. Read more >>>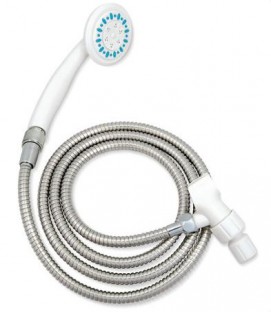 This handheld shower head is a product of AquaSense which is designed in such a way as to increase bathing independence, comfort, and safety. It has three spray settings—wide, standard and narrow spray, which can be activated by the use of an easy-to-turn spray knob on the shower head. The shower head comes with a stainless-steel hose of considerable length which makes your shower comfortable whether in sitting or standing position. Check out it at Amazon.com. The shower head also has a knob on its handle base, which can be used to turn the water flow on and off.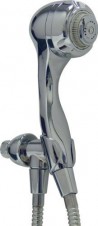 This shower head combines luxury with top performance. It uses the flow control technology which means that you get a great force using low pressure. This helps in saving money and conserving water and at the same time ensuring that there is maximum performance, water pressure, and luxury.
Click here to order it on Amazon.com.
The shower head comes with a 72-inch hose which has a permanent flow compensator.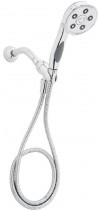 This handheld shower head is designed by Speakman and it falls on the Anystream range of shower heads which are renowned due to their high pressure. There are commonly used in many luxurious hotels. These shower heads enable you to set your desired water flow amongst the three spray functions.
This shower head is highly recognized by customers due to its lifetime warranty just like all other Speakman shower heads. All the maintenance services can be accessed by just making a phone call.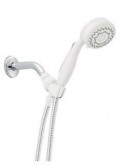 This is a product of Delta Company. It is a versatile handheld shower which also comes with a fixed shower. It comes with anti-log nozzles which are easily cleaned by rubbing to remove mineral build-ups. The shower head features a 2.5 GMP water flow rate which ensures that there is a steady flow. It comes which a 72-inch hose which is flexible for versatility. It has the following spray options: slow and full massage, fast, full and fine sprays, an energy-saving spray, and a champagne spray.