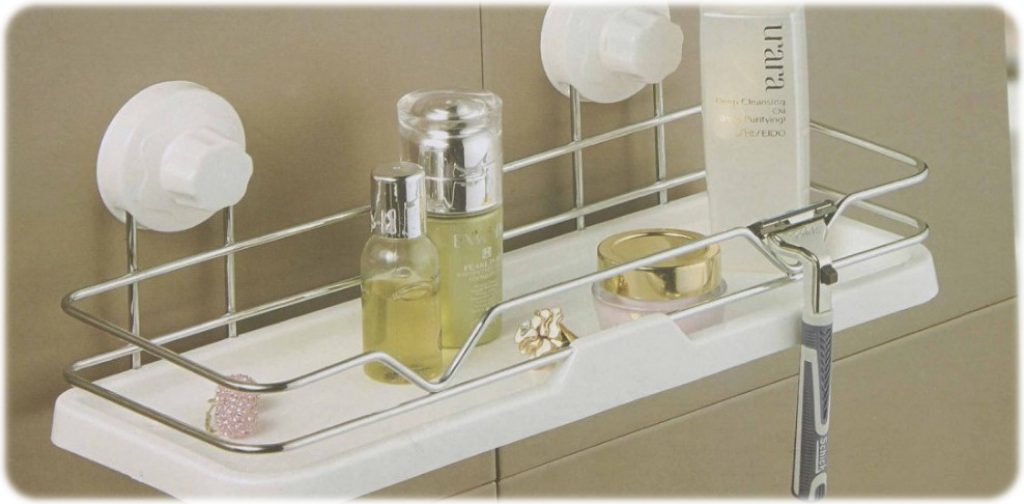 Imagine that you get into the shower, step under the showerhead, turn on the water, reach your hand to grab the shampoo bottle, and… realize that it is not there. Not only is it irritating to get out of the shower to look for it, but it takes a lot of time, too.
A shower caddy will ensure that your soap, shampoo, razors, sponges, and other toiletries are organized and easy to access whenever you need them.
What is a Shower Caddy?
A shower caddy, or a shower organizer, is a very useful piece of bathroom furniture. Its construction includes razor storages, hooks for sponges and brushes, shelves for shampoo and shower gel bottles, shaving cream, soap, and other stuff. Some shower organizers come with mirrors.
They make the bathroom tidy and organized by keeping all the toiletries in one place.
Types of Shower Caddies
There are different kinds of shower organizers based on their shape and the place they are secured to:
Over-the-showerhead shower caddies. This is the most common type of shower organizers on the market. They are very popular because they is easy to install. All you need to do is hang it on the showerhead or the shower arm, and it will stay put.


---

Over-the-door shower caddies. This kind of shower organizers comes with long hooks that you can place over the shower door. Basically, you can hang them over the top of any vertical structure, like the wall of your shower enclosure. Just make sure that the hooks match the width of the top.


---

Corner shower organizers. As the name suggests, they are placed in a corner of the shower. They can be secured to the wall with the help of suction cups or tension poles. Besides, there are freestanding shower organizers. They come with sturdy legs and can be set on the floor in a corner of the shower.


---

Shower totes. They are light and portable, so that they can easily be removed from the shower. That would come in handy for people who travel a lot, as well as for dormitory students. After all, anyone can use your shower essentials if you leave them in a hostel bathroom. A shower tote would allow you to take all you need for bathing with you when you go to take a shower and take it back when you are done.
Advantages of Using a Shower Caddy
It saves your room. You will be surprised how capacious shower organizers are. You can store all your shower essentials in them. Besides, they would take up less space than if they were scattered all over your bathroom.
It saves your time. With shower caddies, you will not have to spend a lifetime looking for the toiletries. You will have all the necessary stuff within arm's reach, which is very convenient.
It keeps your toiletries clean. Your shampoo bottles and shower gel flasks might become moldy if you put them on the shower floor. Modern shower organizers are designed to provide drainage and airflow so that your toiletries remain clean.
It gives your shower a classy look. Most shower caddies are designed with modern lines and stylish finish. They will add a special vibe to your bathroom in addition to keeping it tidy and organized.
 A Guide to Choosing Best Shower Caddies
There are some points you should keep in mind while choosing the best organizer for your shower essentials.
Type/size. An over-the-showerhead caddy is an excellent choice if you have a doorless shower or a shower tub combo, as you will not need any door or walls to secure it. Corner shower organizers work great with shower stalls. A shower tote will meet the needs of a student or a traveler perfectly. An over-the-door shower organizer will be a great match for the showers that come with a door.
You should also check if the size of the shower caddy fits your shower. Make sure that it is ergonomic and comfortable to use as well, as it is very important for your health. You can learn more about ergonomics on the American Psychological Association web page.
---
Material. Shower organizers are made of a number of materials. Aluminum, plastic, steel and stainless steel are the most common and practical ones. In addition, there also are shower organizers made of wood. Not the best choice in general as wood absorbs water, which might result in mold. Shower totes are mostly made of mesh fabric.


---

Color/finish. Make sure that the finish of the shower caddy matches that of the other hardware in your bathroom. Such options as chrome, nickel, bronze, silver, pearl white, satin, aluminum and stainless steel are available on the market.


---

Style/Design. Make sure to choose a shower caddy that matches the design of your bathroom. Most shower organizers have a modern style. However, there are options for bathrooms with a classic design as well.


---

Price/quality ratio. We recommend that you get a shower organizer with a decent quality for a reasonable price. The models available on the market vary from cheap to costly, depending on material and brand.


---
Top Three Best Over-the-Showerhead Shower Caddies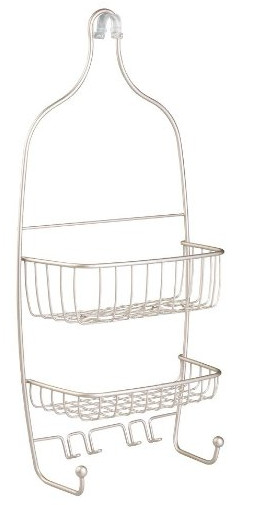 The advantages of the Rafael from InterDesign include the sturdy construction and compact design. It comes with two baskets, deep and regular, two razor hooks and two hooks for sponges. The deep basket allows keeping shampoos and shower gels upside down so you will not need to wait for them to trickle down the bottle.
Made of high-quality steel, this over-the-showerhead caddy comes in several size and finish variations so that anyone can choose one that matches the size and design of their shower. Besides, the patented non-slip grip securing the caddy to the showerhead will ensure that it stays put.
Follow this link to shop on Amazon
---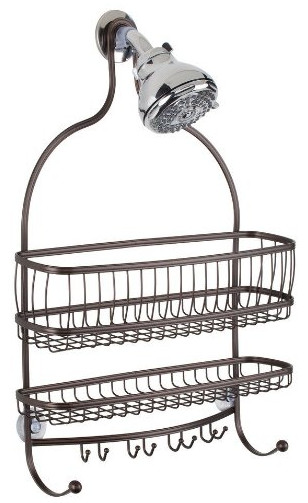 The York Lyra from InterDesign comes in several varieties of rustproof finish, which include bronze, pearl white, satin, and silver. Its soft lines look very elegant and modern at the same time, and will add a unique vibe to your bathroom.
This shower organizer comes with two shelves, one for bottles and one for small objects like soap. Besides, it has eight small hooks for sponges, loofahs, brushes, and razors, and two large hooks for towels. In addition, this over-the-showerhead caddy has two suction cups that secure it to the wall.
Follow this link to shop on Amazon
---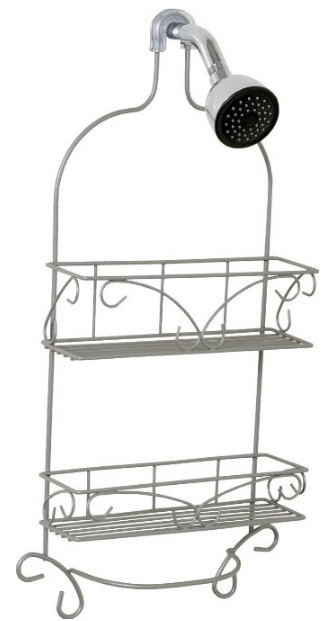 The design of the Zenna Home 7566NN would perfectly match a bathroom of the classic style. Its curved shelves look rather sophisticated. This model comes in just one finish, satin nickel.
Just like the other over-the-showerhead organizers, it has two shelves for toiletries. This shower organizer does not have any hooks, although it comes with a horizontal bar for towels. Overall, this model from Zenith Products has enough space to hold all the basic shower essentials.
Follow this link to shop on Amazon
---
Top Three Best Over-the-Door Shower Caddies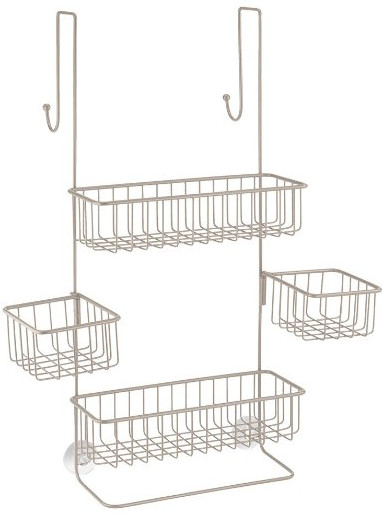 The Metalo from InterDesign has enough space to keep all your toiletries in arm's reach. It has four baskets, as well as two hooks for towels, and comes in more than one finish varieties. The small baskets are set in the middle of the horizontal bar and swing outward, allowing placing large shampoo and shower gel bottles in there.
The style and shape of this caddy are standard, which makes it a good match for any bathroom regardless of the design. Make sure that it fits the door of your shower, though, as the hooks of this organizer are not too wide, just about two inches.
Follow this link to shop on Amazon
---
This stainless steel model from Zenith Products is rather large and sturdy. It will help you to keep all your shower essentials organized and mold-free. It will fit the shower doors that are no wider than 2 ½ inches.
The Zenna Home comes with hooks for razors and other stuff, as well as two fully adjustable shelves that you can reposition to your liking. Besides, it has a separate soap dish, which ensures that your toiletries have no soap stains.
Follow this link to shop on Amazon
---
The Forma from InterDesign is smaller than other over-the-door organizers. It has only two baskets, although that should be enough to hold all the shower necessities. In addition, it has three hooks for brushes, sponges, and loofahs.
This model looks very stylish and modern. It is available in several finish options, which include unusual matte black. It would look great in a bathroom with the modern design.
Follow this link to shop on Amazon
---
Top Three Best Corner Shower Caddies
Made of steel with a durable rustproof finish, the Twigz from InterDesign has three baskets to store all your shower necessities. The upper basket has a towel bar, while the two middle ones come with razor hooks.
It has the adjustable pole that can extend from 5 to 9 feet. Besides, the baskets are adjustable as well, so you can change their position. This corner shower caddy has a sophisticated floral design that looks stylish and chic.
Follow this link to shop on Amazon
---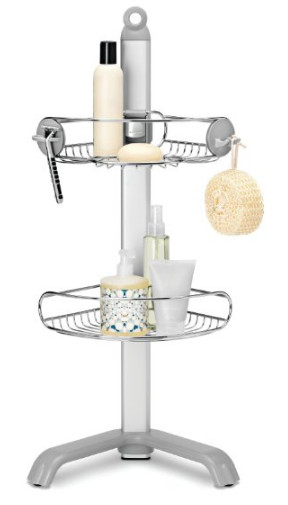 This adjustable caddy from Simplehuman will provide extra space for your shower essentials. It has a sturdy construction and comes with adjustable feet that ensure maximum support and stability.
This model looks very modern. It has two adjustable shelves made of stainless steel and anodized aluminum. You can move the shelves up and down to make them match your height, which is very comfortable.
Follow this link to shop on Amazon
---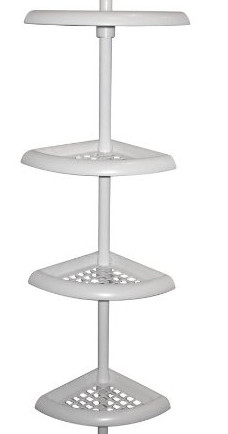 This model has a rather simplistic design. It comes with a metal pole that has a rustproof coating, and four plastic shelves for your shower accessories. The shelves are self-draining, which prevents the growth of mold.
This shower caddy is considerably cheaper than its counterparts are. That does not mean that its quality is lower, though. It is budget-friendly thanks to the simple plastic shelves and the absence of any decorative elements. Overall, this is a great product for the price.
Follow this link to shop on Amazon
---
Top Three Best Shower Totes
The color varieties of this shower tote include blue, pink, and green, each equally bright and stylish. The high-quality mesh fabric provides drainage and airflow that will keep your shower essentials dry and clean.
This bag from YaeloDesign is spacious and capable of holding many objects. It comes with a large center compartment and six outer pockets that would make sure that all your toiletries are in their place.
Follow this link to shop on Amazon
---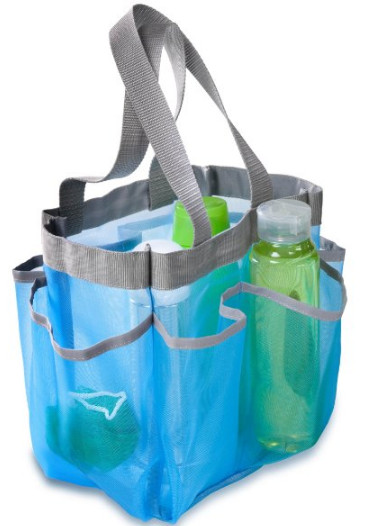 This stylish portable shower caddy will be a great choice for those who like modern design and bright colors. It is very light and sturdy at the same time.  Its double-woven handle is very strong, which allows safe transporting.
As the name suggests, the Quick Dry Shower Tote dries very quickly. That is possible due to the breathable polyester mesh it is made of. It does not absorb water and provides a constant airflow, preventing dampness and, as a result, mildew.
Follow this link to shop on Amazon
---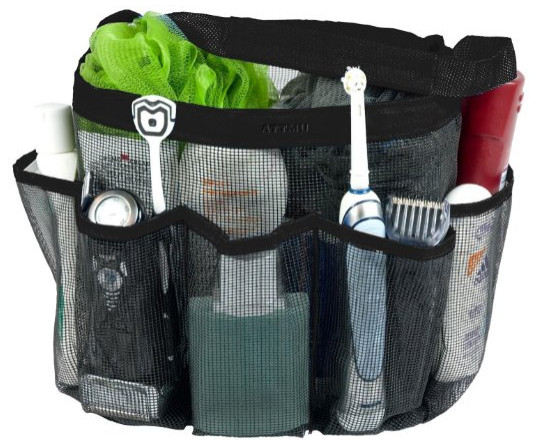 This shower bag will ensure that all your shower accessories are organized and mold-free. It has a large main pocket and eight small additional pockets, which make this tote rather roomy. At the same time, it is light and compact.
This polyester mesh tote looks very modern and comes in several color varieties. Those include traditional black, pink for women, and blue for men. Besides, the fabric is very sturdy and will serve you for a long time.
Follow this link to shop on Amazon
---
In Addition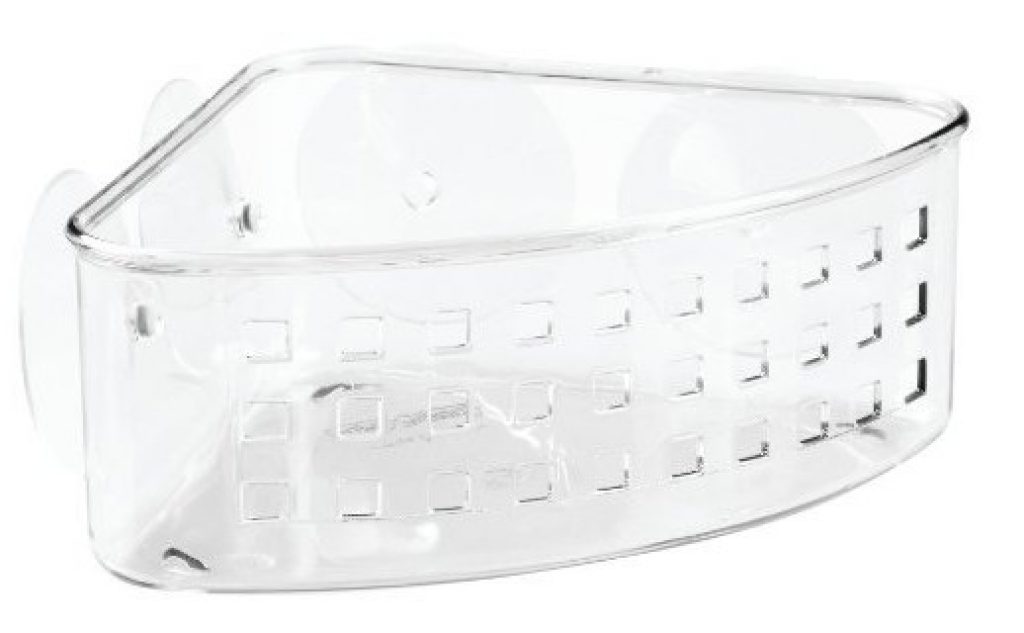 If you have a limited budget and minimalistic needs, check out these shower organizers.
InterDesign Bathroom Shower Suction Corner Basket would match the shower of any size and design. It is large enough to hold such basic toiletries as shampoo, shower gel, soap, and sponge. The basket is made of durable plastic and comes with suction cups that secure it to the wall.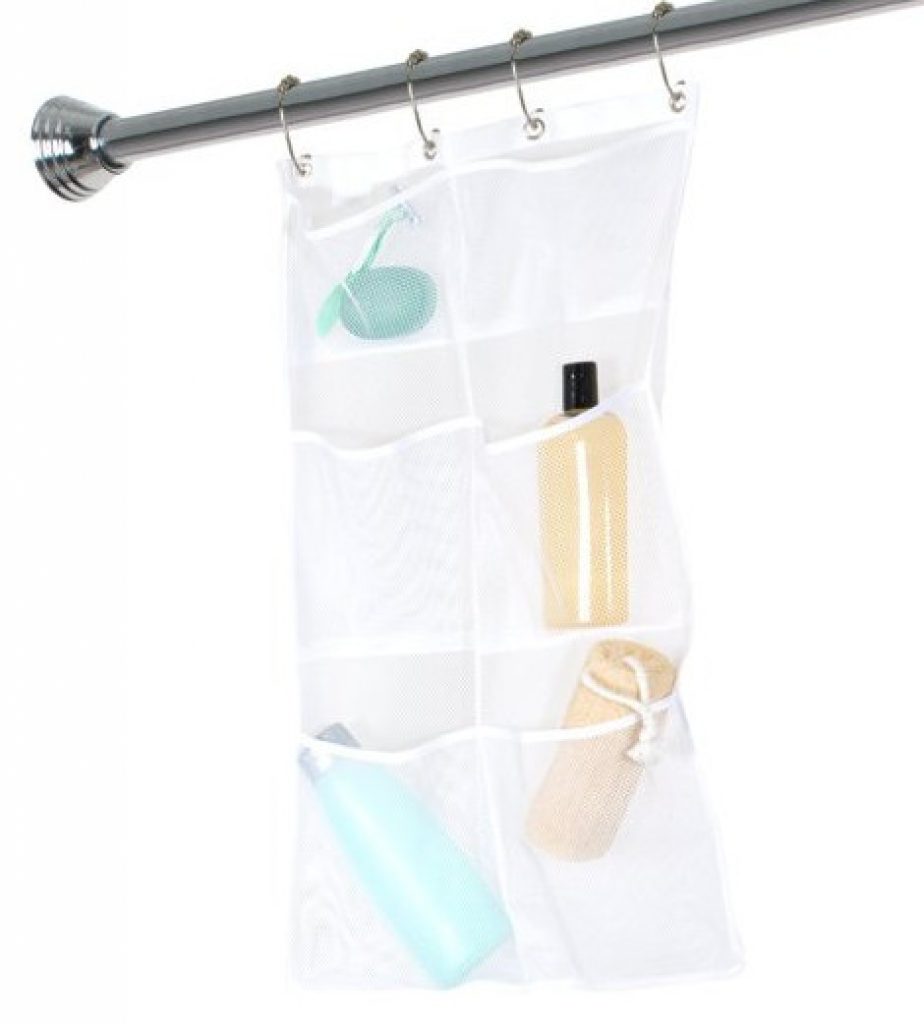 Maytex Mesh Bath Shower Organizer would be a great solution for those who have a doorless shower and use a shower curtain. This shower organizer has six pockets and comes with rustproof grommets, so you can attach it to the rings of your shower curtain. Besides, it is easy to maintain as it is made of polyester mesh.
DIY Shower Caddy
Everybody wants to have their showering necessities close at hand. However, not everyone can afford to purchase a shower caddy. Those who have a limited budget might consider making a DIY shower caddy. Here are two simple projects that do not require much time, effort, or money.
Mesh Shower Caddy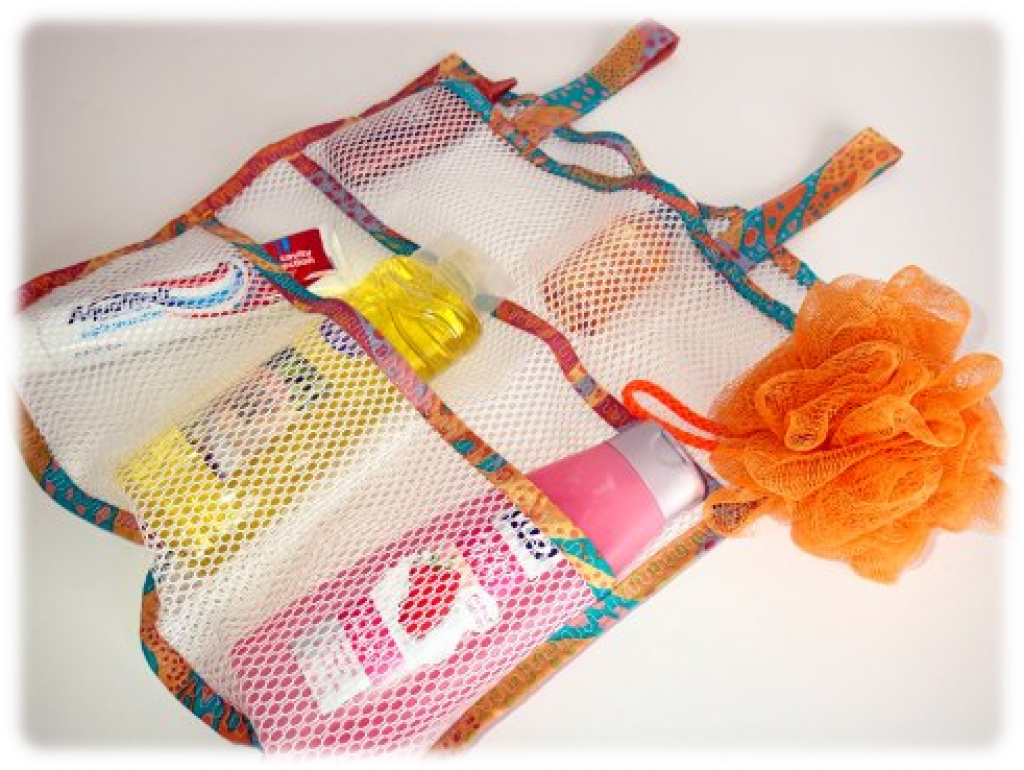 This is a project for those who like sewing. You will get a capacious organizer where you can keep all your shampoo and shower gel bottles, razors, sponges, loofahs, and anything else you need in the shower. To make a mesh shower caddy, you will need:
Mesh fabric
Two mesh pockets
Strips of fabric
The making of this shower caddy is a piece of cake. Adorn all the edges of the body of the caddy and the pockets with strips of fabric. Then, sew the pockets onto the main part. Make a loop for hanging the shower caddy and sew it at the top. Your shower caddy is ready for use! You can hang it on the showerhead and place all the necessary bottles and other accessories into it.
Shampoo Bottle Caddy
This compact shower organizer can store your razors and sponges. For this simple project you will need an empty shampoo bottle, a marker, a knife, and scissors.
Take the sticker labels off the bottle and cut off the upper part. Use a marker to mark the cut lines. You will need to make a small round hole for hanging your organizer on the top of its backside and a large hole at the front. Make sure to leave a couple of "horns" at the font near the bottom, so that you can hang your sponges. You will also need to leave a thin strip at the top of the front part, which will keep your razors standing.