When it comes to choosing a water heater for your bathroom, the main question you need to answer is "Gas or electric?" Both have their advantages and admirers. According to Diffen, 60% of Americans use gas-powered water heaters, and 40% install electric units in their homes. Heaters that work on natural gas or propane have a higher recovery rate – 50 gallons per hour (compared to 14 gallons per hour with electric heaters). On the other hand, electric models are more efficient than gas water heaters. Their thermal efficiency can range from 90 to 99%, when the same indicator of gas heaters rates somewhere between 60 and 85%. The lifespan of both types is almost the same, yet electric heaters tend to be less expensive.
Electric heaters, just like gas models, can either be tank or tankless. Tank heaters come with built-in containers, or tanks. They can be large, designed for whole-house application (40-80 gallons), or small, supplying only one water device with hot water (1-10 gallons). Tankless heaters come without any water reservoirs and heat the water as it flows through the unit. They are also called on-demand, continuous flow, instantaneous, flash, inline, or instant-on heaters.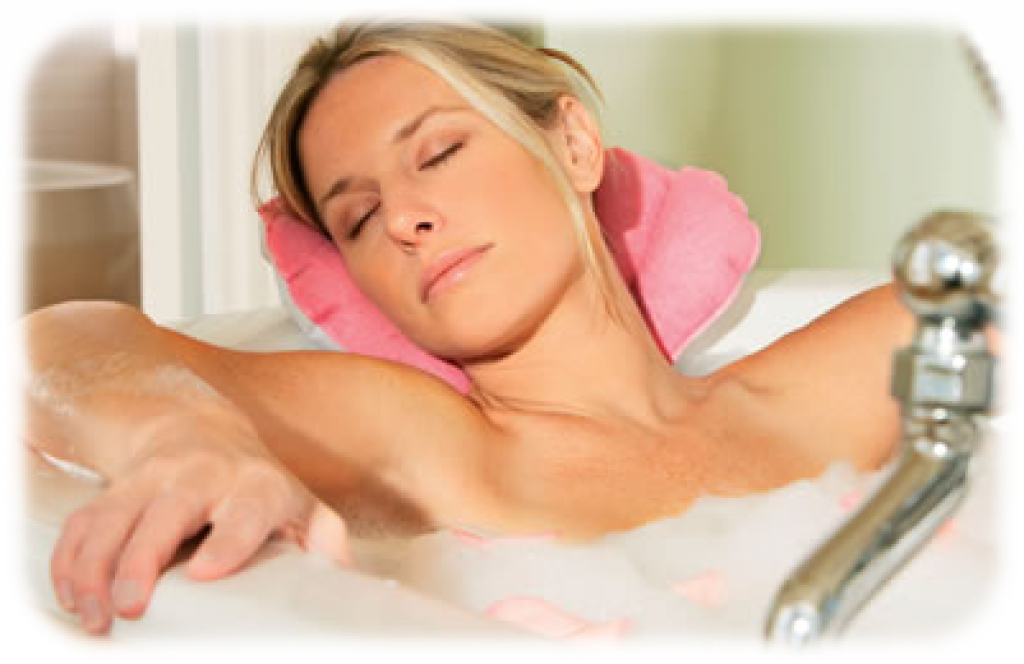 Choosing the best water heater for your bathroom can be rather a difficult task. With a large variety of models – both tank and tankless – available on the market, making the right choice can be time- and energy-consuming. Hopefully, our tips and reviews will help you find the best electric water heater that will supply your family with the necessary amount of hot water, offer a high-end performance, and serve you for many years.
A Guide to Choosing the Best Electric Water Heater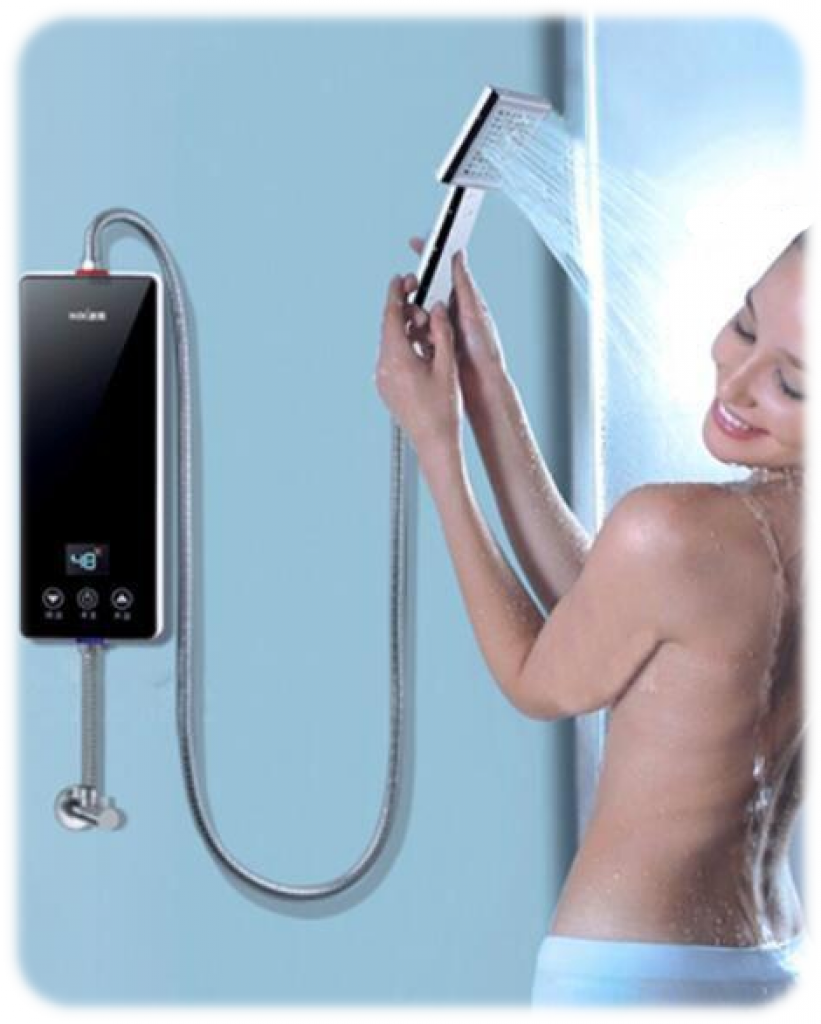 Size. The size of the heater depends on your water demand. If you choose a tank heater, a 50-60-gallon tank is more than enough for a single person or a couple. If your family includes three to four people, a heater with an 80-gallon tank is just the thing for you. You can find more information about sizing a new water heater on the Department of Energy website.
Climate. If you choose a tankless heater, you should pay special attention to the climate of the area you live in. Some models are suited only for areas with a mild climate where winters are not too harsh. Such heaters support inlet water temperature no lower than 50-60 ° F. Other models work efficiently even in areas with low yearly temperatures.
Price. Make sure that the water heater you choose has a reasonable price/quality ratio. The price of the unit depends on the material it is made of, the number and the material of heating elements, the tank capacity, and the thermal efficiency of the heater.
Advantages of Electric Water Heaters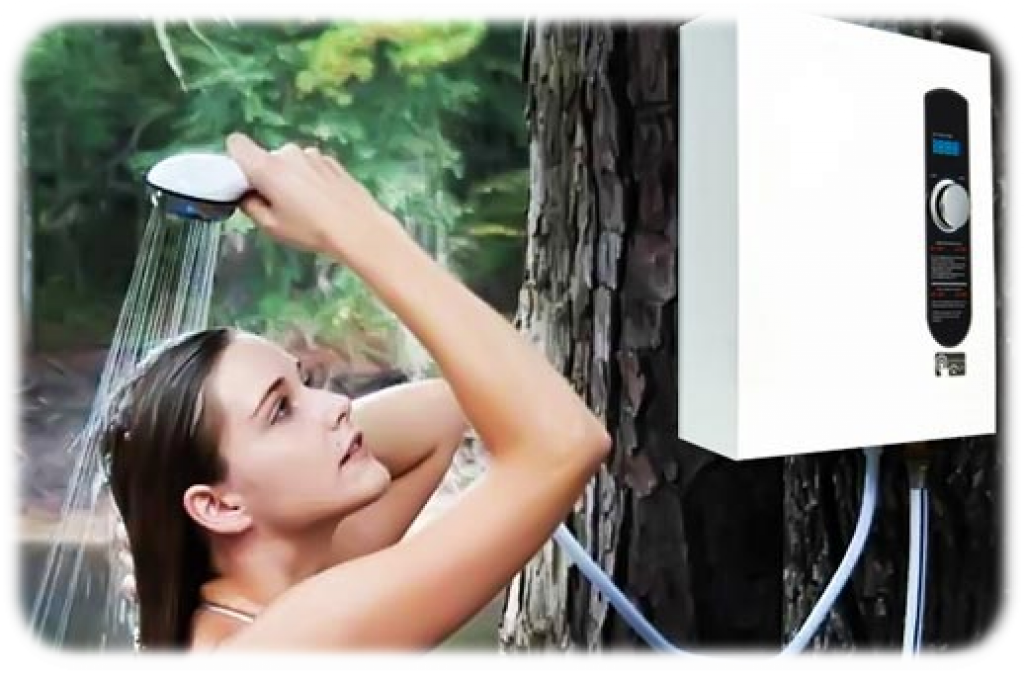 Electric heaters have some advantages compared to gas heaters. The main of them are:
Efficiency. Electric heaters are more efficient than gas-powered ones. The average efficiency of gas tankless water heaters is 85%. The thermal efficiency of electric water-heating units is 98% on the average. Electric heaters prove to be more helpful at heating large amounts of water.
Installation. Electric water heaters are much easier and quicker to install compared to their gas-powered counterparts. You need to be extra careful and cautious installing a gas water heater. Outdoor gas heaters require an intricate ventilation system. With an electric heater, you will not need any ventilating ducts or other additional installations.
Maintenance. Electric heaters are almost completely maintenance-free. The only thing you need to check from time to time is the inlet filter as it can get clogged by mineral deposits and cause damages to the unit. Gas heaters need to be inspected by professionals at least once a year to prevent any exhaust vent failure risks and ensure safety and longevity.
Top Five Best Electric Tankless Water Heaters 2018
This energy-efficient unit will help you to save up to 50 % on water heating. It is one of the largest heaters among all the models of the same type. It comes with the patented self-modulating technology for the utmost comfort of use. With the incoming water temperature of 37° F, this model can heat three gallons of water per minute.
With the ECO 27, you can set the temperature from 80° F to 140° F. It comes with a digital temperature control that allows setting the temperature in one-degree increments. This unit comes with a limited lifetime warranty. All of its components are easily replaceable.
Get this electric water heater on Amazon
---
This water heater works on a unique technology. Unlike the other heaters that use electric heating elements, this model uses infrared light to make the water hot. Infrared lamps do not get in direct compact with water. Far infrared rays work at a molecular level, activating the water and increasing its temperature.
This infrared water heater from SuperGreen has a high thermal energy efficiency. It is environmentally friendly and safe for health. It does not contain any metallic elements. The heating lamps are made of quartz. This unit does not deposit mineral buildup and resists corrosion.
Get this electric water heater on Amazon
---
This water heater fits for indoor installation, as it does not require a venting system to work safely and efficiently. It is compact and has a sleek design, which makes it a perfect choice for indoor installation. The installation is quick and easy, especially if you are a handy person.
The Tempra 24 Plus from Stiebel Eltron is one of the most technologically advanced heaters you can find. It comes with upgraded new-generation electronics, including an advanced flow control. It is designed to make sure that you get water with a constant temperature output regardless of the water demand.
Get this electric water heater on Amazon
---
This heater is simple yet efficient. It comes without any high-tech features. At the same time, it performs its main function – offering unlimited hot water when you need it – just fine. This model is very compact and lightweight, especially compared to the other similar models. Its dimensions are 12 x 10 x 5 inches and its weight is just 7.3 pounds.
This water heater from Titan comes with a handy control panel where you can set the water temperature. Please note that this model is not the best choice if you live in an area with cold climate. It is recommended for installation in areas where inlet water temperature is more than 65° F.
Get this electric water heater on Amazon
---
This water heater is designed for under-sink installation. It is not efficient enough to supply the shower with hot water, let alone the whole house. However, it is a perfect choice for single-sink use. With this model, you can have unlimited hot water flowing from your bathroom sink faucet whenever you need it.
This water heater from Lotus is recommended for installation and use in moderate to warm climates, where the inlet water temperature is no lower than 51° F. As most tankless water heaters, this unit is eco-friendly and cost-efficient. It consumes 50% less energy than traditional water heaters and helps to reduce your bills considerably.
Get this electric water heater on Amazon
Top Five Best Electric Tank Water Heaters 2018
This water heater is one of the best models available today. Thanks to its sturdy construction with a stainless steel laser-welded tank, this model is durable and reliable. Like most electric heaters, it comes with 98% thermal efficiency to ensure perfect results. This economic unit can supply the whole bathroom with hot water without consuming too much energy.
This high-efficiency heater from Westinghouse is available in three variants depending on the capacity of the tank. You can choose either a 40-, 52-, or 80-gallon model. With this unit, you do not need to worry about overheating, as it comes with a temperature limit control. Its unique tank can offer low maintenance thanks to its ability to resist any buildup.
Get this electric water heater on Amazon
---
The construction of this water heater includes one high-efficiency heating element made of stainless steel. This unit can prove very helpful for those who want to decrease the consumption of energy for water heating. Its 120-volt 1650-watt heating element will do its job perfectly.
The construction of this electric water heater from Reliance Products makes installation easy and effortless. Its inlet and outlet connections are placed on one side to make sure that you can install the unit even in tight places. With a 10-gallon tank and the dimensions of 19.8 x 18.5 x 19.8 inches, it is a great choice for a small bathroom.
Get this electric water heater on Amazon
---
This model is similar to the previous one. Its main distinction is the capacity of the tank. Unlike its more expensive counterpart, it comes with a modest-sized tank. Its capacity is just six gallons. Other features of these two models are quite similar.
This compact electric water heater from Reliance Products comes with a cold water inlet and a hot water outlet on the side of the tank. Its construction includes a sacrificial anode to protect the unit from corrosion and ensure its longevity and a perfect performance.
Get this electric water heater on Amazon
---
This is another compact heater with a modest-sized tank. It is available with four tank capacity options – 1, 2.5, 4, and 6 gallons. It is a great choice for under sink installation. It will help you reduce the time you spend on waiting for hot water to reach the faucet.
The Minitank water heater from Ecosmart can be installed in any bathroom, even if space is limited. It is designed for hardwire installation and comes with a pigtail included in the package. It plugs into a standard 120-volt outlet.
Get this electric water heater on Amazon
---
This is another electric tank heater designed to fit under bathroom sinks. It is available in three sizes, each quite compact. You can choose a model with a 2.5, 4, or 7 gallons tank capacity. Install it in your bathroom and minimize the time you spend waiting for the water to get hot. Apart from being installed under the sink, it can be mounted on the floor, shelf, or wall.
This point-of-use electric mini-tank heater is just the thing for the single-sink application. It can also be used as an extra heating device if an already existing heater is installed far from the sink. This model comes with thick foam insulation to prevent the loss of heat and make sure that the water stays at a constant temperature no matter what.