Having a nice shower provides a unique, refreshing and relaxing feeling that cannot be offered by anything else. Be it in the morning in preparation for a long working day, or in the evening after a tiring day, everyone needs a great shower. Shower heads are among many factors that contribute to a great shower. Purchasing a good shower head from a reputable brand ensures that you will enjoy the right amount of water pressure and a perfect shower spray area.
If you have been looking for a replacement for your old shower head, look no more. Moen has the solution. Moen is a leading faucet brand in the US offering a wide selection of exquisitely designed shower heads and other bathroom accessories for residential and business applications. Moen delivers the best combination of useful innovations, handy features, and surety of durability.
Moen shower heads assure your full control over your bathing experience. With just the turn of a lever, you can change the water supply mode to a self-pressurized spray or a calming and soothing rinse function. The self-pressurizing spray function features the Immersion technology that enables the system to increase the flow and force of water delivery.
You can get Moen shower heads in many finishes such as chrome that creates a bright, light-reflective, cool metallic look. Other finishes include antique bronze, oil rubbed bronze, brushed bronze and brushed nickel.
What makes Moen different?
A variety of shower heads: There is a wide range of showerheads with designs and features that suit your preferences. You will find the right shower head to complement your home decor. Apart from providing a perfect balance of water balance, these shower heads set the standard for unparalleled beauty, innovation, reliability and premium design.
Immersion Rainshower Technology: This is an exclusive technology to Moen shower heads that assures you of a revitalizing, full-body shower. Once you step into your bathroom and stand under a Moen shower head, you are sure to wash away all your cares with the water pressure of your preference. The Immersion rainshower technology uses a spoke design to channel water, thus magnifying the natural force of water. The use of this technology ensures dramatic enhancement of the showering experience. Also, shower heads designed using the Immersion technology have rubber spray formers. This feature helps to solve the most common problem among shower heads – mineral deposits. It, therefore, becomes easy to clean these mineral deposits off Moen shower heads.
Lifetime Limited Warranty to homeowners: Moen shower heads, just like all the other Moen products, have been manufactured to the highest standards of quality and workmanship. This is why Moen products are backed by a lifetime limited warranty, a clear evidence of the manufacturer's confidence in the products.
Moen assures consumers that the shower heads will be free of a leak and drip as long as they are in ordinary use. When you purchase these quality products, you are less likely to find defects in material or manufacturing workmanship.
A generous 5-year warranty to non-homeowners: Purchasers of Moen shower heads and other Moen products for business or industrial use are warranted for five years from the date of purchase.
Top Moen shower heads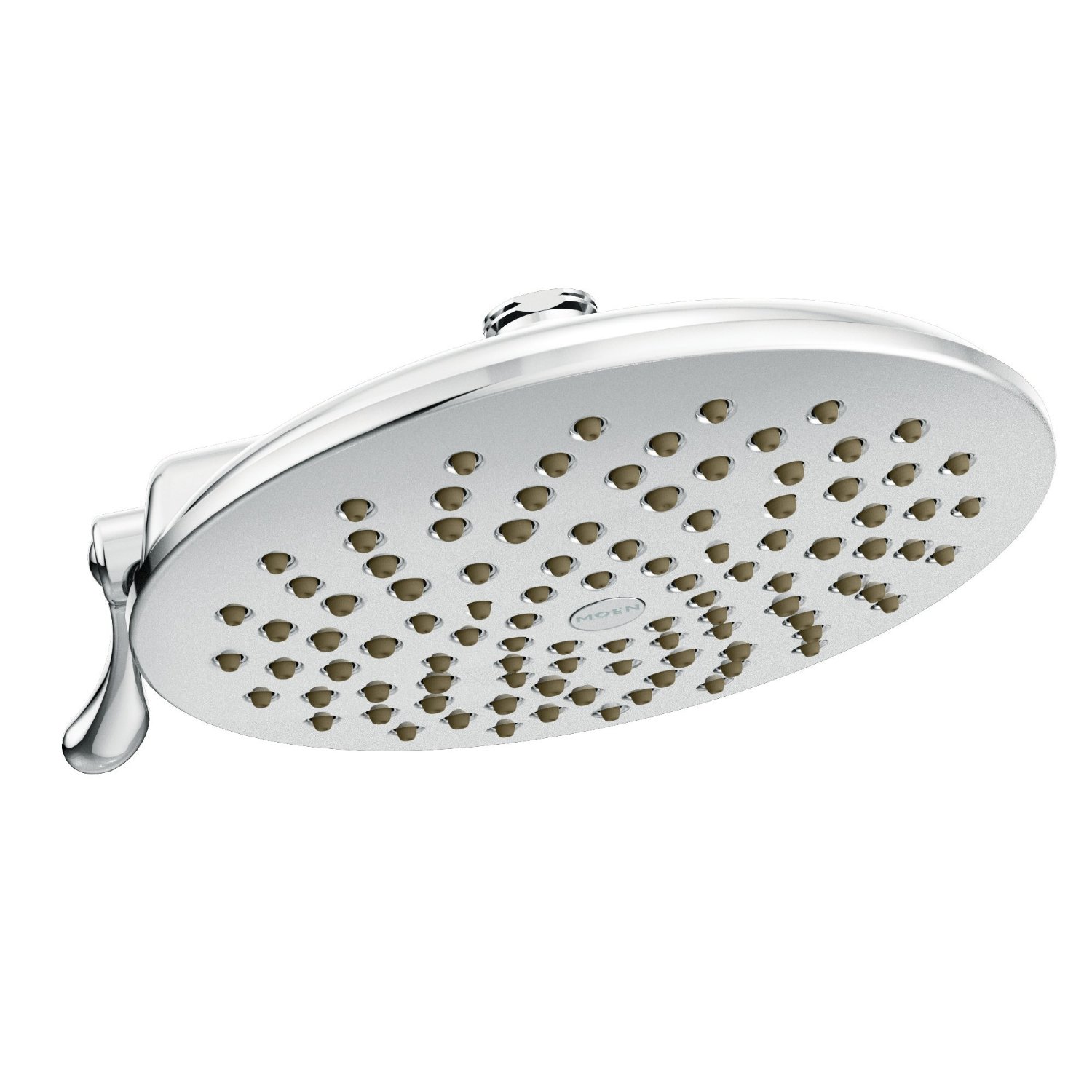 The Moen S6320 shower head provides a perfect balance of aesthetics and water power. Bathing under it is nothing short of a pleasurable bathing experience. It features a dual function lever that allows you to switch between a calm spray evocative of a relaxing stroll akin to a gentle rain, and a bracing pressurized power spray. The soft spray function provides a soothing and refreshing bath while providing adequate pressure to rinse soap from the body completely.
Moen S6320 Velocity showerhead enables you to control your shower experience. This can be done by turning the lever to concentrate the water flow to just 30 nozzles thus increasing water pressure for a rejuvenating morning shower. You can also expand the flow to as many as 100 nozzles for a more gentle rinse. The wide spray head (8 inches in diameter) delivers a maximum water flow of 2.5 GPM. You can also get a WaterSense certified model that has the water flow of 2.0 GPM.
Click here to check current price and comments of consumers
---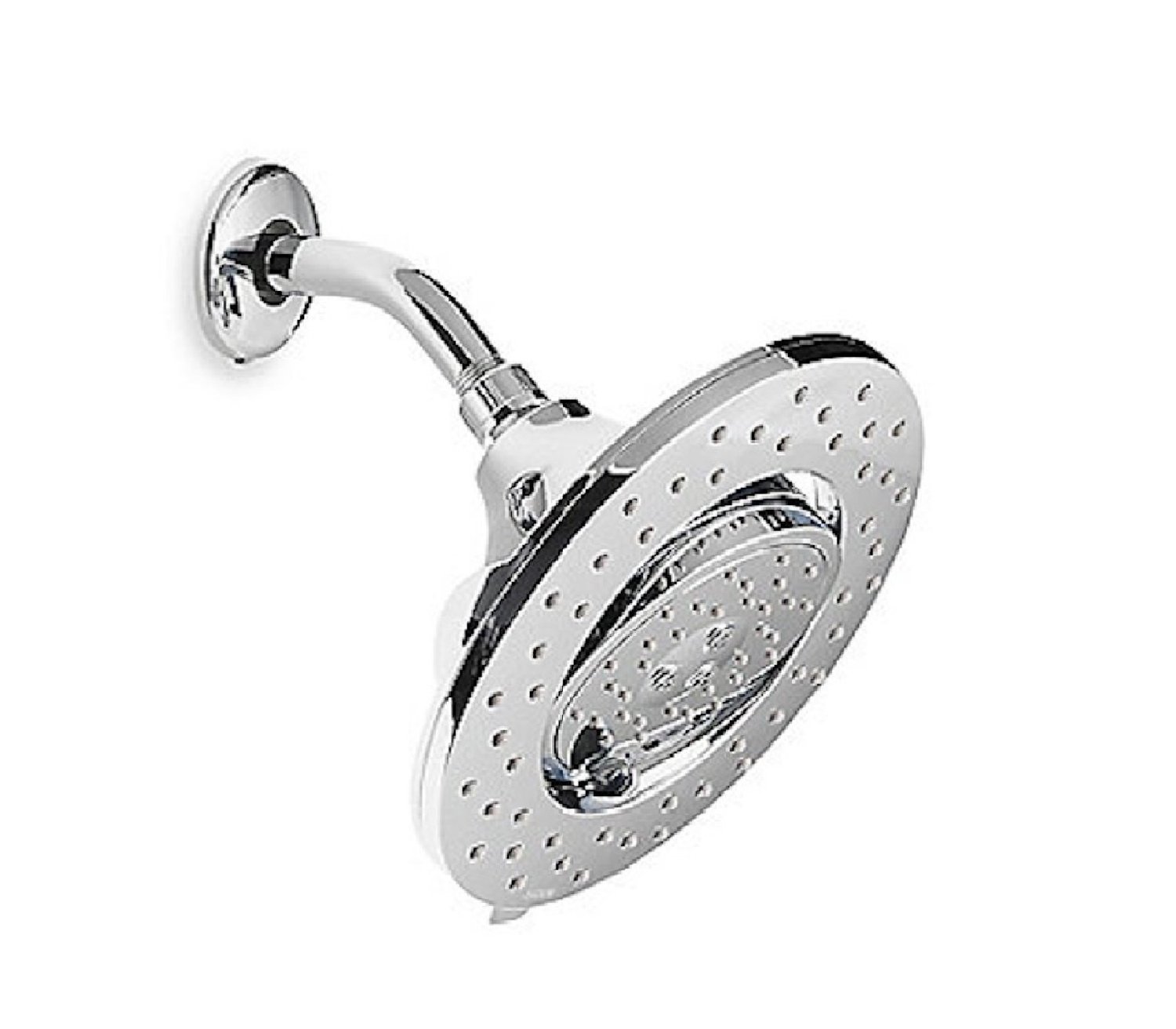 A plastic shower head but looks like chrome, you have to tap it to tell the difference. This shower head is bigger for a rainfall-like shower. It's very easy to install and offers enough pressure for a thorough rinse. Normal water pressure to realize the full usage of its functions.
Click here to check current price and comments of consumers
---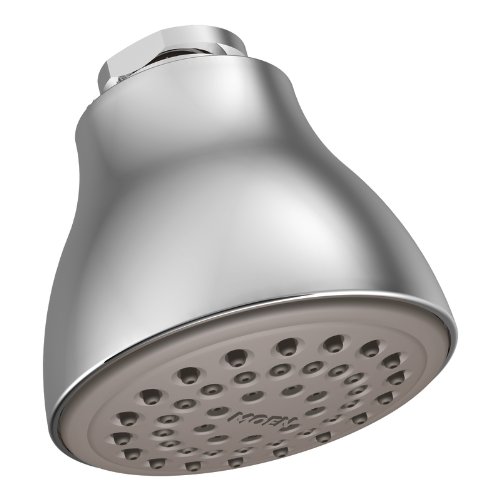 The Moen 6300 shower head is a one-function spray head that is transitionally styled for traditional and modern bathrooms. It has a water flow rate of 2.5 GPM though you can also get a WaterSense certified version that has a 1.75 gallons per minute water flow rate.
It has a 2-1/2-inch diameter and comes in a highly reflective chrome finish for a mirror-like look. This finish works well with any decorating style. You an also get it in brushed nickel, brushed chrome, and polished brass finish.
Click here to check current price and comments of consumers
---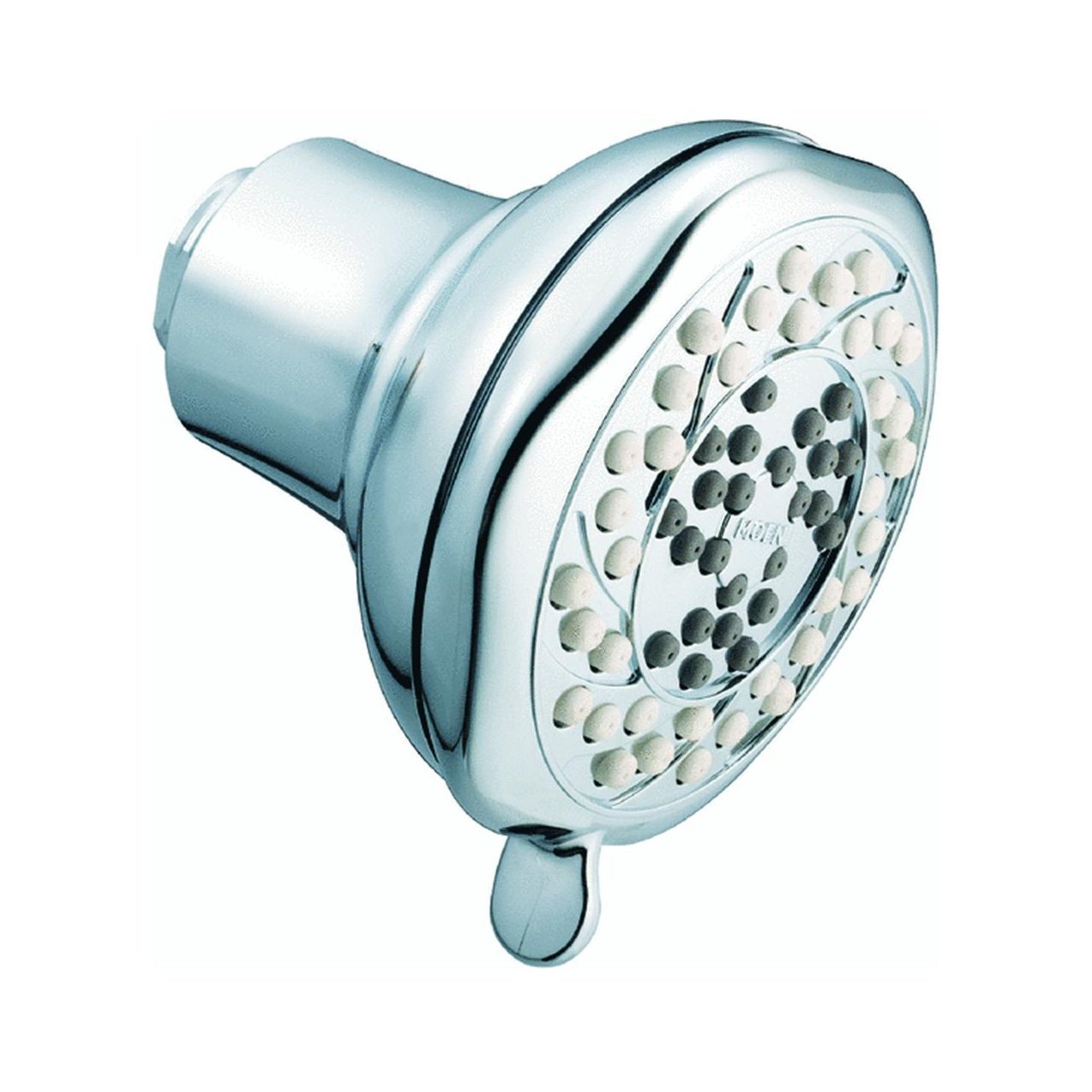 If pressure is what you are looking for, this shower head should be on your "must purchase" list. You can choose between its different settings. The first setting is a mix of spray power and spread, and the other settings are harder and narrower or softer and wider. It is super easy to install and adds a shiny and attractive look to your bathroom. You may also try to increase the water flow by modifying the inner gasket if you are not water-conservative type.
Click here to check current price and comments
---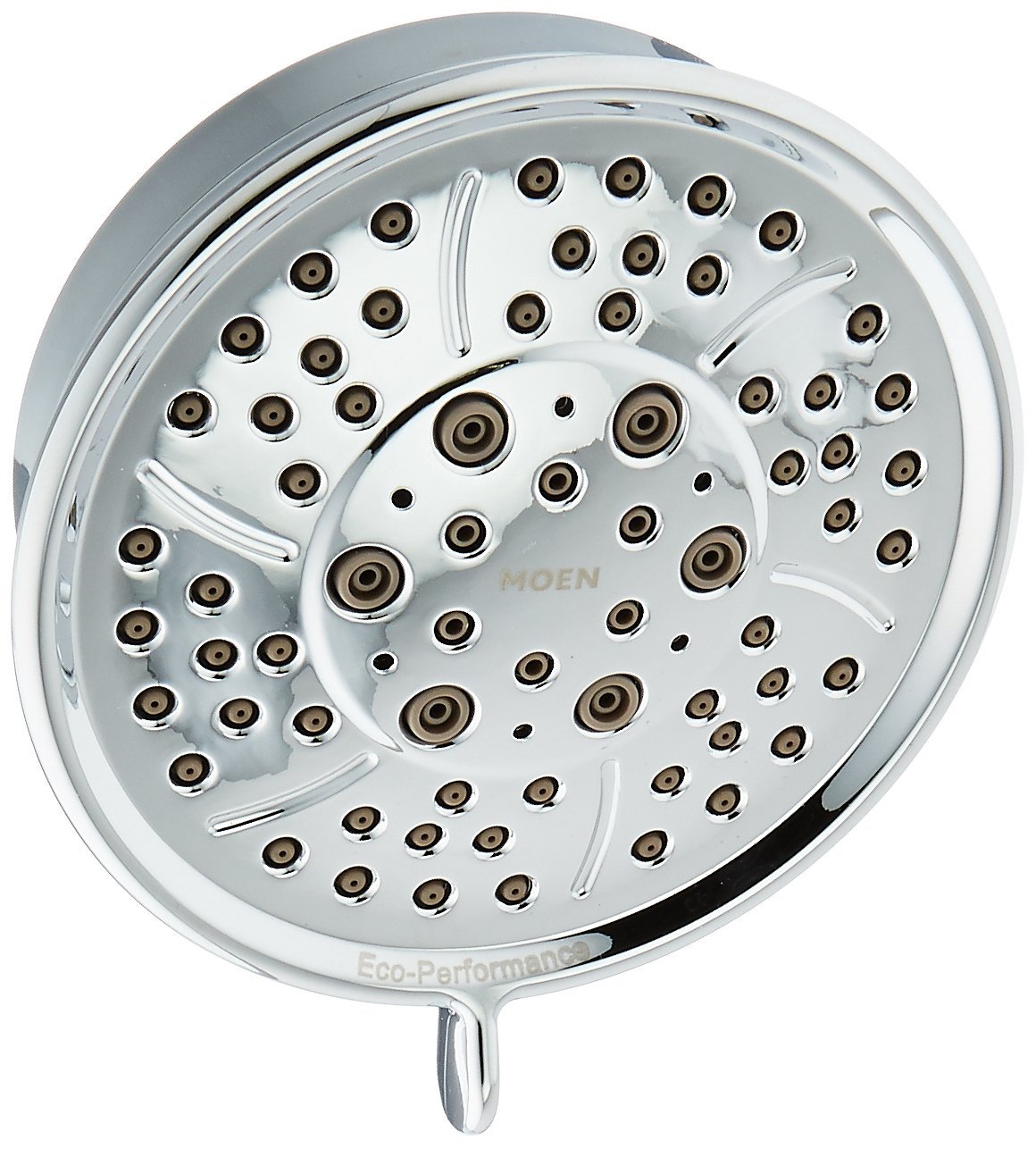 This shower head has an 8″diameter spray head with four-function combination spray. This allows you to enjoy a variety of spray functions: full spray, targeted massage, or invigorating spray. It satisfies EPA WaterSense(r) requirement of water conservation without compromising the performance.
Moen products have remained to be among the most preferred bathroom and bathroom faucets due to their perfect combination of quality, beauty, price, and performance. They are more favorably priced than similar products in the market, and their quality provides ultimate value to homeowners and non-homeowners. The Moen team is dedicated to ensuring that customers enjoy their bathroom experiences. If you experience any problem after purchasing Moen shower heads, be it about installation or performance, don't hesitate to call the ever-ready customer center. The center has very respectful and helpful staff who provide any required assistance.
Click here to check current price and comments of consumers
It is time to change your showering experience for the better with Moen shower heads.