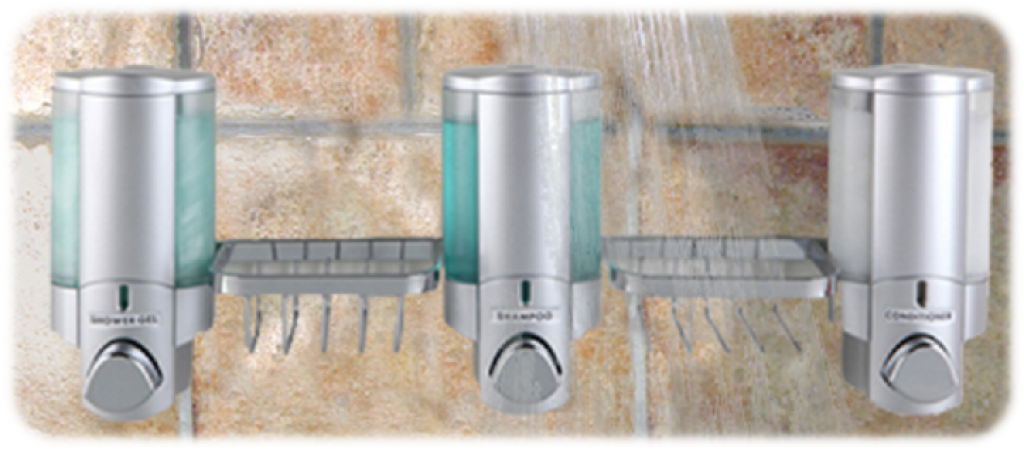 It is quite annoying when all your shampoo, shower gel, and liquid soap bottles are scattered all over the bathroom. All that clutter makes the bathroom untidy. It is also irritating to step into the shower, stand under the water and realize that you have forgotten to take the shower gel with you. It is much more convenient to keep all the necessary toiletries in the shower.
There are different products that can keep all your bathroom luxuries in one place, organized and easy-to-access. Shower caddies, for one, can help you keep bottles with bath and body products, razors, sponges, loofahs, and other accessories neat and tidy. A shower dispenser is another thing that can allow you to keep your shower necessities within arm's reach.
Shower dispensers are useful units that will help you make your showering more comfortable and satisfying. You will no longer need to look for your shower gel, as it will be where you most need it – right in the shower. Apart from simple shower dispensers, there are dispenser shower caddies. Their design is somewhat more complex and may include hooks and shelves for shower necessities. Look through our tips and reviews to choose the best shower dispenser for your bathroom.
Advantages of Shower Dispensers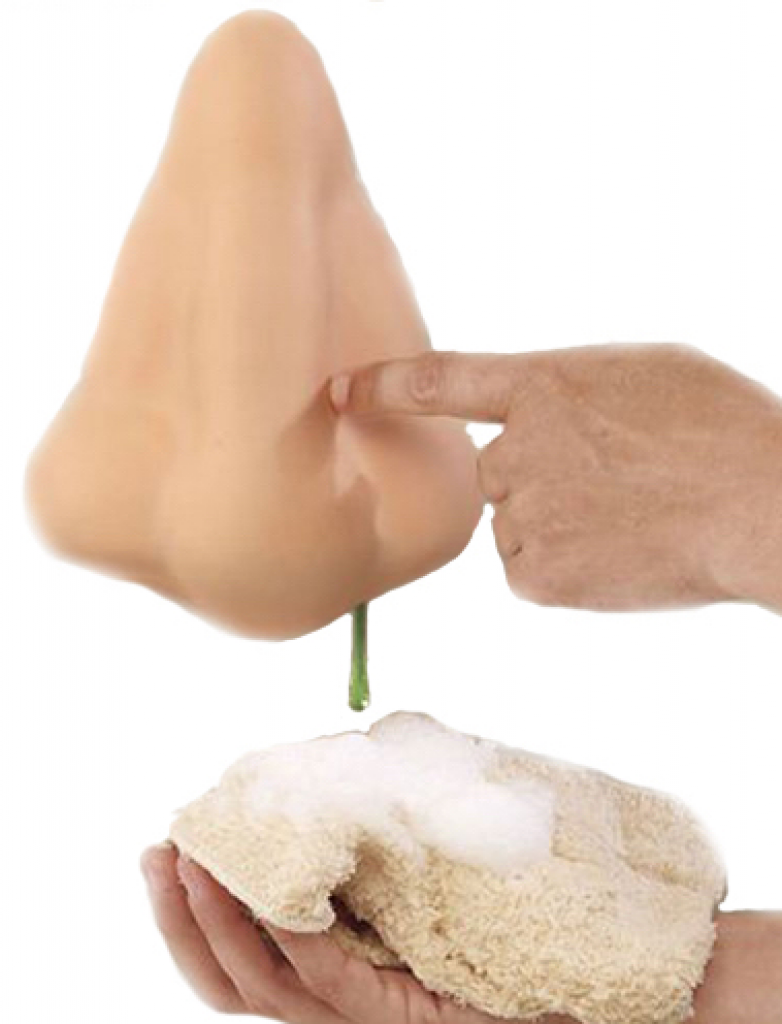 They are convenient. You can install one shower dispenser with several chambers instead of having to deal with multiple bottles each time you take a shower. With a three-chamber unit, you can have shower gel, shampoo, and body lotion in easy access whenever you need them.
They are compact. Shower dispensers are attached to the wall. They take up as little space as possible, much less than multiple bottles scattered around the shower floor.
They are safe. There is always a possibility that you can drop a shampoo bottle, injure your foot, and possibly damage the shower floor or walls. Dispensers are securely attached to the wall to prevent such accidents and their unpleasant consequences.
How to Choose a Shower Dispenser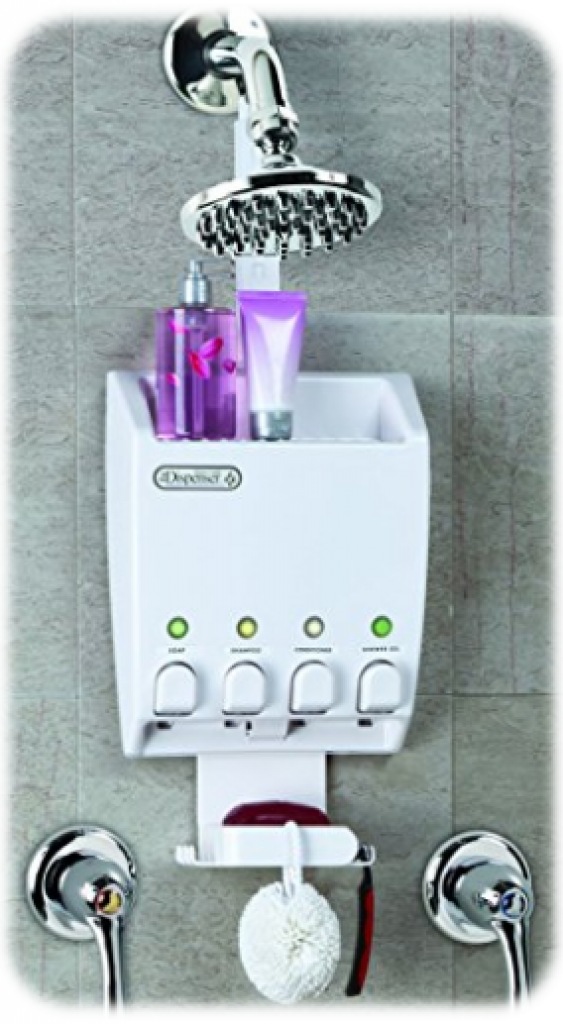 Number of chambers. Make sure to choose a shower dispenser with a sufficient number of chambers that will be able to hold everything necessary. Most models are available in three varieties, depending on the number of chambers, or bottles. There are units with one, two, and three bottles.
Labels. Some dispensers come with labeled pumps. Most common labels say "shampoo", "conditioner", "lotion", and "shower gel". Decide whether you want a model that has labeled pumps, or perhaps you prefer a simple dispenser without any signs.
Capacity. Make sure that the bottles are large enough to hold large amounts of your favorite bath and body products. It will allow you to refill them less often. Most units come with 14-ounces bottles; however, there are also models that can hold larger or smaller amounts of liquids.
Design. See that the dispenser comes with an ergonomic design that will make using it as convenient as possible. Make sure that the pumps are easy to operate, not too tight. See that the bottles can be refilled quickly and easily, so that you do not need to spend too much time and effort.
Material. Check the material the shower dispenser is made of. Cheap models are usually made of low-quality plastic and alloys that are likely to rust. Make sure that the model you choose is made of high-quality durable materials. See that the unit is rust-resistant, as it will be constantly exposed to water.
Top Three Best Shower Dispensers
This model is one of the best shower dispensers you can find on the market today. It is available in three versions – with one, two, and three bottles. The unit is easy to install and can be attached to the wall with the help of screws or adhesives. It comes with convenient hooks for sponges.
Made of high-quality materials, this shampoo and soap dispenser from Simplehuman is durable thanks to its rust-resistance and sturdy construction. Its ergonomic design makes refilling easier than ever thanks to the wide opening. The unit dispenses liquids thanks to convenient t-bar levers.
Follow this link to get this dispenser on Amazon
---
This model is available in two varieties – with one bottle and with three bottles. One-chamber dispenser comes with a label "Soap". Three-chamber dispenser has labels "Shampoo", "Conditioner", and "Lotion" on it. Each bottles is spacious enough to hold 14 ounces of liquid.
This shower dispenser from Better Living is complemented by an installation kit and silicone adhesive. It can be installed in just a few minutes without any tools. It attaches securely to any kind of shower wall surface – tile, glass, stone, and others. This model comes with convenient pumps that allow measuring the right amount of product each time.
Follow this link to get this dispenser on Amazon
---
This unit will be a great choice for those who want to eliminate bottle clutter and create more free space in the shower. It is a great option for a limited space as it can fit flat on the floor or in the corner. Getting the right amount of your favorite shower products has never been easier – just push the button, and the job is done.
Just like the other models, it can be purchased in several varieties – with one, two, or three bottles. Three-chamber model comes with labels "Shampoo", "Shower gel", and "Conditioner". The labels are Mylar-coated to make sure that they stay neat and legible even after they have been exposed to water.
Follow this link to get this dispenser on Amazon
Top Three Best Dispenser Shower Caddies
This convenient unit comes with an ergonomic design, which makes it a nice addition to any shower. The design of this model comprises three pumped bottles for liquids, a shelf for extra bottles and other toiletries, a soap tray, a fogless mirror, and hooks to store razors and sponges.
The Ulti-Mate dispenser from Better Living is available in two finish colors – white and satin, both equally elegant. It comes with Mylar-coated labels on each chamber for convenience of use. The chambers can hold 15 ounces of liquid. You can install the unit in just a few minutes, using a two-way tape and silicone that come with the dispenser.
Follow this link to get this dispenser on Amazon
---
This dispenser comes with four chambers, which is more than similar models have. The chambers come with Mylar-coated labels that say "Shampoo", "Conditioner", "Shower gel", and "Lotion". Made of durable water-resistant ABS plastic, it can offer a perfect performance for many years.
This classic dispenser from Better Living comes with reliable and durable pumps that work smoothly and do not require too much effort to push. This unit combines an attractive design with a high-quality construction and practicality of use. The chambers are easy to refill thanks to the lid that can be lifted any time.
Follow this link to get this dispenser on Amazon
---
Just like the previous model, this dispenser comes with four chambers to offer more space for your favorite bath and body products. Each chamber comes with 15-ounce capacity to allow refilling them less often. Even when it is time to refill them, you can do it easily without much effort.
This dispenser and caddy from Better Living will help you de-bottle the shower, removing the clutter and creating more free space. Apart from the four chambers for shampoo, conditioner, shower gel, and lotion, the design of this unit comprises a soap dish and hooks for razors and sponges.