We all know that cleaning a bathroom can be torturous. To make all the surfaces clean and shiny is rather difficult a task. Regularly dealing with mold, mineral build-up, and soap spots can annoy even the most house-proud and patient of us. Besides, all the washing and scrubbing takes a lot of time and effort. Especially if you use an all-purpose cleaning product.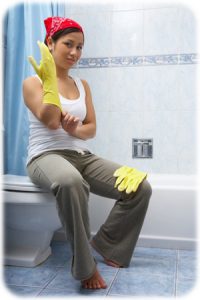 Bathrooms have such surfaces as glass and tile, which require a special kind of care. In addition, bathtubs themselves need very delicate cleaning to protect the coating from scratches. Thankfully, the new generation of products can make cleaning the bathroom much quicker and easier, saving you a lot of trouble.
Glass, tile, and bathtub coating all have distinctive features. Glass, for one, has microscopically smooth surface that makes any stains exceptionally easy to notice. You can learn about other properties of glass on Wikipedia.
Now, using an all-purpose cleaner might not have the desired effect. We recommend using a specific product for every kind of surface to get the best possible result. The following types of cleaners should help to make your bathroom and shower immaculate: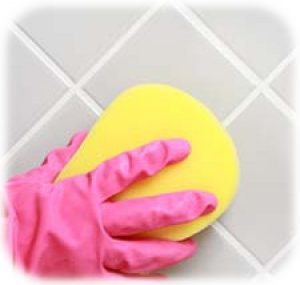 Tile cleaners used for wiping tile floor and walls. These products are designed to remove mildew from the grout between the tiles. In addition, they give a special kind of shine to all the tiled surfaces.
---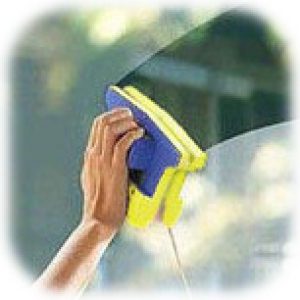 Glass cleaners used to make glass and mirrors flawless. They remove any water spots and soap marks effectively, making glass surfaces nigh invisible. Besides, mirrors wiped with such a product give a clearer reflection.
---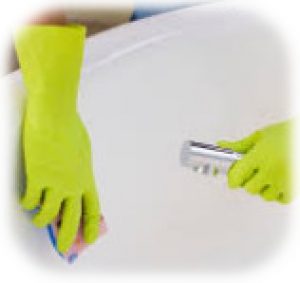 Bathtub cleaners used for gentle cleaning and protection for bath surfaces of all kinds. They can also be used on toilets, sinks, and shower floors.
Hopefully, our reviews will help you to choose cleaners that will make all the surfaces of your bathroom perfect without hitting your pocket.
Top Three Best Bathtub Cleaners
This cleaner can be used on all types of bathtub surfaces, with the exception of natural marble. Moreover, no rubbing is needed. Just spray the product over your bathtub, wait for five minutes and wipe it off. It's that simple!
The BathClean Cleaner helps to remove hard water and soap stains. In fact, its regular use prevents their appearance. The latter is possible thanks to the invisible shield that protects your bathtub from build-up of minerals, soap, and dirt. As a result, you would not have to clean your bath quite as often.
In addition, the flowery smell of the product would freshen up the air in your bathroom.
---
The Tub & Tile Cleaner is a great choice for cleaning a bathtub. However, as the name suggests, it can also be used on tiled surfaces. It is a 2-in-1 product. Now, choosing it would save not just your money but also some space in your cupboard.
This cleaner is easy to apply and wipe off. It removes any spots from the bathtub and leaves a protective coating after the product has been washed off. Besides, its cherry smell is rather nice.
---
This non-toxic cleaner would be a great choice for those who care about their health. The Daily Bath Cleaner contains no phosphates, ammonia or bleach, which makes it safe to use.
It would remove streaks and spots, making the bathtub look brand new. However, if your bath has too much mineral build-up, this product might not be able to remove it. If that is your case, you should choose a product with some stronger components.
Top Three Best Glass and Mirror Cleaners
This glass cleaner removes the worst of hard water stains. In addition, it gets any glass surfaces rid of salt, rust, and mold, making the shower doors clear.
You can use the Extreme Duty Glass Cleaner in places other than the bathroom. It cleans windows just as perfectly. Although you should be extremely careful when using it. Acid is one of the components of this product. Do make sure to put protective gloves on before using it.
---
This cleaner would be a great choice for those who care about not just health but the environment as well. The Earth Friendly Shower Cleaner is made with 100% plant-based components. Besides, it has not been tested on animals, which makes it an option for vegans.
Lavender and tea tree oils are the main components of this product. Those herbal antiseptics have been in household and medicine use for a long time. In addition, they rarely cause allergies.
Now, this product cleans bathroom mirrors and shower doors just fine. It also comes with health and environment benefits. Besides, the protective layer it leaves on the surface prevents water spots from appearing.
However, its natural components would not be enough to remove mineral build-ups that have not been cleaned off for a long time.
---
This glass cleaner would make glass virtually invisible, just as the name implies. The Invisible Glass Cleaner contains no allergens such as chemical dyes, perfumes, or foams.
However, it is still very effective in cleaning mirrors, glass, and other reflective surfaces. The Invisible Glass Cleaner removes stains and streaks almost instantly. It also keeps glass and mirrors clean longer, preventing hard water build-up.
Top Three Best Tile Cleaners
The Charlie's Soap would make all the tiled surfaces in your bathroom clean and shiny. Moreover, it would not harm your health as it is made of non-toxic components. It is hypoallergenic, which makes the Charlie's Soap suitable for everyone. It would not irritate your skin, so no gloves are necessary.
Yet, the Charlie's Soap does the job no worse than cleaners with more aggressive ingredients do. It can be used not only in the bathroom but also in the kitchen. This product makes stains of most types disappear completely. That includes mold, soap scum, grease, oil, and food stains. It is effective even with blood, grass, and red wine, which are very difficult to remove.
---
This cleaner is designed to clean the grout between the tiles, as the name suggests. It is acid-free, which makes it less effective against calcium or water spots. The Grout Cleaner does remove soap deposits, grease, oil, and dirt rather well, however. Moreover, it would not cause acid damage to tiled surfaces.
Just spray it on the grout and wait for a couple of minutes. This tile cleaner cannot remove the soiling without rubbing, so you will have to make some effort. You can also use a brush to get the best result possible. Wipe tiles with water to wash all the dirt off.
---
The Tilex Shower Cleaner would be a great choice for those who cannot stand all the cleaning and scrubbing. This tile cleaner would keep all the tiled surfaces in your bathroom clean and shiny if you use it daily. Just spray it on the walls and floor after you have taken a shower, and the job is done! That is enough to prevent any sort of dirt from building up.
However, make sure not to use the Tilex Shower Cleaner on glass surfaces. The components of this tile cleaner might damage them.
---
How to Clean Your Bathroom without Chemical Cleaners – DIY Bathroom Cleaner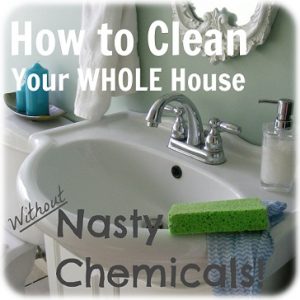 Now, there is also a way to clean a bathroom without any chemicals. You can prepare non-toxic cleaners at home. It will be great for those who suffer from allergies or have small kids. Besides, you won't have to spend any money as all the necessary components can be found at home.
An easy-to-make homemade cleaner would be great for cleaning and polishing tiled surfaces, as well as glass and mirrors. All you need to do is to mix equal amounts of water and vinegar. Please note that white vinegar is the best kind of vinegar for that.
Simple paste would solve the problem of soap and hard water in the bathtub or shower. To make it, take baking soda and some water. Then, put the paste on the stains and scrub it with a brush. Use white vinegar instead of water if the build-up is too hard to remove. This paste could also clean grout. Just spray it with undiluted hydrogen peroxide after applying, and then give it a good scrub.
---
In Addition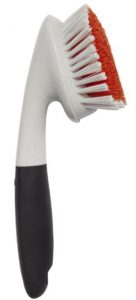 Here are some other useful products that would make cleaning the bathroom easier.
This Brush for Tubs and Showers would help you to scrub all the dirt away from tiles, bathtubs, and showers. Its shape allows thorough cleaning even in inaccessible places. The handle is very soft and comfortable. Besides, it would not slip no matter how hard you scrub.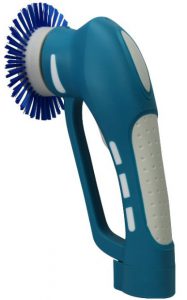 Now, if you hate being exhausted when dealing with too much of hard work, you should try this Electric Kitchen & Bathroom Cleaning Brush. It will do all the work for you! This electric brush comes with a set of interchangeable brushes capable of cleaning any kind of surface.
The tile in your bathroom looks terrible because of the dirty grout, and no amount of cleaning can change that? Have a look at this Bleach Pen. It will work wonders, making the grout white again.