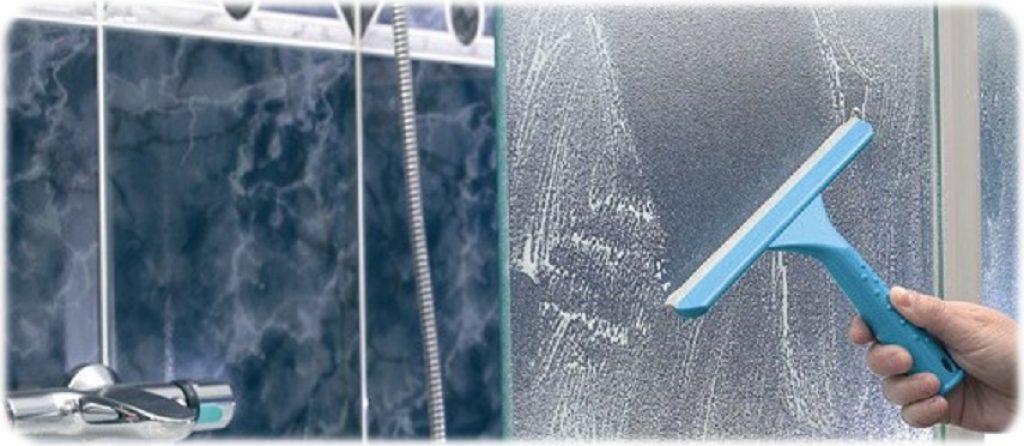 Cleaning is a time-consuming task that requires a lot of effort and hard work. That is especially true when it comes to the bathroom. It might take hours to make glass shower doors, tile, floor and walls, and mirrors clean and shiny.
Fortunately, a variety of cleaning tools that can make this process much easier exists today, and squeegee is one of them. Also known as squiligee and squimjim, it can turn cleaning into an enjoyable and relaxing experience. Using different techniques, you can make all the bathroom surfaces immaculate in just a few minutes.
Enjoy your cleaning routine with the best shower squeegees. Our tips and reviews can prove very helpful for choosing the best tool for your bathroom.
What is a Squeegee?
Squeegees are simple devices that can make cleaning the bathroom much easier. Whether you are cleaning glass shower doors or bathroom floor, they can prove very helpful for preventing hard water spots, soap scum, and other common types of bathroom dirt. They also prove very efficient for hindering the growth of mold. Apart from the bathroom, squeegees can be used to clean windows, car windshields, and more.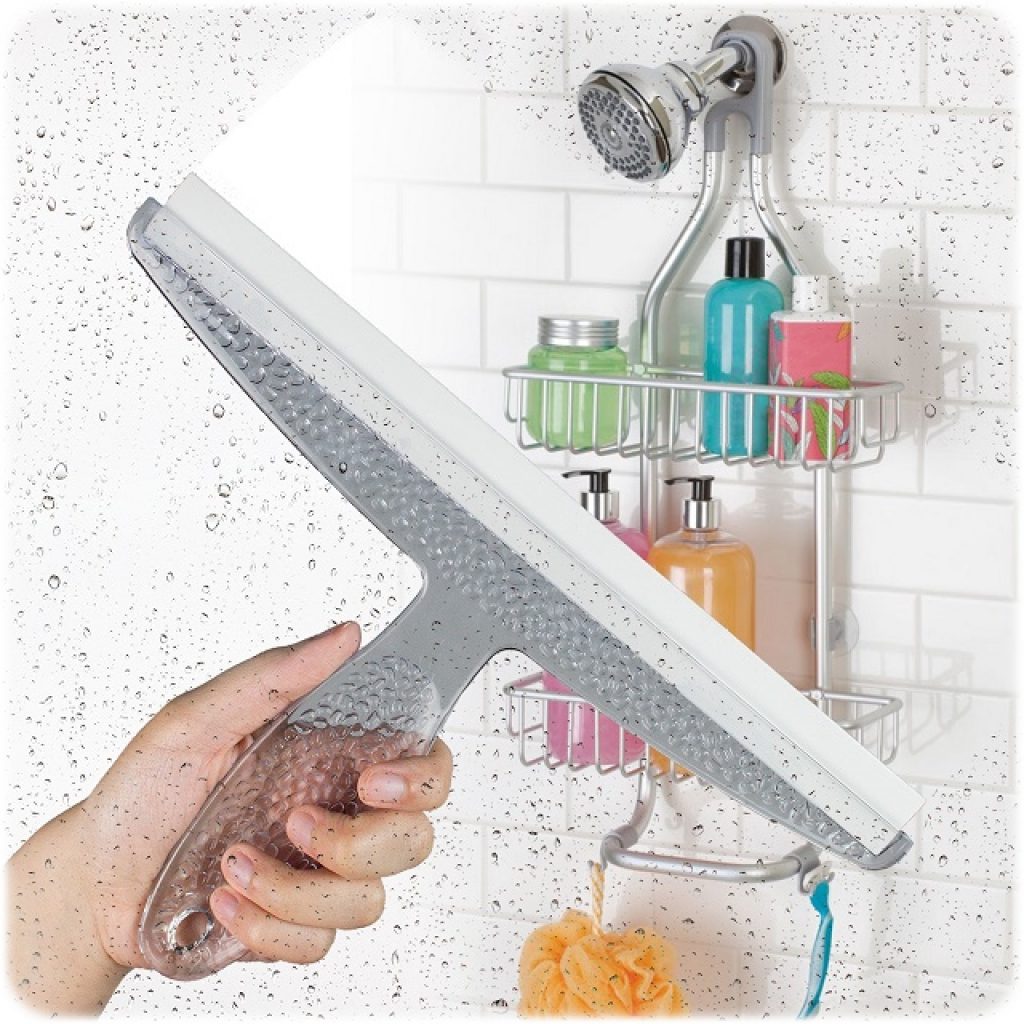 Using a squeegee can help you to reduce the amount of chemicals you use for cleaning. If you wipe the water off the floor and glass surfaces of the bathroom with a squeegee every day after you take a shower, hard water stains and soap streaks will not have a chance to build up. They can make cleaning quick and easy, turning the chore into a pleasant activity.
If your bathroom is in a state of neglect, a squeegee alone might not be enough to make it clean and shiny again. For that, you may use one of the best bathroom cleaners. Alternatively, you can use a baking soda paste or a 50/50 white water and vinegar solution, these non-toxic homemade cleaners work wonders when it comes to the bathroom.
Squeegee Design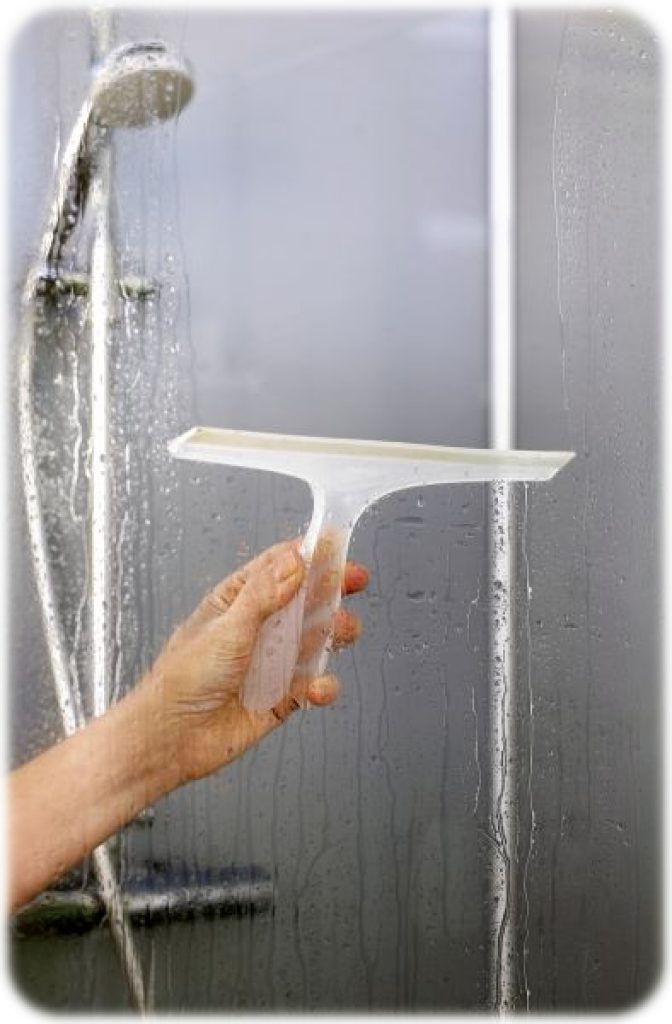 Modern squeegees come with an ergonomic design for extra comfort and ease of use. The standard squeegee design comprises several pieces, including a handle, a channel, and a blade.
Most squeegees come with handles made of rubber or other non-slip materials for a perfect grip. However, there are models with plastic, metal, and steel handles. Plastic squeegees are cheap but do not resist wear and tear well. Stainless steel handles do not rust and can offer many years of service. Brass handles are also quite durable.
The blade is usually made of natural rubber, silicone, neoprene, or polyurethane. Rubber is the least durable of the three, and the cheapest. Silicone is affordable and lasts quite long. Neoprene squeegees are popular for industrial use thanks to their resistance to oils, petroleum grease, and most common chemicals. Polyurethane squeegees will serve for an extended period, although they are quite costly.
The channel holds the blade in place. The channel of most squeegees is made of brass, stainless steel, or aluminum. Brass is another popular material when it comes to squeegee channels. It is rigid but heavy. Stainless steel is lighter than brass and costs somewhat less. Aluminum is the lightest of the three, and not so rigid.
Advantages of Using a Squeegee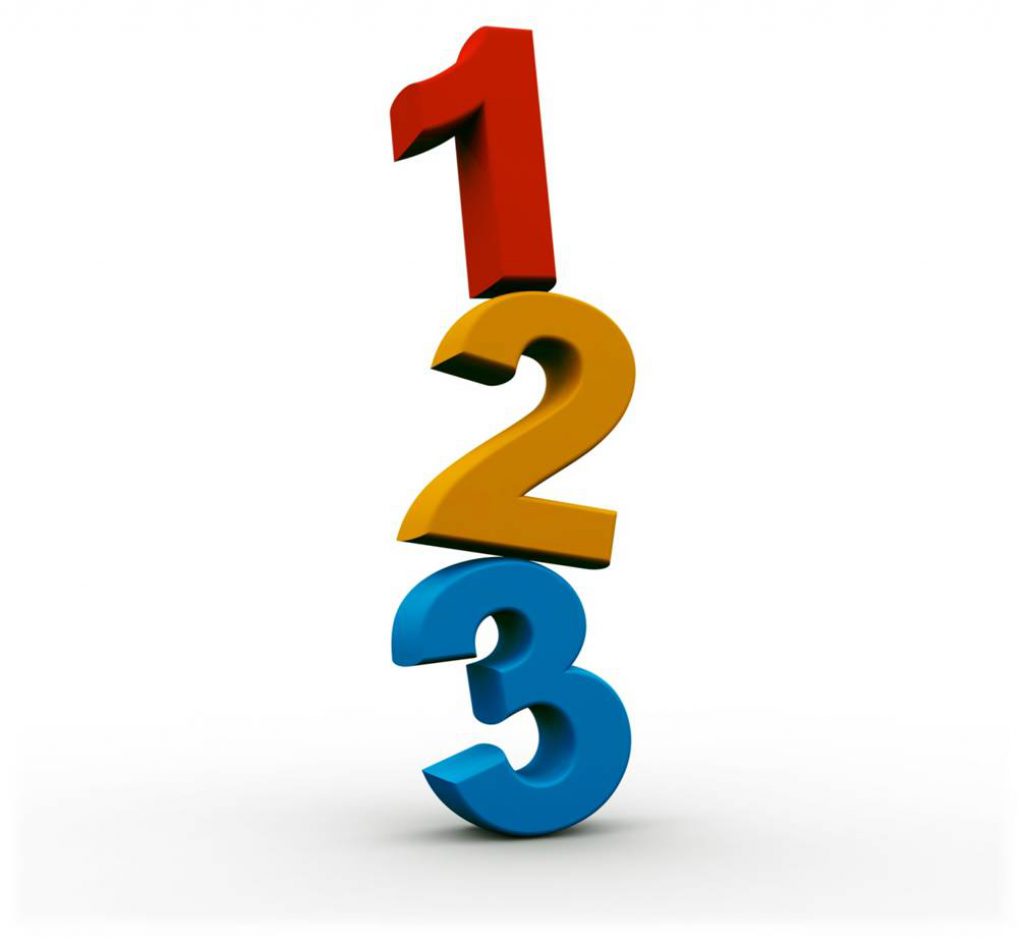 It is easy. What can be easier than wiping a glass surface with a squeegee? You'll just need a few strokes to remove all the water from the shower doors and panels. If you do it after each use, mineral buildup and soap streaks won't stick to the surface and you won't have to suffer all that rubbing and scrubbing in order to remove it.
---
It is quick. Using a squeegee makes cleaning much quicker. Even if you use it each time after you take a shower, it will take less time than if you clean the bathroom once a week to remove all the buildup that has accumulated on the floor, shower stall, and other surfaces.
---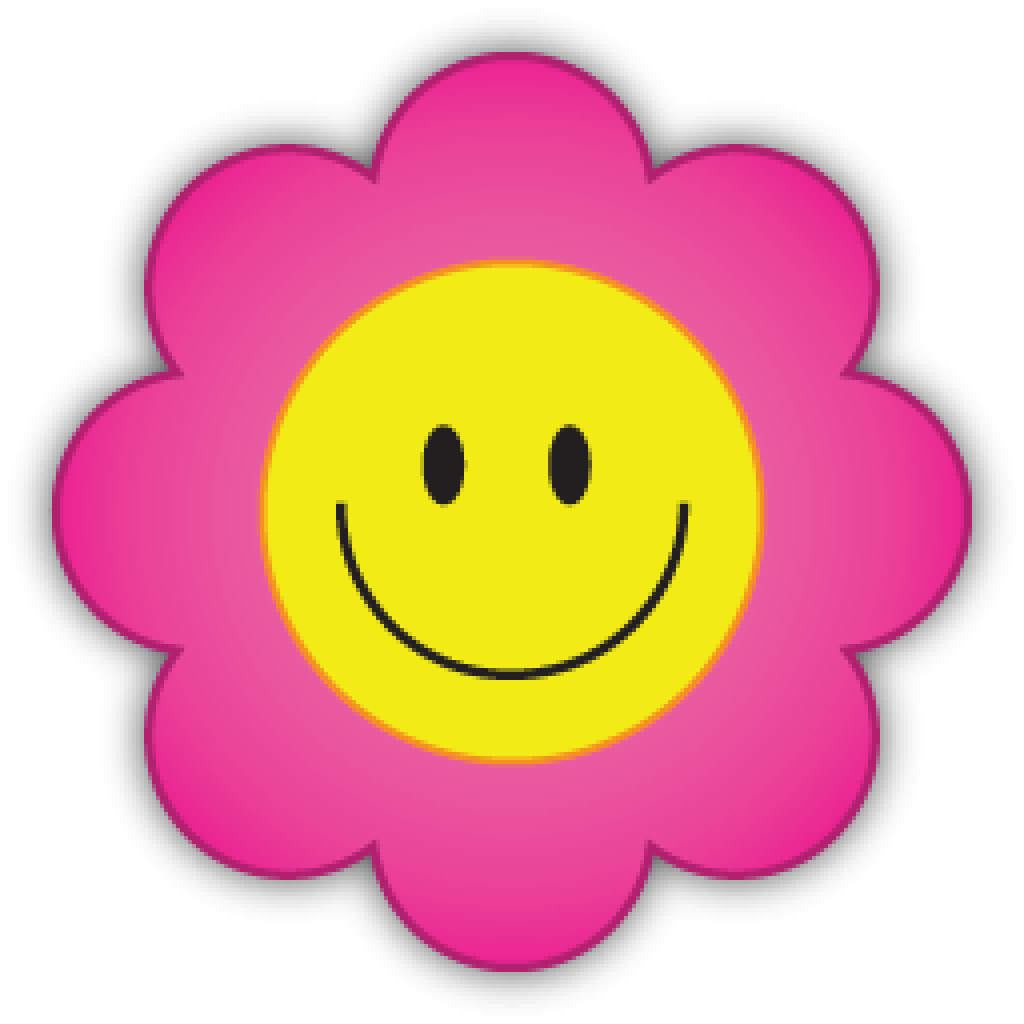 It is fun. Cleaning with a squeegee may be quite enjoyable. You can use a combination of different strokes and techniques. A squeegee can turn the boring cleaning routine into a fun activity if you use your imagination and add some creativity. If you have kids, you can offer them to help you and spend a few entertaining moments together.
A Guide to Choosing the Best Squeegee for Bathroom and Shower
Blade. Choose the size of the blade according to your needs. They come in different width – from modest 14 inches to extra-large 54 inches. The latter are mostly applied for industrial use. Squeegees for bathroom floor should have medium to large blades to minimize the time and effort needed to clean the surface. Shower squeegees can be quite small, as glass doors and panels in shower stalls are usually not that wide.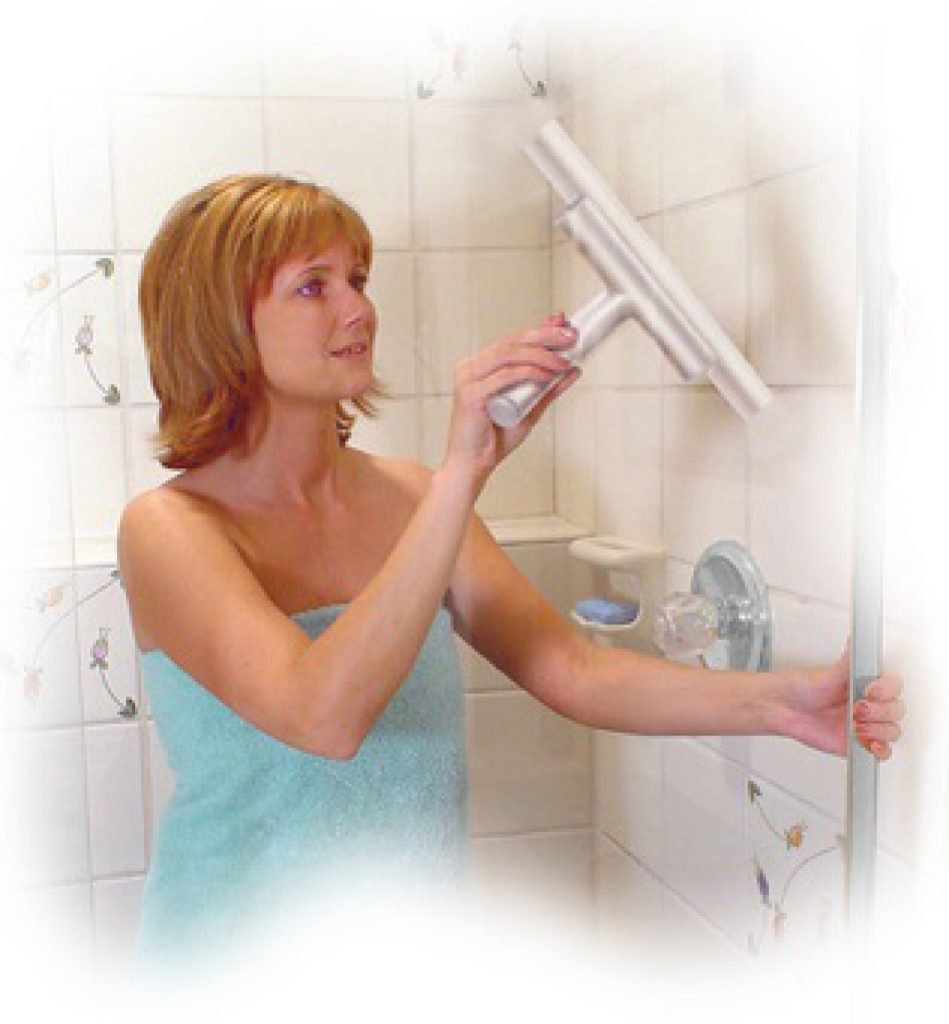 The material of the blade is also very important, as it defines how well the squeegee will do its job. Blades made of gum and rubber, or a combination of these two materials, prove very efficient for collecting water and resisting wear and tear. Urethane blades are a nice choice for floor squeegees, as they work great on rough and uneven surfaces. Neoprene is one of the most cost-effective materials that come with a high oil- and chemical-resistance. Silicone blades are the most common for shower squeegees, as they combine high quality and low cost.
When you choose the squeegee, consider purchasing a few replacement blades suitable for the model you have picked. Even the most durable blades tend to wear. Their edges become rounded with prolonged use, which decreases their effectiveness in removing streaks. It is best to have another blade at home so that you can replace it whenever a need arises.
Handle. When it comes to choosing a squeegee, it is very important to pick a model that has a good handle. Pay special attention to the design, size and material of the handle.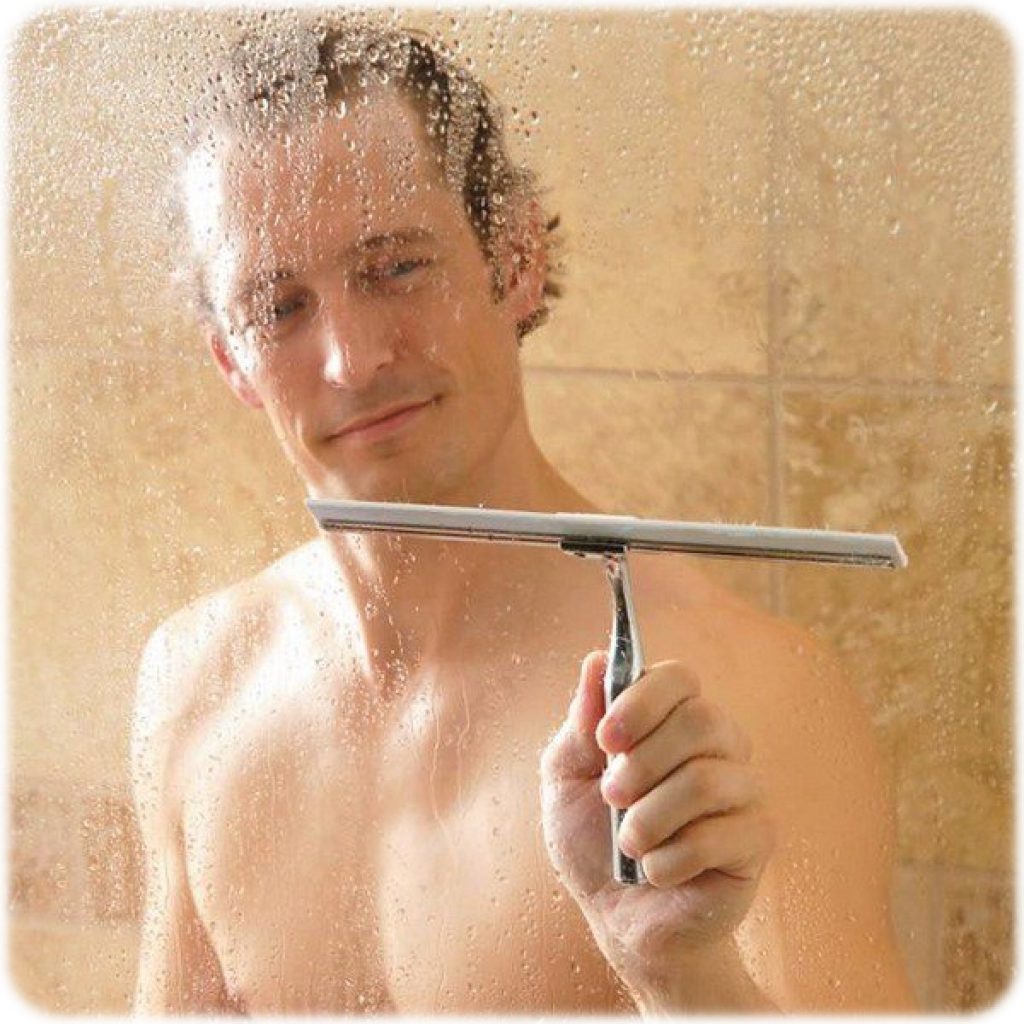 Make sure that it has an ergonomic design and fits comfortably into your hand. Squeegees with a non-slip handle are the most comfortable to use.
The length of the handle depends on where you are planning to use the squeegee. For floor cleaning, consider choosing a model with a long handle so that you won't have to bend and strain the back. When it comes to shower doors, a long handle is unnecessary as it can hinder the cleaning and even damage the glass.
Handles made of natural rubber are the most comfortable, ergonomic, and eco-friendly. Brass and stainless steel handles are quite heavy, yet sturdy and durable. Squeegees with plastic handles are light and cheap, although they tend to break easily.
Top Three Best Squeegees for Shower Doors
This is one of the best squeegees available today. This versatile tool can be used on a variety of surfaces, including shower doors, fogged mirrors, bathroom tile walls, and windows. It comes with a flexible blade made of silicone that leaves no streaks.
This all-purpose squeegee from Good Grips comes with an ergonomic egg-shaped rubber handle. Such shape, as well as the non-slip quality of the handle, offers a perfect grip for the utmost comfort of use. The squeegee is complemented with a suction cup hook for easy storage.
Check the price for this product on Amazon
---
This versatile cleaning accessory can be used not only in the shower, but all around the house, and even in the car. It comes with a practical handle covered with soft foam for comfort and traction. This squeegee is available in two colors, white and blue.
This squeegee from Desired Tools comes with two replacement blades, which is a nice extra. The blades are dual-edge, meaning that you can use both sides. When the blade starts showing the signs of wear, simply turn it around instead of replacing it.
Check the price for this product on Amazon
---
This stylish squeegee combines a high-end design and practicality. It is light and safe, as it contains no metal parts that might scratch the glass shower door or cause injury if you drop it accidentally on the foot. All the parts of the squeegee come in white color, which looks stylish and chic.
The dual blade of this shower squeegee from Cleret comes with both edges functional and perfect for wiping even curved and textured surfaces. Apart from the squeegee, the package includes a holder that can be attached to the wall to offer a storage spot for the squeegee.
Check the price for this product on Amazon
---
Top Three Best Squeegees for Bathroom Floor
This squeegee can offer the combined benefits of a sturdy design and high functionality. It comes with a 17-inches wide-angle rubber blade that will allow you to clean the floor quickly and effectively. It works on most common types of flooring, such as wood, tile, marble, glass, and concrete.
This floor squeegee from RAVMAG comes with a 58-inch handle with an adjustable knuckle joint to ensure that you reach all the hardly accessible areas without having to bend at unnatural angles. Apart from the other advantages, this floor squeegee is lightweight to make cleaning easy and effortless.
Check the price for this product on Amazon
---
This floor squeegee is light and practical. It comes with a 22-inch blade made of high-quality durable rubber to offer thorough cleaning and many years of service. This is just a squeegee without a handle. The complementing handle can be purchased separately.
This squeegee from Rubbermaid Commercial Products is a great choice if you are looking for a versatile tool with a simplistic design. It comprises a black dual moss rubber blade and a sturdy metal channel. It will do the job of removing wet and dry spills from the bathroom floor just fine.
Check the price for this product on Amazon
---
This floor squeegee is complemented with a long and light handle for the convenience of use. The length of the handle is 53 inches, and the blade is 18 inches long. The blade is made of close cell rubber, sturdy and durable. It is perfect for cleaning and drying the floor in the bathroom, kitchen, and other rooms.
This squeegee from Ettore works fine even on such uneven surfaces as tile, grout, and brick. The blade is heavy and flexible, which makes it perfect for cleaning rough and textured areas. This model is the perfect choice for people with a limited budget, as you will get a high-quality product for a reasonable price.