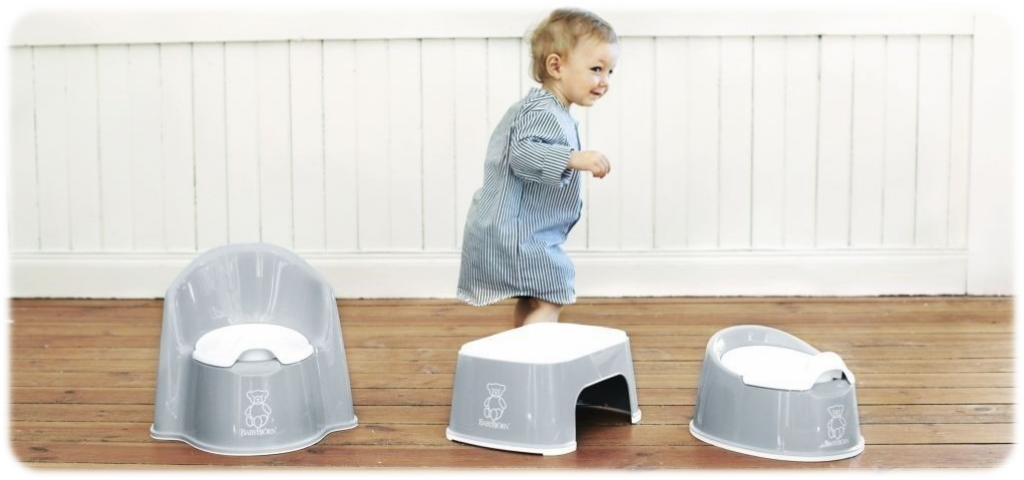 Any parent is ready to do anything it takes to make the bath time more enjoyable for their children. Thankfully, there are lots of goods that can help parents with this task. Best baby bath tubs can make bathing much more comfortable thanks to their ergonomic shape designed specifically for newborns, infants, or toddlers. Best bath toys can entertain and distract children while you give them a bath. Best kids shower heads can be installed at a comfortable height and produce a stream of water with water pressure that will not irritate the sensitive skin of you baby. And when it is summer and you wish to organize water play in the backyard, you can use one of the beat kiddie pools.
However, when it comes to bathroom routines, bathing and showering are only some of the main concerns. Sooner or later, it will be time to potty train your child. That is when you will get to choose the best potty chair that will be safe comfortable for the child, as well as easy to clean.
Look through our guide to learn how to potty train your kid and find out the advantages of potty chairs. Our reviews can prove very helpful for choosing the best one.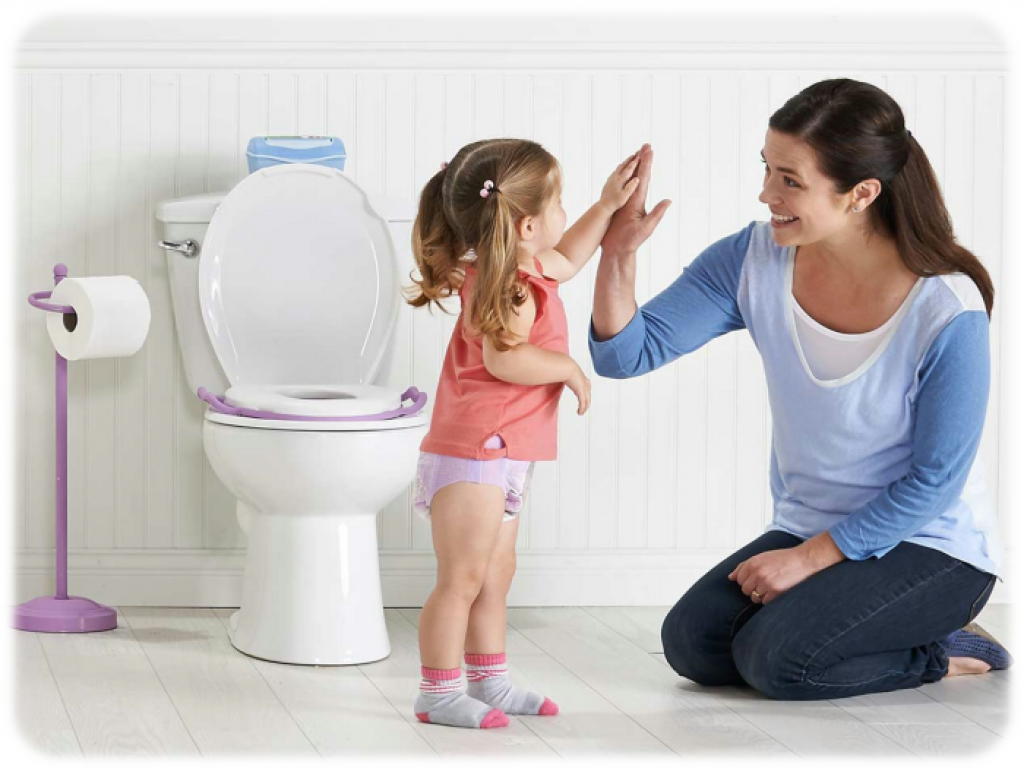 Advantages of Training with a Potty Chair
Potty chair aims at leading children from diapers to toilets. However, some parents prefer to skip it and start using toilets at once. Using a potty chair has a lot of advantages compared to using a toilet to potty train your child. Most parents prefer potty chairs because:
Toilets are too high and some kids are scared to sit on them. Potty chairs are designed for children, meaning they are just the right size for a toddler.
A potty chair can be used anywhere, not just in the toilet. You can move it into any room of the house if the need arises. You can also take it with you if you go traveling.
Most potty chairs come with an interesting design, which makes them attractive to children. They are usually bright-colored to draw the kids' attention and entertain them.
Some toddlers are scared of the sounds toilets produce when they flush. As potties do not flush, they are stress-free for kids.
Types of Potty Chairs
There are four types of potty chairs, depending on their construction ad features. The types are: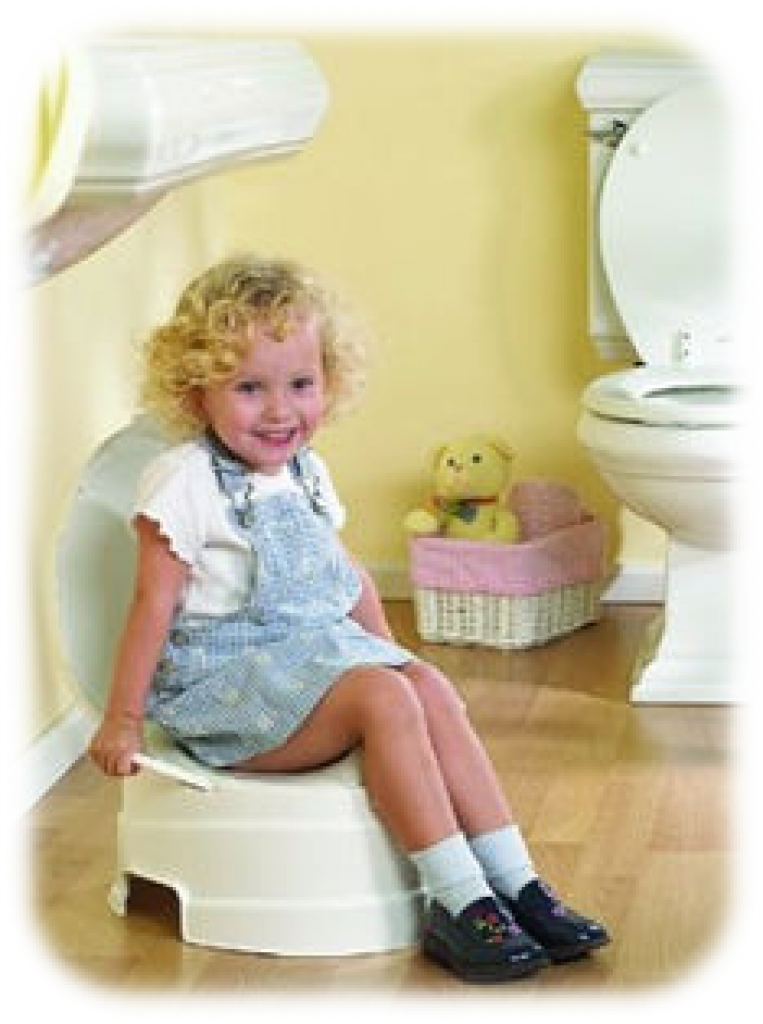 Single-piece potty chairs are made from one piece of molded plastic. They are considered the most hygienic, as there are no crevices for germs, viruses, and other pathogenic microorganisms to settle into. Such construction makes single-piece models easy to clean and safe for the health of your kid. However, they are sometimes uncomfortable to sit on.
Two-piece models are made up of two pieces, an outer seat that supports the baby and an inner potty bowl that catches wee and poop. You do not have to wash the whole unit once your baby is finish – simply remove the inner piece, dispose of the wastes, clean it, and put it back. It is much quicker that if you cleaned the whole seat. However, some germs may be left on the surface between the chair and the bowl, so you must pay special attention to disinfecting those areas.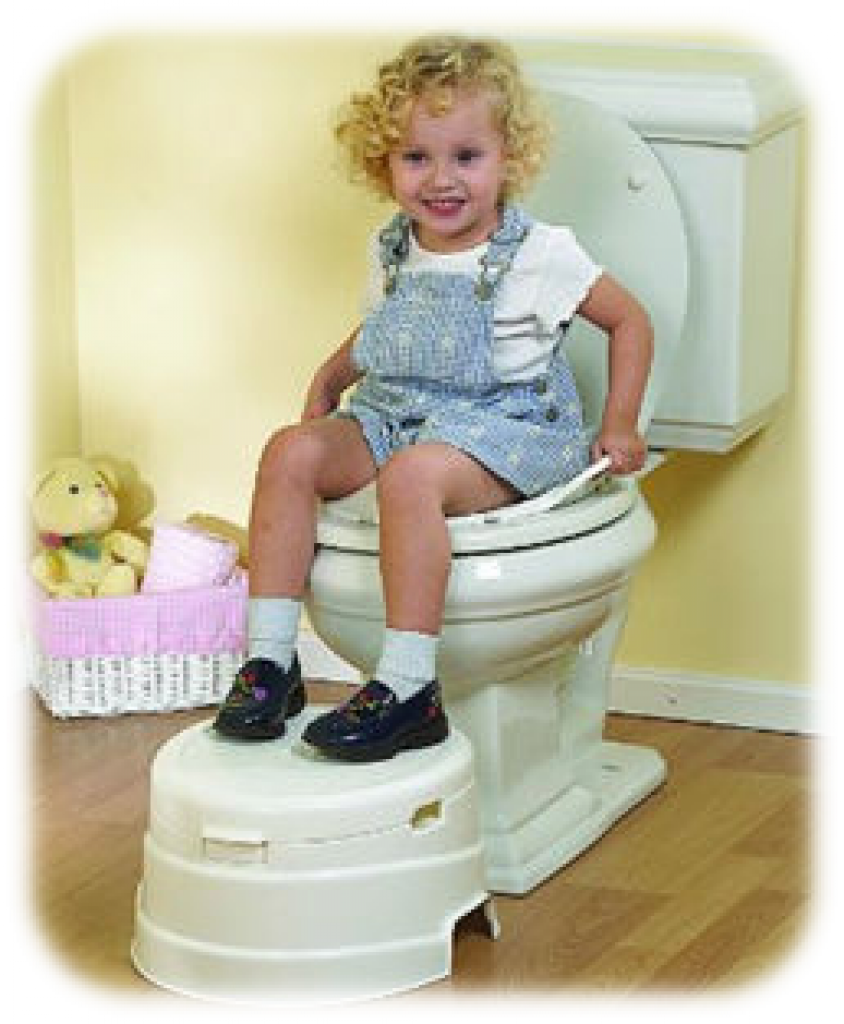 Deluxe potty chairs have a lot of extra features. They come with a toilet paper holder, a cushioned seat for the utmost comfort, and a deodorizer that makes the air fresh automatically. Some of them come with a rewarding system that produces colorful lights or sounds once the child has done their job.
Multifunction models are designed to grow with your baby. They can be modified to meet the changing needs of a child. They come as 2-in-1 (a potty chair and a removable potty seat), 3-in-1 (a potty chair, a potty seat, and a step stool), or 4-in-1 (a potty chair, a potty seat, a step stool, and storage compartments) units.
How to Choose the Best Potty Chair
Potty chairs come in different sizes and designs. However, to make sure that the chair you choose will be the best one for your child, you should check if it has the following features.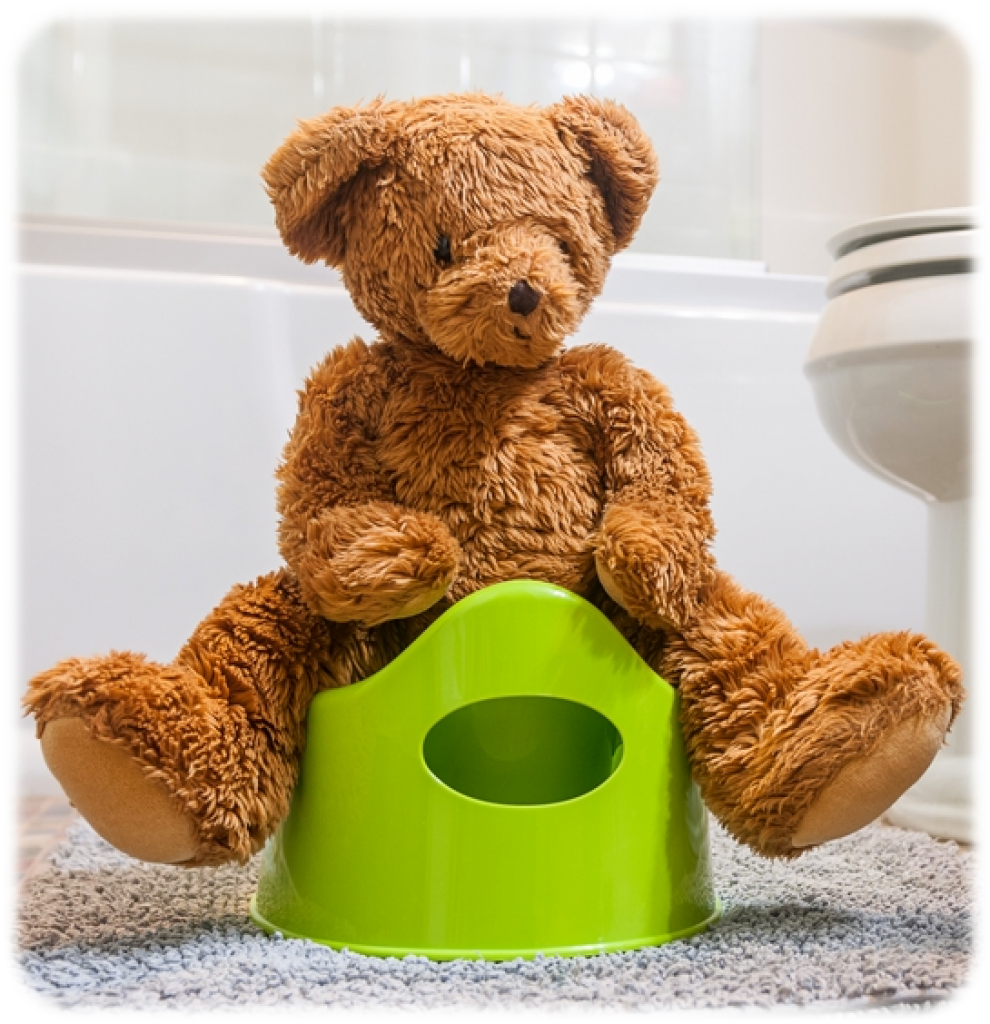 Splashguard. The front of the potty should rise up above its level, so that the area between the legs of the child is covered when sitting on the toilet. It is designed to keep pee inside the potty and prevent it from splashing onto the floor. This is especially important when potty training boys.
Stability. Make sure that the potty is constructed in such a way that it will not tip over. Its construction should be sturdy and stable construction. The base of the potty chair should be as wide as possible. The potty should not be too lightweight, either. The heavier it is, the better.
Design. Make sure that the potty chair you are going to purchase has a design that will be attractive to your child. It should come in bright finish colors and a comfortable shape. Apart from the standard chair-shaped models, there are potties designed in a shape of an owl, a fire engine, a turtle, a duck, a frog and more.
Top Five Best Potty Chairs
This standard potty chair is one of the best models available on the market today. Made of BPA-free plastic, it will be safe for the health of your child. Its wide base and sturdy construction will make sure that the potty does not tip over to prevent any unfortunate accidents. The high back will offer support and comfort for babies.
The Lil' Loo Potty from Summer Infant has a convenient two-piece design with a removable pot that makes emptying and cleaning it a breeze. Its design, though attractive for a child, is stylish enough to look great in any bathroom decor. This model is available in several finish colors including pink, raspberry, teal, white, and white and teal.
Follow this link to get this potty chair on Amazon
---
The ergonomic design of this potty chair makes it perfect for toddlers. An edgeless shape with soft lines and will make sure that your child does not get hurt when sitting on it. It features a sturdy construction with high backrest and armrests for the most comfortable positioning and the utmost stability. It is made of safe BPA-free plastic.
This potty chair from BABYBJORN comes with a reliable splashguard to prevent spills and keep your floor dry. This unit is a two-piece model; its detachable inside potty is easy to empty and clean without having to clean the whole chair each time the baby uses it. It is available in a number of finish colors including blue, gray, green, orange, pink, turquoise, and white.
Follow this link to get this potty chair on Amazon
---
This potty chair will make your toddler feel grownup and independent. Designed in a shape of a toilet, its construction includes a bowl with a seat and a tank with a flush lever. Its classic and realistic design will look great in any bathroom, despite the style of the décor. It is perfect both for girls and for boys, as it has a clip-on splashguard.
The My Size Potty from Summer Infant does not actually flush, despite the fact that it comes with a tank and a lever. However, if you turn the lever, the toilet will produce a flushing sound. Serving as a reward for the job, it will help you awaken enthusiasm in your child so that they use the potty more eagerly.
Follow this link to get this potty chair on Amazon
---
This potty chair will become your baby's favorite! It is a three-in-one unit that is meant to meet the needs of kids as they grow. This model is a combination of a potty chair and a removable potty seat, which becomes a stepstool in a closed position. The seat of the potty is soft to offer the utmost comfort for your child.
The Disney potty system from The First Years has several finishes with different Disney characters both for boys and for girls. You can choose Doc McStuffins, Jake and the Neverland Pirates, Magic Sparkle (Princesses), Mickey Mouse, Minnie Mouse, and Minnie & Mickey. This model has a reward system – a pretend flush lever that produces motivational sounds when you turn it.
Follow this link to get this potty chair on Amazon
---
This potty is an excellent choice for little princes and princesses. It looks just like a perfect throne for your little one. Just like the previous product, it is a combination of a potty chair, a potty ring, and a stepstool. It is available in two finish colors – green for boys and pink for girls.
The stepstool potty from Fisher-Price has a rewarding system of sounds to encourage your child to use it. It can play four different tunes, each equally royal. Such a musical reward will boost your child's potty progress. Just like most models in our reviews, this unit has a removable bowl to make cleaning easy for moms.
Follow this link to get this potty chair on Amazon
---
Potty Training Tips – How to Do It Right
Potty training may be tough, as it requires a lot of tome and efforts from parents. However, once your child learns to use a potty and you do not need diapers anymore, you will understand that it is worth all that headache. Before starting to potty train your kid, you should know the basics. When is it time to start? How to do it? Let's try to answer these questions.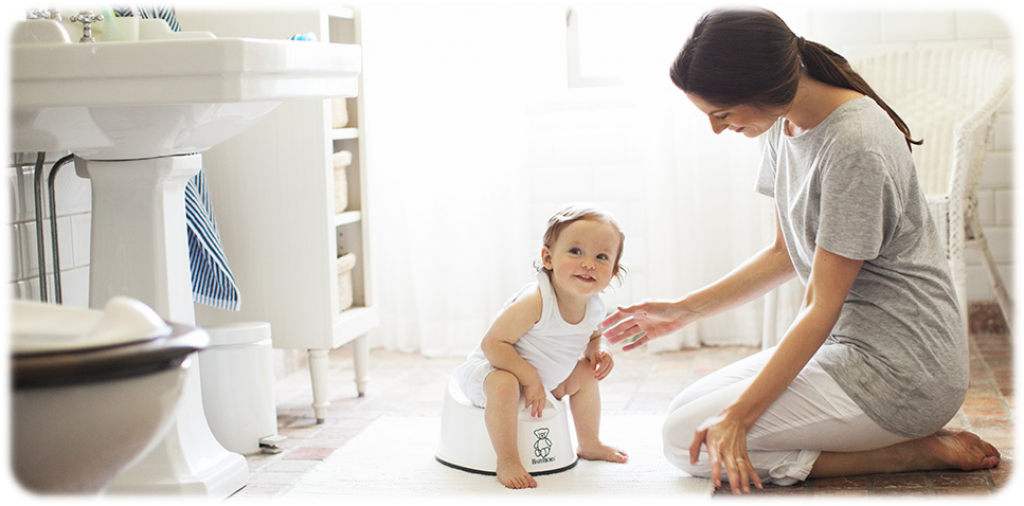 What age is perfect to start training? In many Asian and African countries, potty training starts during early infancy. In these countries diapers are not freely available, that is why parents learn to understand the bodily signals of their babies to know when they want to pee or poop. This is an excellent solution as disposable diapers contain chemicals that are harmful to the health of a child and to the environment. In Europe and America, it is customary to start potty training during toddler years. If you are unsure when it is best to start, see if your children:
Can stay dry for two hours.
Find it interesting to watch themselves wee or shows interest when you go to the toilet.
Find it uncomfortable to be in a wet diaper and ask you to change it.
Are dry after a nap.
Can listen attentively to your instructions and follow them.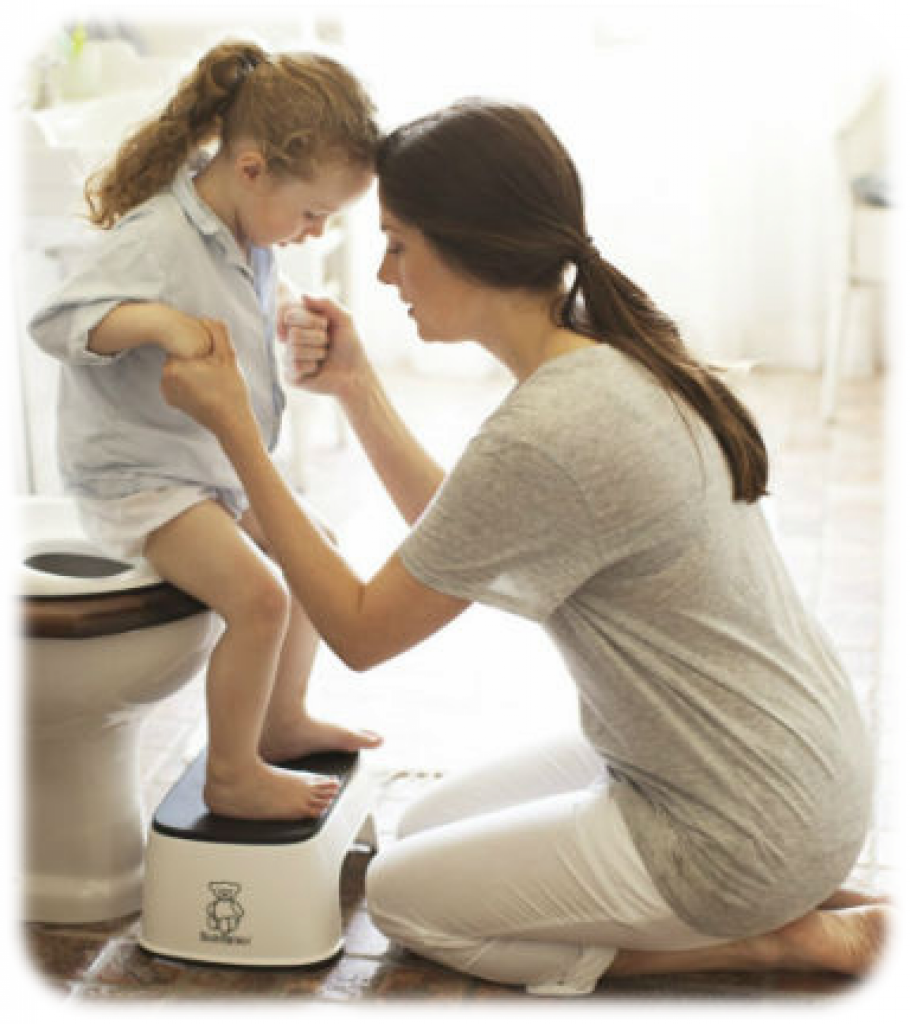 What are the best ways to potty-train a child? As toddlers learn by imitation, it will be a nice idea to show them how to do it right. Mommies should show girls and daddies should show boys how to use the potty. When doing so, it is very important to explain, too, as just showing may be insufficient for the child to get everything right. Remember to be anatomically precise and do not make up any fun names for your child's genitals.
How to entertain a child during potty time? Sometimes it takes quite long for children to do their job on the potty. Most children are highly active, so it is not an easy task to have them sit in one place for more than a few moments. That is why you will have to be creative and imaginative to find ways to keep them on the potty.
You can entertain them by reading their favorite fairytale. Besides, there are many books on the potty subject: A Potty for Me! by Karen Katz, Once Upon a Potty by Alona Frankel, and more.
There are potty songs you can sing together with your child. Here are some of them:
Twinkle, Twinkle Little Pee
In the potty you will be
Poopy, Poopy Stink-o
In the potty you will go.
I am sitting on the potty, doing my best to go.
I am sitting on the potty, being patient ever so.
I can feel my body tell me I should sit and wait
'Cause if I get up now and come back, it will surely be too late!
When we have to pee-pee
We go to the potty
Because we like dry pants and wet pants are icky.
When we have to poo-poo
We go to the potty
Because we like dry pants and messy pants are icky.
Teaching how to wipe. When potty training, it is just as important to teach your child how to wipe correctly. It is critical if you have a girl. You should explain her that she should move the paper front to back, especially after pooping. Otherwise, she might get a urinary tract infection. Boys can wipe whichever direction find more comfortable.
Reward your child. As with any teaching, it is very important to reward children for their successes when potty training. Of course, there will be a few accidents before a success, yet you should celebrate even small triumphs. Tell your children that they have done a great job and that you love them, hug them, and promise a reward – an extra bedtime story, a new toy, or their favorite treat.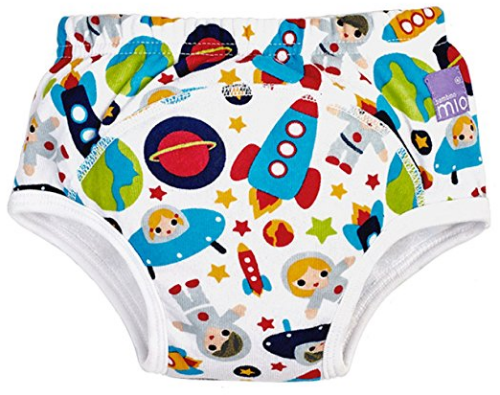 Of course, potty training is a gradual process, and your child is unlikely to do everything right on the first try. To help you avoid accidents when your child has not yet learned to go to the potty each time, you might consider using potty training pants. They will help your child leave the diapers behind. For instance, these pants from Bambino Mio have an absorbent inner layer and a waterproof outer layer, which makes them similar to diapers. However, they can help your toddler feel more grown up. They can come in especially handy during nighttime.