A good sink can become the focal point of any bathroom. It can bring a fresh accent into the room of any design. If you want to freshen up the interior but do not want to redecorate the whole bathroom, a new sink will allow you to make a change without remodeling.
Modern bathroom sinks, or lavatories, come in a variety of types and materials. Choosing a perfect match for your bathroom might be quite a difficult and time-consuming task. Hopefully, our tips will help you understand the pros and cons of different sink types and materials, and our reviews will help you find the best bathroom sink.
Types of Bathroom Sinks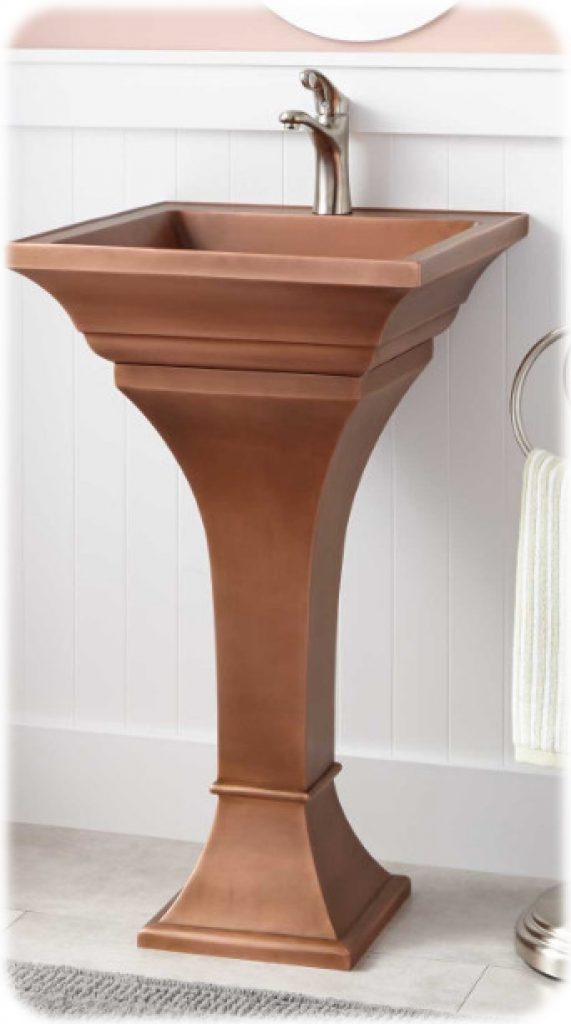 Top-mount sinks sit on the top of the counter. This type is also known as drop-in, or self-rimming. In order to install a top-mount sink, you will need a cabinet with a countertop or a vanity to attach it to. The rim of such sinks is visible above the countertop.
Undermount sinks are also installed in a countertop. However, unlike the previous type, the rim of such models does not protrude above the top surface. Such sinks look elegant and stylish, as they create a clean and seamless look. They are sometimes called undercounter, or bottom-mount sinks.
Wall-mounted sinks are attached to the wall, as the name suggests. They do not take up much space, which makes them a perfect choice for bathrooms of a modest size. Wall-mounted sinks look minimalist and create an illusion of more space in the bathroom.
Pedestal sinks have a design similar to the wall-mounted ones. They are also secured to the wall. The distinct feature of this type is the "pedestal", or the leg the sink rests upon. Apart from supporting the sink, the pedestal serves the purpose of hiding the plumbing. This is a perfect choice if the waste pipe under your sink goes into the floor and can't be rerouted.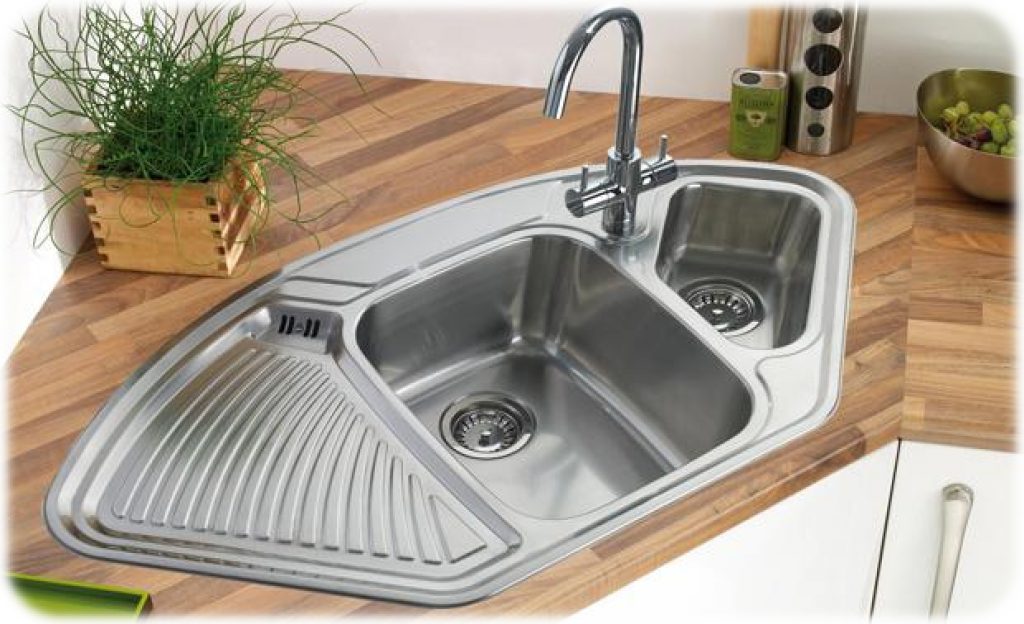 Semi-recessed sinks are a nice option if you have a small bathroom but want to have some drawers and cabinets to store your toiletries. Unlike top-mount and undermount sinks that are installed right in the center of the countertop, semi-recessed sinks sit on the edge with one side protruding forward. Such positioning is perfect in a combination with compact cabinets that do not take much space.
Washplane sinks look stylish and unique. They have a slim shape and an elegant design. A washplane sink is another good option for a small bathroom or a powder room. They might look like the water will flow off the edges the moment you turn it on. However, a clever design and a unique shape allow the water to drain without spilling. Please note that washplane sinks are quite shallow and most of them come without a plug.
Vessel sinks look chic and refined. They come in different shapes, from such traditional ones as a bowl to quite unusual ones like a bucket. Most people think that vessel sinks are a recent invention. In reality, their design is based on the ancient washing basins that were used long before the first sinks and other modern bathroom fixtures were invented.
Corner sinks, as the name suggests, are designed to fit into a corner. They have a triangular shape with the front either straight or curved. Corner sinks are great for a bathroom with limited space.
Most Popular Sink Materials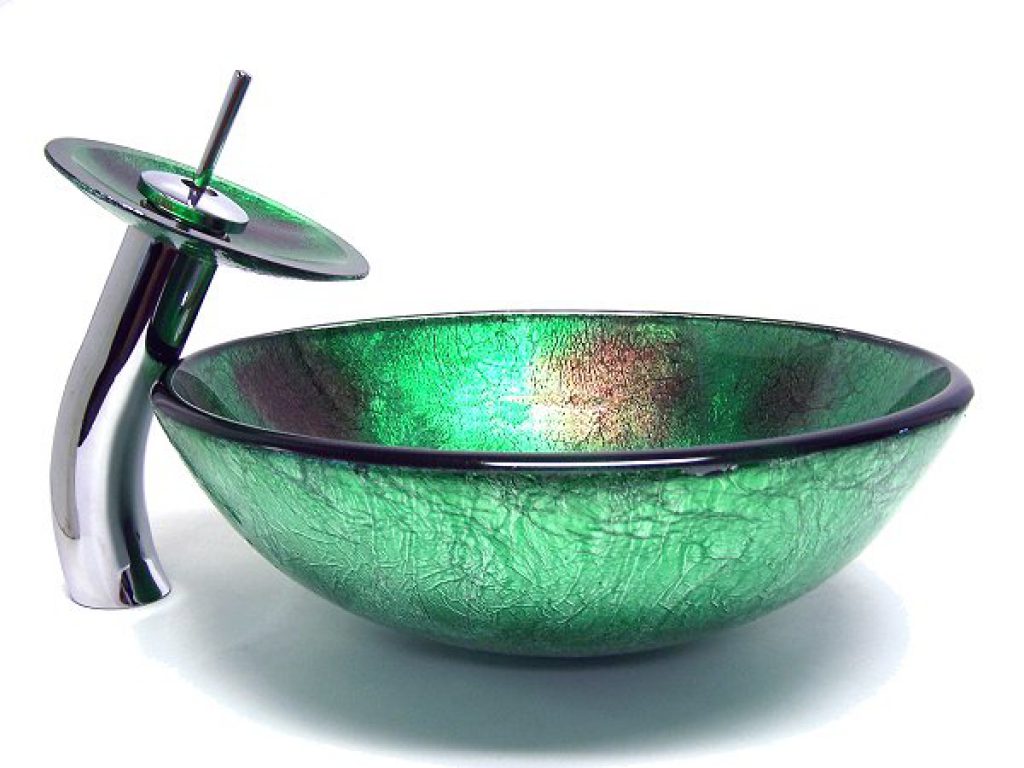 Vitreous china is the most standard material when it comes to bathroom sinks. This clay-based ceramic material is attractive and long-lasting. It can offer low maintenance as it does not require any special cleaning.
Ceramic sinks are strong and durable. Ceramic surfaces are scratch- and chip-resistant. They are also easy to clean and maintain thanks to the sealer preventing the dirt from spreading under the surface of the sink.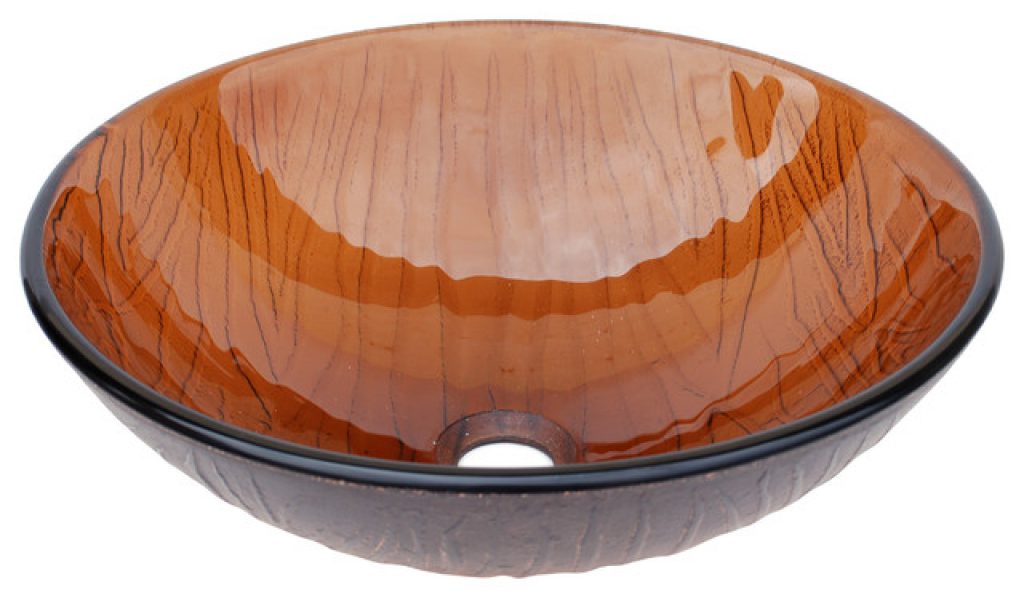 Porcelain sinks have a very hard surface thanks to the special technology of clay heating used in the production of this material. It has low water absorbency and is extremely durable.
Tempered glass sinks look especially elegant. They can be made of transparent colorless glass or come in different colors and textures. This material is especially popular when it comes to vessel sinks.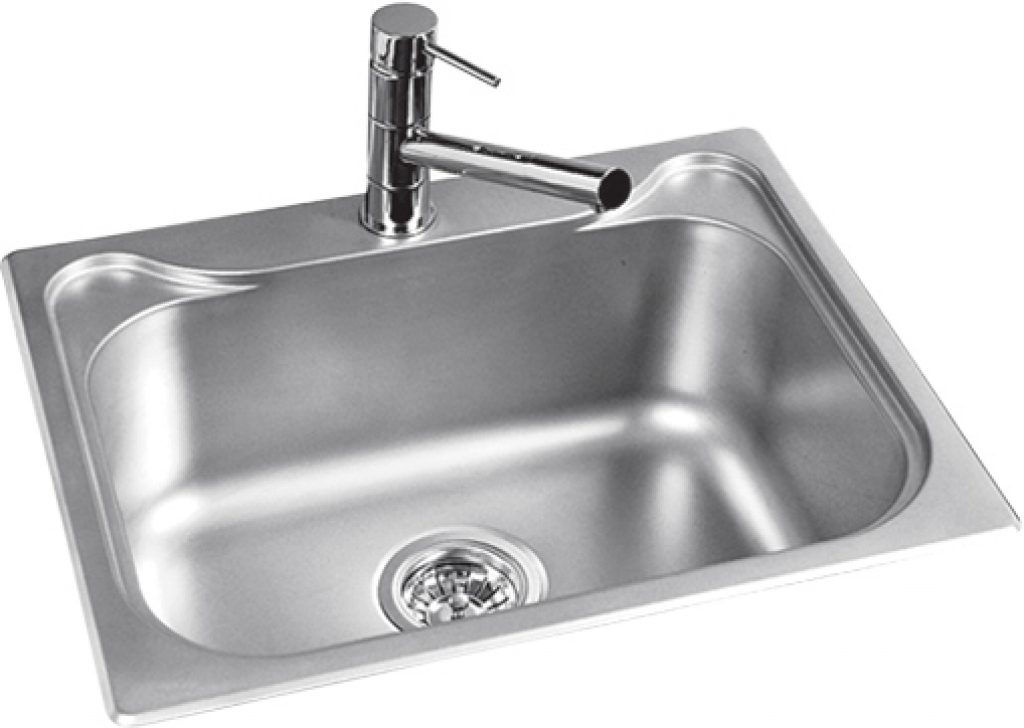 Metal sinks are made of rust-free metals such as copper and brass. They will look great in a bathroom decorated in an antique style. These metals have a warm tint and can change the mood of the whole bathroom.
Stainless steel is also widely used to produce sinks. It is very durable thanks to its resistance to corrosion and hard texture. The combination of these two characteristics makes stainless steel a perfect material for any bathroom fixtures.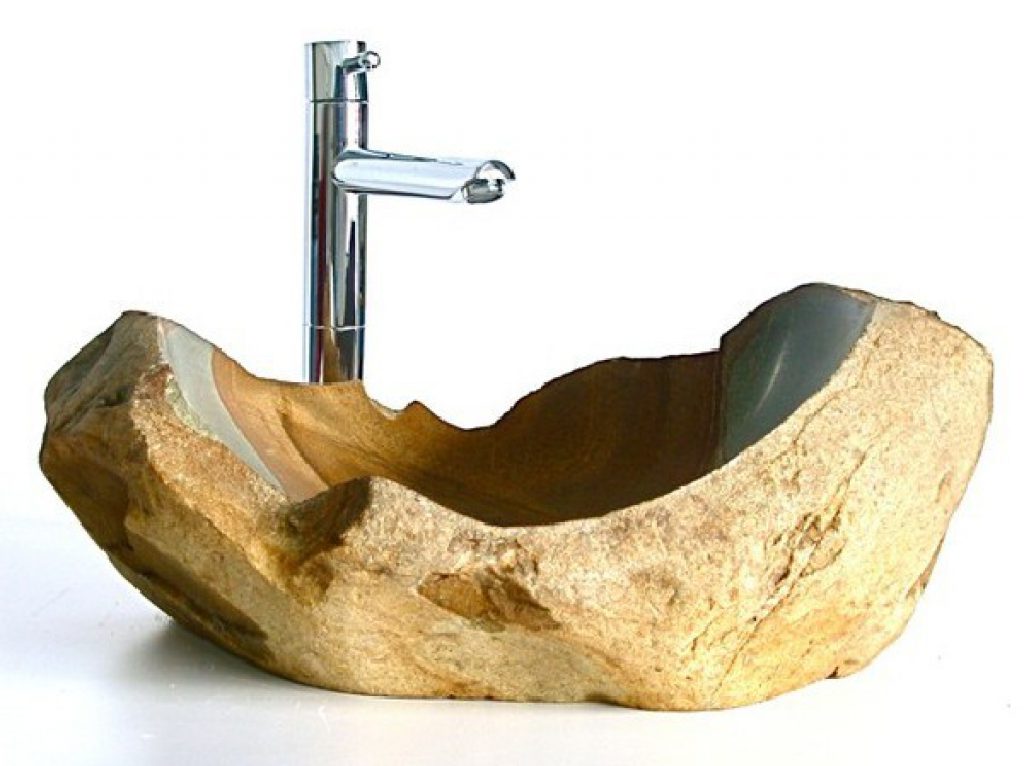 Natural stone sinks are very durable and will serve you for decades if you provide the right maintenance. The most popular types of stone for this purpose are quartz and marble.
Wood sinks are usually made of teak or bamboo. They are a great option for those who want to bring a natural element into their bathroom. Wooden sinks are usually sealed to protect the porous material from excessive moisture and aggressive cleaners.
A Guide to Choosing the Best Bathroom Sink
Size. Make sure that the sink will fit into your bathroom. Consider the free space you have and the general measurements of the room before choosing the sink. The diameter of most round sinks is somewhere between 19 and 24 inches. Rectangular sinks also come in different sizes. Their width might vary from 16 to 26 inches.
Type. Choose the type of the sink according to your preferences, just keep in mind the size and design of the bathroom. If you have a small bathroom, a wall-mounted, corner, or pedestal sinks will be just the thing for you. If your bathroom is spacious, you can choose any sink you like, regardless of its type.

Material. Please choose the sink made of a high-quality material, as it will define how long the sink will serve you. Pick a material that is durable, appealing to your aesthetic sense, and does not require high maintenance.
Design. Modern bathroom sinks come in a variety of designs. Classic, modern, and rustic are the most popular of them. Make sure that the style of the sink will complement the design of the bathroom in general.
Top Three Best Undermount Sinks
This high-quality bathroom sink has a classic and versatile style that will match any bathroom. Made of vitreous china, it looks simple and elegant at the same time. It comes in a number of finish colors including white, gray, almond, sand, black, and others.
The dimensions of the Archer sink from Kohler are 8x2x16 inches, not very large. The beveled edges and the curved base of the sink make its shape interesting and attractive. This model comes with an installation template and an overflow.
Check the price for this sink on Amazon
---
This undermount sink has an interesting shape and a sleek design. Its uniquely curved basin and unglazed rim look sophisticated yet modern. You can choose the color of the sink out of three available options: white, linen, and bone.
The Studio sink from American Standard combines the high-end look and durability of vitreous china. It has a front overflow and comes with a mounting kit and a cutout template. Choosing this model you can be sure of its quality, as American Standard is known as a producer of first-rate bathroom fixtures.
Check the price for this sink on Amazon
---
This sink is another fine option for undermount installation. It has a standard rectangular shape and comes in just one color, snow white. The depth of the sink is six inches, its outer dimensions are 18×13 inches, and its inner dimensions are 16×11 inches.
This sink from Nantucket Sinks is complemented with a drain hole and an overflow. It is crafted masterfully from the finest vitreous china and has a timeless beauty to it. The design of the sink might look minimalist, yet it will add a special vibe to your bathroom and elevate its style.
Check the price for this sink on Amazon
---
Top Three Best Pedestal Sinks
This model is one of the best pedestal sinks you can find on the market. It combines a stylish design, high quality, and practicality of use. It comes predrilled for a one-hole faucet installation. This model comprises a basin with a rear overflow and a pedestal leg.
The Ravenna sink from American Standard comes with a spacious shelf area and a ledge for soap and other bathroom accessories. This undermount sink comes with a kit containing everything needed for the installation.
Check the price for this sink on Amazon
---
This standard pedestal sink will be a great choice for those who like strict lines and sharp edges. Its design combines a lavatory predrilled for an 8" widespread faucet and a pedestal. The dimensions of the sink are 24×20 ½x35 ¼ inches.
Like most other models, the Pedestal sink from Kohler's Archer Collection is made of vitreous china. This model is available in a number of finish colors—both light and dark—to make sure that everyone finds one to complement their bathroom décor.
Check the price for this sink on Amazon
---
The design of this sink looks elegant and sophisticated. The lavatory has a unique shape with beveled edges, soft lines, and a stair step. It comes with a sleek leg that widens closer to the bottom for extra stability.
The Pedestal Combo Sink from Foremost Group has an exclusive and fashionable Art Deco look. With the dimensions of 19 ¼x15 inches, it is quite compact and can fit even into a small bathroom. The height of the pedestal is about 37 inches, perfect for people of any height.
Check the price for this sink on Amazon
---
Top Three Best Vessel Sinks
This square glass sink looks simple and refined at the same time. Made of thick tempered glass with a frosted texture and a greenish-blue tint, it looks fresh and crisp. This vessel sink is deep and spacious, its dimensions are 16 ½x16 ½x5 ½ inches.
The Elite sink from ELIMAX'S comes with some nice extras. It is complemented with a one-hole faucet, a pop-up drain, and a mounting ring. The faucet comes with an appealing brushed nickel that accentuates the beauty of genuine glass.
Check the price for this sink on Amazon
---
This vessel sink has a modern European design that looks sleek and minimalist. It is made of high-quality ceramic and comes in one color, brilliant white. It has an interesting rectangular shape, narrow at the bottom and wide at the rim.
The Art Basin from Luxier comes without a drain, yet you can buy one separately. Such finish options as chrome, brushed nickel, and oil-rubbed bronze are available, each equally striking.
Check the price for this sink on Amazon
---
This unique sink will bring a new accent into your bathroom. It has a traditional round shape resembling a large bowl. However, if its shape is standard, its design is unique. Made of thick glass with a non-porous surface, it can offer easy cleaning thanks to its stain-resistant quality.
The solid construction of the Amber Sunset from Vigo makes this sink practical and durable. The exclusive exterior surface of the glass prevents discoloration and fading of the interior. The color of the sink is a unique combination of such warm tints as gold, champagne, and brown. Each of the sinks is unique and handmade, so there might be slight variations of color and texture.
Check the price for this sink on Amazon
---
In Addition
Most bathroom sinks come without a faucet. They usually come pre-drilled for faucet installation, however, the faucet itself has to be bought separately. If you want to learn about different types and designs of faucets, please check out our article. There you can find a useful guide on how to choose a high-quality product for your bathroom. You can also read the reviews on the best faucets that will help you to find a compatible fixture for your sink.
Alternatively, if you want an all-in-one unit comprising a sink, a faucet, and cabinets for storage space, you may consider purchasing a bathroom vanity. They come in a number of sizes, designs, and prices so that everyone can find a model to meet their preferences, fit their bathroom, and match their budget.