There are different types of water heaters on sale today. Electric heaters are easy to install and maintain. Units powered by gas need little time to heat large amounts of water. There are even models that work on alternative energy sources, such as solar water heaters. They are a nice eco-friendly option for those who care about our planet.
Among the wide array of water heating devices, a special attention should be paid to so-called hybrid, or heat pump water heaters (HPWHs). They have appeared on the market comparatively recently. Such heaters are more expensive than other heaters because of a unique technology they work on. Thanks to the heat pump, an essential part of their construction, they are considered much more efficient than standard electric heaters.
Just like the other types, heat pump water heaters have their advantages and disadvantages. Look through our tips and reviews to find out the pros and cons of this type of heaters and choose the best hybrid water heater 2018.
What is a Hybrid Water Heater?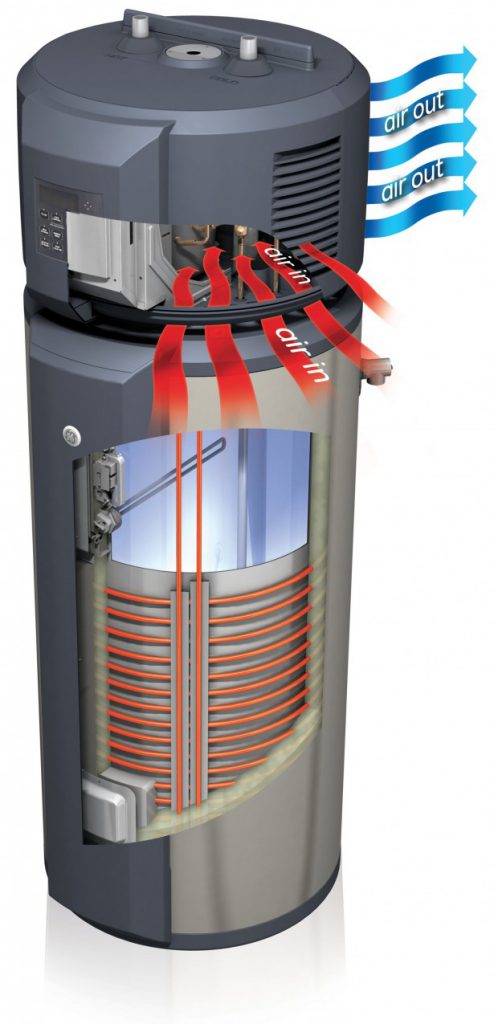 Hybrid water heaters have earned their name thanks to the unique design. They combine two types of heating elements – a heat pump and traditional electric resistance heating elements. Most of them have at least three operation modes: heat pump only, electric only, and hybrid mode (heat pump mode plus electric resistance backup).
The heat pump contains three basic components: an evaporator, a compressor, and a condenser. The pump extracts heat from the air and engages it in making the water warm. Capturing the heat from the air, it then transfers it to the tank and increases the temperature of the water. Using the air as a source of heat allows consuming 60% less energy compared to electric-only water heaters. Electric heating elements are included in the construction to provide backup heating. Such a technology sounds interesting and effective. However, hybrid heaters prove to be ineffective for making the water sufficiently hot on a number of occasions.
Due to this technology, hybrid heaters make the air cooler and dryer. It is quite useful in summer, as it means that you will need less air conditioning. On the other hand, it may pose a serious problem during harsh winter months, when maintaining a comfortable air temperature inside the house is essential. This feature makes heat pump water heaters not such a good choice for areas with a cold climate.
Hybrid water heaters are somewhat more expensive than traditional electric tank heaters. Their initial cost and installation are much greater, yet they may be more cost-efficient in the long run. However, that is true only in mild climates. Heat pump models are not as helpful for heating large amounts of water when installed in cold places.

Because of a heat pump, hybrid heaters are larger than their electric-only counterparts. To install such a unit, you will need a 7-feet clearance from floor to ceiling. Besides, heat pump heaters require a lot of uncooled space – up to 1.000 cubic feet – to get enough heat from the air to work efficiently. While such units might be a nice choice for some houses, electric heaters tend to be a much more practical decision.
Apart from heat pump models, which are the most popular, there is another type of hybrid water heaters. There are also units that combine features of both tank and tankless heaters. Coming with a conventional storage tank and a tankless water heating technology, these units guarantee that you will never run out of hot water.
Top Three Best Hybrid Water Heaters
This model combines an innovative heat pump technology with traditional electric heating elements. This water heater proves to be one of the most energy-efficient models thanks to its unique construction that includes a compressor and an evaporator with two fans for drawing heat from the air. Please note that this unit is quite large, so it will be best to install it in the garage or basement.
According to the producer, this hybrid heater from general electric can help you save up to $365 a year on water heating expenses. It comes with a 50-gallon water reservoir. The construction of the unit includes a removable filter that protects the evaporator and the fans from dust and debris and ensures that the pump runs faultlessly.
Check the price for this product on Amazon
---
Just like the previous model, this hybrid heater combines two types of heating – a heat pump and an electric water heating system. It comes with a 65-gallon first-hour rating. It is easy to install- you will need some knowledge of plumbing and electricity, as well as some basic tools. This model is Energy Star qualified due to its high energy-efficiency.
The GeoSpring water heater from General Electric comes with a convenient control panel where you can choose one out of four operation modes – heat pump (only), hybrid, high demand, and electric (fan off). The panel also allows setting the desired water temperature, overriding the power saver, and resetting the filter.
Check the price for this product on Amazon
---
This model combines the features of tank and tankless water heaters. Thanks to such a construction, you are guaranteed never to run out of hot water. This unit can supply up to three residential applications at the same time as it comes with 14 gallons per minute flow rate.
This hybrid heater from Eternal is an excellent choice for those who care about the environment and are aware of the current ecological situation. One of its main eco-friendly features is a low level of carbon emissions. With 98-percent thermal efficiency, it exceeds Energy Star standards and meets the requirements of Leadership in Energy and Environmental Design. The unit comes with a thermostat and flaw activation that are compatible with WaterSense-certified fixtures.