Who wouldn't like to soak in a hot bath after a day of hard work? Hot water soothes the body and calms the mind. You can use a whirlpool bathtub or a hot tub for an even deeper feeling of relaxation. However, they are too pricey for people with a limited budget. An average whirlpool bathtub costs somewhere around $1.500.  Hot tubs are even more expensive than that. Their prices range from $2000 to $5000.
Don't get upset about the prices, though. There is a way to get the luxury of a hot tub without spending a fortune. An inflatable hot tub. It offers all the benefits of hydrotherapy and saves your money.
Find the best inflatable hot tub with the help of our tips and reviews.
What is an Inflatable Hot Tub?
Inflatable hot tubs are a great alternative to built-in hot tubs or Jacuzzis. They can be inflated whenever you want to use them, and deflated after you are done. Apart from being compact, lightweight, and easy to store, inflatable hot tubs are affordable and easy to install. Let's consider their advantages more thoroughly.
Advantages of an Inflatable Hot Tub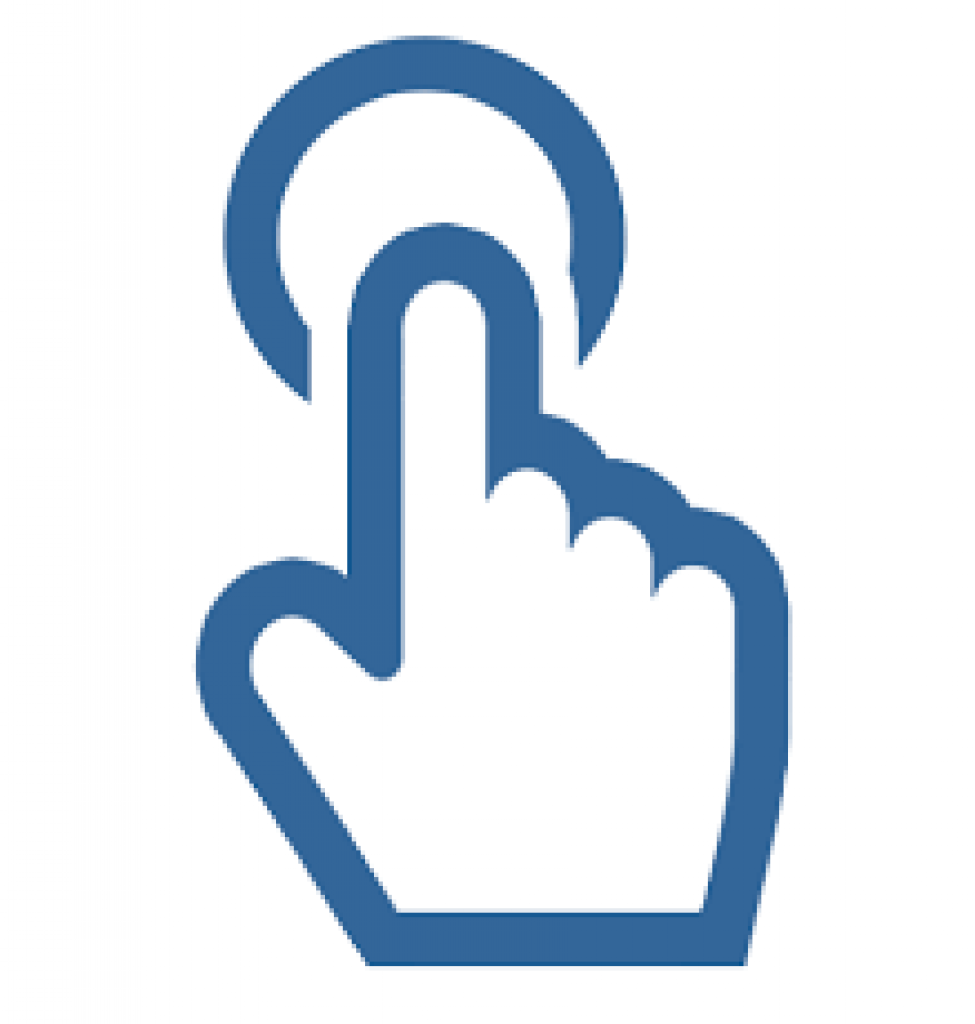 Ease of use. There is no need to dig up half of your backyard to install an inflatable tub. You won't even need any outside help or tools to set it up. You can do it entirely by yourself. All you need is to find a flat surface, place the tub there, inflate it, and fill it with water. The job is done!
---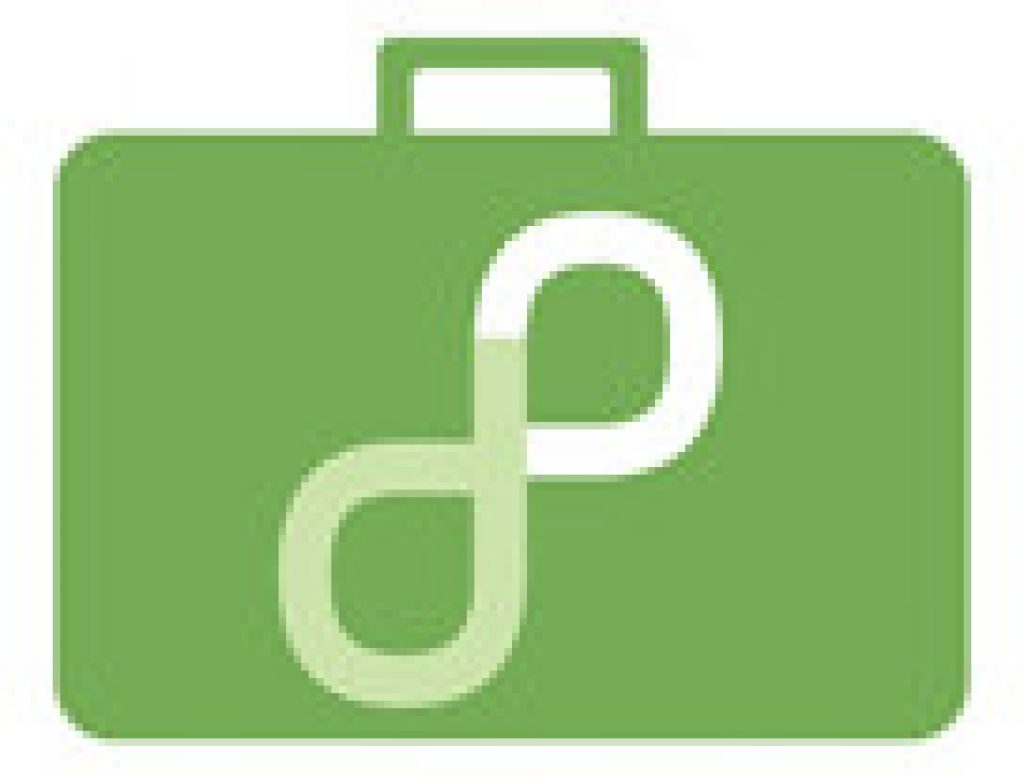 Portability. Inflatable tubs are very compact, lightweight, and easy to store. Built-in hot tubs are designed to be permanent. They can be moved, of course, but that will require many hours of hard work. Imagine all the mess you would have to deal with! Besides, you would need a plumber and an electrician to do everything right.
If you want to move an inflatable tub, you won't even need to deflate it. Just empty the tub and it will be light enough to carry.
---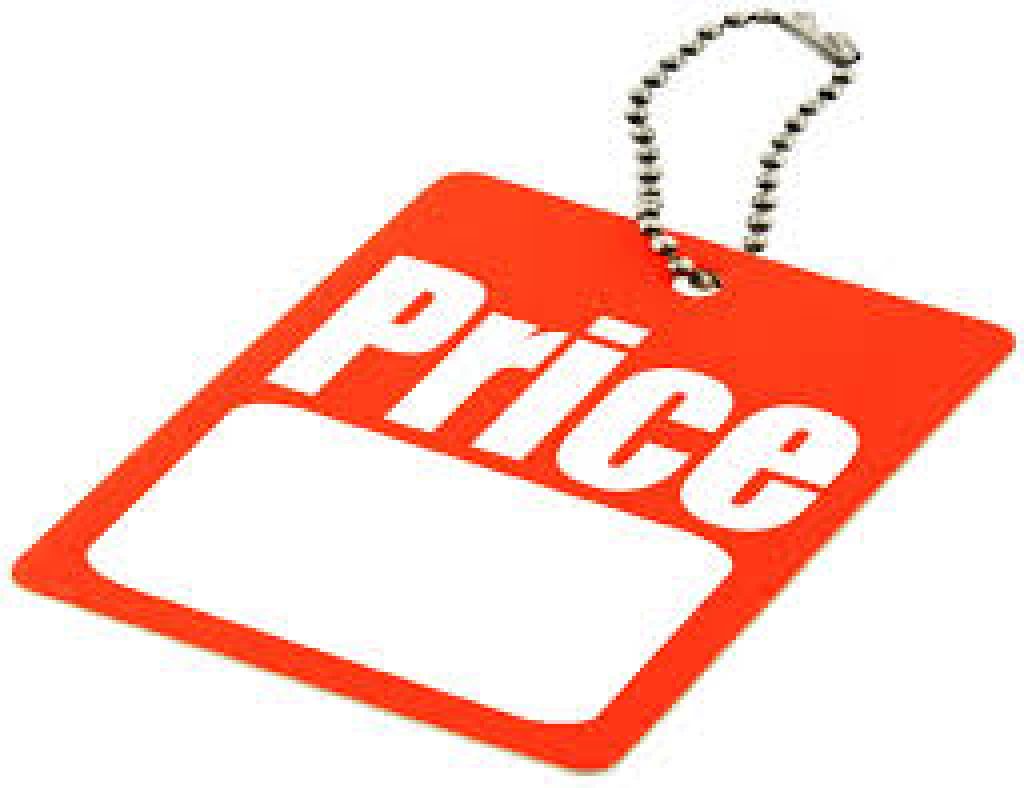 Price. As mentioned before, inflatable tubs are much cheaper than built-in hot tubs. In fact, some of them cost less than $400, a tenth of the price of a standard one. The process of installation of a built-in tub is also costly. You'd have to pay the plumber and the electrician for the job. The installation of an inflatable tub won't cost you anything.
---

Low maintenance. Inflatable hot tubs use much less energy than built-in ones. In fact, they run off of a 120-volt power socket to ensure energy savings. They are easy to clean as well. Most inflatable tubs come with a filter to clean the water and reduce mineral build-up. Their maintenance system also includes a floating chlorine dispenser to sanitize the tub and the water.
---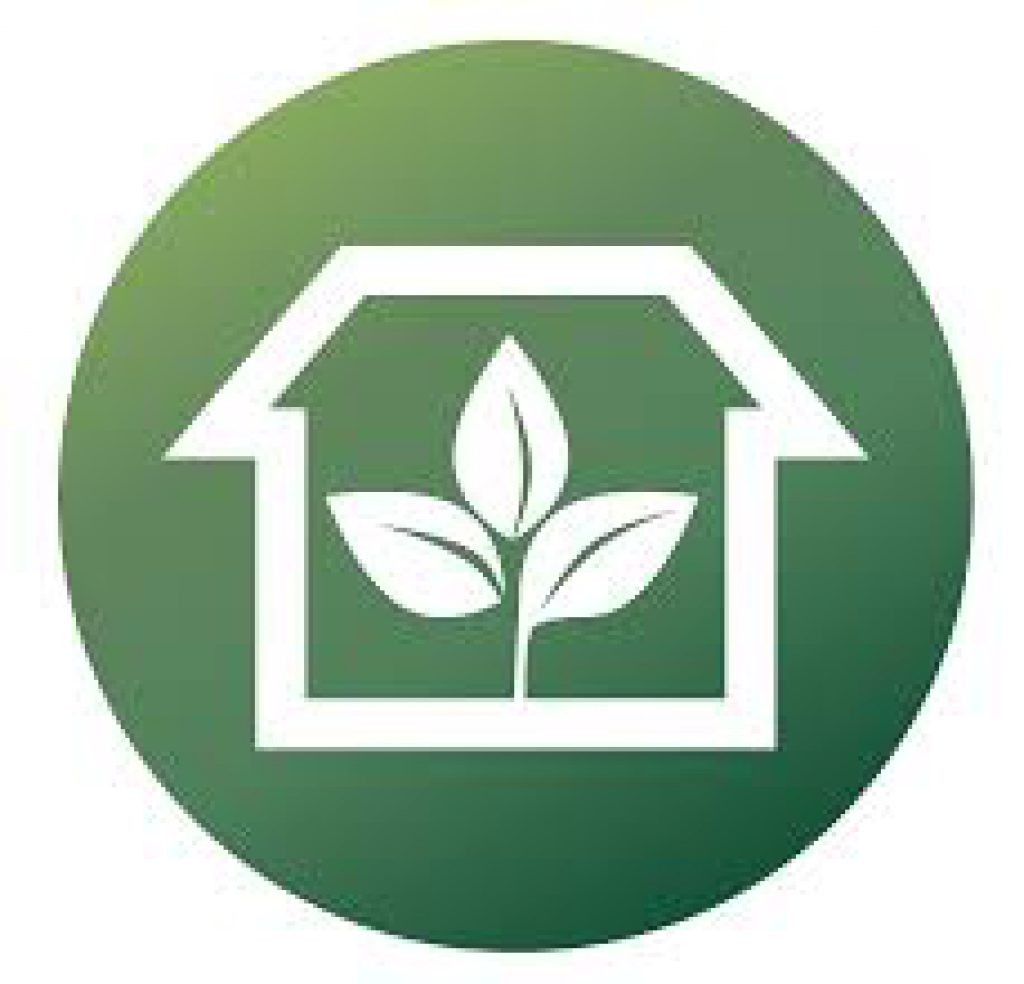 Comfort. Inflatable hot tubs are very comfortable. Their walls and bottom are soft and cushy, so you can fully relax and enjoy the gentle hot water massage. The enameled surface of standard hot tubs is much harder than that.
Inflatable Hot Tubs' Health Benefits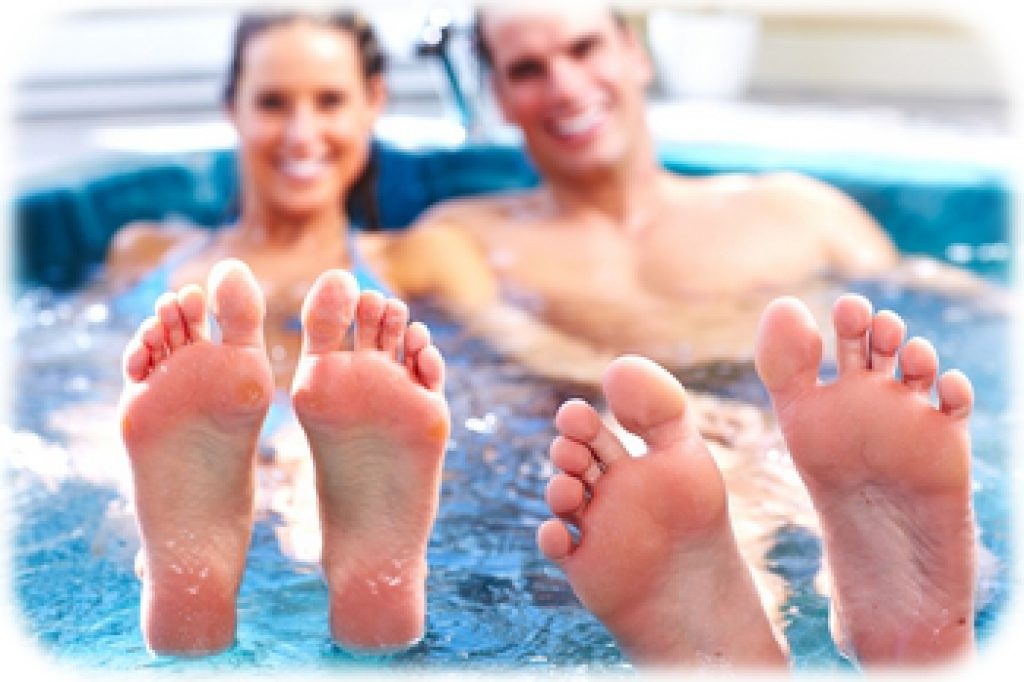 Regular use of an inflatable hot tub can make you much healthier. Some of the health benefits of hot water therapy are:
It cures pain. Hot baths are often prescribed as an alternative medicine method. Hot water improves blood circulation and helps to relieve stress and headaches. It can also prove helpful for easing the pain of arthritis, bursitis, tendonitis, scoliosis, as well as other diseases that affect muscles, joints, and bones.
It helps with Type 2 Diabetes. Lying in a hot tub 30 minutes a day helps to lower blood sugar. Hot baths are often prescribed to the patients unable to work out on the regular basis. Just like physical exercises, hot water makes the blood flow to the skeletal muscle, stabilizing glucose levels.
Find out other alternative therapies useful in the management of diabetes on the NCBI web page.
It helps to sleep soundly. Hot water slightly raises the temperature of the body and calms you down. You will be able to sleep much deeper if you soak in hot water before going to bed. This phenomenon has long been known in Asia. Most Japanese and Chinese cannot imagine going to bed without taking a hot bath. It proves very helpful in decreasing daily anxiety and setting you up for sleep.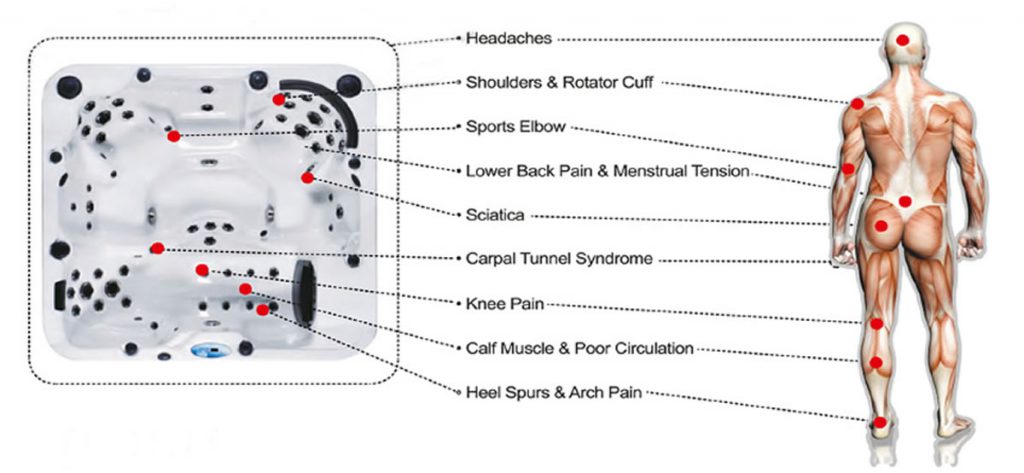 It has beauty benefits as well. Soaking in hot water helps to remove toxins from the body. The high temperature opens the pores and makes you sweat profusely, relieving the body from what it no longer needs. As a result, you'll notice that your skin looks much cleaner and healthier.
You can learn about the benefits of hydrotherapy on various systems of the body on the NCBI web page.
A Guide to Choosing the Best Inflatable Hot Tub
There are some things to consider before choosing the inflatable hot tub: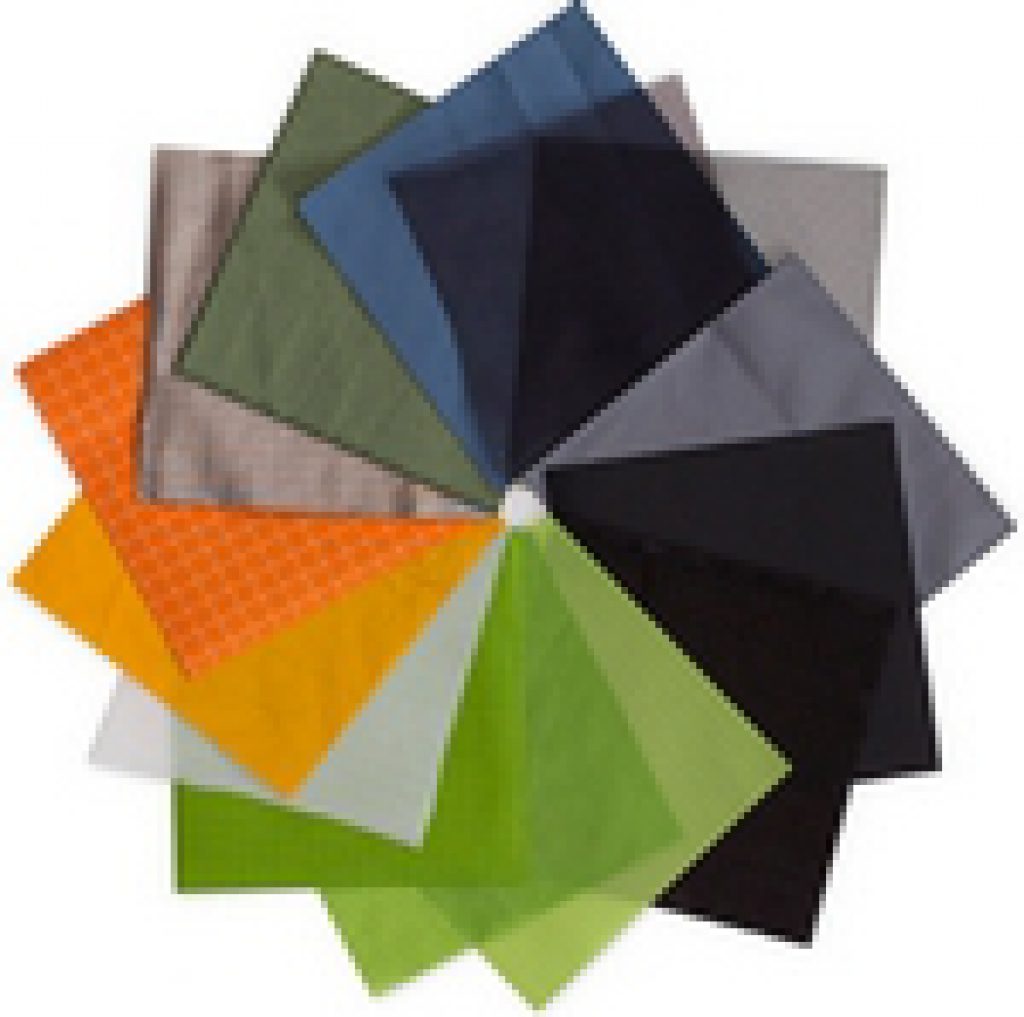 Material. Make sure that the tub is made of a durable material that will serve you for a long time. The maximum temperature of the water for the tub also depends on the durability of the material. Some inflatable hot tubs come with foam inserts to retain the heat of the water.
---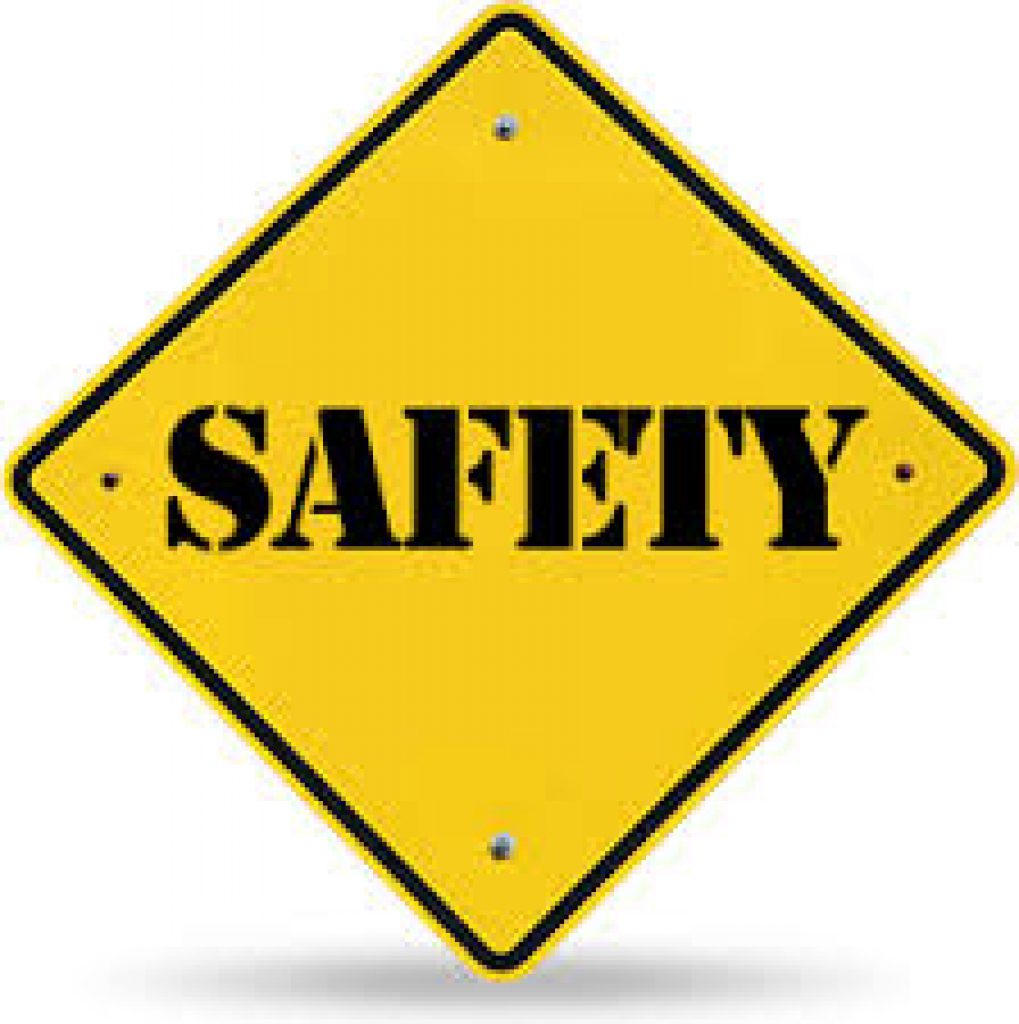 Safety. Most inflatable tubs come with different features to offer maximum safety for users. The surface of the tubs is usually non-slip to prevent injuries. Some of them come with rails to offer stability when you get in and out of the tub. A temperature indicator is also a common feature of inflatable tubs. Some of them have the function to turn off automatically if the water gets too hot.
---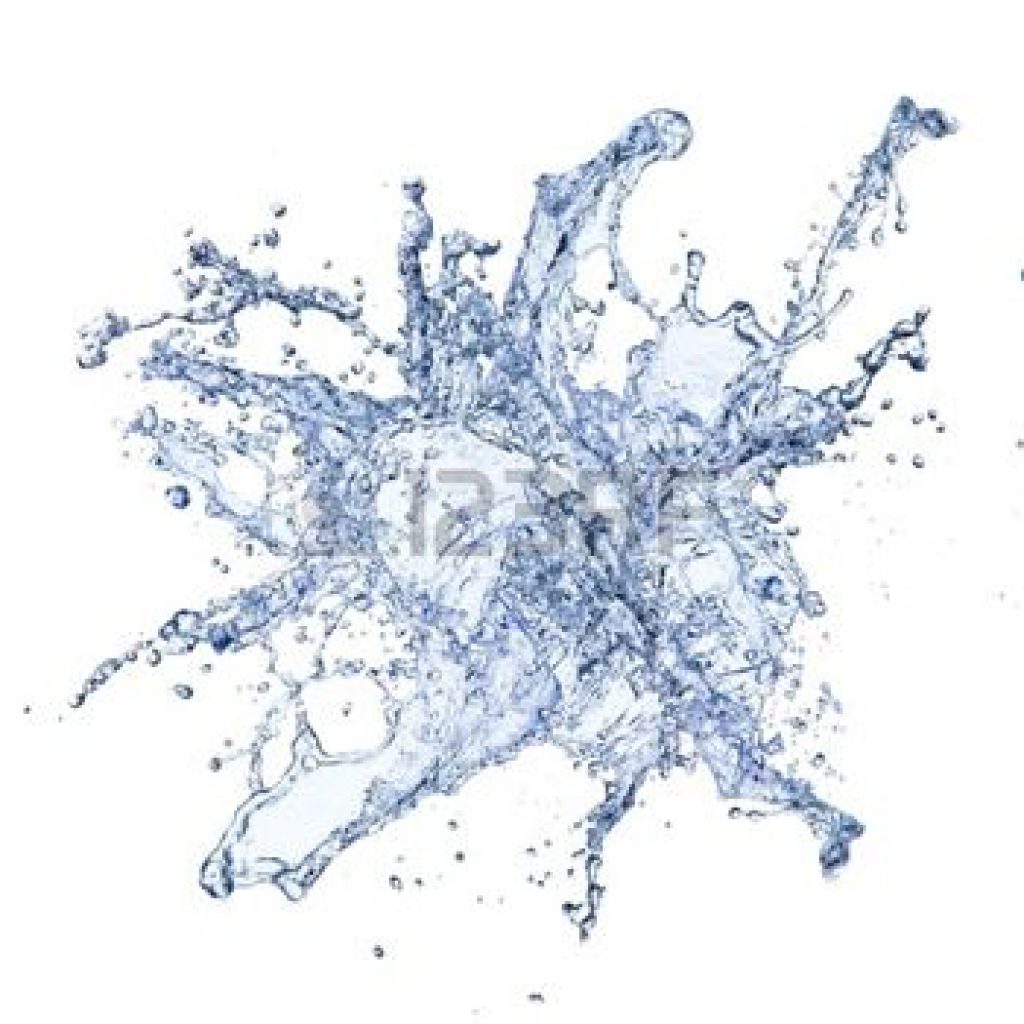 The number of jets. Choose the number of jets according to your preferences. A tub's capability to massage the whole body depends on the number of jets. Make sure to choose a tub with 130-140 jets if you prefer a vigorous massage. If you are going to use the tub for mild relaxing massage, the number of jets can be less than that.
---
Top Five Best Inflatable Hot Tubs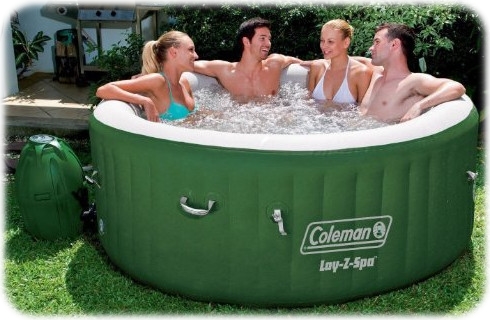 Treat yourself to a spa-like experience with this inflatable hot tub from Coleman. The ergonomic design of the tub will offer the highest level of relaxation. It is large enough to hold up to six adults. Its water capacity is about 50 gallons more compared to other models available today.
The Lay-Z Massage System makes the water bubble and swirl, massaging the body. The Rapid Heating System heats up the water to the most comfortable temperature. It offers all the health benefits of hot water therapy.
The temperature of the water is maintained at a constant level thanks to the construction of the tub. Its outer walls are made of a fabric-coated material. The tub also comes with an aluminum-enforced cover to keep the water hot when you get out of the tub, so that you won't have to heat it up the next time you want to take a bath.
Click this link to check the price for this Hot Tub on Amazon
---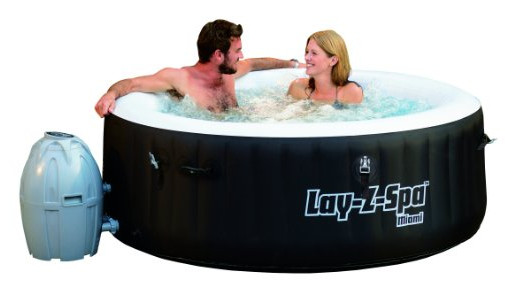 This tub from Bestway is one of the most affordable inflatable tubs on sale. Despite its low price, it comes with all the benefits of its more expensive counterparts. It comes with a digital control panel that allows turning on the rapid-heating system without getting out of the tub. You can set the desired water temperature on the panel. The tub can heat the water up to 104 degrees F.
This inflatable hot tub is capable of accommodating up to four adults. It comes with 120 bubble jets for deep relaxation. It also has a water-filtration system to ensure that the water stays fresh and clean.
The Miami tub is made of the TriTech material. It consists of two layers of laminated PVC and a polyester mesh core between them. Such a construction offers extra strength and durability.
Click this link to check the price for this Hot Tub on Amazon
---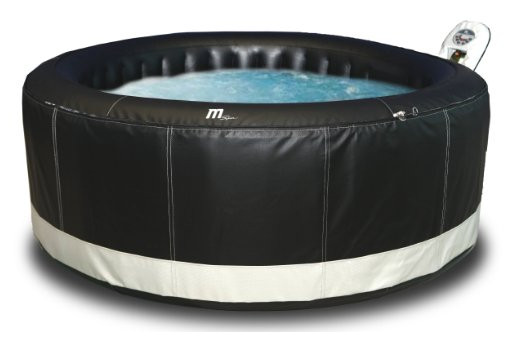 Enjoy the relaxing bubbles together with your friends. This M-SPA inflatable hot tub is large enough for six people to enjoy a soothing water massage. Its 130 air bubble jets will offer unforgettable sensations to anyone.
This hot tub looks very solid. It is made of PVC with increased durability. The tub comes with a black lid that has a stylish crocodile leather pattern.
You can use it either outdoors or indoors. Make sure to fill the tub beforehand. It takes about an hour to fill the Camaro tub. The heating system needs about 12 hours to make the water hot. If you don't want to wait for so long, just fill the tub with hot water.
Click this link to check the price for this Hot Tub on Amazon
---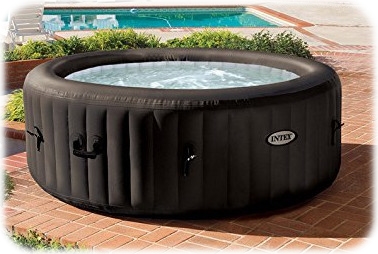 Discover all the benefits of hydrotherapy with this inflatable tub. It comes with a convenient control panel that allows activate the massage system with a touch. The system includes four high-powered jets to offer a soothing massage.
It takes the Jet Massage Spa Set about twenty minutes to fully inflate. It comes with a pump. It also comes with a cover to keep out the debris and maintain the temperature of the water.
The special feature of the PureSpa inflating tub is that it heats the air before releasing it into the water. Most models make bubbles with cold air, which makes the water lose some of its heat.
Click this link to check the price for this Hot Tub on Amazon
---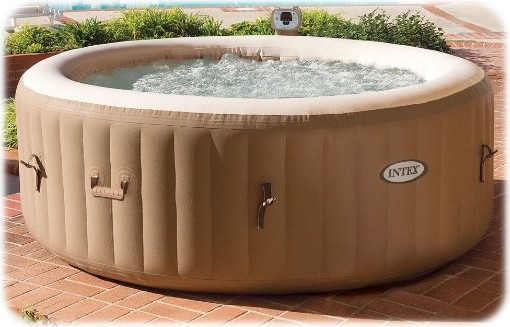 The PureSpa offers calming massage and takes care of your skin. It comes with a built-in hard water treatment system. The decreased level of minerals in the water prevents the skin from losing moisture. That can prove helpful in keeping your skin soft.
This is one of the best 4 person hot tubs. Its 120 high-powered bubble jets create gentle vibrations that soothe the muscles and help to relieve stress and anxiety.
This inflatable hot tub from Intex offers maximum support and stability thanks to the Fiber-Tech Construction. The core of the tub is made of high-strength fibers that make it sturdy enough for anyone. The surface of the tub is made of a 3-ply laminated material to resist punctures and make it serve you for a long time.
Click this link to check the price for this Hot Tub on Amazon
---
How to Maintain an Inflatable Hot Tub
Change the water regularly. Keeping the water fresh will allow you to clean the tub less often. Most inflatable hot tubs come with a water testing kit to tell you when it is time to change the water. Make sure to cover the tub when you're not using it. That will prevent debris from getting into the water, keeping it clean for a longer time.


---

Change the filter cartridge regularly. The filter gets jammed with mineral build-up with use. If you don't change it in time, the filter won't be able to clean the water. The most optimal decision would be to change the cartridge once every three months. There's no need to throw the old filter away. Let it soak in the mixture of water and vinegar for a few hours, scrub it with a brush to remove all the hard water build-up, and you can use it again.


---

Clean the tub regularly. It is best to clean the tub each time you change the water in it. Make sure to do it at least once a week. Please use chemicals that can't damage the surface of an inflatable tub.