Who can resist pampering themselves in a hot bath after a hard and stressful day at work? With bubble bath products or bath bombs, this can be a truly relaxing experience. Or, perhaps, you prefer a steamy hot shower with a moisturizing body wash to wash all the stress and anxiety away? Either way, you will need a lot of hot water. A water heater can help you with that.
There are many types of water heaters. Based on the construction, they can be tank and tankless, or on-demand heaters. According to the source of energy, water heaters can be electric, gas, and solar. Each of the types has its advantages and disadvantages.
Best gas water heaters are eco-friendly and energy-efficient. They can work either on natural gas or propane. Look through our tips and reviews to find out the advantages of this type of heaters and choose the best gas hot water heater 2018.
Tankless Water Heater vs Tank Water Heater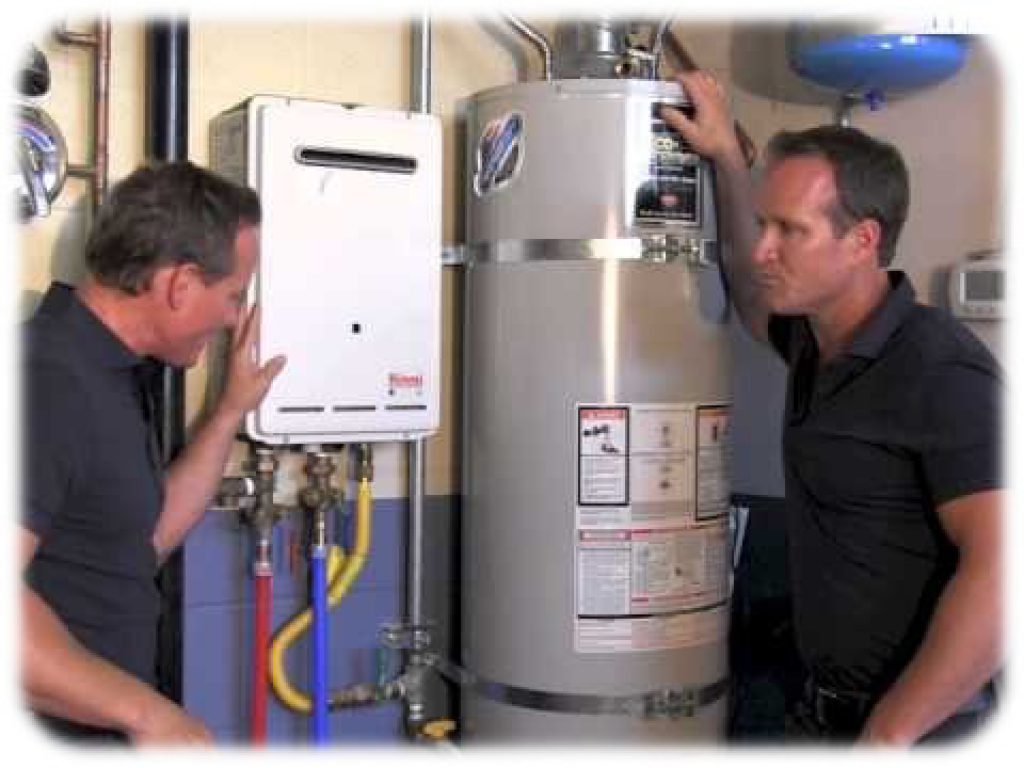 Energy-efficiency. Unlike tank heaters that constantly warm up gallons of water that are held in a tank, tankless models act on demand and draw energy only when you need hot water. It allows consuming considerably less energy and saving some money on the bills.
Longevity. Thanks to the fact that tankless heaters need less time and energy to make the water hot, their lifespan is much longer compared to tank heaters. The heating element is used less frequently, and for shorter periods of time, whiсh allows them to offer a perfect performance for longer. Tankless heaters last approximately twice as long as their traditional counterparts.
Compact design. If you have a small bathroom, a tankless heater is just the thing for you. Such models are a perfect choice for a limited space. They take up considerably less space compared to tank heaters with their bulky containers for water.
Unlimited hot water. Tank heaters can only provide as much hot water as their tank can hold. With a tankless heater, you get as much hot water as you need. This makes tankless heaters an excellent choice for a big family, as they make sure that you do not run out of hot water in the middle of your shower session.
Cost. Traditional or tank water heaters have a lower initial cost. Their price can be lower, and their installation can be twice cheaper than that of a tankless heater. However, tankless heaters can help you save money in the long run as they offer low maintenance and are more energy-efficient.


How to Choose the Best Gas Water Heater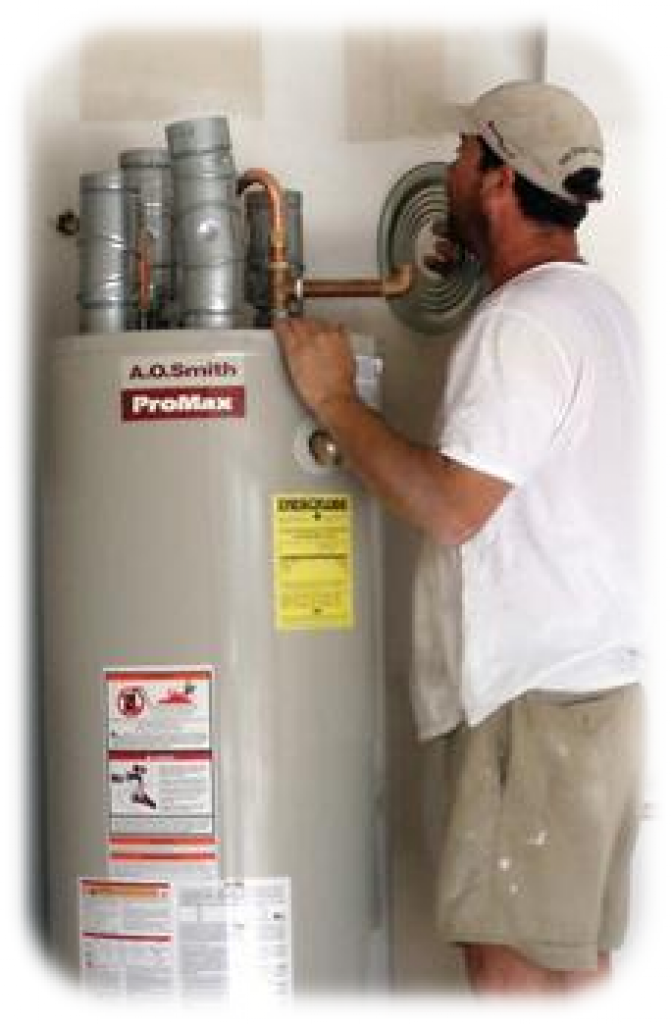 Size. Tankless heaters can be either small, supplying just one water device, usually the shower, or large, providing enough hot water for the whole house. The size of tank heaters depends on the capacity of the reservoir. Models with tanks that can hold 40, 50, 80, and 100 gallons of water are the most numerous on the market. Make sure that you choose the heater according to your needs.
Flow rate. Before purchasing the heater for your bathroom, consider the flow rate of the device. Check how many gallons of water per minute it can provide. If you intend to use it alone or with a partner, 1.5 gallons per minute should be enough. If you have a big family of if you need the device to provide enough water for the whole house, 2-4 gallons per minute is a perfect flow rate for you.
Gas. Some gas heaters use propane, and others use natural gas to make the water hot. Natural gas has multiple advantages. Models powered by propane tend to be less expensive and less efficient than units that work on natural gas. You should also consider your location before choosing the gas heater, as natural gas may not be available in your area.
Place of installation. Depending on the place of installation, gas tankless water heaters can be indoor and outdoor. One of the advantages of outdoor installation is that it does not require a venting system. It also leaves free space in the bathroom. However, this option is possible only in areas with a mild climate. If you live in a place with harsh winters, outdoor installation is not such a great option. Tank heaters are not suited for outdoors installation and can only be installed inside.
Top Five Best Gas Tankless Water Heaters 2018
This water heater is a great option for those who want to experience all the advantages of having unlimited hot water. The water flow rate of this model is 9.5 gallons per minute, which makes it a perfect choice for those who want to supply not just the bathroom, but the whole house with hot water. It fits for indoor installation thanks to the two-pipe direct vent system.
This water natural gas tankless heater from Rheem comes with a stainless steel condensing heat exchanger for increased efficiency and durability. Its ergonomic design comprises intelligent electronic controls and a digital display that shows temperature and other settings. The heater is complemented with an overheat film wrap for the utmost safety.
Check the price for this gas water heater on Amazon
---
This water heater comes with a wide range of water temperature settings – from 98° F – 140° F. Made of a high-quality metal, it will offer a flawless performance for many years. This model comes with a stylish silver finish that looks quite sophisticated and will enhance the design of any bathroom.
This propane tankless water heater from Rinnai comes with a digital controller with an error code indicator for the convenience of use. To ensure safety and longevity, this model is complemented with heavy duty isolator valves made of forged brass. This heater comes with a temperature lock function to keep the water temperature from accidental changes.
Check the price for this gas water heater on Amazon
---
This tankless water heater is very compact, which makes it a perfect choice even for bathrooms with limited space. This model is a nice option for those who care about the environment thanks to the low level of mono-nitrogen oxides emission. It is designed for indoor installation only.
The Ultra Series natural gas tankless water heater from Rinnai comes with a 98° F – 185° F residential temperature range. The water flow rate is 9.8 gallons per minute, perfect for a whole-house use. This model comes with a unique condensing technology to make it even more efficient in water heating.
Check the price for this gas water heater on Amazon
---
This water heater uses propane to supply the bathroom with hot water. With the dimensions 14 x 10 x 26 inches, this unit is very compact yet efficient. It can offer a continuous supply of hot water thanks to the new generation burner technology. It is a good match for those who want to save the space in the bathroom by installing the heater outside.
This tankless propane water heater from Rheem comes with two water flow rate options – 6.8 gallons per minute at 35° F temperature rise and 5.3 gallons per minute at 45° F rise maximum. It comes with an exclusive control board to make its use as comfortable as possible.
Check the price for this gas water heater on Amazon
---
This water heater will be a nice option for indoor installation. It works on liquid propane, which proves rather efficient when it comes to heating water. This unit is compact and lightweight. Its dimensions are 6.7 x 13.8 x 20.3 inches and its weight is just 38 pounds.
This propane water heater from Takagi is Energy Star certified – an excellent choice for those who want to conserve energy, either to save some money or for the sake of the environment. The construction of the heater includes inlet and outlet thermistors that constantly monitor temperature.
Check the price for this gas water heater on Amazon
Top Five Best Gas Tank Water Heater 2018
This water heater is a great choice for large families with four or more members. It comes with a capacious tank that can hold 100 gallons of water. It works on natural gas, which makes it a nice eco-friendly option for those who care about the environment. This unit is easy to install and operate.
The construction of this universal water heater from Rheem includes a temperature and pressure relief valve for the utmost safety and comfort of use. Despite its large tank with high water capacity, it has a comparatively compact design. This model will be a real space-saver for those who want to have large hot water in easy access, yet are not ready to sacrifice precious free space.
Check the price for this gas water heater on Amazon
---
This water heater is available in three tank sizes – 40, 52, and 80 gallons – to meet the needs of any family, from small to large. The design of this model includes a stainless steel tank that ensures durability and reliability of the whole unit. It comes with heavy-duty insulation that helps to retain heat inside the tank and keep the water constantly hot.
This high-efficiency water heater from Westinghouse has 98% thermal efficiency and can offer large amounts of water without consuming too much energy. It comes with an adjustable thermostat that allows keeping the water temperature at the most comfortable level and protecting the unit against overheating.
Check the price for this gas water heater on Amazon
---
This water heater offers the utmost flexibility when it comes to installation. It can be installed virtually anywhere in your house, as it can vent up to 40 feet. It comes with an advanced two-pipe ventilation system that uses fresh air outside the house to create free air circulation and ensure safety for your family.
The ProMax Power Vent water heater comes with a unique technology patented by O. A. Smith. Unlike most similar models from other brands, which come with standard glass lining, this unit features the Blue Diamond glass coating. This technology creates extra protection against corrosion, wear, and tear. Another advantage of this model is the precise electronic control that allows setting and maintaining the necessary water temperature.
Check the price for this gas water heater on Amazon
---
This water heater comes with multiple high-tech features that make its performance unparalleled. Its construction includes a self-powered electronic gas valve that controls the unit without engaging external power. This model comes with a built-in microprocessor to offer precise operating and quick heating response. Its tank can hold up to 50 gallons of water.
The ProMax Tall water heater meets all the standards of 2015 National Appliance Energy Conservation Act. Just like the previous model, it comes with the Diamond Coating technology to ensure durability and fault-free performance. The tank of this heater comes with the Dynaclean diffuser that proves very helpful for preventing hard water buildup and increasing hot water output.
Check the price for this gas water heater on Amazon
---
This model is a great choice for those who are looking for an eco-friendly water heater. Low emission is one of the features that make this model one of the greenest options available on the market today. It comes with a low NOx burner that emits small amounts of Nitrogen Oxides, which makes this water heater safe for health and the environment.
This Professional water heater from Rheem can offer long years of service thanks to the unique R-Tech anode that protects the tank from wear and tear. The tank comes with an increased-foe drain valve made of brass that is known for its rustproof quality. The capacity of the tank is 40 gallons. This heater is easy to start – you do not even need matches to light it.