A faucet is an essential fixture for any bathroom. It is connected to the pipes in order to make the water run into the sink or the bathtub. Modern tub and sink faucets come in multiple configurations, often have graceful outlines, and comprise high-quality materials. Their functions are also beyond water supplying.
This guide will come in useful when choosing the best quality bathroom faucet. Find out who makes the best bathroom faucets 2018 with the help of our reviews.
Advantages of the Best Tub & Sink Faucets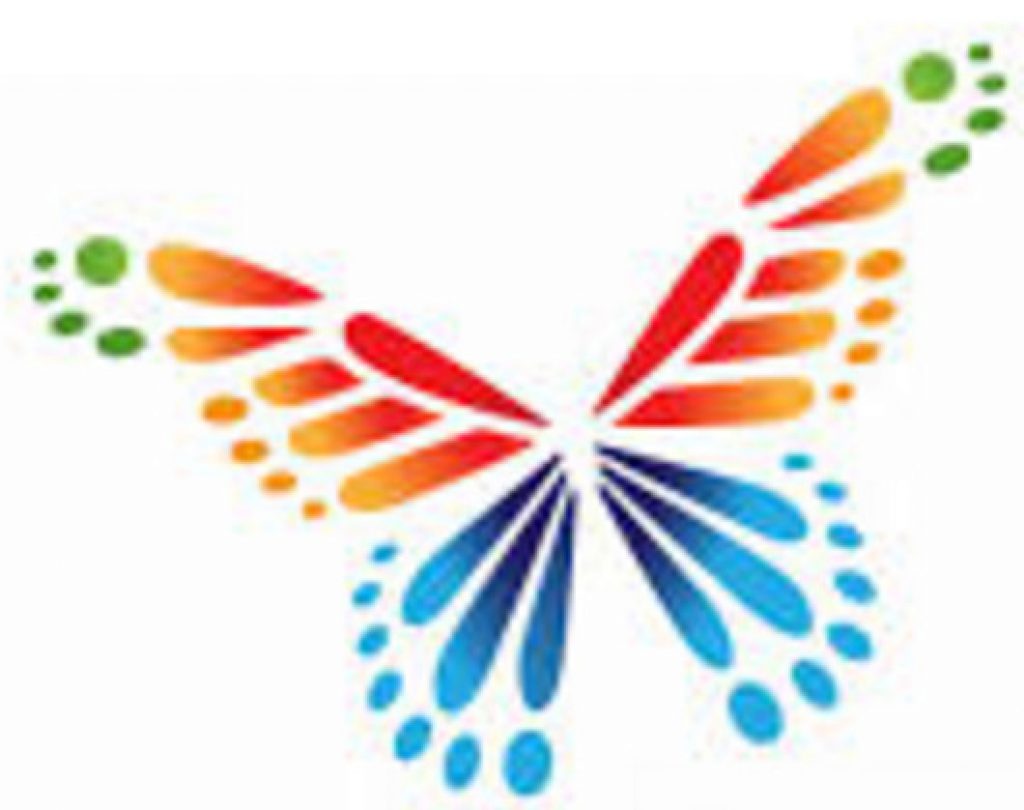 Style. Modern sink and tub faucets are designed to make of any bathroom more stylish. They come in a variety of finish options, each one equally chic. Sometimes, they come with decorative elements that add a special vibe to the design of the room in general.
---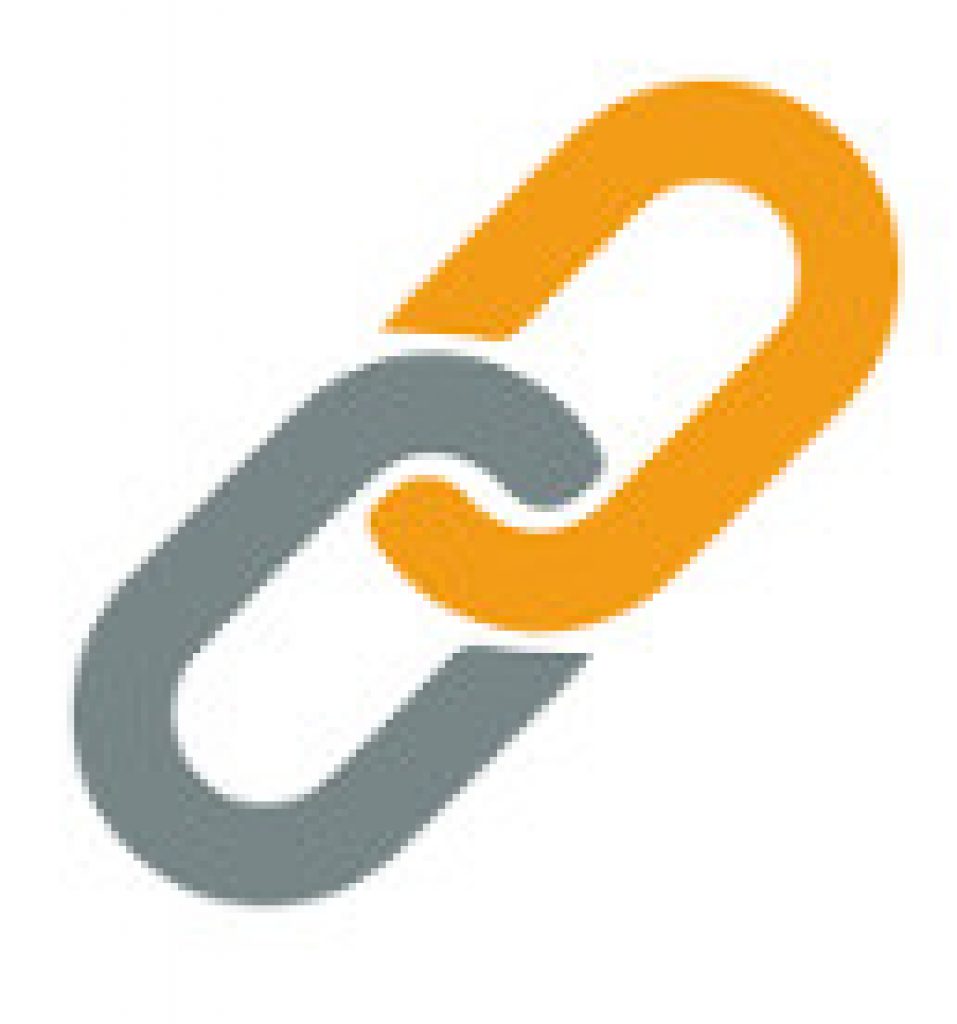 Durability. The best faucets are made of high-quality durable materials, mostly brass and stainless steel. Some of them are covered with a coating that makes the fixture extra durable, prevents corrosion and mold growth.
---
Functions. Bathroom faucets come with multiple extra features. Sanitizing faucets disinfect the water. Thermostatic ones help to find the most comfortable bathing water temperature. Other types help to save a lot of water without actively trying to do that. Some faucets come with some extra benefits, such as chromotherapy.
Types of Modern Bathroom Faucets
There are different bathroom faucets classification systems based on several pivotal aspects:
Type of mounting
Wall-mounted faucets are secured to the wall above the sink or tub.
Deck-mounted faucets are installed on their top. They are also known as surface-mounted faucets.
Tub wall-mounted faucets are attached to the inner wall of the bathtub.
Freestanding faucets are placed on the floor beside the tub. They are also known as tub fillers.
---

Type of installation
Single-hole faucets come in one unit that combines the spout and handles. This type will be a perfect match for a small bathroom sink, as it is very compact.
Center-set faucets are designed for three-hole sinks and tubs. The handles and spout are placed no further than 4" apart. Sometimes they are mounted on a single plate.
Widespread faucets also need three holes for installation. The distance between the elements can be 8" or more. The spout and handles are installed separately, without any plate.
---
Type of construction
Compression faucets are the oldest, most traditional, and cheapest. They come with separate hot and cold water handles. To turn on the water you need to unscrew the handles. You can regulate the pressure of the water or shut it off completely by tightening the handles.
Ball faucets come with one handle secured to a rounded cap. The handle moves over the ball and allows you to control the water flow and temperature.
Cartridge faucets may come with one or two handles. Their construction includes a stem cartridge that slides up and down to adjust the water flow.
Disc faucets have a cylindrical body and one handle. They come with two ceramic disks that control the flow of water. The temperature of the water can be regulated by moving the handle left or right.
---
Type of handle
Lever handles have a wide range of motion. They usually come with ball and cartridge faucets. Levers allow controlling the water flow and temperature by swinging the handle up/down and left/right.
Cross handles are common for two-handle compression faucets. You can turn the water on and off by easing or tightening the handle.
Touch faucets come with panels that activate the water flow when you touch the spout.
---
Water flow style
Standard faucets create a straight downward stream of water. This kind of flow is the most common.
Waterfall faucets do not send the water straight downright, unlike other types. It makes the water flow at a certain angle. Such faucets have a more modern and stylish look to them than most others.
Laminar flow faucets come with aerators that release small bubbles into the water. Thanks to that, the flow becomes lighter and feels softer to the skin.
---
Spout Shape
Diverter is the kind of spout you can turn from side to side. It is a great option for bathtubs. You can turn the spout away after you have filled the tub. That creates extra space and prevents you from hitting the faucet accidentally.
High arc spouts work best with bathtubs. If you install such a faucet in a sink, the water might splash on the counter top or even on the floor.
Low arc faucets have a short spout that fits bathroom sinks perfectly.
Open waterway faucets come with a wide spout with an open top.
---
Number of handles
Single-handle faucets come with one handle to operate both hot and cold water. They are easy to install and don't take up much space.
Two-handle faucets have two separate handles for hot and cold water. They are more convenient that single-handle ones as they offer a higher level of accuracy when it comes to water temperature.
Some faucets come without handles. They are called hands-free, touch-free, or touchless. You do not need to press any buttons or turn any handles in order to activate them. They come with built-in sensors that turn on the water automatically when you place your hands under the faucet.
---
Extra features
Pull-out and pull-down faucets come with a rotating arm that allows sending the water in any direction you need. They are mostly installed in kitchen sinks. Although, you can install one in the bathroom, too.
Thermostatic faucets mix hot and cold water to reach the most comfortable temperature. They sometimes come with an anti-scald technology and shut off automatically if the water becomes too hot.
Water-saving faucets come with special filters that diffuse the flow and help to save considerable amounts of water.
Sanitizing faucets send the stream of ozone into the water, which proves effective in killing germs.
Some faucets come with a built-in LED lighting that colors the water to create a specific mood. They also make the benefits of chromotherapy easy to access.
How to Choose the Best Bathroom Faucet?

Configuration/type. The choice of faucet type depends on your preferences, as well as on the place of installation. Some types work best with bathtubs, others only match bathroom sinks. Consider all the existing types of faucets before choosing the best one for you.
---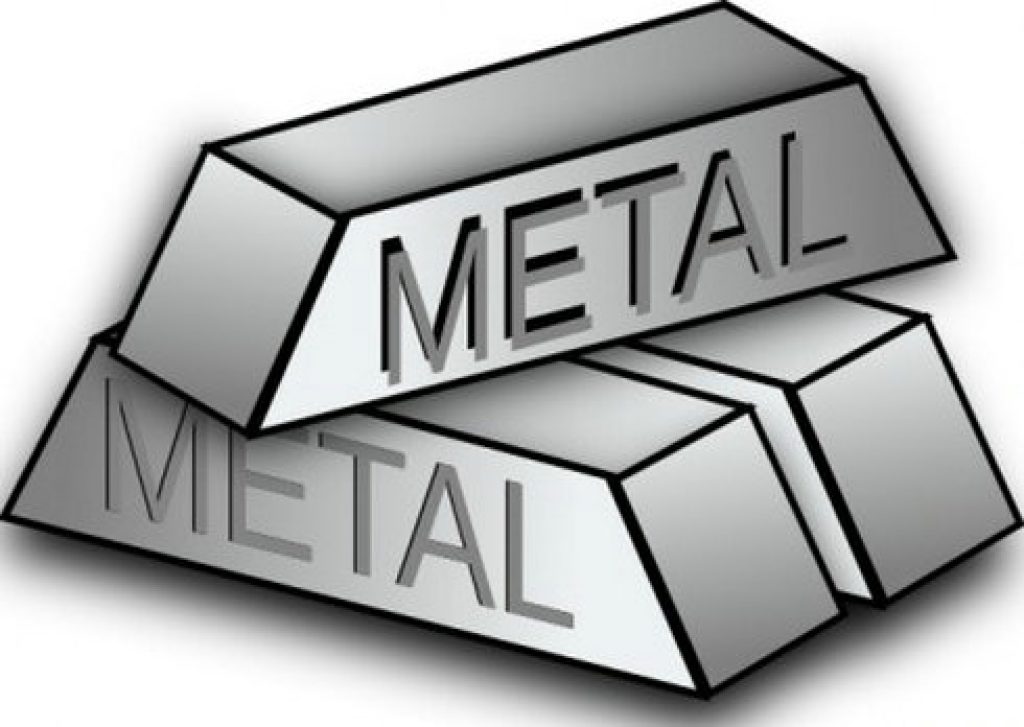 Material. Make sure that the faucet body and handles are made of a durable rustproof material. The most popular ones are brass, stainless steel, zinc, and plastic. Brass faucets are durable and unlikely to leak or rust. Stainless steel faucets come with all the advantages of brass ones. However, they are usually somewhat pricier. Zinc resists corrosion, too, although, it is softer than brass and stainless steel and, consequently, less durable. Plastic faucets are the cheapest you can find. They are the least durable, however.
---
Finish/Style. Make sure that the finish of the faucet matches the finish of the other bathroom fixtures. The most popular kinds of finish are polished and satin brass, oil-rubbed bronze and satin bronze, copper, polished and brushed nickel, polished and brushed chrome, matte black, and white. Bronze, brass, and copper work best with traditional and antique bathroom designs. Nickel and chrome are versatile and have the potential to match any kind of décor. Matte black and white will be a great choice for a bathroom decorated in a modern or eclectic style.
---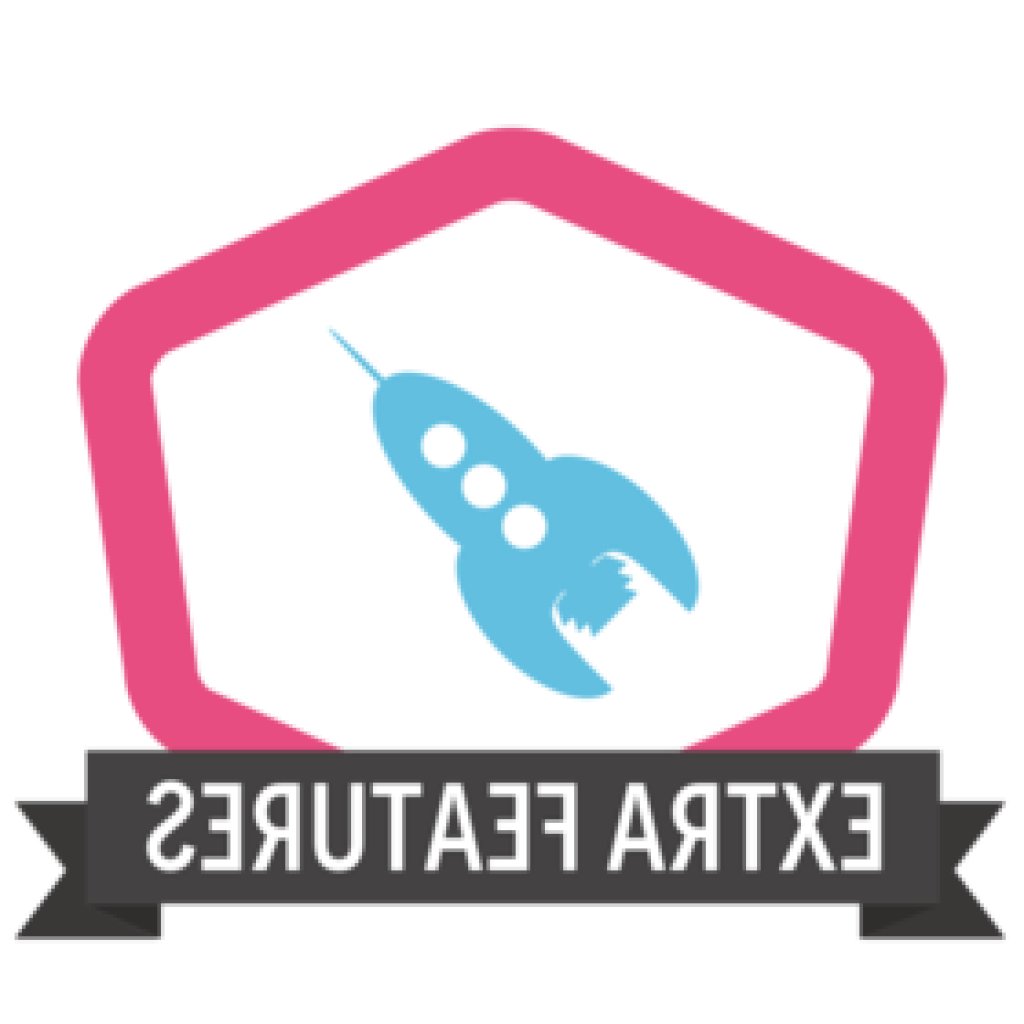 Extra features. If you want a faucet that will just supply the water into the sink or tub, you may choose a standard one without any high-tech functions. However, if you want to add a luxurious element to your bathroom, consider purchasing a faucet with some extra features. If you have little children, a thermostatic faucet with the anti-scald function will be a great choice. If you are concerned about the present-day ecological situation, you might choose a water-conserving faucet. They will also come in handy if you want to reduce the water bills.
Best Bathroom Faucets 2018
Top Three Best Waterfall Faucets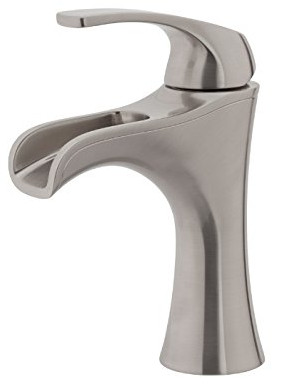 This is one of the best waterfall faucets available on the market. Made of high-quality brass, the Jaida is durable enough to serve you for many years. Its sturdy construction includes a ceramic disk that guarantees no leaks whatsoever. It comes with one handle for water temperature and pressure control. The handle is designed for easy control and can be effortlessly moved even by disabled people.
This faucet from Pfister comes in more than one finish option: brushed nickel, polished chrome, and polished chrome & white. Its unusual shape with a cylindrical body and a curved waterfall spout looks graceful and stylish. One of the main advantages of this faucet is its ability to reduce water consumption by the average of 30%. That results in saving up to $200 per year. Installation of the faucet is very easy and does not require any tools.
Click this link to check the price for this faucet on Amazon
---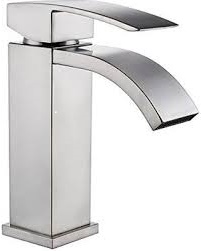 The design of this faucet will perfectly match a bathroom decorated in a modern style. It comes in two sizes, regular—for bathroom sinks—and tall—for bathtubs. There are several finish colors available: brushed nickel, chrome, oil rubbed bronze, and even golden. Its brass construction with one handle and a drip-free ceramic disc will offer you many years of service.
The type of installation of this waterfall faucet from KES® is single-hole. It is deck-mounted, so you can place it on the top of a sink or a bathtub. The faucet comes with everything required for the installation, including mounting hardware and two hoses, one for cold and one for hot water.
Click this link to check the price for this faucet on Amazon
---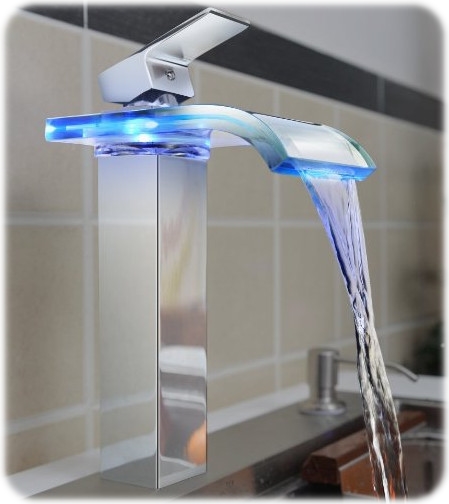 This faucet will be a nice option for those who want to add a splash of color into their bathroom routine. It comes with built-in LED lights, blue for cold water and red for hot water. The lights do not require batteries to work as they are powered by the water flow. They react to the water temperature and change the color automatically.
The Harrahs waterfall faucet is made of brass and comes with a versatile chrome finish that will look great in any bathroom. The spout made of thick glass looks unique and adds even more charm to the faucet. Just like the other waterfall faucets, this one comes with one handle and a ceramic disc. This is one of the most popular bathroom faucets on the market.
Click this link to check the price for this faucet on Amazon
---
Top Three Best Two Handle Faucets 
This elegant faucet will add a special vibe to your bathroom. It comes in a retro design with soft lines and multiple finish options. You can choose oil-rubbed bronze, polished chrome, vibrant brushed bronze, vibrant brushed nickel, vibrant polished brass, or vibrant polished nickel. This model will look best in the bathroom of an antique or classic design.
This widespread two-handle faucet from Kohler comes with the most popular type of configuration, a ceramic disc. It has two separate lever handles for cold and hot water that allow regulating the water temperature with maximum precision. Its sturdy brass construction and rustproof finish offer extra durability. This faucet also comes with a low-flow aerator, which is a nice extra.
Click this link to check the price for this faucet on Amazon
---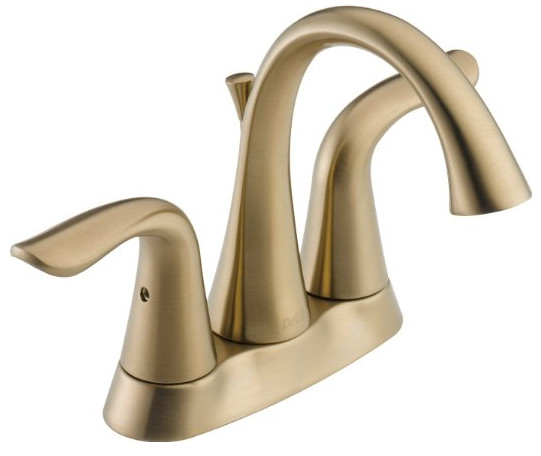 This premium faucet comes with the exclusive Diamond Seal Technology. Its valve is covered with a diamond coating to ensure maximum durability. There are several finish options to choose from, champagne bronze, chrome, stainless, and Venetian bronze. This model comes with a drain that has a matching finish.
Delta is known as one of the best bathroom faucet brands, so you will get a high-quality product if you choose this faucet. The curved spout and two lever handles of the Lahara faucet are mounted on a single plate. All the elements are beautifully crafted and sophisticatedly designed. This center-set faucet is designed for sinks with a three-hole installation. Its ergonomic design meets all the standards of Americans with Disabilities Act. You can learn more about it on the ADA website.
Click this link to check the price for this faucet on Amazon
---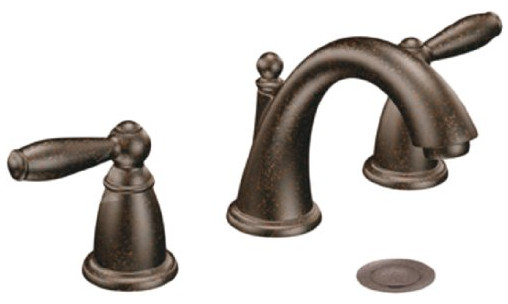 This old-fashioned model comes with two lever handles and a low-arc spout for extra convenience. Made of a high-quality durable metal, it is available in a number of finishes including brushed nickel, chrome, and oil rubbed bronze. Each of them is equally striking.
This two-handle faucet is designed according to the ecological standards and criteria. Moen is a partner of the WaterSense program run by the Environmental Protection Agency. The Brantford comes with a limited flow to conserve as much water as possible. You can find more information about WaterSense on the EPA official website.
Click this link to check the price for this faucet on Amazon
---
Top Three Best Touchless Faucets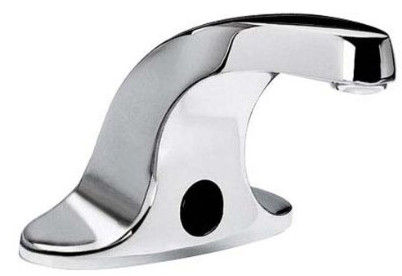 Made of brass, this touchless faucet comes in an elegant design and a shiny finish that will look nice in any bathroom. It saves a lot of space due to the center-set type of mounting and hands-free design. It comes with a built-in motion sensor and electronic controls for touchless manipulation. You can adjust the range of the sensor to your liking.
This model from American Standard can run either on battery or AC power. It comes with an improved battery system that extends the battery life considerably. Its construction includes an in-line strainer to prevent the faucet from clogging.
Click this link to check the price for this faucet on Amazon
---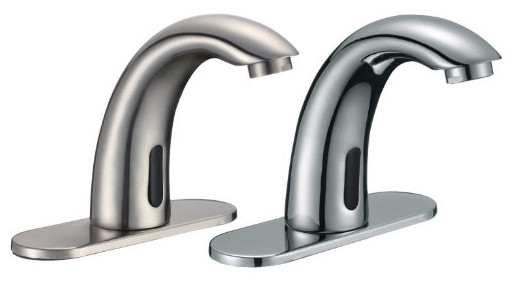 This expertly crafted faucet has a sturdy design that can serve you for a lifetime. Made of highest-quality brass with multiple layers of finish, it looks modern and chic. Two variants of finish are available for this model, brushed nickel and chrome.
The Freuer touchless faucet comes with a dual-power feature with battery and plug-in options. Its high-precision sensor reacts only if you place your hands directly under the faucet. Its configuration includes a drip-free ceramic disc that moves smoothly and offers maximum convenience. It comes with all the necessary hardware. The installation is quite easy, too.
Click this link to check the price for this faucet on Amazon
---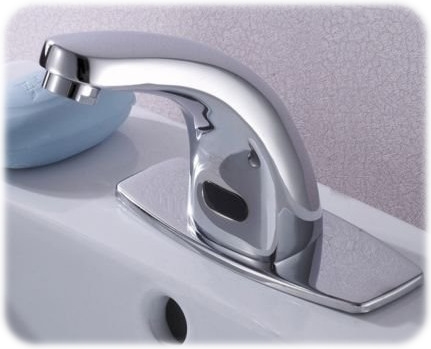 This touchless bathroom faucet will be a great choice for people with a limited budget. It comes with all the advantages of its more expensive counterparts including a solid brass construction, an elegant design, a stylish finish, a leak-free ceramic disc, and a precise sensor. However, it cannot be plugged-in and works only on batteries.
The microcomputer technology of this Yanksmart model proves effective for saving energy. It comes with a hot and cold mixer to control the water temperature, as well as a built-in filter to improve the quality of water. All the necessary hardware and accessories are included, too.
Click this link to check the price for this faucet on Amazon
---
Best Water Saver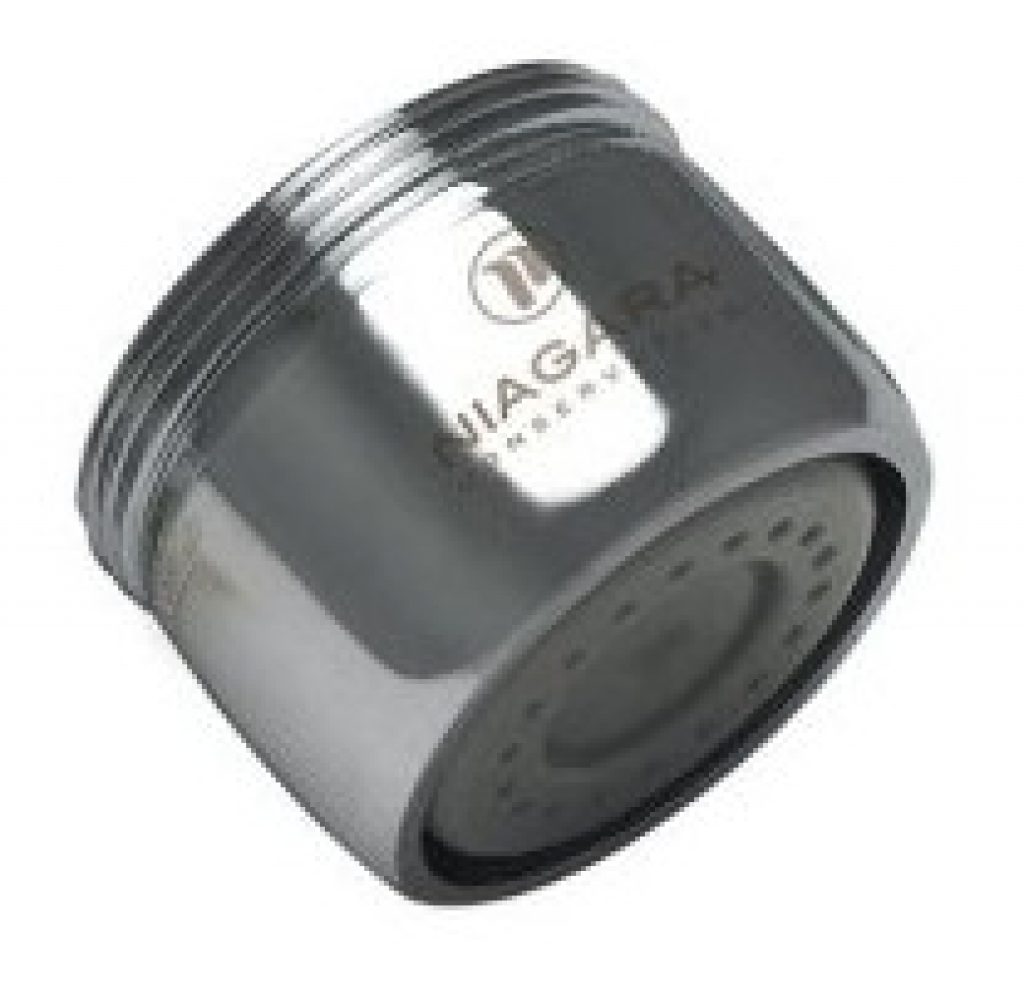 If you want to reduce your water bills but are not ready to pay for a new water-saving faucet, there is a cheap option for you. You can save considerable amounts of water by installing an aerator into your current faucet.
We recommend this faucet aerator from Niagara. It reduces the rate of the water flow thanks to its Needle Spray technology. You won't see any noticeable changes in the force of the water stream, yet the change in your bills will be great.
---
Best Faucet Water Filter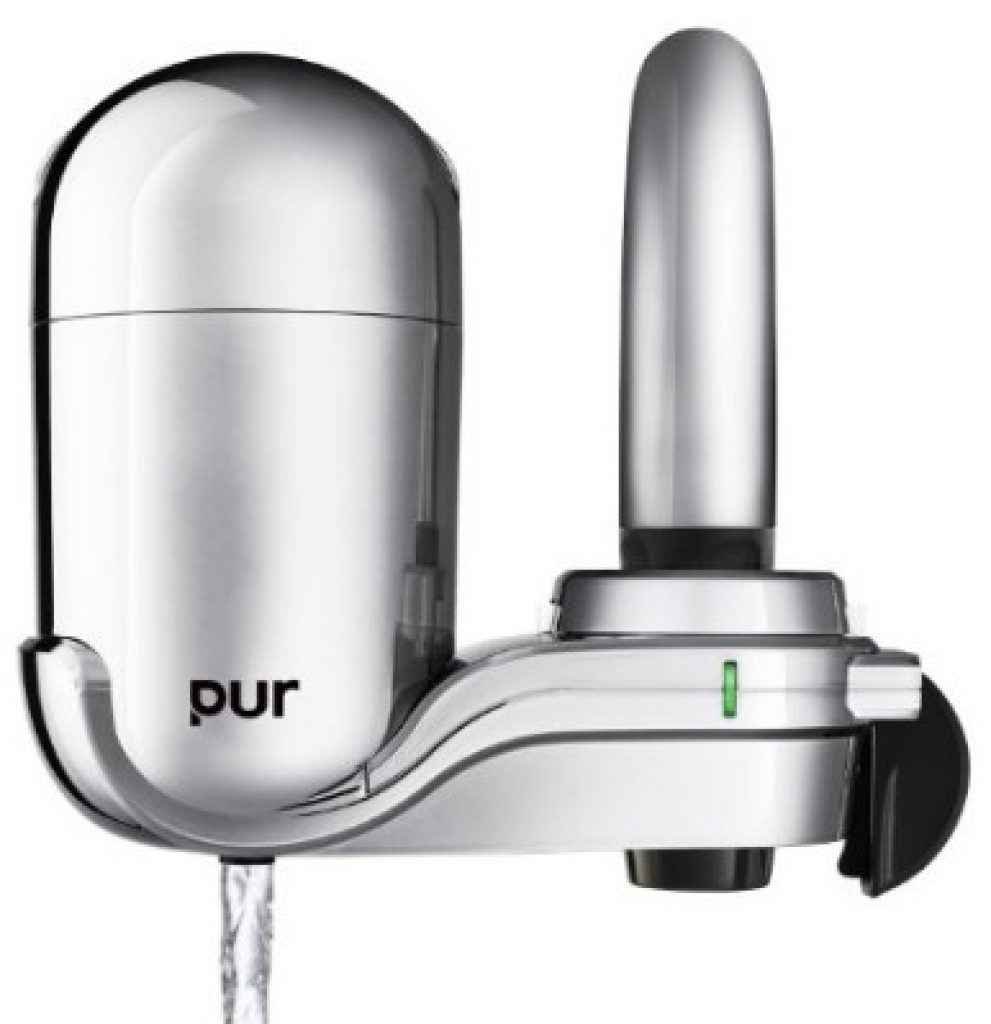 If you are worried about the quality of the water in your house, you should try using a faucet filter. These devices are very efficient in softening and sanitizing the water. There are many models for any budget and needs.
This PUR Faucet Water Filter removes over 70 most common pollutants such as pesticides, Lead, Mercury, and other harmful chemicals. The water will have a much better taste, and your state of health will improve greatly.