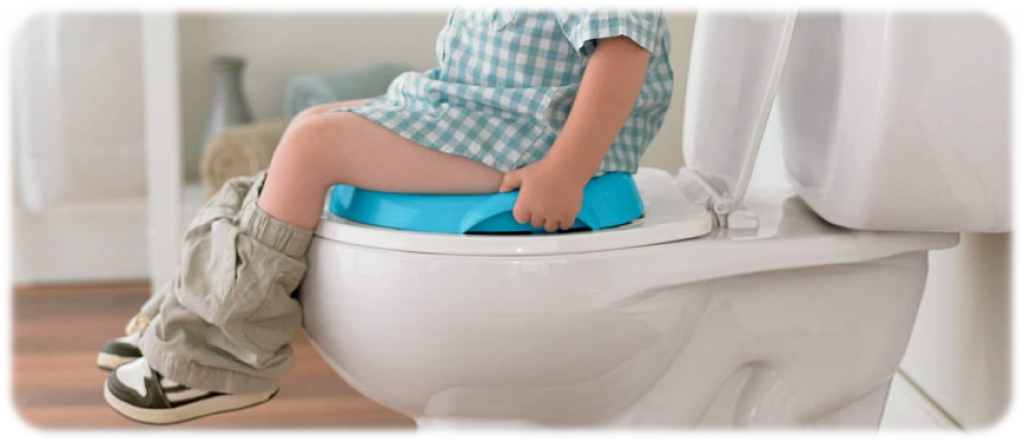 Potty training your child is seldom easy. You will have to spend hours trying to bring your child to use the potty. Once the child is sitting on the potty, you will have to find out different ways of how to keep them seated for at least a few minutes. If you want to learn some useful potty training tips, check out our article.
However, apart from certain skills, you will also need some potty training equipment. Most parents give preference to traditional potty chairs. However, there is another option when it comes to potty training – a potty training seat.
Potty training seats are designed for toddlers who are too big for a potty chair but are still small enough to fall into the toilet bowl. They are put on regular toilet seats to reduce their size and support children when sitting on the loo. They have just the right size and a contoured ergonomic shape to be comfortable for toddlers. Such seats have many names including seat reducer, toilet topper, potty ring, and toilet trainer.
Advantages and Disadvantages of Potty Training Seats
Trainer seats have some pros and cons compared to potty chairs. Let's have a closer look at them: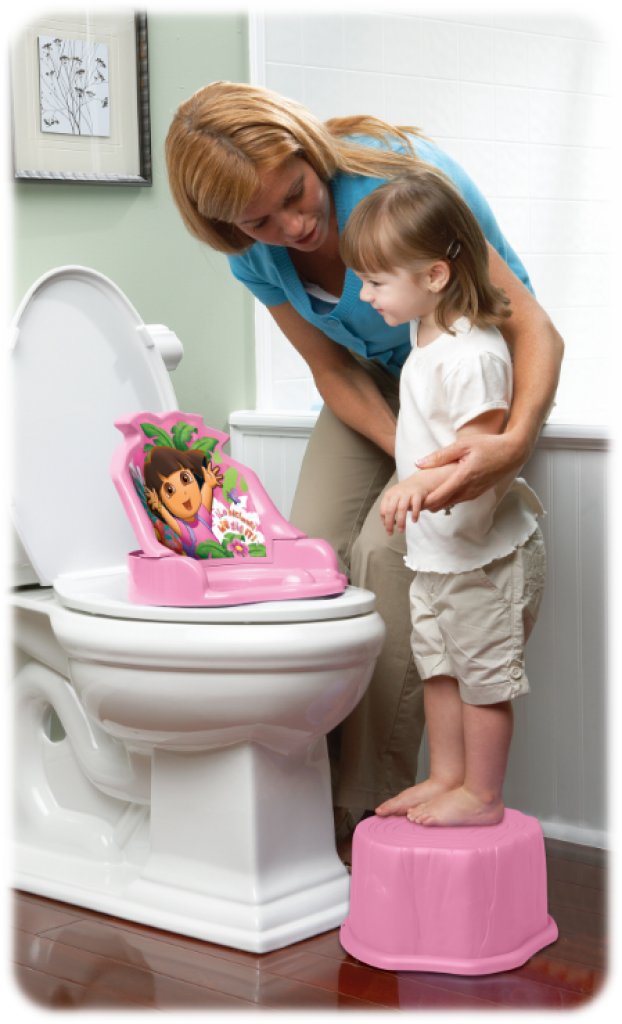 Pros:
It helps your child get used to the "grownups" toilet better than a potty chair.
It is the best option for tall toddlers.
It is portable, which allows you to take it along when traveling.
When the child is finished, all you have to do is take the seat away and flush the toilet. There is no need for cleaning as with potty chairs.
It is easy to store when not in use and does not create clutter in your home.
Cons:
Your child may be scared to sit on such a height.
The child will require your help to get on the toilet. Alternatively, you can purchase a stepstool to assist them.
You must not leave your child even for a moment as falling from the toilet can have serious consequences.
Top Five Best Potty Training Seats
This toilet insert for potty training comes with a ladder, so that you will not need to buy a stepstool separately. The sturdy construction of the stepstool will make your child comfortable and confident as they climb onto the toilet. This seat and stepstool set will make potty training much easier both for parents and for kids.
The Contoured Cushie Step Up from Mommy's Helper is easy to clean – just wipe it with a cloth and mild soap solution. This seat is designed to fit both round and elongated toilet bowls. The seat is padded, which makes it soft and comfy to sit on. The stepstool has non-slip handles to ensure safety.
Get this potty training seat on Amazon
---
This stylish potty seat has an ergonomic design, which makes it an excellent choice for those parents who want to make potty training as comfortable as possible for their child. It comes with the unique patented ComfySeat material to make potty experience enjoyable for your child.
This potty seat from Cozy Greens comes in a universal finish color that is great both for boys and for girls. Besides, it is very stylish, which makes it a nice addition to any bathroom. The seat has a non-slip surface for the utmost safety and a splashguard to prevent urine from spilling out of the bowl. It also has a hook and a suction cup for easy storage.
Get this potty training seat on Amazon
---
This comfortable potty seat will make potty training a breeze. It has everything to make the process as comfortable as possible. It fits both round and elongated toilet bowls, so you can purchase it no matter the shape of your bowl. The sturdy design of this seat will eliminate your child's fears off falling off the toilet.
The design of this potty seat from Munchkin has everything to make your child at ease when sitting on the toilet. A non-skid edge keeps the seat in place and prevents it from moving around the bowl. Easy-grip handles will offer safety and stability for the child. This seat is also easy to clean and store thanks to an integrated pee guard and feet to keep it standing when not in use.
Get this potty training seat on Amazon
---
As the name suggests, this potty seat is perfect for children. It can be used with most non-padded toilet sits. Its ergonomic shape is contoured specifically to be the most comfortable for toddlers. Two easy-grip handles on both sides of the seat will help your kid feel secure.
The Perfect Potty Ring from Fisher-Price will help your kid transition from diapers to the toilet with ease and comfort. It has an adjustable handle for a perfect fit on any toilet. This handle makes putting the seat on and removing it quick and easy. The contoured seat has a smooth surface that is easy to clean.
Get this potty training seat on Amazon
---
This one-piece potty trainer seat has a simple design and sturdy construction. It can be used starting at the age of 18 months. Its wide rubberized grip handles and a high pee shield make this seat comfortable both for kids and for parents. Kids can hold the handles for stability, and parents can forget about wiping urine off the bathroom floor thanks to the pee shield.
The Soft Grip trainer seat from The First Years can hold up to 50 pounds. Simple and affordable, this seat is a great option for those who are looking for a high-quality product yet do not want to spend too much money. There is a small hook on the back of the seat for hanging it when not in use.