Every homemaker knows how much time and effort it takes to keep the toilet immaculately clean. If your all-purpose cleaner cannot remove all the stains and buildup inside the bowl and around the rim no matter how hard you scrub, perhaps, it is time to try one of the best toilet cleaners?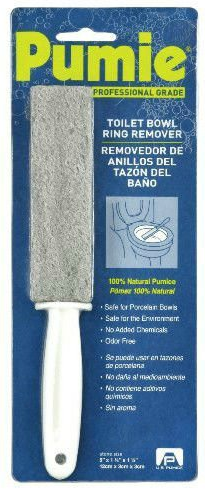 Cleaners designed specifically for toilet bowls contain components that disinfect the toilet, remove stains and odors. Most cleaners are chlorine-based; however, some of them contain other disinfectants, including natural ones. Apart from regular cleaners that are applied directly to the insides of the bowl, there are also so-called automatic toilet cleaners and automatic toilet cleaning systems. Automatic cleaners are chlorine-based tablets that are placed inside the tank. They clean the toilet with each flush. Automatic cleaning systems work in the same way. They are designed as refillable cartridges that contain cleaning and disinfecting products.
It is also important to use right cleaning tools. A toilet brush will help you do the job quickly and easily. Check out our reviews on the best toilet brushes that will help you achieve the best results. If you cannot get rid of the bowl ring, you might consider using a toilet pumice stone. And, if your toilet gets clogged, you can use one of the best toilet plungers to remove blockages from the drainpipe.
How to Choose the Best Toilet Bowl Cleaner
When choosing a cleaner for your toilet, it is important to remember the following things:
Efficiency. Make sure that the cleaner you purchase will do a fine job of removing any dirt from your toilet bowl. Check if it has any disinfectants and deodorizers in its formula. You can also read the reviews to learn the experience of other people with this product.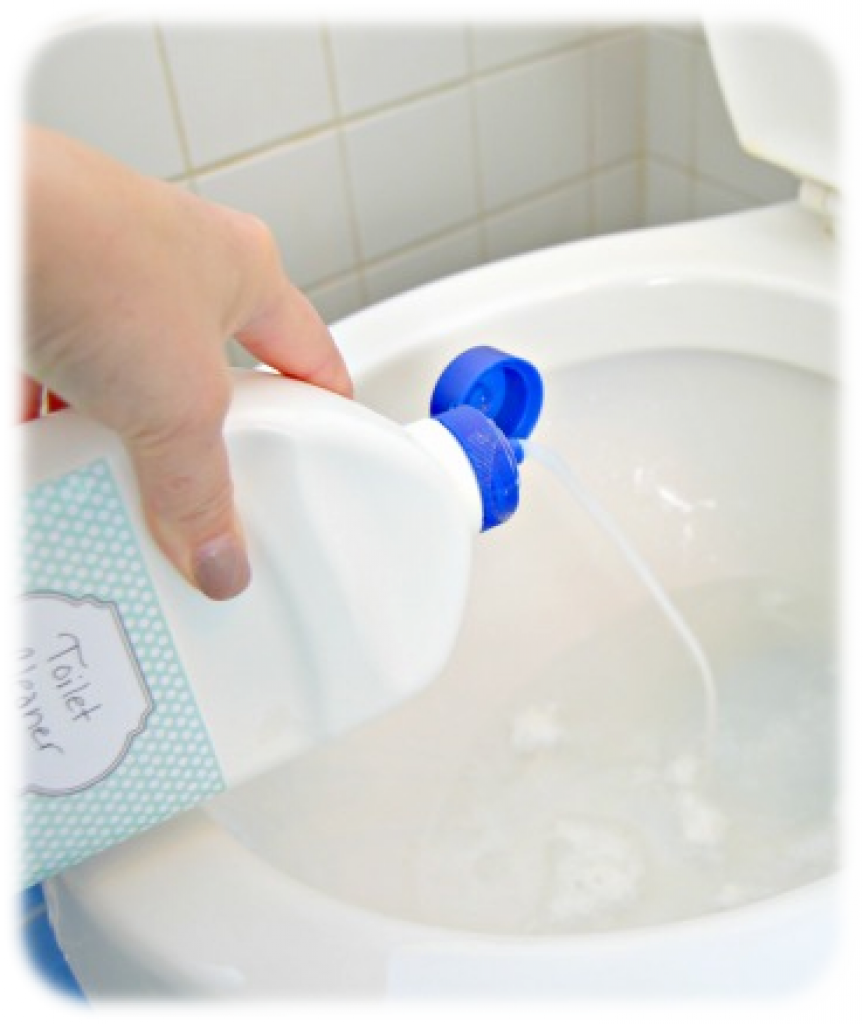 Safety. It is best to choose a cleaner with a mild formula. See that it contains no sulfates, harsh preservatives, efficient fragrances and colorants, as well as other ingredients that can be harmful to your health. Such precaution will let you avoid toilet bowl cleaners poisoning and other unpleasant consequences.
Eco-friendliness. If you care not just about your health, but about the environment as well, look for a natural toilet bowl cleaner. There are many products that are biodegradable and vegan. The production of such cleaners does not involve animal testing and their formula includes no animal byproducts.
If you are unsure if the cleaner you want to purchase will do no harm to you or our planet, you can make a homemade cleaner using only safe ingredients. You can simply mix equal parts of baking soda and vinegar or try one of the more complex recipes. For example, this DIY toilet bowl cleaner. Made of water, baking soda, castile soap, essential oils, and hydrogen peroxide, it is no-toxic and gentle on the skin, yet not so gentle on stains inside the toilet bowl. Moreover, it will give your toilet an amazing smell of essential oils.
Top Three Best Toilet Cleaners
This is one of the most efficient toilet cleaners available on the market today. Its bleach-based technology disinfects the toilet and kills 99,9% of germs that inhabit your toilet bowl. It comes in a convenient 24-ounce bottle with a wide dispensing nozzle that helps to apply the product under and around the rim of the bowl.
The toilet bowl cleaner from Clorox is non-abrasive, meaning it will not damage the delicate surface of the toilet bowl, despite the material it is made of. With the power of Clorox bleach, it will make tour toilet sparkling clean and safe for health. For sanitizing, leave the cleaner on the surface of the bowl for five minutes. If you want to disinfect the toilet, let it sit for ten minutes.
Follow this link to get this toilet cleaner on Amazon
---
This cleaner is a great option when it comes to disinfecting the toilet and removing unpleasant smells. It can prove very helpful for removing soil build-up, rust, limescale, and other common bathroom stains. Each bottle contains 32 ounces of the product. Its components are efficient at dissolving both organic and hard water stains.
The acidic toilet bowl cleaner from Zep Commercial has a deodorizing formula. It sticks to the inside of the toilet bowl, eliminating the reason of odors and preventing it from appearing. Please remember to wear protective gloves when you use this cleaner, as acids in its formula can damage your skin.
Follow this link to get this toilet cleaner on Amazon
---
This cleaner has a thick yet liquid formula that makes it cling to the surface of the bowl for better results. Its components are gentle enough to make sure that this cleaner will not harm plumbing or septic systems. Apart from making your toilet bowl immaculately clean, it will disinfect it and give it a fresh Country scent.
The Clean & Fresh toilet cleaner from Lysol will make your toilet safe for health. It kills 99,9% of viruses, infections, and other pathogenic microorganisms that can be found inside your toilet bowl. It works wonders in just a few moments. If you want to give your toilet a quick clean, you can leave the cleaner on the inside walls of the bowl for less than a minute.
Follow this link to get this toilet cleaner on Amazon
---
Top Three Best Natural Toilet Cleaners
This toilet cleaner is a great option for those who care about health and the environment. Its gentle yet potent formula proves efficient in removing dirt and bacteria from the toilet bowl. It has a nice herbal mint scent, fresh and natural, that will spread all over the bathroom.
The toilet bowl cleaner from Eco-Me is also a nice option for vegans as it is not tested on animals and contains no animal byproducts. Made of food-grade and plant-based ingredients, it contains no sulfates, dyes, or harsh preservatives, which makes it safe for use by anyone, even highly allergic individuals.
Follow this link to get this toilet cleaner on Amazon
---
This powerful cleaner with a harmless formula will remove dirt and grime even from the dirtiest toilet. It contains no artificial dyes or perfumes, no sulfates, formaldehyde, ammonia, triclosan, or NPE. Biodegradable and vegan, it is safe for septic systems and plumbing.
This eco-friendly toilet cleaner from Natural HomeLogic is available in two scents Citrus Grove and Jasmine Mint, both equally refreshing. It is scented with natural components only, such as essential oils and plant extracts. Citrus Grove contains Grapefruit essential oil, and Jasmine Mint comes with a blend of Jasmine and Ylang Ylang oils.
Follow this link to get this toilet cleaner on Amazon
---
This is another great cleaner that is safe for use thanks to its mild formula. Despite the fact that it contains no harsh components, it is touch on stains, hard water deposits, and other kinds of dirt that are commonly found on the inside surface of the toilet bowl.
Although this natural toilet cleaner from Seventh Generation contains no bleach, synthetic fragrances or dyes, it can still cause skin irritations. It can be used by vegans as it has been certified cruelty-free by the Leaping Bunny Organization (http://www.leapingbunny.org/). The plant-based formula of this cleaner removes stains from the toilet in a blink of an eye.
Follow this link to get this toilet cleaner on Amazon
---
Top Three Best Automatic Toilet Cleaners
This cleaner from one of the most famous producers of bleach-based cleaners will keep your toilet clean, and you will not even have to make any efforts. The pack includes four tablets that will clean and deodorize your toilet. One tablet lasts one month, meaning this pack will give you four months of cleanliness and freshness.
The automatic toilet cleaner from Clorox will help your toilet stay clean between cleanings and prevents the appearance of tough stains. Just put one tablet into the bowl, and each time you flush, it will bring the power of Clorox Bleach and leave a fresh Rain Clean scent.
Follow this link to get this toilet cleaner on Amazon
---
This automatic cleaner not just removes stains from the toilet bowl, but prevents their appearance in the first place. If you use it regularly, there will be no need for all that scrubbing once a week. One cartridge can offer four to six months of constant cleanliness, depending on how many flushes your toilet gets daily.
With this automatic toilet cleaning system from NeverScrub, your toilet will be cleaned and refreshed each time you push the flush button. With this cartridge filled with chlorine-based crystals, the bowl of the toilet will be free of stains and scum build-up, even under the rim.
Follow this link to get this toilet cleaner on Amazon
---
With this automatic cleaning cartridge, you will forget about all the rubbing and scrubbing you have to do to make the bowl of your toilet immaculate. Each cartridge lasts up to three months, after which it can be refilled. It comes with the OxiClean technology that removes even tough stains.
This scrub-free toilet cleaning system from Kaboom will keep your toilet bowl immaculately clean and shiny. Each flush sends OxiClean fighters from the tank into the bowl and lets them do their job there. Just attach the system to the tank, and you will have a continuously clean toilet without any efforts.