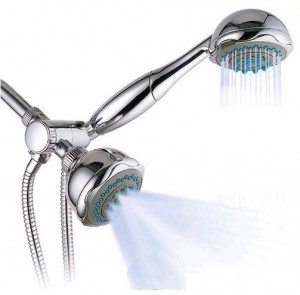 A double or dual showerhead system is a type of shower which has two different showerheads. When using this system, water flows independently from each showerhead. The average water flow of standard system is about 2.5 gallons per minute, but a dual system can double up this rate. Double system is an ideal type for couples who love showering together and a mother who wants to bathe her kids while she takes a bath at the same time. This feature makes it highly recognizable among many customers.
Look through our reviews to find the best dual shower head of 2018.
Benefits of Double Shower Heads
1. Extra water flow.
This design offers you twice the amount of water flow in an average system within a short period. This is ideal for individuals who'd wish to have a quick cold wash early in the morning as they are preparing for work. It has a stronger water flow and increased pressure with the 2 showerheads.
2. The best option for couples.
They are ideal for couples who love showering together. They provides a platform for intimacy between couples as they will connect more when washing each other and showering together. Couples also don't have to compete over water flow because each couple can use an individual showerhead. That makes it possible to share the showering area without having to get cramped together in order to place your body under the stream of water.
3. Shorten the duration of the shower.
If you wash alone or with a special someone, a double showerhead will minimize the time you spend showering. This construction offers twice as much water flow as an average showerhead, so you will not have to wait for your partner to finish taking a bath as you can do it together.
4. Offer more showering options.
Units comprising two showerheads are designed differently depending on the manufacturer. Some models come with both showerheads fixed, other double ssystems have one fixed showerhead and a handheld showerhead that can be used to wash hard-to-reach areas, such as the back. This system also has different spray patterns which you can use.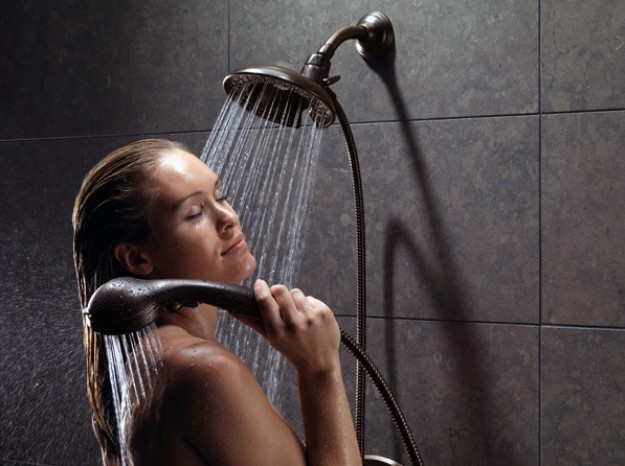 Features of Double Head System
Dual head systems feature two different showerheads that can be used either separately or simultaneously.
Such systems come with a showerhead that is not fixed to a shower arm or attached to the wall. It can be used for cleaning hardly-accessible areas of your body with minimal efforts.
Double showerheads can offer various spray patterns like mist, massage, rain, power-rain, water-saving economy rain, and more to choose from.
There are many types of dual/double showerhead system. Sometimes, making the right decision and choosing the best model can be a real challenge. Below are the best top 5 highly recommended double showerhead systems that are currently available on the market: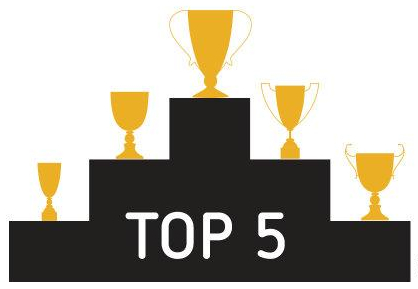 Top Five Best Dual Shower Heads 2018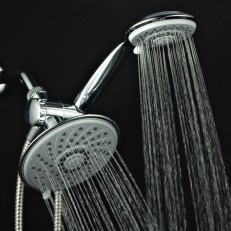 This system is highly recognized among various customers. It has 30 different full and combined water-flow patterns. It features a 6 setting 6-Inch rainfall showerhead and a 6 setting 4-Inch hand shower. The settings available on each showerhead include Massage / Rain, Mist / Rain, Hydrating Mist, Power-Rain, Pulsating Massage, and water-saving economy rain. It has a three-zone click lever dial with rub clean jets. This model comes with a three-way water diverter with a patented anti-swivel nut and the overhead bracket is angle adjustable. It also features a 5′ super-flexible stainless steel hose and conical brass hose nuts for easy hand-tightening. Interlink Products International promises a lifetime warranty for this system. Moreover, it comes for a reasonable price.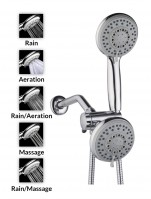 It features a three-way double showerhead system. Both showerheads have equal pressure and can be used at the same time or separately. This system features five settings—aeration, aeration / rain, massage, massage / rain, and rain. To direct the water flow, simply turn the diverter switch and to choose the desired spray setting by turning the dial. Installing it is very easy and does not require any tools, plus it has universal parts. The manufacturer (Interlink Products International) gives a lifetime warranty for this product.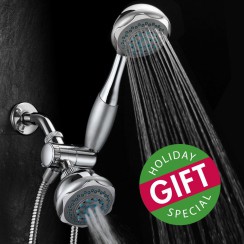 This system combines a five-setting high powered showerhead with a handheld shower. Each showerhead can be used separately or both can be used at once. This model allows you to pick from 24 full and incorporated water patterns. It features five settings: massage, massage / rain, mist, mist / rain and rain. It also features a four-inch face with rub clean jets, a three-zone click lever dial and a three-way water diverter that has a patented anti-swivel nut. The overhead bracket of Hydroluxe is angle adjustable. It also comes with a super-flexible stainless-steel hose and brass nuts. Installing this system is simple and requires no tools whatsoever.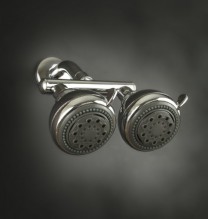 This dual showerhead system has two 3 position spray patterns. It fits all the standard showerhead arms. This model has magnificent and long lasting chrome finish arms. The rubber spray tips are simple to clean and always have the water flowing, you can enjoy a high pressured full blast showering then switch to a much softer and soothing spray. Neptune Dual Shower Head also includes a solid-brass double manifold, two 3-position showerheads that have an adjustable spray. It's the ultimate relaxing shower and has fascinating showerheads. The product has a lifetime warranty from Interlink Products International.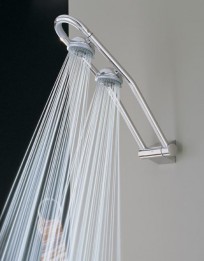 This model has two different showerheads and both come with a speed-clean anti-lime system. The outer showerhead has a normal spray pulsator and it is an Eco water-conserving spray. The inner shower, on the other hand, has a normal spray and pulsator. It also includes self-locking joints; once you have selected the desired position, it locks itself to stabilize it in its new position. To experience faster, intimate, and relaxed showering, make sure that you have a double head system installed in your house.