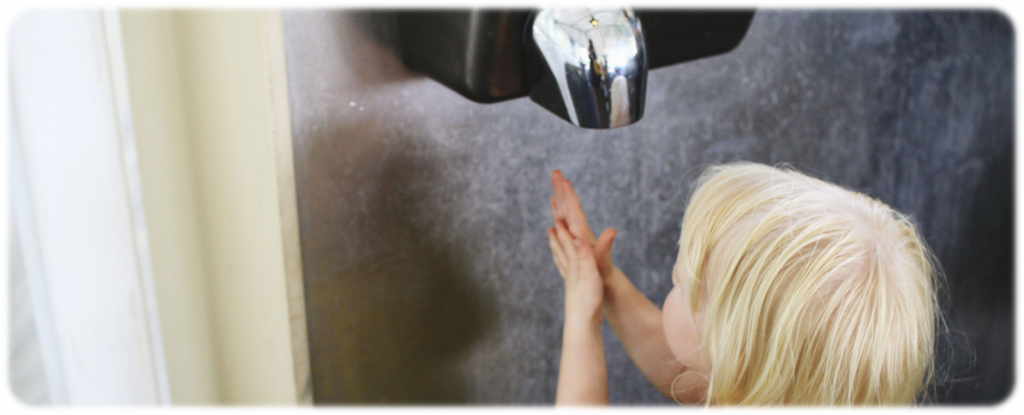 Washing your hands after using the toilet is a good habit that can help you avoid many health problems. No matter how hard you work to make your bathroom sterile, it is still a ripe area for germs and pathogenic bacteria. Hepatitis A, shigellosis, giardiasis, and gastroenteritis are just a few illnesses you can get if you do not wash your hands after bathroom. There are more information on the importance of washing your hands on the CDC website, if you are interested.
Naturally, after you have washed your hands, you want to dry them. Some people prefer towels, others use paper towels for this purpose. Another option is to use a hand dryer.
Until recently, hand dryers have been installed only in schools, offices, restaurants, sport stadiums, and other commercial buildings. Today, they are slowly but steadily becoming a common thing in many homes. Installing a hand dryer in your bathroom is a new trend that has been picked up by many people throughout the country. The design of hand dryers have changed considerably, turning these massive utilitarian machines into stylish units that will look great in any bathroom.
Choosing the best hand dryer for your bathroom can be quite difficult a task with such a variety of models available on the market today. Hopefully, our guidelines and reviews of five top hand dryers will help you to make the right choice.
How to Choose the Best Hand Dryer for Your Bathroom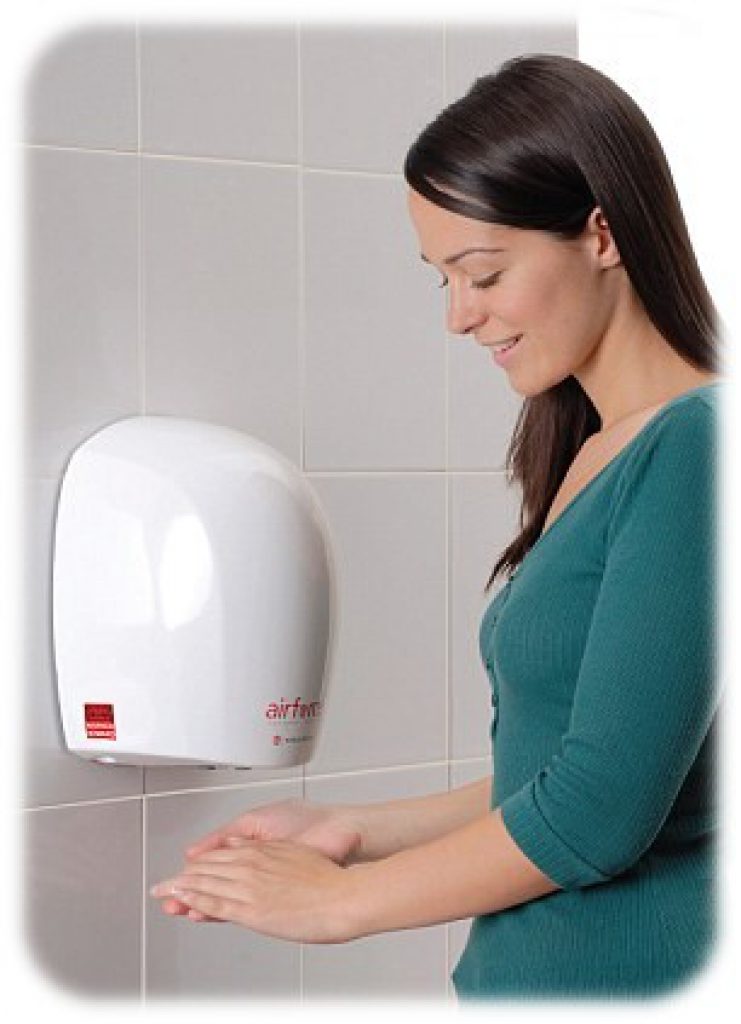 Speed. High-speed hand dryers are the most efficient. They offer the best result in the shortest amount of time. They are also energy efficient as they use low amounts of energy, allowing you to save some money on the bills.
Noise level. High-speed dryers have one major disadvantage – they produce a lot of noise. If quietness if one of your main concerns, it would be best to choose a standard-speed model.
Type. There are two types of hand dryers – traditional and automatic. Traditional models dryers can be started and shut down by pushing a button on the control panel. Automatic models come with sensors that react when you place your hands under the dryer or remove them, turning the unit on and off correspondingly.
Amount of traffic. High-speed automatic hand dryers are the best choice when it comes to energy-efficiency. There are also low energy dryers that use considerably less energy than other models – about 1.5 watts per dry.
Material. Make sure that the model you decide to purchase is made of high-quality materials that will ensure durability. Cast iron, cast aluminum, and stainless steel are among the materials that are commonly used to construct hand dryers for the bathroom.
Advantages of Hand Dryers
They are hygienic, especially compared to towels. Towels retain moisture and can develop harmful microorganisms if they are not dried thoroughly after each use. Towels are some of the most bacteria-ridden things in your home. Only washing them at high temperatures – 140-190 degrees F – can sterilize them, making them safe for use.
They can help you stay warm in winter. It is very pleasant to dry your hands with hot air, especially during cold winter months. Hot air proves very helpful for both removing excessive moisture from your hands and for keeping you warm and cozy.
They are cost-efficient. Hand dryers are much more budget-friendly than towels and paper towels. Although they might seem quite costly at first, they will help you save money in the long run.
Top Three Best Hand Dryers
The sleek design of this hand dryer will look great in any bathroom. It comes with a shell-shaped stainless steel body, sturdy and durable. Despite its steel construction, this unit is quite lightweight, just 9.92 pounds. It comes with a precise infrared sensor to ensure a perfect performance.
This hand dryer from TCBunny is 50% more energy efficient than other similar models on the market. It is a high-speed dryer that needs about 10-12 seconds to dry your hands. Thanks to the auto-stop function, it turns off automatically after 60 seconds if the hands are not removed by that time.
Follow this link to order this hand dryer on Amazon
---
This model comes with multiple advantages that can make your bathroom a much more comfortable place. This high-speed dryer comes with a special feature that makes it a much better option than its counterparts. Unlike most high-speed dryers, it has a noise reduction nozzle that offers quiet operation.
This hand dryer from Tek Motion is made of stainless steel to make sure that the unit does not rust in a humid bathroom environment. It comes with a durable finish that resists wear and tear and protects the unit from damage. Thanks to its motion-activation feature, this unit is highly sanitary, as you do not even need to touch it to turn it on.
Follow this link to order this hand dryer on Amazon
---
This stylish unit will bring a special charm to any bathroom and improve its functionality at the same time. It comes with an efficient heating element that uses low amounts of energy. Like most high-quality hand dryers, it is made of stainless steel with a stylish and durable finish.
This hand dryer from PENSON & CO is eco-friendly as it helps to conserve energy. Its construction does not include any materials that might harm the environment. Its other features include high-speed performance, auto on/off function, and comparatively low amount of noise.