If you've ever tried to shave in front of the best bathroom mirror just after a hot, steamy shower, you know just how indispensable bathroom fans are. Picking bathroom fans, however, is not as easy as it may seem. It's not only air movement that you have to look out for, but also power consumption and the level of noise. Here's a list of some of the best bathroom fans available today. Hopefully, our reviews will help you make up your mind and make the best choice at finding the most powerful bathroom exhaust fan.
Top Six Best Bathroom Fans 2018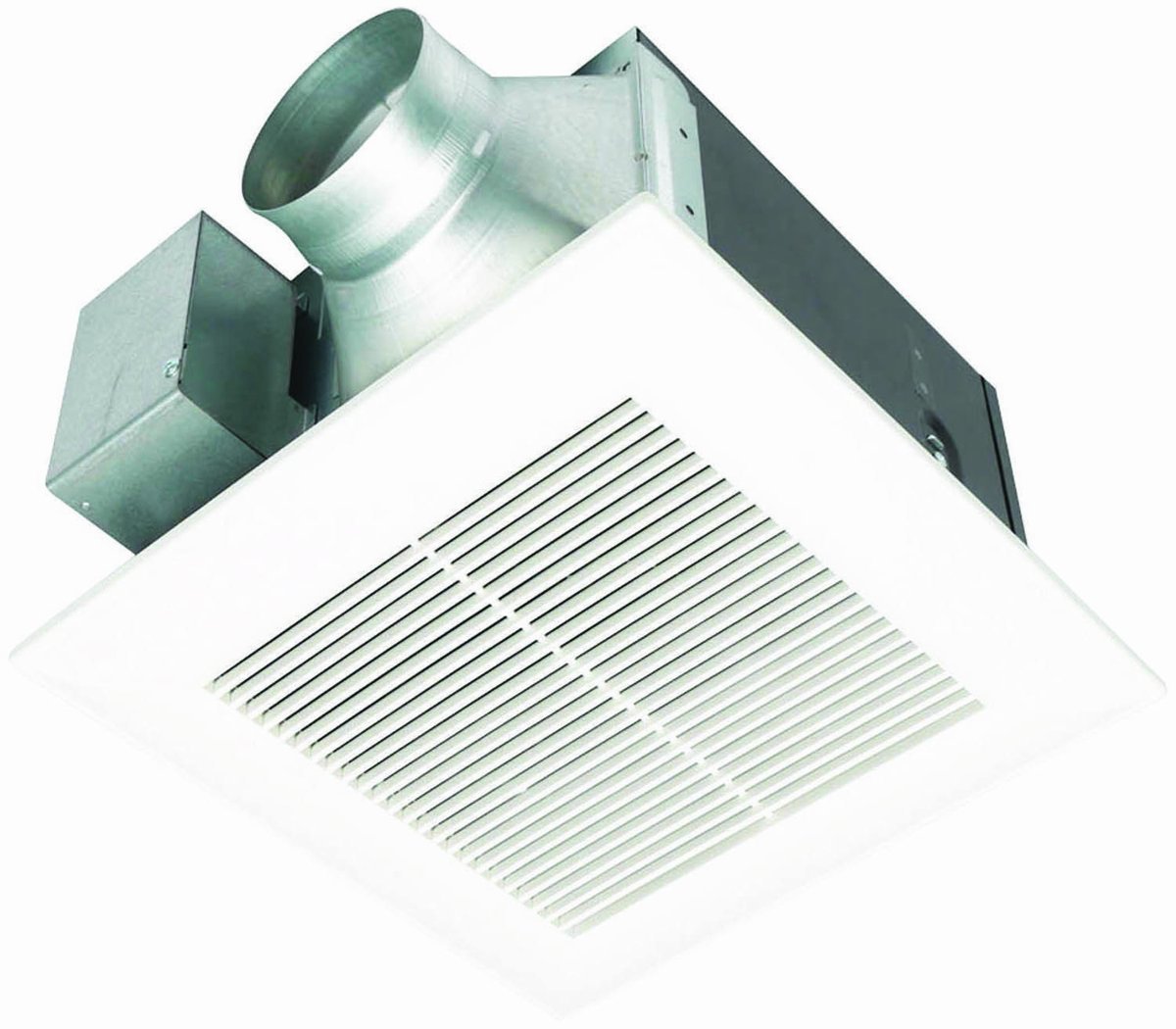 Part of Panasonic's quality line of Whisper Ceiling ventilation fans, the FV-11VQ5 is a quiet but powerful ventilation fan. Designed for prolonged use, they are also extremely energy-efficient and are a great long-term choice for your bathroom.
Features:
The FV-11VQ5 comes with a completely enclosed condenser motor and a double-tapered blower which helps to quietly circulate large volumes of air.
It has a power consumption unit of just 21.1W, making it highly energy-efficient and generating very little heat. As a result, they can be used over prolonged periods as there is little chance of overheating or motor failure.
The FV-11VQ5 offers plenty of options when it comes to installation. It comes with a double hanger bar system which helps with the positioning and also offers plenty of flexibility in terms of duct layout.
It is also Energy Star certified and meets its qualifications of high performance and efficiency.
Advantages:
Quiet as a whisper. It can keep running quietly in the background without so much as anyone noticing it. You can leave it running while getting on with your work.
Efficient air circulation. While quiet, it can push large volumes of air around the room.
It takes up as little power as 21.1 W to run, delivering a high performance while being highly energy efficient and less prone to overheating.
It is cost-effective. Low energy consumption allows these fans to perform effectively over long periods of time without breaking down and needing to be replaced.
Disadvantages:
The FV-11VQ5 is not exactly a cheap initial purchase. It is meant to last for longer periods and save up on further expenditure.
Installation instructions aren't very clear and it can take first-time users fairly long to set this up.
Check latest consumer reviews here!
---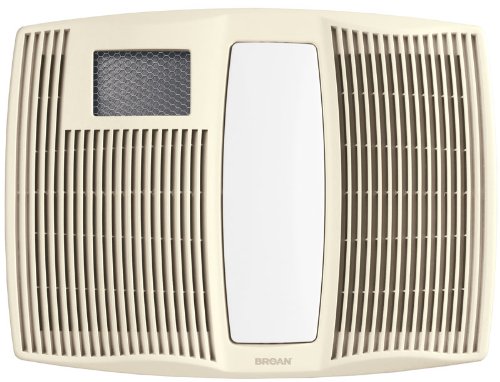 The Broan QTX110HL is a fantastic three-in-one combination of fan, heater, and lighting. Low on noise and high on performance, it takes care of mold and mildew while getting rid of excess moisture, adding warmth and comfort to your home.
Features:
The Broan QTX110HL comes with an extremely efficient 1500-watt heater that incorporates spot heating. Spot heating warms up only select portions of the house you need, such as the bathroom, instead of warming up the entire house.
The Broan QTX110HL comes with an extremely quiet but powerful fan, operating at 0.9 Sones but moving air at 110 CFM. The fan keeps your home dry and comfortable while being extremely efficient at getting rid of mold or mildew as well as allergens and dust.
Its 120 W lighting also comes with a night-time function, perfect for lighting up the bathroom during nightly visits.
The fan's motors are permanently lubricated, thus requiring little to no maintenance. The heater is also protected from thermal overload.
Advantages:
Spot heating is a fantastic energy-efficient alternative to central heating. You can choose to only heat up the bathroom when using it on a cold winter morning.
Powerful but quiet. The fan provides a powerful performance while operating at barely-audible sound levels.
No external venting. 100% of the electricity converted into heat is given back into the room.
Keeps the air free from contaminants such as allergens and dust, as well as volatile compounds from plywood, paint or adhesive.
Disadvantages:
It can wear off after prolonged use.
20 amp circuit required for installation which can be quite expensive.
Check latest consumer reviews here!
---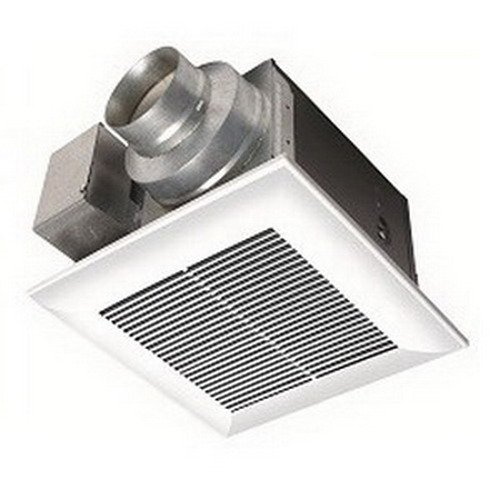 Another member of Panasonic's Whisper Ceiling family, the FV-08VQ5 is a sturdily constructed fan that can move air at 80 CFM while running quietly in the background. Energy efficient and easy on your electricity bill, the FV-08VQ5 is a quiet but efficient and powerful choice for your homes.
Features:
The FV-08VQ5 comes with a back-draft protection mechanism that prevents cold air from the outside from coming into your home.
It operates at a sound level of 0.3 Sones, while pushing the air at 80 CFM. It is designed to provide a high performance while quietly running in the background.
Adjustable set-up, with an extension bracket that runs up to 24 inches and double hanger bar system which helps with suitable positioning.
A condenser motor which is completely enclosed, thus capable of moving significant volumes of air while being able to provide continuous performance.
Advantages:
The FV-08VQ5 meets Energy Star qualifications and delivers a high-quality performance while saving up on energy consumption. Extremely quiet, operating at 0.3 Sone. Easily blends into the background.
Easy to set up and user-friendly instruction guide.
Provides long-term, efficient performance. Motor failure is rare with this fan's totally enclosed motor and low energy consumption.
Disadvantages:
Not as efficient performance-wise as other fans in the same series.
There are better fans in the same price range which deliver a more powerful performance.
Check latest consumer reviews here!
---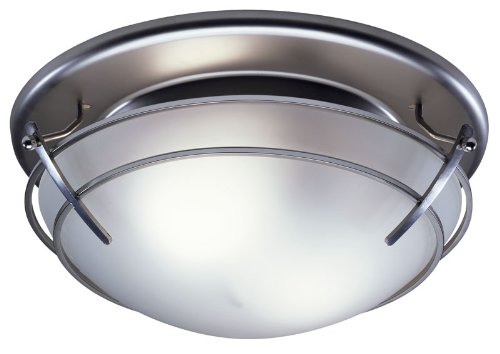 A fan and light combination, the Broan 757SN offers strong ventilation at 80 CFM as well as general lighting. With its attractive satin nickel design, the Broan 757SN is a fantastic choice to add some style and comfort to your bathroom.
Features:
Its frosted glass shade coupled with a satin nickel finish creates a beautiful, eye-catching design with a powerful performance.
It's solidly built with 26-gauge galvanized steel housing, offering long-term durability.
It can fit up to two candelabra-shaped bulbs — 60 W each.
Comes with mounting brackets offering easy, adjustable installation. It also comes with a plug-in and removable light unit.
Easy and simple connection due to its 4″ round duct attachment.
Advantages:
The Broan 757SN is stylish, modern and beautiful to look at, with its frosted-glass shade and satin nickel finish.
Strong ventilation at 80 CFM, capable of pulling out moisture and clearing out steam.
Installation is fairly simple with the mounting brackets allowing for easy adjustment and accuracy and a removable and plug-in light unit.
Ruggedly constructed, with 26-gauge galvanized steel housing, the Broan 757SN is highly durable.
Disadvantages:
Prone to rusting after prolonged use.
While the Broan 757SN does offer powerful ventilation, the fan is not very quiet and doesn't escape notice easily.
Check latest consumer reviews here!
---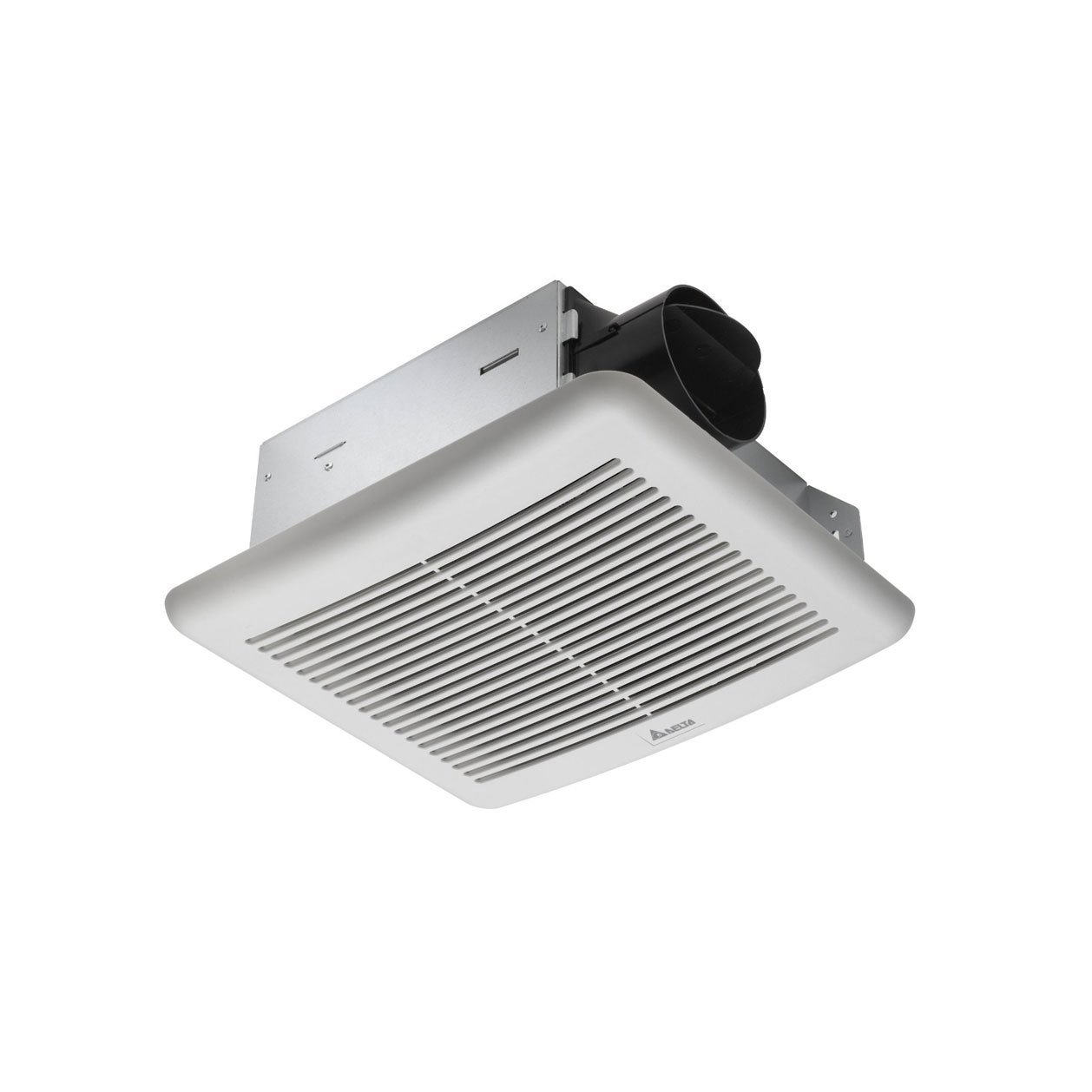 The Delta Breez SLM70 is a relatively inexpensive, quiet and energy-efficient solution for your ventilation woes. Small-sized and sturdy, this fan has plenty to add to the comfort of your bathroom.
Features:
At 7.5 in. x 7.25 in, it is the only Energy Star approved ventilator for its size.
Operates at 70 CFM, allowing it to ventilate even larger bathrooms.
Comes with an indicator light to let you know when the fan is running.
Its galvanized steel construction and a DC motor technology make for greater reliability.
Comes with a warranty period of 3 years.
Advantages:
It is one of the cheaper vent fans, especially compared to high range fans, yet it manages to deliver a solid performance.
Being the only Energy Star-approved vent fan in its size range, it has superior energy efficiency compared to other commonly used bath fans. It is also quieter than most fans in its range.
Sturdy and reliable due to its galvanized steel construction.
Disadvantages:
While quiet compared to similar fans in its range, it is not as quiet as most high range fans.
Lacks in performance and features compared to high range fans.
Check latest consumer reviews here!
---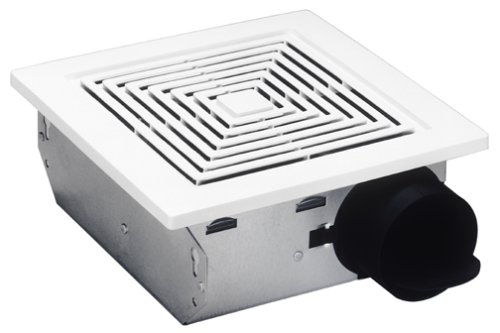 Inexpensive, compact and effective, the Broan Model 688 is a great bang for your buck. It can offer a high-end performance. If you have a smaller bathroom and you're looking for a solid and dependable vent fan while going easy on the wallet, then this is a perfect choice.
Features:
Ventilates at 50 CFM while maintaining sound levels of 4 Sones.
No extra tools required for mounting due to the polymeric torsion spring grille system.
Can be mounted on the ceiling or on the wall.
Long-lasting blower wheels, designed by Broan.
Advantages:
The Broan Model 688 is an ideal choice if you're running on a tight budget. It is one of the cheapest ventilators on the market, yet provides a decent performance for its price.
The Broan Model 688 is well-capable of moving air at moderate strengths making it a perfect fit for a small-sized bathroom.
Extremely easy to install, whether you are replacing and old fan or setting-up a new one.
Disadvantages:
The Broan Model 688 is not known for its quietness. Operating at 4 Sones, it may be too loud and noisy for some.
While great for smaller rooms, it is not so good with air circulation when it comes to larger rooms.
Check latest consumer reviews here!
---
Conclusion
There you have it, a list of the best bathroom fans available on the market. Hopefully, this list will have been useful in helping you decide which bathroom fan you need and which ones you don't. Good luck!
If you are looking for fresh ideas on how to make your bathroom more comfortable and bring some luxury into it, check out this list of useful blogs on Blogs Directory. You will surely find something that will meet your needs and your budget.