Finding a high-quality showerhead can be a difficult and time-consuming task. You should consider many factors and weigh many options before making up your mind. The material a showerhead is made from, its design, the sturdiness of its construction, and the price are among the main factors to pay attention to. However, there is another thing that influences the quality and the price of the product greatly. The name of the brand.
There are many brands on the market today. There are old brands dating back decades and even centuries and new ones that have appeared only recently. American Standard is among the oldest brands existing today. They have a reputation of a manufacturer that produces excellent-quality equipment for bathroom and kitchen.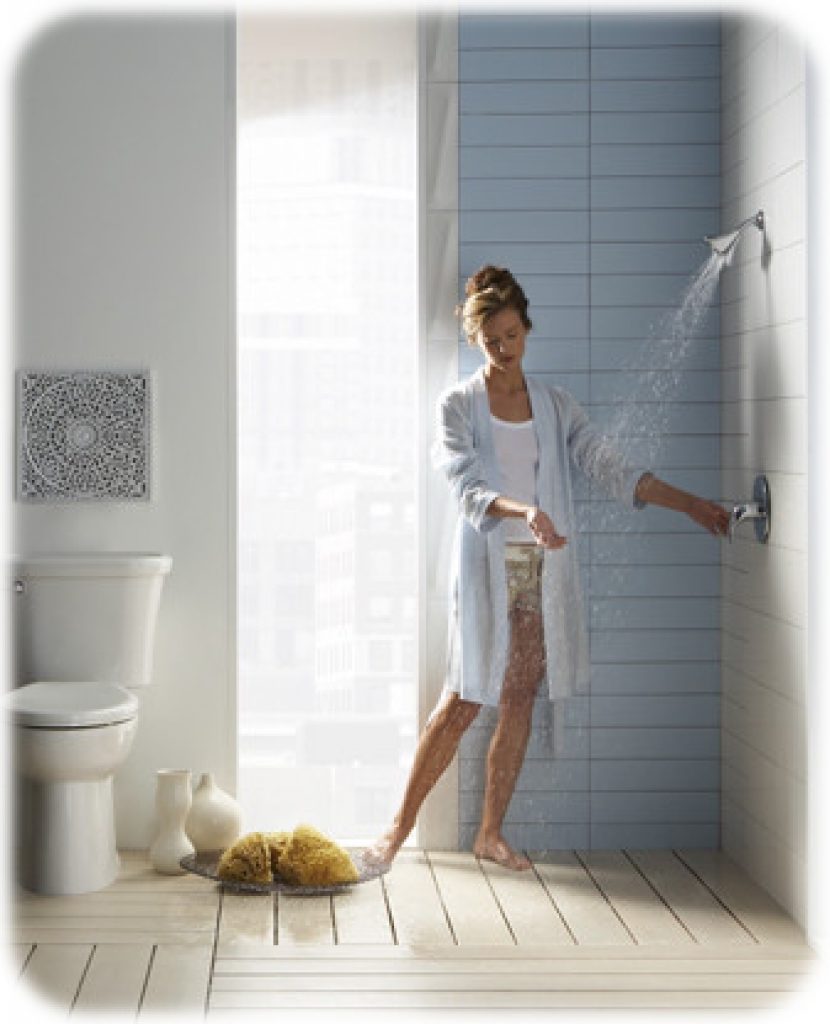 American Standard has been known as a producer of bath and kitchen fixtures for over 140 years. They make a special accent on wellness, sustainability, safety, and beautiful performance. Their products are among the best and receive only the highest ratings from the consumers.
American Standard works to provide the customers with innovative products and accessories for bathroom and kitchen. Their assortment includes toilets, toilet seats, bidets, multiple types of bathtubs, bathing systems, shower enclosures, shower doors, showerheads and faucets, bathroom sinks and faucets, bathroom vanities, and mirrors. That is just for the bathroom! Their line of kitchen products includes sinks, faucets, and such kitchen accessories as sink grid racks, mesh colanders, soap dishes, soap dispensers, sink mounting clips, sink drains, and more.
The History of American Standard
American Standard was started by John Bartlett Pierce, an American industrialist, in 1872. At first, the company entered the enamelware market, proving to be quite efficient at creating this kind of produce.
In the 1880s, Pierce and Bond, his business partner, widened their line of products and started manufacturing radiators and heating elements. After that, the company became even more successful and set up shops in the UK, France, Canada, and other countries around the globe.
One of the main events that made American Standard one of the leading brands on the market was the creation of acid resistant enamel. It allowed them to produce bathtubs with higher durability than any other manufacturer could offer. Throughout the 20th century, American Standard retained its position on the market, even after the crushing influence of the two world wars and the Great Depression between them. The brand was strengthened by the development of new high-technology products, such as the "push and pull" faucet and the skid resistant bathtub.
At the end of the 20th century, the brand made a great invention that was a real breakthrough for bathtub-making technology. This invention was Americast, a lightweight yet durable enameled alternative to cast iron.
The new millennium also brought an important innovation—the FloWise technology with the revolutionary flushing system. It is still used today to create the best toilets on the market. It offers a trouble-free flush, fast and powerful no matter what. Moreover, toilets from American Standard are considered an eco-friendly option as they use 20 percent less water than standard toilets from other brands.
Other useful inventions include the EasyTouch kitchen faucet, the Comfort Jets for whirlpool bathtubs, the EverClean surface for bath and kitchen fixtures, the Selectronic sensor for faucets and toilets, the Dual Flush toilet, and the EcoSilent whirlpool system.
Today, American Standard is the giant among the bath and kitchen brands. Their produce comprises countless lines of goods presented in various collections so that every customer will be satisfied with their purchase.
Kohler VS American Standard

When it comes to kitchen and bath fixtures, Kohler is one of the main rivals of American Standard. Both companies were founded in the 1870s. Since then, American Standard and Kohler have earned a reputation of professionals that know their job like no one else.
Among other bathroom fixtures, both brands produce showerheads that can offer a perfect fault-free performance for many years. Of course, each of the brands has unique methods and technologies allowing them to produce high-end products unlike any others.
Kohler is known for their special attention to style. Their showerheads come with sleek and elegant designs and shiny modern finishes. At the same time, their design is simple and minimalist, making showerheads from Kohler a good match for a bathroom of any décor. Of course, design is not their only concern. Kohler creates great multifunction showerheads to meet the needs of even the most demanding customers.
American Standard cares about the design, too. Yet, their main attention is on the functionality and the practicality. Almost all of their showerheads come with the EasyClean technology and an ergonomic design for the utmost comfort of use. Most of the models are adjustable so that you can position the showerhead to your liking. They come with several spray modes for a genuinely luxurious showering experience.
Top Five American Standard Shower Heads Reviews
This showerhead will turn your shower into a rainfall. It is very wide to offer the perfect coverage and allow you to enjoy the sensations to the fullest. You can choose a gentle rainfall with relaxing drops caressing your whole body or a steady downpour that will invigorate you from head to toe.
The Modern Rain showerhead is made of rustproof brass and comes with a sturdy construction for extra durability. It has a simplistic yet modern design that will complement the décor of any bathroom. It comes in two finish colors, polished chrome and satin nickel. This is the most expensive shower head from American Standard.
Get this shower head on Amazon
---
This exclusive showerhead will bring functionality to any shower. It comes with a unique turbine spray mode with FloWise technology to offer a truly invigorating shower and help to conserve considerable amounts of water—up to 40%—at the same time. Apart from the turbine mode, it comes with two more spray functions: full spray and combination spray.
The FloWise showerhead can be easily positioned at any convenient angle thanks to its highly adjustable design. Such an ergonomic construction makes this showerhead a nice option for people of any height and build. The transitional style of this model will bring a fresh accent into any bathroom.
Get this shower head on Amazon
---
This multi-function rain showerhead can take showering to a new level. Each time you take a shower, you can decide which water supply mode will serve you best on any given day—a soothing Gentle Rain, a rejuvenating Hard Rain, or a stimulating Massage spray.
Like many products from American Standard, the Three Function showerhead comes with the patented EasyClean technology. The 4 ¾-inch spray face of the unit comes with a unique additive that keeps the surface from becoming dirty and makes cleaning the showerhead easier than ever.
Get this shower head on Amazon
---
This model will be a great choice for those who prefer a handheld shower to a fixed showerhead. It comes with a unique construction for the utmost comfort in the shower. The head of the unit is extra-large compared to other handheld showers—5 inches—to offer a thorough cleaning.
The Handheld showerhead comes with a five-foot flexible hose so that you can bring it close to any area of your body. It is easy to install and can be mounted on a shower arm, if you wish. Its plated face comes with separate nozzles for three different spray settings. It comes with a stylish brushed nickel finish and a versatile transitional design.
Get this shower head on Amazon
---
This is a standard showerhead with the most basic design. This single-function unit comes with just one spray setting. The showerhead is complemented by a cast brass shower arm, sturdy and durable. This model will be a great choice for people with minimalist needs or with a limited budget.
As the name suggests, the EasyClean showerhead comes with the American Standard EasyClean technology to prevent the dirt, rust, and hard water deposits from setting on the surface of the unit. This model comes with a standard water flow rate, 2.5 gallons per minute.
Get this shower head on Amazon