If you enjoy going camping to wild places or cannot imagine your life without long boat trips, then you are familiar with a problem of having no toilet nearby. If you are an active person and like different outdoor recreational activities, a porta potty is a necessity for you.
Portable toilets come in a variety of sizes and designs. There are simple models with the most basic design comprising a bucket with a seat and lid, as well as models with a more complicated design that come with two tanks – one for waste and one for fresh water – and a flushing system. The size of the tanks may vary, as well as other features.
Look through our guide to find out the advantages of portable toilets. Hopefully, our reviews will help you find the best porta potty on the market.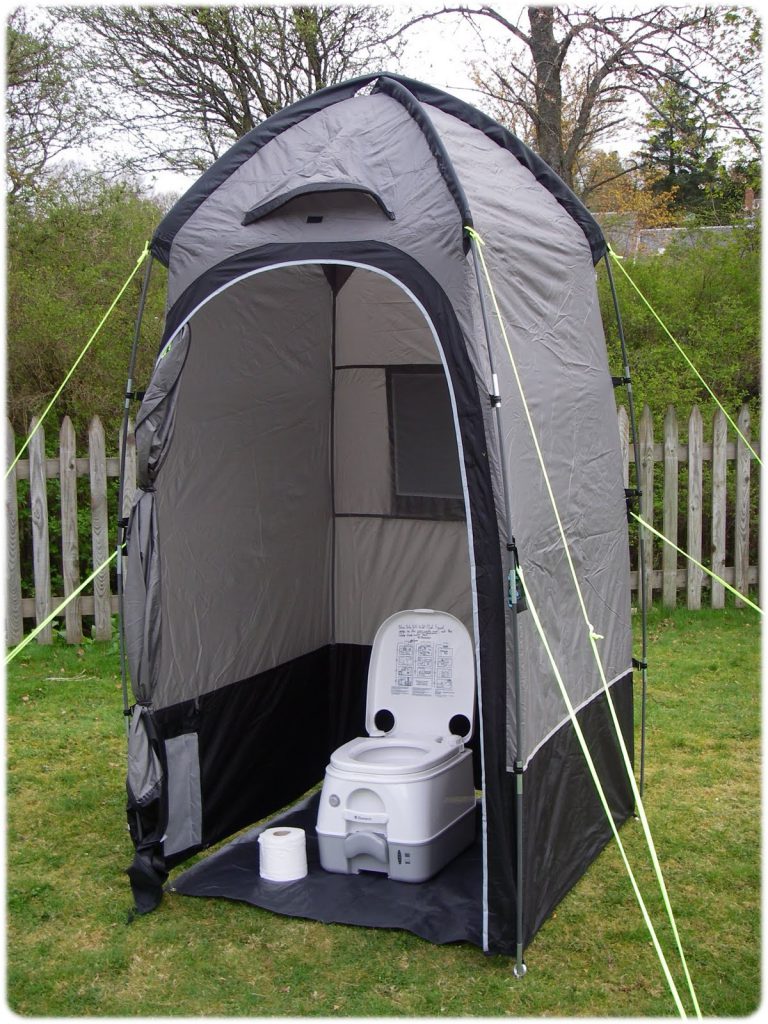 Advantages of Portable Toilets
Convenience. Porta potties can make camping, boating, and other outdoor recreational activities much more comfortable. You will not need to look for a place where you can relieve yourself.
Easy cleaning. Most portable toilets come with detachable waste tanks that can be emptied without effort. For models that come with a bucket instead of a waste tank, there is always an option of choosing a waste bag. In fact, this will allow you to dispose of waste without any mess.
How to Choose the Best Portable Toilet
Quality. Choosing a portable toilet for your family, make sure that it is made only of high-quality materials. It will be very helpful to read reviews before purchasing any model to see if it has any disadvantages or weak points. If the model you choose comes with a flushing system, make sure that it works efficiently.
Price. The average price of a good porta potty is about $50. However, there are models that cost three times as much. Conversely, if you are on a budget, you can find a portable toilet for less than $20. As you can see, there are options for any pocket.
Portability. Make sure that the model you choose is portable. It should be compact and lightweight. It will also be great if it has an integrated handle for easy carrying. Most models are made of light plastic or polyurethane to minimize the weight of the units.
Waste bag or tank. Some models come with waste tanks. Other units come with baskets and require special bags to make the disposal of waste easy and mess-free. Choosing a portable toilet, you should take into consideration the size of the tank or bucket. Your choice should depend on the number of users. The most common are 2.6- and 5.3-gallon tanks.
Top Five Best Portable Toilets
This comfortable unit is one of the best portable toilets you can find today. Unlike most similar models that look strictly utilitarian, this model has a stylish and modern design. Made of thick and durable plastic, it comes with a sleek white finish that makes the unit even more elegant. It is a perfect choice for recreational vehicles, boats, and camping.
The Porta Potti from Thetford comes with many advantages. It has an ergonomic seat with a comfortable height and a large bowl. A part from that, its design comprises a built-in toilet paper holder. This unit has another great feature – it is flushable. It has hidden flush controls that require batteries to work. This model has two tanks – one for fresh water (with the capacity of 4 gallons) and one for waste (capable of holding 5.5 gallons).
Click here to check current price and comments of consumers
---
This model is available in two variants – Standard and Premium. You can also choose the waste tank capacity – 2.6 or 5.3 gallons. The tank is detachable to make emptying it quick and easy. This model is designed specifically for such recreational activities as camping, boating, and RVing. Made of thick polyethylene, it is lightweight yet durable.
Apart from the waste tank, this portable toilet from Camco comes with a 2.5-gallon tank that contains fresh water for flushing. Thanks to the sturdy construction, this unit is capable of supporting up to 330 pounds. The waste tank has a sealing slide valve to eliminate leakages and prevent the odors from spreading. This toilet comes with integrated handles for easy carrying.
Click here to check current price and comments of consumers
---
Just like with the previous model, with this portable toilet you can choose out of two waste tank sizes – 2.6 or 5.3 gallons. This toilet comes in a khaki green finish color to mask any staining from frequent usage and help the surface retain a presentable look. This unit does not require any external connections for efficient work.
This portable toilet from PARTYSAVING comes with a spacious tank that holds water for flushing. The water reservoir is secured to the waste reservoir with the help of clamps and latches. A built-in handle makes transportation easier than ever. The dimensions of the seat post are 14×14 inches –large enough to be comfortable for users of different build.
Click here to check current price and comments of consumers
---
This portable toilet is a great option for those who are looking for a simple yet high-quality model. Its construction contains a removable inner bucket for waste disposal, a comfortable and ergonomic contoured seat, and an inner splash cover that holds the odors inside. The cover has a built-in toilet paper holder.
With the weight of 5 pounds, the Hassock toilet from Reliance Products is lightweight and portable. Its dimensions are 14.7 x 14.7 x 154 inches, rather compact. This model is a great option for boating and camping. It comes complemented with one Eco-Fresh packet, which is a nice extra.
Click here to check current price and comments of consumers
---
This simple model is a great option for people with a limited budget. It is one of the most affordable options available on the market today. It has a simplistic design without any additional features. Its construction includes a bucket with a hinged seat and a snap-on lid. The capacity of the bucket is 5 gallons.
To make using the Luggable Loo from Reliance Products more comfortable, you might consider purchasing these Double Doodie Toilet Waste Bags. Just put one bag inside the bucket before using it for the first time. When the bucket is full, just take out the bag and zip it up for no-mess waste disposal.
Click here to check current price and comments of consumers
---
In Addition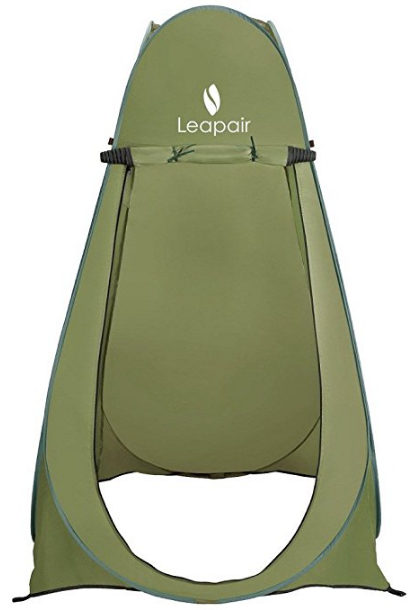 If you want to create all the conditions to make using your portable toilet as comfortable as possible, you should consider purchasing one of the best portable toilet tents. They will help you create a private place where you can put your portable toilet. You can also use such a tent to change clothes or as an enclosure for a camp shower.
Check out this Pop-Up Shower Tent From Leapair. Easy to set up and collapse, this lightweight tent is a great option for an outdoor portable toilet. It is made of a flexible steel frame and a waterproof polyester cover. Its sturdy open-bottom design makes the construction strong and stable. The tent comes with a zipped door for easy access. It also has a small window to ensure good circulation. This model is available in neutral green color that looks especially nice outdoors.