We all use different showering accessories that help us get clean and exfoliate the body. Best bath sponges, both natural and synthetic, gently massage the skin and offer mild exfoliation for sensitive skin. Best bath brushes are a nice choice for those who want to experience a harsh rub and remove dead skin cells from the body. Another option is to use a loofah.
Loofah, or luffa, is a plant from the cucumber family. Its fruits are edible and are part of many traditional meals in Botswana, Vietnam, Japan, Korea, and many other countries. However, they can be used as food only when green. If they are left to ripen fully, their skins will gradually turn dry and fall off, and the stems will become yellowish and rough. These stems are used as natural scrubbing tools for bathing, showering, and dry skin exfoliation.
When it comes to bath sponges, loofah is the most eco-friendly option. Loofahs are sustainable compared to sea sponges, as they come from a plant that can be re-grown. They are better for the environment and health compared to synthetic bath poufs, as they do not contain any antibacterial toxic agents such as triclosan.
Loofahs come in different shapes and designs. There are loofah mitts, loofahs with handles, long back scrubs and small scrubs for face and body with a fabric lining and strings or straps for convenient use and storage, or just natural loofahs without any additions or modifications.
Benefits of Using a Loofah
Thorough cleaning. Loofahs prove very helpful in creating a lot of rich lather. They do this job much better than bath sponges (link) and body brushes (link), offering effective cleaning for your body.
Deep exfoliation. Used either wet or dry, loofahs are very efficient when it comes to removing dead skin cells. Their fibers have a naturally rough texture that offers full exfoliation, leaving your skin smooth and invigorated.
Improved blood circulation. Using a loofah regularly expands the blood vessels and promotes better blood circulation, which can offer multiple health benefits and greatly improve your general well-being.
Increased cellular activity. Massaging the body with a loofah positively affects the condition of the skin by improving metabolic processes in the cells. Better cell metabolism helps to fight cellulite and even postpone skin aging.
How to Exfoliate with a Loofah
Loofahs are great natural exfoliators. They are quite rough, which makes them perfect for removing dead skin cells. Loofahs can be used both for dry and wet exfoliation.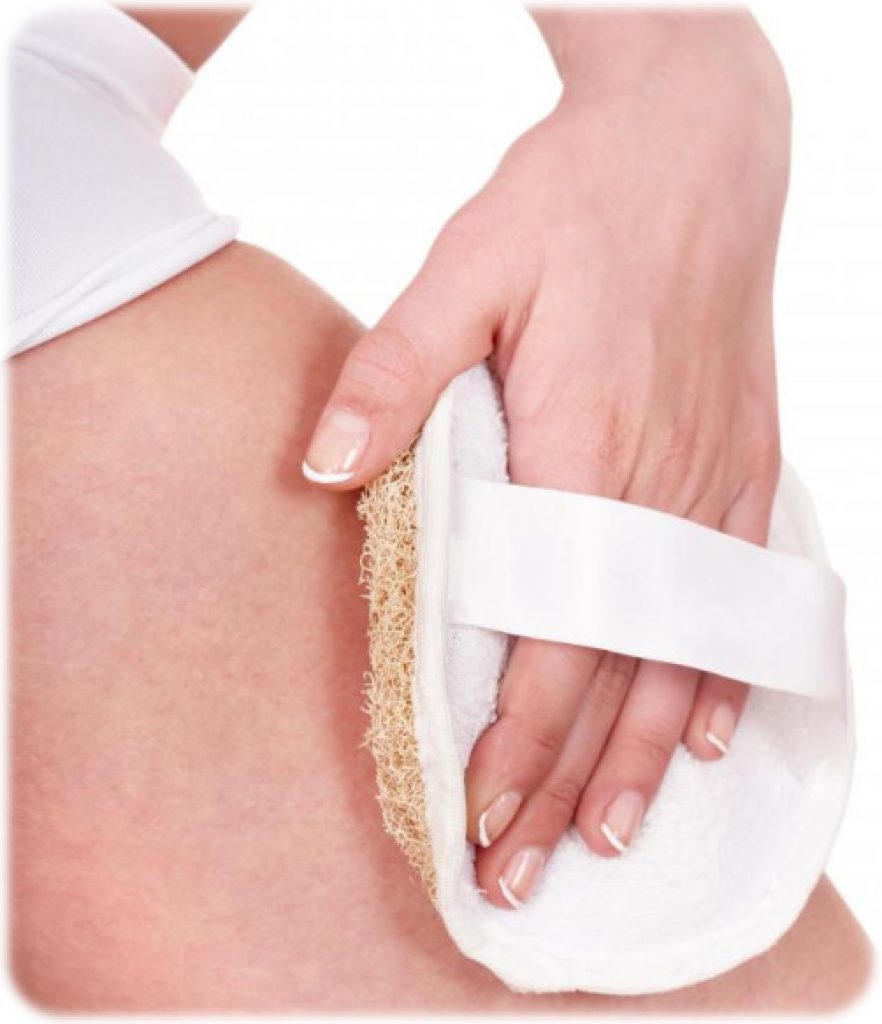 Dry exfoliation with a loofah is a real lifesaver if you suffer from ingrown hairs. The layer of dead cells prevents hairs from coming through the skin. Instead, they curl around and grow inwards, causing irritation and painful red bumps on the skin. Exfoliation can help to solve this problem, as it removes the dead cells and clears the way for hairs.
If you epilate or wax the hair off, exfoliate each time before removing the hair. If you use a razor to shave unwanted hair off, it is advisable to exfoliate a few hours after a shave. Please remember to moisturize the skin after exfoliation. You can use essential oils to offer multiple health and beauty benefits for your skin.
For wet exfoliation, just use the loofah as a usual bath sponge. Get into the shower and stand under warm water for at least five minutes—it will soften the skin and make exfoliation easier. Then make the loofah wet, put some body wash on it, and scrub from head to toe, paying special attention to elbows and knees. Use gentle circular movements and do not press too hard, as being overzealous might damage the skin. After you are finished, rinse yourself and the loofah to wash away the remaining skin cells. Again, do not forget to moisturize the body after exfoliation.
Top Five Best Shower Loofah
This loofah will make showering much more comfortable. You will no longer need to bend at unnatural angles in order to give your back a good scrub. It is also great for cleaning the neck, shoulders, feet, and other hard-to-reach areas of the body. It comes with two rope handles for extra comfort of use.
Coming with one side made of natural loofah and the other of ultra-soft cotton, this back scrubber from Voda Reve is great both for cleansing and for exfoliation. The size of this loofah is 4×30 inches, large enough for men and women of any build. This scrubber with a sturdy design will serve you for a long time if you care for it properly.
Check the price for this loofah on Amazon
---
This pack includes four exfoliation pads made of natural loofah with a plush terrycloth lining. Their design also comprises an elastic band, which allows putting a pad on the hand for the convenience of use and thorough cleaning. These loofahs can be used both for face and body exfoliation, and they are great for fighting acne.
Apart from four loofah pads, this set from Bergman Kelly includes two rust-fee hooks with suction cups. You can attach them to the wall to dry and store the loofahs. These high-quality exfoliation pads are made of durable materials that will maintain their properties as long as you remember to dry the loofahs after each use and clean them regularly.
Check the price for this loofah on Amazon
---
These loofahs will be a great choice if you are looking for simplicity and naturalness. The set includes six pieces of loofah, each with the dimensions of about 4x2x2 inches, although they may vary slightly. Such ergonomic design allows the loofah to fit into a hand of any size comfortably. This six-piece set is a nice option for those who have a large family, as everyone will get a loofa of their own.
These loofahs from Spa Destinations can offer an invigorating experience for your skin, as well as multiple beauty and health benefits. They are rough enough to exfoliate all the areas of the body efficiently, including the hard skin on the knees, elbows, and soles of the feet. This set is a great choice for those who want to get six high-quality natural loofahs for a reasonable price.
Check the price for this loofah on Amazon
---
The design of this loofah comprises a 3"x5" scrubber made of all-natural plant fibers for deep exfoliation, a 16" wooden handle for convenient use, and a sturdy hanger loop for easy drying and storage. The loofah is large enough to make your skin silky smooth and radiant from head to toe.
This back and body scrubber from Nice & Nature is great for cleansing the body, exfoliating the skin, and improving the blood circulation. Use it regularly, and you will see positive changes in the condition of the skin and the state of health in general. Please remember to follow the maintenance rules in order to benefit from exfoliation, not harm yourself by exposing the skin to pathogenic bacteria.
Check the price for this loofah on Amazon
---
These exfoliation mitts are very convenient. With them, you will not need to grip any handles or loops, or squeeze a loofa in your palm. Just slip your hand into a mitt, and discover all the benefits of washing and exfoliation with a natural loofah. They can prove very helpful for clearing acne, reducing blemishes, and easing the symptoms of other health conditions.
These loofah mitts from Wicked Health and Beauty are eco-friendly, hypoallergenic, and cruelty-free. They come without any coatings and contain no chemicals. The mitts are large enough—the length is 8" and the width is 6"—to match most men and women. Each mitt comes with sturdy stitching along all edges for extra durability, and a loop for drying. A hook is also included in the set.
Check the price for this loofah on Amazon
---
Tips on Loofah Maintenance
Loofahs have multiple advantages over other bath scrubs. However, they have one disadvantage—they are a ripe area for the development of germs and bacteria. Loofahs themselves are hygienic, although they can become a real plague spot if they are not cared for properly.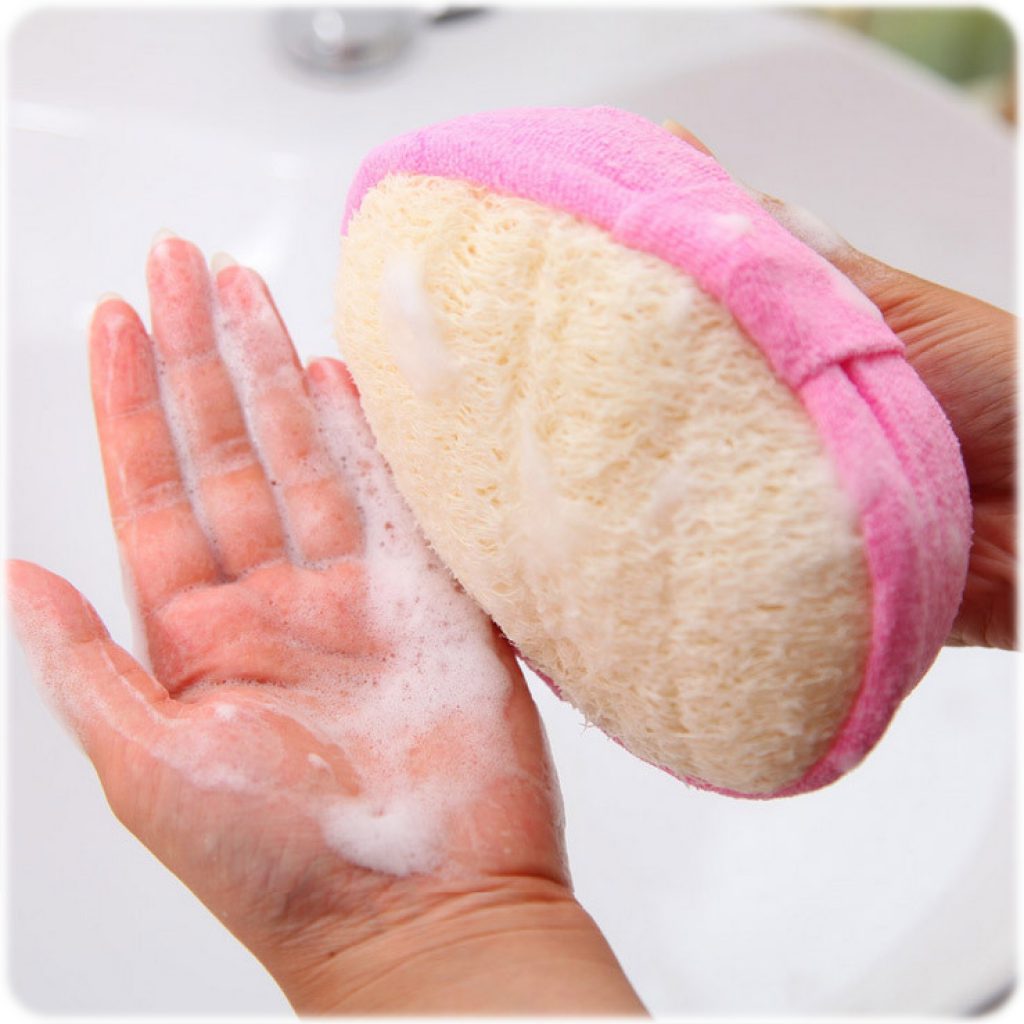 When you use a loofah to exfoliate, the skin cells get trapped between the fibers and stay there if you do not wash it thoroughly. This organic matter offers a real feast for pathogenic microorganisms common in a humid and poorly ventilated bathroom environment. The next time you take the loofah, those bacteria will get onto your skin and might cause different problems, from minor irritations to serious infections. You can find more information about what might be growing on your loofah on the Cleveland Clinic website, if you are interested.
To prevent any unpleasant consequences, please follow these simple maintenance rules:
Wash it thoroughly after each use to rinse off all the dead skin cells.
Hang it to dry in a place with a good airflow. You can also place it outside to dry in the sun, or put it on the radiator.
Do not keep your loofah in the bathroom between uses, as it will absorb any moisture from the air and begin to hoard bacteria.
Bleach the loofah once a week. Alternatively, you may use a 50/50 vinegar and water solution for disinfection.
You can kill the bacteria by microwaving the loofah for a minute of two.
Replace the loofah every three to four weeks, or more frequently if you notice any mold, change of texture, or unpleasant smell.