When it comes to the bathroom, safety is one of the most important issues. With slippery surfaces and moisture all over the place, the probability of a fall and injury – often fatal – is quite high. Bathrooms usually have very little space and a lot of hard surfaces that you can hit if you fall. According to the Centers for Disease Control and Prevention, one out of five falls causes serious injuries. Traumatic head injuries and fractured bones are the most common when it comes to bathroom falls.
Making the bathroom as safe as possible is a primary goal, especially if there are seniors or people with mobility issues in your house. There are different products on the market that will help you fall-proof your bathroom. WBest walk-in tubs are a real lifesaver for people with mobility issues. Thanks to waterproof doors, they make bathing possible for people unable to get into standard bathtubs because of their high walls. There are also non-slip mats for bath and shower. They are attached to the bottom of the bathtub or to the shower floor to prevent slipping and falling when you get in or out of it.
Bath and shower grab bars can also help you prevent falls in the bathroom. They are installed to aid you in getting in and out of the shower or bathtub, as these situations can most likely cause a fall. Grab bars are also sometimes installed near or above toilets as, according to the CDC, 22% of falls occur near the toilet.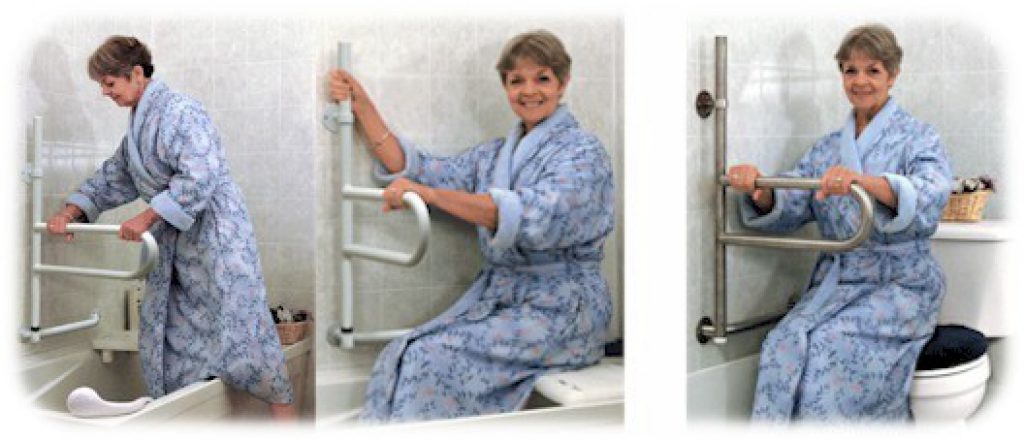 Grab bars are quite useful things. They have a simple construction and are easy to install. Some of them come with suction systems for reliability, others are attached to the wall with the help of screws or adhesives. Most models come with weight capacity of more than 250 pounds. Most grab bars are made of stainless steel, aluminum, or plastic, or a combination of these materials. They come in different types, shapes, and finish colors to meet any needs and complement any bathroom decor. Look through our guidelines and reviews to find the best grab bars for your bathroom.
How to Choose the Best Bath & Shower Grab Bars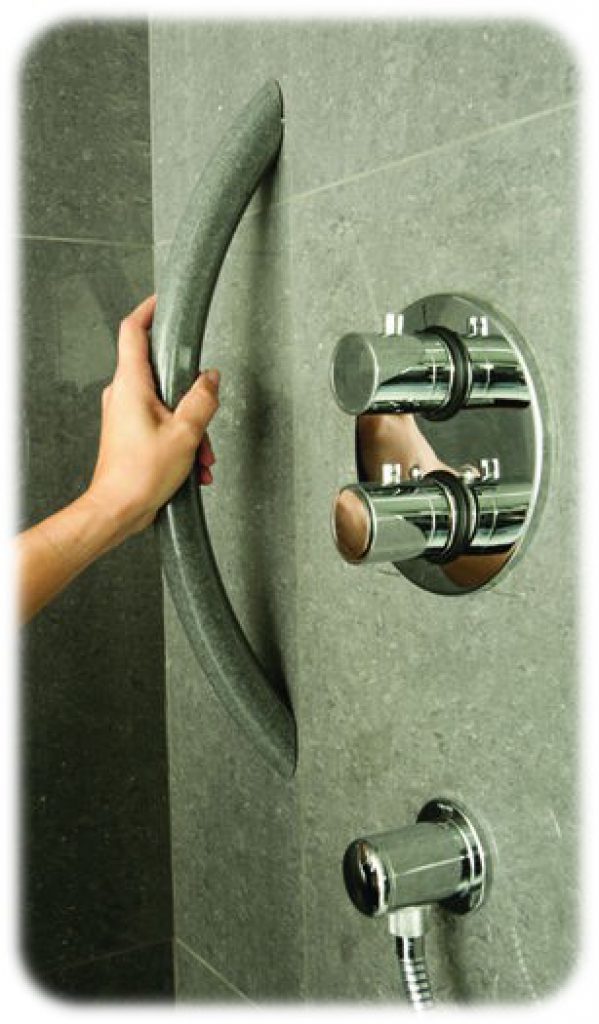 Shape. When it comes to choosing a grab bar for shower and toilet, the most standard shape is straight. Such models are the most numerous and come in different sizes and finishes. Models for bathtub come with curved bars. Other shapes include angled and swing up.
Type. Bathroom safety bars come in various types depending on the type of installation. Most shower bars are wall-mounted. Bathtub bars are unit-mounted, installed directly on the rim of the tub. Grab bars can also be freestanding, or portable, placed on the floor and freely moved around.  
Size. Grab bars available today range in length from small – about 4 inches – to large – almost 50 inches. The most standard are bars 12, 16, 24, and 36 inches long – they are purchased most frequently and installed in many homes. Make sure that the grab bars you choose will fit into your bathroom.
Finish. Safety bars come in a variety of finish colors to make sure that every customer can find a model that matches the décor of their bathroom. The most popular and versatile are polished chrome and brushed nickel.
Top Three Best Shower Grab Bars
This bar is a nice choice for installation both in the shower and near the bathtub. It will help people of a different age – from toddlers to seniors – to get into wet and slippery shower of bathtub safely. With the length of 16.5 inches, it can be installed almost in any shower.
Apart from being efficient for preventing falls in the bathroom, the bath & shower handle from Changing Lifestyles looks quite stylish. It will look great in any shower. Made of plastic, it comes with a white finish with gray accents. This model is easy to install – just press the tab levers, and the job is done.
Check the price for this grab bar on Amazon
---
This small grab bar is a great choice for the shower, as it does not take up too much space. Its ergonomic design offers a firm and comfortable grip thanks to the textured handle. It will help you maintain balance when in the shower, as well as assist you in getting in and out.
Thanks to its modest size and lightweight body, the suction balance assist bar from Moen is a great option for traveling. It is 12 inches long and weighs just 6 pounds. Its design features a unique suction technology to attach to smooth flat surfaces quickly and easily. If the need arises, the bar can be removed just as easily.
Check the price for this grab bar on Amazon
---
This stylish grab bar will become a nice complement to any bathroom décor. This model is available in four finish colors, including white, stainless steel, bright stainless steel, and peened and satin stainless steel. It is available in several sizes, including 12, 16, 18, 24, 30, 32, 36, 42, and 48 inches.
This safety bath and shower grab bar from Franklin Brass is made of stainless steel to ensure durability and reliability. When it comes to weight capacity, this model is one of the most efficient on the market. It can support up to 500 pounds, twice as much as other similar grab bars.
Check the price for this grab bar on Amazon
---
Top Three best Bath Grabs
This unit-mounted bar will be a nice option for those who need aid in getting in or out of the bathtub. Made of PVS plastic, this unit is sturdy and steady. Its surface has a smooth texture that is very pleasant to the touch, making the use highly enjoyable.
This bathtub bar from Medline fits standard tubs with rim width from 2.75 to 6.25 inches. It is easy to install, you will not need any tools. This model comes with stainless steel components with rubber-lined pads to make sure that the surface of the tub does not get damaged.
Check the price for this bath grab on Amazon
---
This grab bar has a versatile design that fits most bathtubs, fiberglass tubs being the only exception. It is made of powder-coated steel to offer long years of perfect performance and the utmost safety of use. This model is able to support up to 300 pounds.
The design of this bathtub bar from Drive Medical comprises a clamp that makes installation easier than ever. The clamp is equipped with rubber pads to prevent scratching the bathtub. This model comes with a stainless steel locking mechanism and an adjustable handle to offer the highest level of comfort.
Check the price for this bath grab on Amazon
---
This is another great choice for those who want to improve bathroom safety and prevent falls. It can be installed directly onto the bathtub thanks to the adjustable clamp. This model is compatible with tubs rims 3-7 inches wide. Its weight capacity is 300 pounds.
The body of this grab bar from Drive Medical is made of powder-coated steel, thick and long-lasting. The dimensions of the whole unit are 5 x 3 x 14.5 inches. It comes with a crisp white finish that will match most classical bathtubs. Apart from being highly versatile, this color is aesthetically pleasing.