Kingston Brass is a brand that is known for its attention to style. All their products feature elegant shapes, sleek lines, and beautiful finishes to bring a small luxury into any household.
Kingston Brass is a comparatively young company, being founded in 1998. Since then, they have been working to provide high-quality plumbing products to the community. Starting with their first days, the representatives of Kingston Brass devoted themselves to becoming one of the top brands in terms of quality, value, and service.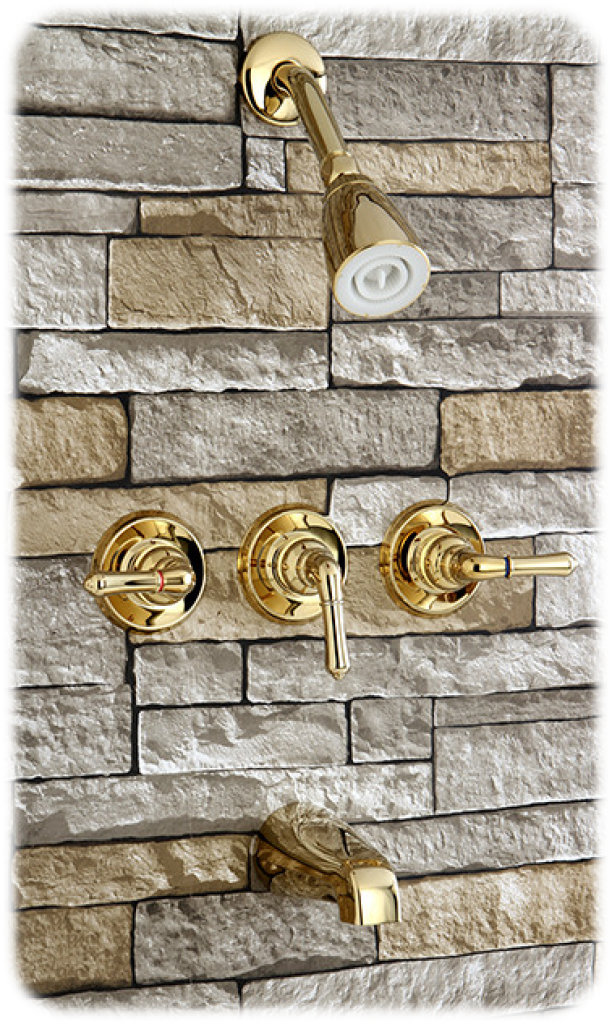 After their initial goals have been achieved, the members of the company have changed their aim yet stayed true to their values and priorities. Today, they are working to become the premier supplier of top-rated plumbing goods to the designer and specialty markets.
Just like most brands working in the plumbing industry, Kingston Brass creates fixtures and accessories for bathroom and kitchen. The focus of the company is on the goods for bath and shower. Their bathroom products include high-end bathtubs, elegant faucets and tub fillers, stylish sinks, sophisticated and functional showerheads, shower faucets, and handheld showers, and a wide line of accessories. The latter include towel bars, towel rings, towel racks, soap dishes, tumbler holders, shower rods, tissue holders, grab bars, robe hooks, slide bars, soap caddies, soap baskets, cosmetic shelves, toilet tank levers, and accessory shelves. Their kitchen line is not as vast and includes faucets and sinks.
All their products are divided into five sub-brands: Aqua Eden for bathtubs, Vintage (Aqua) for faucets with an old-world look, Designer Trimscape for faucets, sinks, toilets, and showerheads with a unique design, Fauceture for modern-style bathroom sinks and faucets, and Gourmetier for luxury kitchen goods—sinks, faucets, filtration faucets, and accessories.
As we can see, Kingston Brass is a young and perspective brand that, despite its comparatively recent appearance on the market, has achieved a lot and has earned the approval of other professionals and the love of consumers. Choosing a product from Kingston Brass, you can be sure of its quality.
Top Five Showerheads from Kingston Brass
The solid brass construction of this model will ensure a fault-free performance for many years to come. The bell-shaped showerhead is quite large; its diameter is eight inches. Its faceplate includes 169 individual nozzles, offering a relaxing and, at the same time, refreshing spray.
The Designer Trimscape Victorian showerhead is available in several finish options, including oil rubbed bronze, polished brass, polished chrome, and satin nickel. Each unit is complemented with a compatible 17-inch shower arm made of solid brass, just like the showerhead itself.
Get this shower head on Amazon
---
This rain showerhead comes with 139 spray nozzles on a large 8-inch faceplate. This is another showerhead and arm combo from Kingston Brass. Its classic style will fit most bathroom setups. This model comes in two finish colors, satin nickel for a classic bathroom interior and oil rubbed bronze for a more sophisticated décor.
As the name suggests, the Victorian Brass showerhead is made of brass. The unit comes with a shower arm and a shower flange, both in a complementing finish of your choice. The showerhead is easy to attach and does not require any special skills in order to be installed.
Get this shower head on Amazon
---
This stylish rain showerhead will bring a high style and luxurious functionality into any shower. It has a round shape, standard for most rain showerheads. Its large surface contains 169 water channels that will create a real rainfall and offer a perfect coverage.
The Showerscape Round showerhead has a unique design and comes in four finish colors so that anyone can find a perfect match for their bathroom. The finish colors include oil rubbed bronze, polished brass, polished chrome, and satin nickel. This model comes with the maximum water flow rate of 2.0 gallons per minute.
Get this shower head on Amazon
---
This showerhead from Kingston Brass meets all the water conservation standards and is WaterSense labeled. It comes with two functions—a saturating spray and an oxygen aero flow spray, both creating a luxurious showering experience and allowing you to conserve considerable amounts of water.
Apart from its undeniable practicality, the Aeroflow showerhead can offer the advantages of a high-end design. It has a refined bell shape and comes in three finish colors—oil rubbed bronze, polished chrome, and satin nickel. It is also quite durable thanks to its ABS construction.
Get this shower head on Amazon
---
This showerhead has an unusual, almost futuristic design. It comes in four finish colors—oil rubbed bronze, polished brass, polished chrome, and satin nickel. You can also find matching accessories for this model in all four finish colors. All the products are coated to resist tarnishing and corrosion, maintaining the looks and properties.
The Designer Trimscape Showerscape showerhead is a high-quality product that comes for a comparatively low price, which makes it a perfect match for people with a limited budget. It is a standard showerhead with the diameter of just 2 ¼ inches. It comes with a removable flow restrictor for the utmost convenience of use.